SMC Bus Doors find a way
---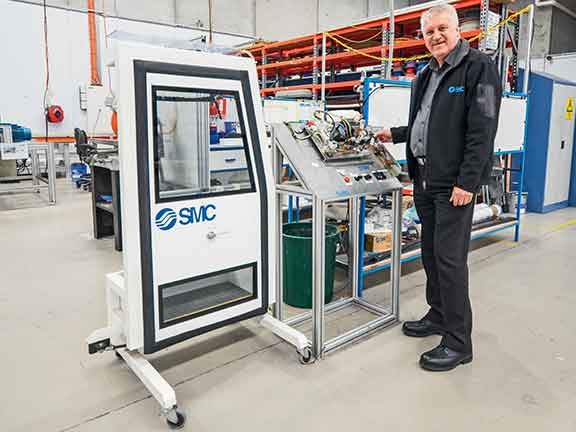 Darryl Wilson tries out the miniture bus door display at SMC's Melbourne warehouse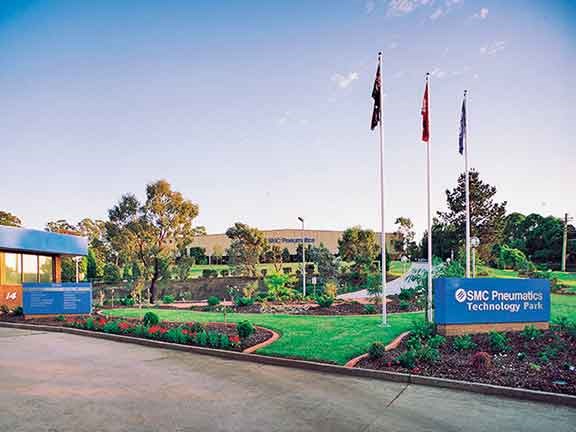 The SMC Pneumatics premises in Sydney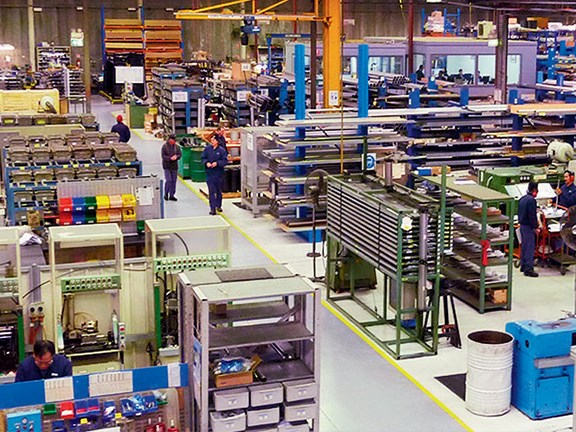 The main production floor at SMC Pneumatics in Sydney

There is more to a bus door than just opening and closing. SMC Bus Doors explains the intricacies and inner workings of its modern bus door that combines functionality with the latest in safety and operation systems
There will be many familiar faces gracing the stands at the QBIC Australasia Bus &
Coach Expo on the Gold Coast this month, but few will have seen as many bus expos as
Darryl Wilson, OEM sales manager for pneumatics specialists SMC Bus Doors, a division of Japanese-based global pneumatics giant SMC.
Wilson started out in pneumatics in 1981, when he was 21, and has been with SMC since 1997.
He's  always had a love for working with electronics and pneumatics, which he describes as a "simple technology that allowed me to design things without needing to be too complex".
Today, SMC manufactures around 90 per cent of all bus doors on route buses in Australia, and it's all done locally.
Its Castle Hill manufacturing facility in Sydney's north-west employs more than 150 full-time staff, including 18 engineers.
The SMC stand will feature a miniature working bus door, and showcase a flagship new feature designed to vastly improve safety and compliance to the country's strictest regulations, as well as a redeveloped and much smarter sensitive edge.
A sensitive issue
The need for a better sensitive edge in bus doors arose after a series of entrapments, including a tragic fatality in Sydney in 1994 when a five-year-old girl's foot became
trapped in the bi-folding rear door of a bus.
While each state and territory has its own regulations concerning safety standards, NSW brought out the highest specifications: NSW TS146 and TS147 (commonly known in the industry as RTA146 and RTA147), which govern requirements for door safety systems and driver's vision respectively.
In the case of entrapment issues, TS146 requires that bus doors detect if a person or object is caught in a door, prevent the bus from moving if such a detection is made, and
not apply a closing force greater than 150 Newtons.
Additional recommendations include that the bus door should automatically reopen if detection is present, that the bus's stop brake be automatically applied whenever the driver has opened the doors, and that the door should detect down to 20mm, the approximate
width of a child's wrist.
Wilson says "Then you've got the interface with the body and the interface with the
chassis.
There's quite a lot going on, for example a different chassis with the same body may give us challenges in door height." Flexibility is always required, as local bus builders pride themselves he's proud that SMC's redesigned doors do all this and more.
Developing a more sensitive sensor system within the rubber edge of a bus
door wasn't easy.
The vast majority of route bus doors these days are gliding rather than bi-folding. They open inwards in an arc, and usually feature a handrail built onto the door.
The challenge with the arc system is that the angle of the door edge is always changing in relation to any potential obstruction, meaning the sensor might not be triggered if the contact occurs at the wrong angle.
The new design has solved this problem, meaning the edge is now sensitive at all angles.
"We also have to have it sensitive to the very bottom, which is quite a challenge," Wilson says. "It needs to sense a child's foot, so we've got to effectively rest it on the step."
The redesign also allows for easier removal or replacement, and features an advanced sealing, with an overlapping lip on the leading doorleaf to provide better protection from
the weather and keeping out noise.

WHY PNEUMATICS?
Much thought also goes into the actual mechanical workings of the bus doors.
A pneumatic/electronic system is attractive economically to bus builders because it can plug directly into the already available compressed air used for the air brakes and air bags.
The pneumatic components within the door system are operated electronically.
An activated solenoid will put air into a valve, which changes the direction of the cylinder.
The actuator sits on top of the door and does its magic from above (hence the need for a miniature door at the expo, otherwise you wouldn't be able to see the good stuff).
Compressed air goes in one side of the actuator, pushing exhaust air out the other side.
The speed the door opens or closes at is controlled by the rate of compressed air coming
out, meaning pneumatics can achieve smooth, steady movement.

The alternation of high and low pressure at the right time is critical for the SMC system to work and achieve optimum safety.
When the bus is travelling at speed, the doors will be under high pressure.
When the bus stops, the doors open under high pressure (to give stability to the handrails), but close under low pressure.
The low pressure remains until the bus starts moving, where a speed sensor in the bus then signals the door to switch to high pressure.
It's all designed with simplicity, safety and efficiency in mind.
"I think we're world leaders in the amount of technology we've put into this," Wilson says. "NSW TS146 may get increased to an even higher standard with NSW TS155 due for implementation in January 2018, so we're doing a lot of research and development on that and will be displaying some of our improvements at the upcoming bus show."
Taking the right route
Having a huge, global parent company definitely has its advantages when it comes to materials.
With SMC products often being used in the toughest environments, including mining, the components that go into making the pneumatic bus doors are industrial grade, and should
last the lifetime of the bus, so long as they're adjusted and maintained to SMC recommendations.
Wilson has a service van full of spare parts always on the go. The recently improved warehouse and dispatch system implemented by SMC across its national network has also improved delivery times for parts.
Building a good relationship with body builders has also been paramount to SMC Bus Doors'
growth, says Wilson.
The three major body builders in Australia all use SMC on their low-floor route buses.
It's about nurturing a partnership, according to Wilson. "We might do the control system or
the body builder might do it," he says.
 "Then you've got the interface with the body and the interface with the chassis. There's quite a lot going on, for example a different chassis with the same body may give us challenges in door height."
Flexibility is always required, as local bus builders pride themselves on being flexible for their customers' needs.
It's their main advantage over imported buses.
"We develop all our products in partnership with the body builders, and that means being able to adapt to different requirements and work through solutions," Wilson explains.
But body builders are generally standardising their bodies. They've had to improve their processes, and SMC has done the same, he adds.
"The body builders have the same challenge: manufacturing in Australia," Wilson says. "We've always tried hard to keep our costs down, and it's a very big challenge, particularly with the high labour costs in Australia. But we're a positive company, we care about the industry and we're always going to be there.
"We pride ourselves on buying and producing Australian, and I hope the operators continue to buy Australian." Wilson says he hopes state governments will regulate for Australian content in the future, given that they control the buses and hand out the contracts.
Display of pride
Wilson says he's looking forward to chatting to anyone who stops at the SMC stand, and demonstrating the new door in action.
"With the sensitive edge, we foresaw an issue and had to solve it.
It wasn't easy. We had a couple of goes at it and came up with something really good. Designing something, putting in a control system, then seeing that come into fruition and
operate as a public service, there's a reward in that."
Subscribe to our newsletter
Sign up to receive the ABC e-newsletter, digital magazine and other offers we choose to share with you straight to your inbox
You can also follow our updates by liking us on Facebook.