Castlemaine Bus Lines acquired
---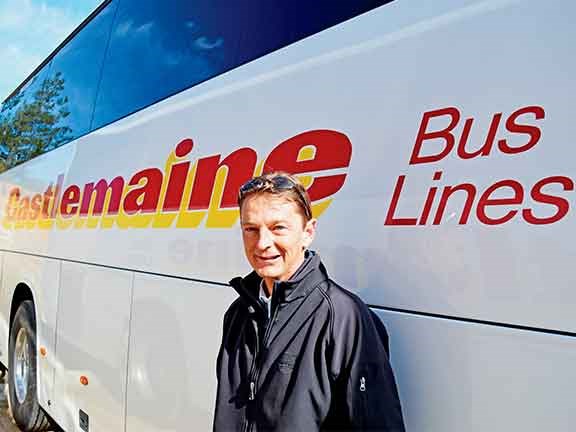 Whitmores Bus Lines director Jamie Whitmore is very happy with his purchase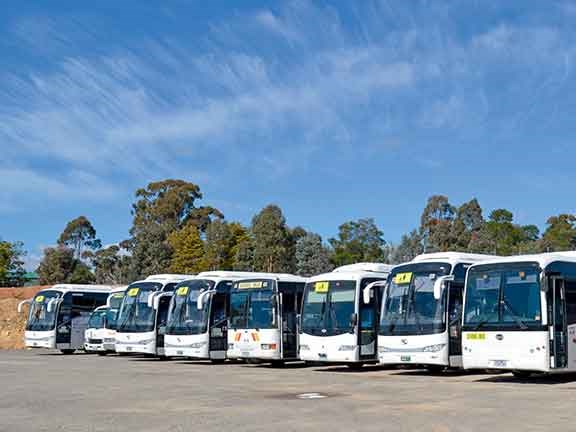 The Castlemaine fleet is relatively new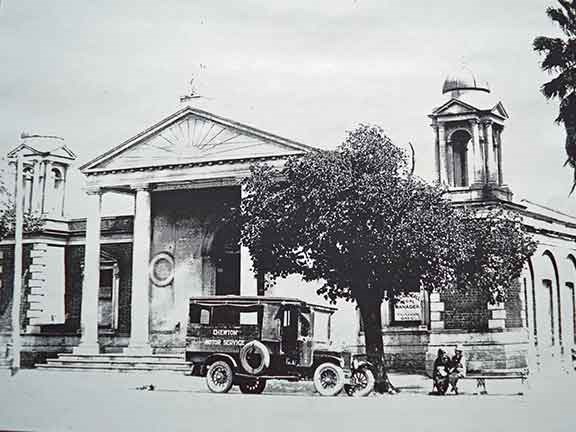 The old Chewton Motor Service in its heyday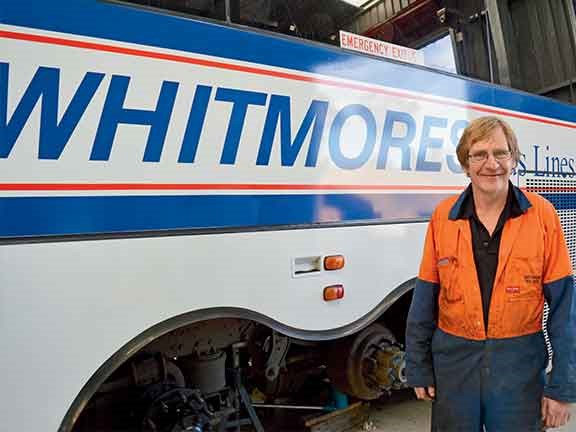 A bit of maintenance never goes astray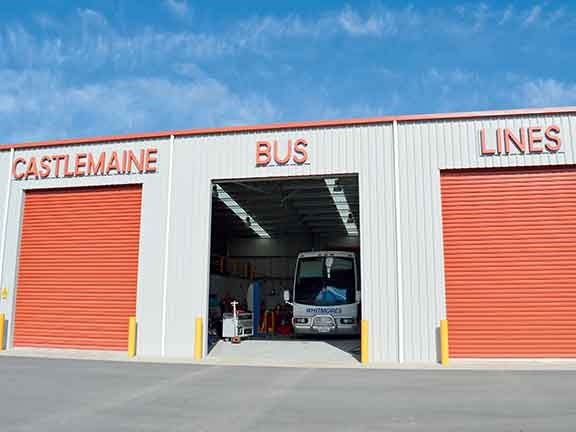 The workshop is also fairly new

Whitmores Bus Lines director Jamie Whitmore has big plans after purchasing Castlemaine Bus Lines in regional Victoria
Jamie says the purchase of this 20-bus operation in regional Victoria is a natural progression for him, and local residents who rely on  its services will benefit; once his plan to improve services in the area is complete.
Predominantly a school bus operator, Whitmores is a Central Victorian based third-generation family business that also has route services that connect residents with their local train stations and main shopping areas.
Situated in Boort, Whitmores Bus Lines is owned and operated by the Whitmore family and grew from small beginnings in the 1950s with a school bus contract. The organisation conducts day tours and extended charter tours on modern coaches that are video equipped, air-conditioned and have full bathroom facilities.
In terms of route service, Castlemaine Bus Lines looks after residents and commuters in Castlemaine, Chewton, Campbell's Creek, Maldon and Bendigo. At about a one-and-a-half hours' train ride from Melbourne's Sothern Cross station, a great number of local residents commute from Castlemaine station to Melbourne at the crack of dawn every day for work in the city.
Jamie Whitmore feels that improvements can be made to the bus services that currently connect these commuters with train services and says he will enter into discussions with Public Transport Victoria (PTV) within the next 12 months or so in an effort to make this happen.
"I definitely think that the street network to the trains can be improved," he says.
"They can be better aligned. The trains out here are packed in the mornings and evenings and we will be able to find a way to better tailor services to those who are commuting back and forth to Melbourne.
"There are a lot of new housing developments out here too that probably aren't quite there yet in terms of needing bus services, but will be very soon."
The Castlemaine deal
The ink dried on the deal on June 30 this year and the previous owners Sherryl and Geoff Hansford are now retired.
"I think they just wanted the right person to take over, rather than just focusing on the dollars," Jamie says.
"I was really honoured that they came to me first. It's a big step for me but I know that I'm ready for it. I've been looking to expand for a while; it was just a matter of the right opportunity coming up."
Jamie started as a driver, and so he understands the challenges that frontline staff can encounter and he knows the importance of the team.
"The fact is, you can't do any of this stuff without great people behind you and I'm lucky to have that support. Your staff really are the most important asset that you've got."
Jamie's mother Hazel Whitmore refused to sell the bus business, despite numerous offers after her husband Reg passed away back in 2002 and ─ seeing how their son has now grown the business ─ she's glad she didn't sell up.
"It's amazing to see how far Jamie has come," she says.
"We work really well together and I've just gradually stepped back and let him take the reins.
"He has the leadership skills to really inspire people. "I am absolutely just so very proud of him."
This mother and son team has worked side-by-side to grow the business and Hazel says she could see Jamie had vision and the determination to have a good go at it.
"We come from very humble beginnings," Hazel says.
"My husband was a very skilled mechanic and a farmer loaned us the money to buy our first school bus in the early 1960s; the banks wouldn't even look at us back then.
"With Jamie, I could see that he had vision and I could see where he wanted to go with the business. "I couldn't have taken it to the level that he has, that's for sure.
"When I used to get stressed in the business, he would say 'deal with it and get over it' ─ now that's what I tell him," she laughs.
Jamie says he will always be grateful to his mother for the support that she has provided him with over the years, adding he could not have grown the business without her knowledge and guidance ─ particularly over the last 15 years.
Operating from three depots in the wider area already ─ and with a superb reputation among his peers in the industry as a hard worker and a man of integrity ─ it seems that Jamie was a natural choice as a buyer for Castlemaine Bus Lines.
With a fleet of 20, including some very new BCI models and an impressive workshop that's only a few years' young; there's nothing about the business he acquired that is tired.
The rest of the fleet consists of King Long, Hino and Mercedes-Benz, to name a few in the depot. The depot itself is very large and could comfortably fit a fleet twice the size.
Jamie says he couldn't have hoped to acquire a business that was better placed both geographically and in terms of helping him to manage the logistics of his existing services that operate out of depots at Bendigo, Boort and Dingee. Whitmores' other holdings include Loddon Transit and Strath Transit.
This recent acquisition brings his number of depots up to four. Whitmores' last purchase was Strath Transit back in 2010, and Loddon Transit two years before that which Jamie says seems like a lifetime ago! Three of these depots are on the Swan Hill train line, so having efficient and reliable train linkage bus services is a key part of the business.
Keeping the team together
The acquisition of Castlemaine Bus Lines has more than doubled his fleet and Jamie has retained all staff employed under the previous owners.
"I've known a lot of these staff for years, so that helps now that we are actually working together," Jamie says.
They include operations manager Mark London, administrative coordinator Val London, and mechanics Tony, Tristan and Zack.
Seven full-time drivers and a number of casual staff rounds out the team at Castlemaine.
Jamie is confident that this is enough staff to begin with, but he will see if any new job appointments are needed in due course.
He is keen to get Mark and his long-term operations manager Noel Woodman to put their heads together on ways to improve current services across all depots.
Castlemaine is servicing the towns of Maldon, Chewton, Taradale and Harcourt. Some of these areas are growing rapidly with major housing developments underway.
Jamie is quite sure that new or significantly extended services will be needed to service these new residents within the next five to 10 years.
Castlemaine Bus Lines has 15 schools in its roster and local school enrolments are gradually increasing, as more young families look to move outside of Melbourne to raise their kids, for better housing affordability and more laidback lifestyles.
The company originally started as Bentleys Motors. Prior to Sherryl and Geoff Hansford, the business was run by their parents Allan and Joyce Hansford who took over in 1968.
Allan passed away in the late 1970s and Joyce ran it herself from that point onwards.
She was reportedly a very good operator, knew where every penny was at all times and was always right up to date with all the regulations.
It was still quite rare for a female to be running a large bus company at that time.
A strategic plan
Jamie has a number of priorities and things that he would like to achieve gradually over the next 12 months or so.
"I'm really revelling in the street bus work," he says.
"We need to try and align our services with the train network.
 "It's not just Melbourne, there are also a lot of people who live out here who work in and commute to Bendigo.
"That's the first major challenge that I have here at Castlemaine. I'm not sure if it can be done between now and Christmas, but I'm going to try.
"I suspect the old man might be looking down saying, 'You idiot!'," said Jamie, who is clearly a humble man with a wicked sense of humour. Of course, in reality, his late father would be tremendously proud.
There are a lot of new housing developments in the wider area that are not being serviced by route buses at the moment, so that is something that Jamie will turn his attention to when the time comes.
"I think the population is there now to justify it, but its growing very quickly. If you look at that whole corridor from Sunbury to Kyneton, it's just booming with the housing and we are next in line."
In the longer-term Jamie is hoping to get his Castlemaine drivers back into rail replacement jobs and more charter work down the track, and some of the charter work has already moved from operating out of the Boort depot to Castlemaine.
"Having this depot will also help us cut down on driver hours and means that we don't have to travel quite as far for a lot of jobs," Jamie says.
"It really does give us a lot more flexibility in terms of the jobs that we are now able to do that would have been more of a challenge previously. The location of this depot is pretty much ideal strategically for us.
"Having this depot gives us a lot more flexibility with charter and puts multiple vehicles out on the road too.
The guys here at Castlemaine were doing a little bit of charter but we have managed to crank-up the charter work that we are doing already, and that was within the space of a few weeks.
"We had our busiest charter period ever recently coming out of the other depots and the guys at Castlemaine just slotted in and filled all the gaps easily. It was just amazing to have that additional support.
"I will utilise some of the Castlemaine staff here at the other depots too, that way they can learn off each other and it's already starting to work very well."
He is similarly determined to make the rail connection services a lot more useful to the local residents.
"The timetable is not quite right at the moment," says Jamie.
"With a bit of TLC, I reckon we can get serious numbers on those services, and all it should take is a few little tweaks.
"We've got great local knowledge with our staff in the depot itself, so we will get everyone involved in the process and see how we might be able to do things just that little
bit better."
Bike racks will also be going on town services in and around Castlemaine, following the successful rollout of the scheme in Bendigo and surrounds.
While nothing changes in terms of the passion and commitment that Jamie and his team show; having a flash new depot, 20 extra buses and a new team of experienced heads can't hurt one bit.
Subscribe to our newsletter
Sign up to receive the ABC e-newsletter, digital magazine and other offers we choose to share with you straight to your inbox
You can also follow our updates by liking us on Facebook.