Analysis: Chassis market update
---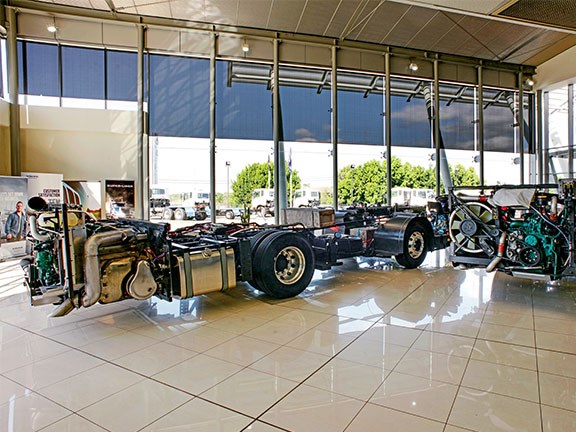 The complexity of the new Volvo Euro 6 chassis was on show at the B8R and B8RLE chassis launch in Sydney earlier this year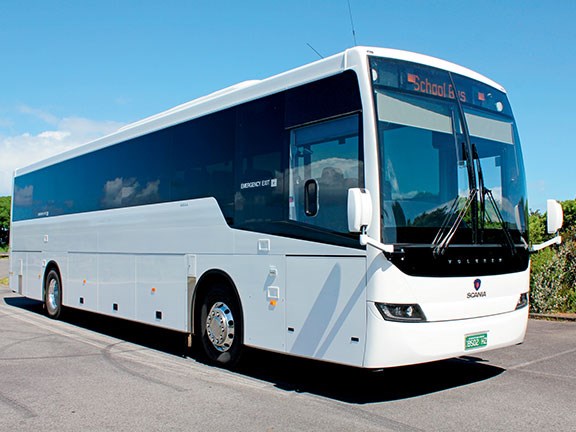 A tidy Scania-Volgren combination as seen on the Gippsland coast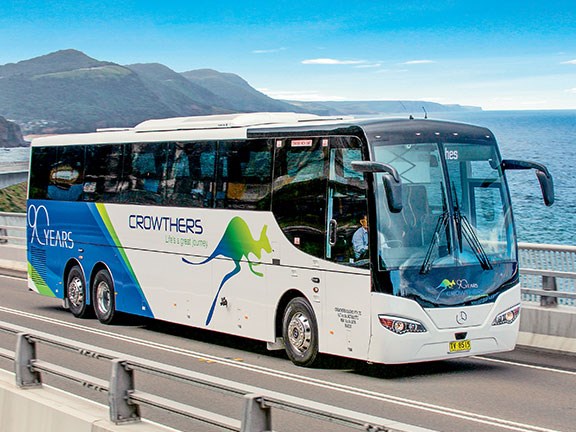 Crowthers Coaches' new Mercedes-Benz-Coach Design Euro 6 combination coach

Australian chassis suppliers are feeling positive about the bus and coach market in 2017 and continue to bring the latest technology into the country
Oerators now have more choice than ever when it comes to what make of bus or coach chassis they want transporting their passengers.
Suppliers have really stepped up their game and taken a much broader approach to the service they provide in 2017.
ABC spoke to some of Australia's leading chassis suppliers to find out what they are working on and what to expect over the next 12 months.
Volvo
The latest model of chassis that Volvo Bus Australia is offering to Australian operators looking to build in 2017 is the highly advanced B8R/RLE chassis, which was launched in Sydney recently.
"We have added the B8R/RLE in both Euro 5 and Euro 6 configuration to our range, which means we now have the most extensive chassis line-up in our history in Australia," Volvo Bus Australia acting general manager David Mead says.
"Regardless of what our customers need, we know we have it in our line-up."
As one of the largest chassis suppliers in the Australian market, the organisation is focusing on introducing the latest technology.
"We believe the Australian industry is on the verge of a new era in technology," Mead says.
"The amount of enquiries in our hybrid product lines are at an all-time high and we see a logical transition from diesel to hybrid and eventually to full electric when products are ready for the Australian environment and ready for a 20-year life.
"Our focus therefore is on education and outlining the new business models that will take us into the future. We are also leveraging our telematics capability to provide services and information not seen before in the Australian bus and coach industry."
Volvo Bus Australia has seen demand shift in terms of the type of chassis that it is getting orders for this year, with more operators wanting to bring a Euro 6 vehicle into their fleet.
"We are seeing a mix now of Euro 6 and Euro 5 sales," Mead reveals. "We are happy to offer both these ranges as the situation and customer demands are different in every state, in every application, and based on the need.
"Euro 6 is now accounting for a higher percentage of our sales but the core of our volume is based on our trusted and proven B7R/RLE ranges."
A number of improvements have been made to after-market care and after-sales support within the organisation, and customers benefit from dealing with an experienced team dedicated to bus and coach.
"For a long time now we have had the largest, most experienced team of bus after-market professionals in the industry.
"At Volvo, our team is dedicated to our bus and coach products lines – not part of a truck organisation," Mead says.
"We are always adding new systems and ways of communicating with our customers and with our telematics offering we can do things that we once only ever imagined."
Volvo Bus Australia's top-selling chassis is currently the B7R, which Mead says is a reflection of the quality of the drivetrain and top-notch engineering, but operators are already opting for the latest Volvo chassis at this point in 2017.
"The B7R has been the industry standard for the last 10 years in Australia. No other model has had more sales than the Volvo B7R, which has set new standards for fuel consumption, cost of ownership and driveability," he says.
"With the new B8R/RLE Euro 5 and B8R/RLE Euro 6 launched over the last 12-18 months we have a natural transition to our new ranges."
The organisation is now looking to progress its hybrid product line, with another new addition coming to Australia by the end of this year.
Scania
Scania's current offering is a Euro 5 and Euro 6 chassis, ranging from 310hp city, school and charter right through to 490hp for coach and express application.
Apart from the Euro 6 490hp coach, all chassis have SCR (AdBlue) as the emission solution, Scania Bus national manager Julian Gurney says.
"The K 310 Euro 5 with SCR [superseding K 280/320 EGR] has been our best-selling chassis, selling approximately 380 units until the end of April 2017. Of these, the numbers are split almost 50/50 between the school and charter market, and the city and route bus market," he says.
"The K 310 school/charter chassis has proven to be a massively popular unit with 1550Nm of torque and extremely efficient fuel burn combined with simple PDE injection, fixed geometry turbo and SCR emission solution.
The sales volumes reflect the operator confidence in the K 310's simplicity and reliability.
"Meanwhile, the Scania K 320 Euro 6 city bus chassis has been prevalent with city bus fleets.
"We look at the chassis as the 'hardware', with our other suite of products such as driver training and fleet management as the 'software'," he says.
"If we get the synergies right, the client benefits from reduced total operating costs while the drivers get the benefit of up-skilling their driving techniques, which leads to a more relaxed work environment."
In recent years Scania had been providing customers with a number of hours of driver familiarisation delivered by the Scania driver development trainers.
This expanded recently to include Scania "optimise".
"Optimise is a vehicle and driver optimisation and monitoring program that allows full transparency for bus and coach operators," Gurney says.
"This includes driver development plus follow-up coaching that aims to continuously reinforce the tips and tricks passed on by the initial familiarisation training, and to date has been very successful with business that have adopted Scania Optimise early on."
Gurney says Scania's fleet management system has given workshops the ability to request downloads of engine vehicle data from the factory – normally responding within 24 hours for the request being put through.
"This has enabled more accurate diagnostics of fault-finding, allowing for our service vans or regional dealers to be better prepared to support our clients if any issues should arise," he says.
"Our parts department has been very proactive in addressing the competitive nature of the after-market suppliers, providing operators with unbeatable peace of mind when they fit genuine OEM equipment at extremely competitive prices."
Going forward, Scania's full range of Euro 5 and Euro 6 chassis in city bus, school, charter and coach applications are available for sale to all Australian bus and coach operators, and Scania continues to support the Australian body building industry.
"The majority of vehicles are built at Volgren, Express Bus & Coach, Coach Design and Coach Concepts," Gurney says.
"Our ongoing stock school/charter program with Volgren and Irizar has proven to be very popular with operators as it has allowed for a reduction in order-to-delivery time for new vehicles."
Mercedes-Benz
According to Mercedes-Benz Truck & Bus director Michael May, in 2017 the brand has seen a shift towards school and interurban chassis, along with a renewed demand for its fuel-efficient city bus solutions.
He adds that with total cost of ownership (fuel burn, extended servicing, AdBlue consumption) being front of mind for operators, Mercedes-Benz has invested heavily in chassis development, engine optimisation and safety.
"Our new chassis platform [Euro 6] in both route bus [O500LE] and school/charter/coach application [O500RF] chassis were launched in 2015," May says.
"We are extremely pleased with the strong orders of the O500LE in route bus fleets after our evaluation program, and demand continues to grow for these products.
Our O500RF is also now available with Euro 5 running gear in our new chassis platform, which is selling well.
"We will continue to push with our new Euro 6 offerings in 2017-18 and are excited about the potential of our flexible minibus [City 45] with low-entry DDA-compliant
16-seat options. Also with our XBC range we can cater for 11-metre, 45-49 seat solutions."
The brand's focus continues to be on efficiency in regards to the models it offers and improved flexible support to customers through an extensive network and growing dedicated bus support team.
"We recognise the importance of relationships and trust, so we strive to be more than a supplier of products – our goal is to have strong, valued partnerships so our customers are successful and become advocates of our brand," May says.
"We have defined our new chassis product together with key operators and adapted to their needs. Additionally, we have tested vehicles to prove efficiency gains, especially in our new Euro 6 city bus offering.
"Recently we expanded our team to bolster our driver training department.
With Mercedes-Benz 'Star Driver', we are now offering comprehensive driver training to ensure drivers are fully up to speed on our latest technology.
"Customers are confident in the support and the team we have put in place to complement our product offering. Operators looking for an advantage and options within their fleets are turning to Mercedes-Benz Bus and enjoying the benefits, the attention and reactiveness they deserve."
May says Mercedez-Benz has also enhanced its after-sales support.
"We have additional dedicated bus technical resources to build our bus business over the last couple of years.
Additional dedicated field service managers, product manager and a parts product manager now provide wide-ranging support to our customers, and our extensive dealer network assists with maintenance practices, on-site diagnostic expertise, and on-the-spot training," he says.
"In addition to this, Mercedes-Benz also distributes technical online repair and maintenance information, which is valuable data for our customer base.
"We have undertaken major projects to focus on parts, with a comprehensive review of our parts price positioning. We are offering competitive pricing across many line items as well as a national pricing structure for fleets.
"We are pleased with results to date, further enhanced through our dedicated bus team offering more effective support to customers and dealers."
All these developments see Mercedes with a positive outlook.
"Mercedes-Benz is experiencing a resurgence in the market. All signs are right for the brand with exciting times ahead."
Subscribe to our newsletter
Sign up to receive the ABC e-newsletter, digital magazine and other offers we choose to share with you straight to your inbox
You can also follow our updates by liking us on Facebook.