Tasmanian contracts in the spotlight
---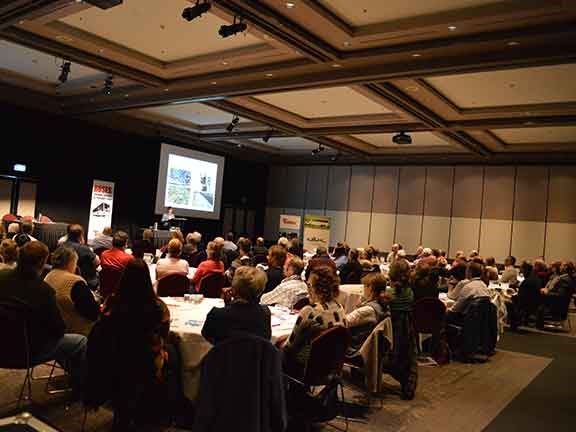 The 2017 TasBus annual conference was well attended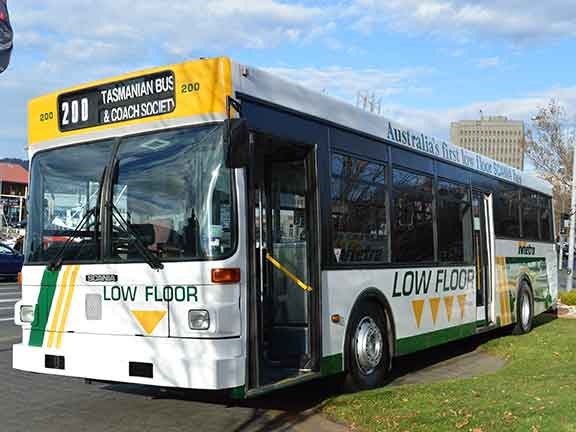 Australia's first low-floor Scania bus lovingly restored by the Tasmanian Bus and Coach Society with funding from the Tasmanian Community Fund and Scania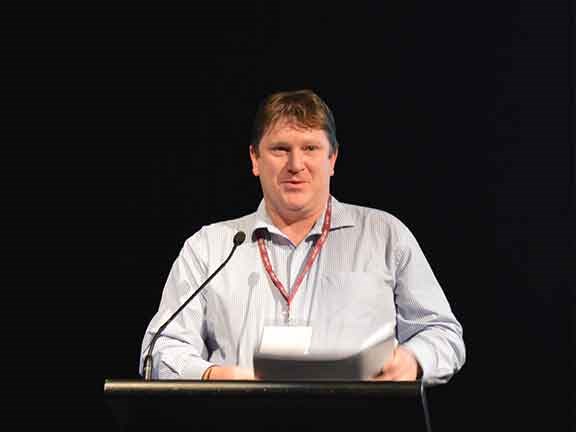 Tasmanian Department of State Growth Project 2018 director John Dawson

As contract renewals fast approach, the 2017 TasBus annual conference was packed with operators seeking the latest information on how they will be affected
A public transport network that provides better access to employment, education and services is in the works for Tasmania. So are Tasmanian Government contract renewals and the shape and form of these was a hot topic at the TasBus conference.
The Tasmanian Department of State Growth (DSG) has been undertaking consultation with bus operators, key stakeholder groups and councils on possible changes to the general access public transport network.
As part of the consultations, some councils have identified interested community groups who they have asked the department to talk to. Over the coming months, the department will be consultating with those community groups identified by councils.
Existing contracts for public transport bus services, including student-only services, begin expiring in early 2018. Contracts can run for a maximum of 10 years, which places a legislative impediment to these contracts simply being renewed or extended.
A detailed review of all current services and service optimisation is underway to ensure that the most efficient and cost-effective networks are procured and opportunities for efficiencies identified.
The network review, called Project 18, will deliver the government's policy objective to provide a further five-plus-five-year contract for incumbent operators, providing key performance conditions are met and there is an ongoing need for a particular service in a particular area.
It will also provide a consistent measure of performance across all bus contracts, greater incentives for operators to perform, and, importantly, better long-term service delivery for Tasmanian bus passengers.
There are about 150 individual bus operators who collectively hold 468 contracts for public transport bus services in the state, with all of these bus contracts reaching their 10-year expiry between February 2018 and November 2019.
The majority of rural student-only bus services expire between February and August 2018. The majority of other bus services expire between October 2018 and June 2019.
TasBus state relations
Tasmanian Minister for Infrastructure Rene Hidding says the government is now moving to an operator model of a single contract per bus.
"So you will have one standard contract that covers all of your services," he says.
"It will reduce admin time for operators and the department."
School bus operators were facing contract renewal halfway through the school year, but Hidding was quick to reassure them that this would not be the case.
"On the basis that changing services halfway through a school year would be extremely disruptive, the government has decided that interim contracts will be offered to operators that have school bus contracts expiring during the 2018 school year," Hidding says.
"That will effectively extend their services out to the end of the 2018 school year. This is an extra six to 11 months for most rural school bus operators in Tasmania."
DSG Project 2018 director John Dawson spoke on four topics, providing an update on school bus contracts and general bus operator contacts, an explanation of the early exit incentive scheme, and funding.
On school bus contracts, Dawson says he has met with about half of all school principals in Tasmania to gain an understanding of the services that they require.
On general bus operator contracts, he says that the new contracts have been rewritten from scratch in order to facilitate the move from nine different bus operator contract types into just the one.
"Having said that, a lot of the same terms and conditions will still be in there," Dawson says. "We will be providing TasBus with a draft version of this new contact and giving them the opportunity to give feedback on it."
An explanation of the early exit incentive scheme was also given. Operators can be compensated for a short period (likely to be six months) in some instances where their contract to operate a service may be discontinued – subject to other conditions.
In terms of funding, Dawson says that Tasmania's current top-up funding model (based on the number of passengers per service and the distance they travel), will be overhauled in the long term. This is because, in very basic terms, the government wants to remove the incentive for school bus operators to travel for the longest distances possible, journeys for which they get paid more.

TasBus executive director Geoff Lewis says he is pleased to have a seat at the table on Project 2018 and that the Tasmanian Government is willing to work so closely with the bus industry.
He also spoke about what TasBus has been working on this year, including streamlining
the signage requirements for school bus operators and liaising closely with the Tasmanian Government on key transport initiatives – such as looking at Bus Rapid Transit as an option for Hobart to name a few projects.
There was action too outside the conference, as Australia's first low-floor Scania bus had been lovingly restored by the Tasmanian Bus and Coach Society with funding from the Tasmanian Community Fund and Scania, and was on display out the front of the TasBus conference venue in Hobart.
The TasBus 2017 annual award winner was Kimbra Wells. Delegates who attended the TasBus dinner helped to raise more than $15,000 for CanTeen, a charity that assists young people who are or who have battled cancer, and their families.
Subscribe to our newsletter
Sign up to receive the ABC e-newsletter, digital magazine and other offers we choose to share with you straight to your inbox
You can also follow our updates by liking us on Facebook.