New MAN for Cooma Coaches
---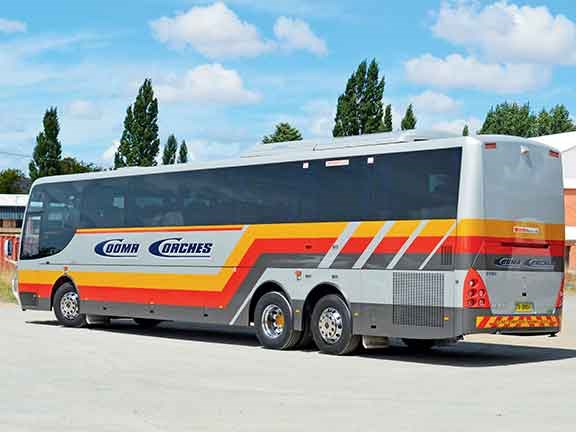 The 4.5m-long 3-axle MAN-Coach Design coach looks sharp from the outside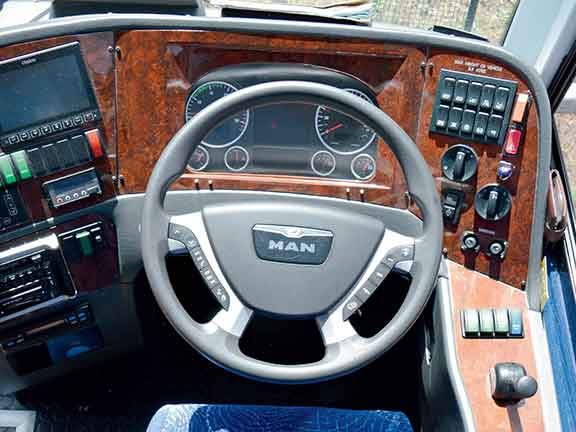 The MAN interior has a nice finish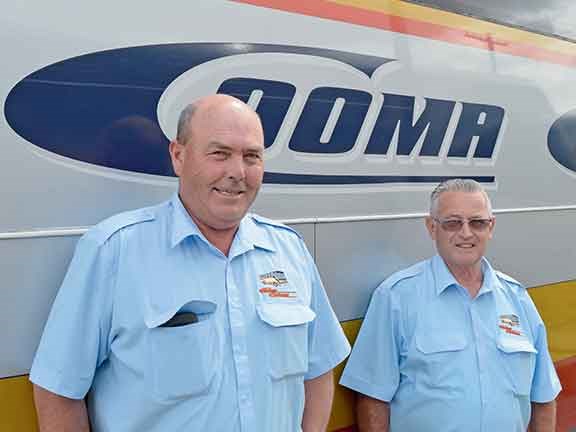 Cooma Coaches owner Trevor Heise with veteran driver Tony Johnston
Cooma Coaches owner Trevor Heise and his drivers are getting around in a flash new 14.5m-long 3-axle MAN-Coach Design luxury coach
This vehicle is advanced and has an automatic breaking safety system using sensors that detect if you are close to having a crash and bring the vehicle to a halt. The 480hp engine boasts plenty of power.
"I spent three years with MAN in asking them to get the three-axle back in the country," Heise says.
The new coach was registered about this time last year and Heise says it's been incredibly reliable and a pleasure to drive.
It's a Euro 5 with EEV and Tipmatic transmission. The same chassis can be a double-decker and it was the first of this model to be delivered in Australia around this time last year.
"I needed a high-capacity vehicle.
I love the MAN product and the people behind it in Australia – Johnny Dernaj is my man. Because of him, I have 20 MANs in my fleet and 28 vehicles in total.
Heise employs one full-time mechanic and has a full onsite workshop, with most repairs and maintenance done in-house in the Cooma depot, which is about 100 kilometres south of Canberra.
"I have a few Scanias and Rosas as well," he says.
Heise employs about 30 staff, including casuals at the moment. The bulk of the work he does is school runs, of which he has 17. He also does plenty of charter work.
"I'm a fourth-generation bus operator. My great grandfather was a bus operator, as well as my grandmother and my father, Arthur Heise. My mother, Merle, was also a big part of the business originally.
"My parents worked at Picton Coaches until 1978. My mother and father bought Cooma Coaches and moved away from the business at Picton in New South Wales."
"I recall in 1978 my father bought four school buses and then in 1980 he bought two coaches that were part of Rub and Beryl Armitage of Cooma Coaches' fleet. He bought the school buses first because we were mostly doing school work at the time.
"In 1984 I arrived in the business. The coaches were owned by my mother and father at that time. My father passed away in 1993 so I took over when I was 28."
Prior to that, Heise was driving, cleaning buses and learning the ropes of the business.
"Back then it was a similar setup: school runs – mostly – and charter work," he says.
"There were 11 vehicles when I took over and now we have 28, so I have managed to grow the business quite a lot.
"Anyone in the bus business will tell you it's not easy, you just have to do your best and hire the right staff and support them the best you can."
There have been many highlights in terms of charter work over the years. Cooma Coaches contributed its services to the 2000 Sydney Olympics and provided transport for some major events, including the International Lions Club Convention in Brisbane and on the Gold Coast in 1990.
Other highlights Heise recalls included the Brisbane Expo in 1988. According to Heise, his ability to grow the business comes back to the staff he has around him.
"I have a lot of long-term staff who have been with me for a long time," he says.
Tony Johnston is one of the longest-serving drivers for Cooma, and Heise wants to make special mention of him.
"He used to work for Ansett Pioneer. For 42 years he's been driving buses and coaches – and it shows. Tony came to work for me around about 2000, but I've known Tony for a lot longer than that."
At the moment, and in the future, Heise says he will focus on strengthening the long-term relationships his business has with a number of local schools in the area.
Subscribe to our newsletter
Sign up to receive the ABC e-newsletter, digital magazine and other offers we choose to share with you straight to your inbox
You can also follow our updates by liking us on Facebook.