HR licence process unveiled
---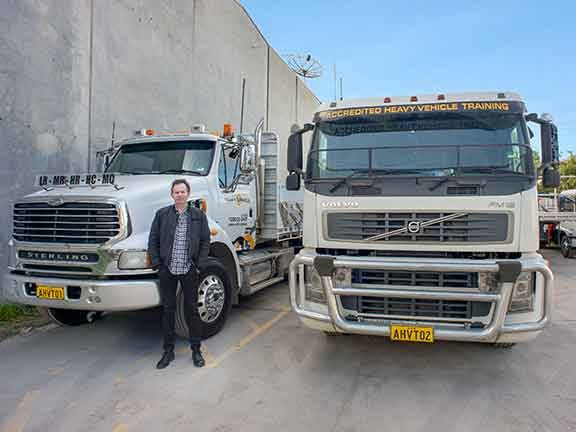 Day one before HR licence training starts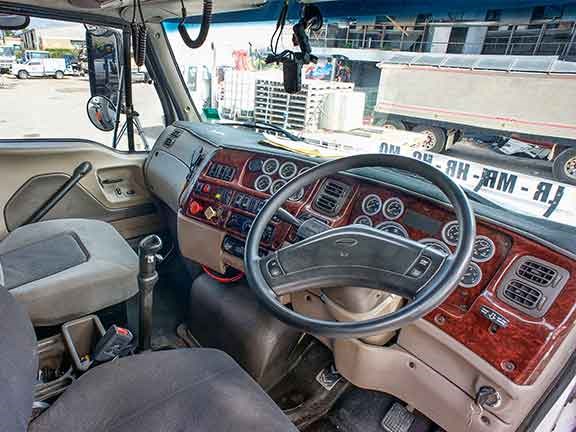 3-axle truck cabin has all the bells and whistles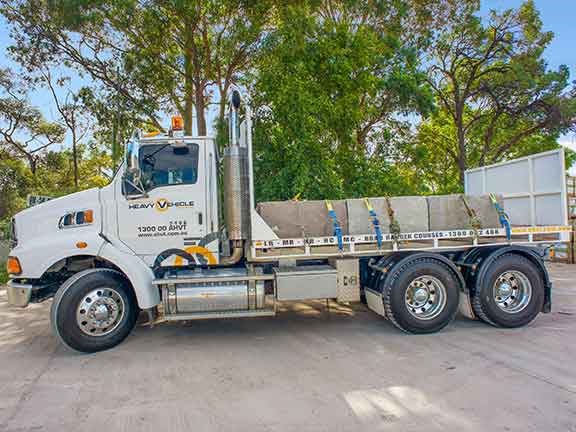 The UHVT truck for HR unrestricted training

So you have your MR licence, but what is it like to get behind the wheel of something bigger and climb up to the next level?
For the past 17 years I have been a bus driver. With my MR driver's licence, I can still remember doing the two-day course and am looking orward to seeing how hard the transition to the next level to get my HR unrestricted licence is.
It's funny – once you are an experienced driver you don't even think about driving a large vehicle.
I often think it is easier to park my bus than it is to park a car. I can reverse the bus anywhere with ease and know exactly where I can and can't take the bus, so I would consider myself a confident bus driver.
I am off to Accredited Heavy Vehicle Training (AHVT) at Moorebank in Sydney to hopefully get my new licence and see how good my driving skills really are!
Before I commenced my training I spoke with the AHVT manager Steve Grima, driver trainer Jon Attard, and driver trainer and assessor Tony Stephens, to ask about the company's process with getting students on the road driving heavy vehicles.
"One of the first things we need to correctly establish is what type of licence is needed for the driver," Steve says.
"Most people call up and say they want to get their truck licence but they don't have the understanding of the different licence levels available and the process.
"We find a lot of people just want to go straight to the top to the HR road ranger licence – a lot of people don't realise what's involved with driving an 18-speed road ranger vehicle, so we make sure this is the right licence for the student.
"I always establish what licence they need to work in their chosen industry.
Do you want to drive a garbage truck, a courier truck, or work in demolition and excavation?
"This initial interview groundwork is very important to ensure the right licence is given to specifically suit the students' needs".
EXCELLENCE OF TRAINERS
Steve says what sets AHVT apart from others is the quality and care of its driver trainers.
"Our RMS-approved trainers have a wealth of experience in the industry, and although Accredited Heavy Vehicle Training has only been operating for several years, it is the
years of experience and knowledge in the industry of our trainers and staff
that make our company successful and give our students a very high success rate," he says.
"We place ourselves in the industry where we are today for both the high quality of our trainers and the quality our vehicles.
"I had a customer the other day give me feedback he had done several driving courses over his career but was most impressed with the patience and calmness of our instructors.
"He said he had never experienced such a high quality of instructions and what impressed him most was the time and care taken to explain things to students – he said we are by far the best driver instruction course he had ever experienced and that he learnt more from his course with us in a short period of time than combining all he has been taught previously!"
INSTRUCTIONS AND TESTING
All students are required to complete their RMS knowledge test and know the road rules for their chosen licence before commencing training.
"It's our job to assess their varying levels of skills and experience to eliminate any bad habits a student may have and to make sure that they apply the correct procedures at all
times to their driving," Tony says.
"We often find new drivers just follow what other drivers are doing – monkey see monkey do – but it is my job to adjust their mindset, it's like breaking a horse in to apply safe driving procedures and follow all of the basic road rules at all times.
"The hardest part is getting a student's head out of the car and into the truck to constantly remember they are driving a vehicle that can be up to 20 tonne – gear changes and breaking has to be thought of much earlier.
It's the thinking behind the processes that we teach our students".
VEHICLE MAINTENANCE
The company also has a mechanical workshop attached to ensure vehicles are in top condition for drivers.
"Our trucks have immediate access to what they need on the spot," Steve says."We also have back-up vehicles available, so a student is never inconvenienced by unforeseeable mechanical problems.We have our own mobile electrician and tyre person too.
"This back-up system sets keeps the wheels turning, so to speak, and avoids any customer inconvenience or disappointment. Students have taken time off work or driven fair distances to do the training, so it's important we deliver what we say we will."
The staff continue to retell customer experiences and I could see that the AHVT flexible approach and patience with the students certainly makes a difference. They both continually
mention the word 'patience', and both agree it is that element that makes their company a success.

DAY ONE
Day one of my two-day course started early at Moorebank at 6.30am. I felt nervous – like a teenager going for their first drivers licence. It's been a long time since being behind the wheel made me feel this way.
My trainer, Jon Attard, has been in the industry all his working life. Experience shows in his approach to the students as he was very business-like and professional, very knowledgeable, and was happy to explain over and over until he could see that I was confident to proceed.
We started with pre-departure safety checks and instructions on the safety aspects of the truck. Jon drove to Smeaton Grange while he explained and demonstrated the process of double shuffling and applying the correct revs to match the engine and gearbox. Initially, this process looked a lot more complicated than I had anticipated.
My first drive started in second gear, third gear, then fourth gear, and this is where the fun begins.
There is a splitter button on the gearstick which takes you into fifth gear. To slow the truck, you need to flick the splitter button again to go back down the gears, and when you get up to the eighth gear there is another splitter button!
If it sounds complicated to manoeuvre through 18 gears, it is. Initially you think you will
never comprehend something this complicated but Jon worked with me through it until it all clicked.
Coming into this, I felt I was a  pretty experienced and confident driver but I was very grateful for Jon's patience and expertise. I think his approach would be invaluable for an inexperienced heavy vehicle driver. Jon really stressed the importance of driver patience when gearing down to slow the vehicle or to manoeuvre a corner and how to correctly timemanage the gears to prepare for what's ahead on the road.
A lot of what he taught was the mental approach to operating the vehicle and how to constantly monitor your driving to ensure safety. End of day one at 2pm Jon explained the upcoming process that would happen in day two, going through the points he thought I needed to master in our last session the next day.
He pointed out that I had the ability to get things right but he gave me advice on what to think about and prepare for the assessment.
DAY TWO
I will admit I didn't sleep too well that night but felt prepared that I had done everything to succeed.
The next morning I spent a few hours with Jon practicing and going over the key points of gearing.
We drove in an area that is commonly used for testing and he gave me scenarios that I might expect to face in the assessment.
He also went over all the driver testing criteria that I would have to pass, and by the end of our session I felt a lot more confident to face the hour of driving.
During your final driving assessment, an in-cabin camera and GPS technology records both your driving and the road and traffic outside. This procedure was brought into effect in 2014 by the RMS. Although this could seem intimidating, by the time I came to this part of the process I felt that Jon had me to the point that I was confident I could pass if all went
well. Jon assured me that there is up to a 98 per cent pass rate – so even with eyes watching and knowing I had to write this article, I was determined not to be the minority.
The test process started off with in-depth vehicle checks, and then you are asked to proceed and follow the assessor's instructions. A few times I re-checked his instructions as nerves were making me secondguess myself but the hour thankfully flew by with nothing remarkable happening.
I had Jon's voice in the back of my head telling me to constantly tell myself what gear I'm in, and this helped me not let the nerves get in the way of my driving.
I wasn't overly confident I had passed, as the test is understandably formal, but I did feel like I hadn't made any major mistakes in the driving assessment.
PATIENCE IS KEY
Previously, if I were to ask a manager of a thriving business what contributed to their success, and the response was patience, I might not really have understood. But being in the driver's seat and lacking confidence and knowledge in an industry that I have been in for 17 years, I was more than grateful that patience was a key virtue at Accredited Heavy Vehicle Training.
Thanks to Jon's training and guidance I passed my HR Licence with a result of 98 per cent and look forward to my first drive in a 3-axle coach soon.
Subscribe to our newsletter
Sign up to receive the ABC e-newsletter, digital magazine and other offers we choose to share with you straight to your inbox
You can also follow our updates by liking us on Facebook.