Denning Reunion goes off
---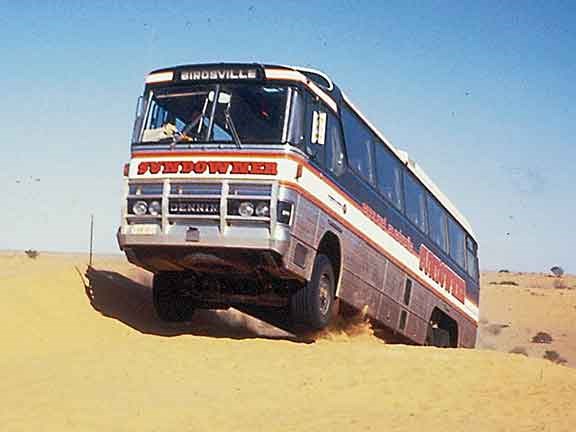 They don't make them like they used to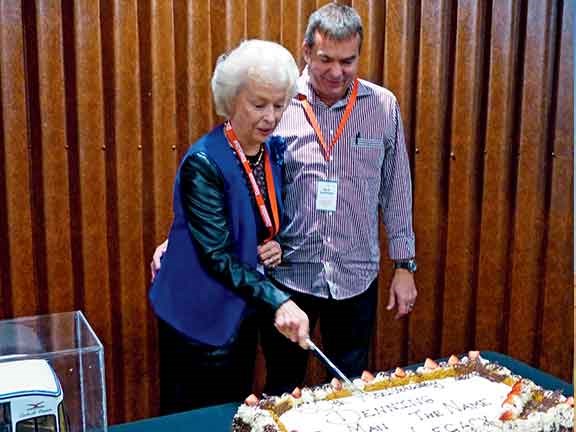 Joan Denning cutting the anniversary cake with son Wade looking on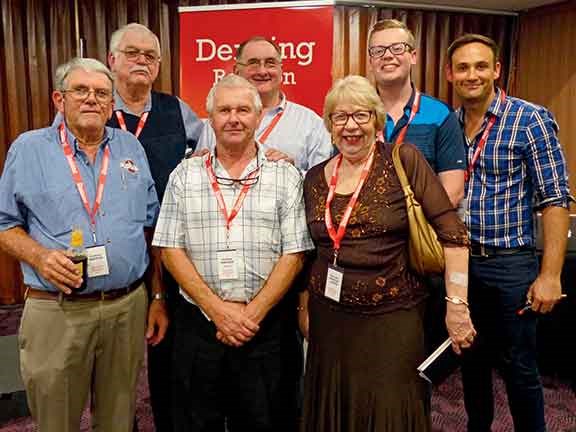 Rear (L-R) Stan Biega, Dick White, Nick Wilson, Pete White. Front (L-R) Graham Bristow, Graham Kircher, Lorraine Douglas-Smith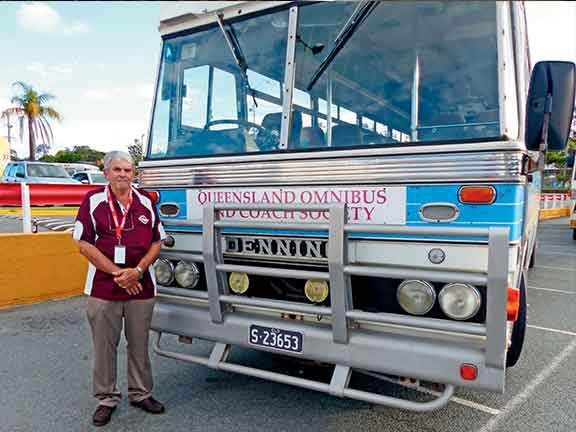 Graham Bristow in front of QOCS' Denflex bus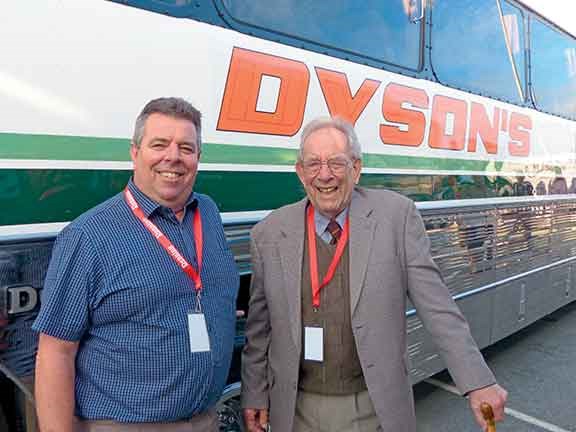 Neil and Col Dyson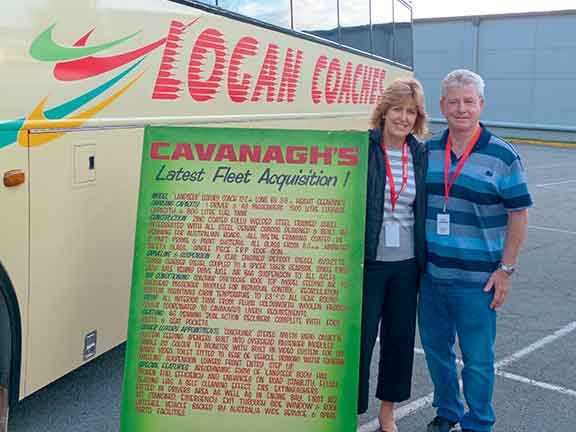 Jo and Peter Cavanagh with their distinctively liveried Landseer coach

More than 150 people gathered at Acacia Ridge Hotel in Brisbane on June 17 to mark 60 years since the first Denning bus
Memories were shared by past and current owners and former Denning staff alike, and the camaraderie was something that you couldn't fake, even if the ribbing was less than gentle at times!
In many ways, Denning is a symbol of the golden era of coaches in Australia. This was an age when many of the 'roads' in central and northern Australia were untamed by sealed surfaces, 4x4s were largely used for work, serious off-road caravans did not exist, and there were far less regional airports capable of handling large aeroplanes.
Buses evolved from servicing suburban and school routes, day charters and inter-city work, giving birth to luxury coaches taking regular organised tour groups on the adventure of a lifetime, to parts of Australia that had not previously been readily accessible.
On the day, stories were told of up to 60 coaches parked up at Uluru (then known as Ayers Rock), a classic image of a coach (Denning, of course!) launching itself over a sand hill, and an abundance of images of coaches parked up when the road was a boggy mess – or brushing past trees on narrow tracks with not a sealed road in sight. In this era, inter-city
coaches also carried a lot of the parcel freight.
Although other types of buses bore the Denning name, it was the touring coaches that established the reputation that saw family, past employees and a host of owners, drivers and enthusiasts come together to celebrate Alan Denning and the coaches that bore his name.
The Denning coaches were strong and reliable enough to conquer the challenges of this demanding application, and the condition of the coaches on display at the reunion – many of them still in active service despite their age – is testament to the build qualities of a Denning.
Order of the day
Saturday started with a viewing of the diverse display of buses of various vintages that occupied a carpark, and had come from as far afield as Melbourne.
The display comprised:
• Fully restored 1987 Denning Landseer, Blanch's, Ballina
• Denning Majestic on Leyland Tiger chassis, Thompsons, Strathpine
• Fully restored Landseer converted to motorhome, Greg McKay, Gladstone
• Landseer, Logan Coaches
• Landseer – star of "The Adventures of Priscilla, Queen of the Desert", Stan Biega, Sydney
• 1978 Denning air-spring coach, Sexton's, Paterson (NSW)
• 1983 Den-Air, Dyson Group, Victoria
• 1978 Denning on Hino chassis and 2010 Denning Manufacturing Phoenix, Haidley's, Warwick
• 1975 Dennmak, South Bundy Buses, Bundaberg
• Queensland Omnibus & Coach Society Inc. (QOCS) – ex-Brisbane City Council bus that shuttled guests between the nearby motel and venue, and 1983 Denning Denflex donated by the Proston Country Bus Service. The $2600 proceeds of the memorabilia auction are being channelled into restoration of this bus.

This display was complemented by an abundance of memorabilia – A.B. Denning memorabilia such as company ties, commemorative glasses and mirrors, bus scale models, brochures, photo albums and other items from the companies who operated, and still operate, Denning buses.
Much of this was supplied or organised by Eric Horder. This material was scattered around the room in which the talks were delivered, and drew a constant audience throughout the day. Select memorabilia and some wine was auctioned by Stan Biega, who donated the model collection that attracted the highest bid.
Dick White, the driving force behind the reunion, opened proceedings with a welcome that was followed by a talk by former managing director Ted Rolls, who worked his way up from a subcontractor electrician to employee to supervision, and then to the top job after Alan Denning's final departure in 1975.
Ted saw Denning as a strong, profitable business with a good apprenticeship system (17 in training at a time), WHS systems that were ahead of their time, and a strong, well-designed product that was widely supported.
Following this, Alan's wife Joan cut the giant cake that celebrated the occasion, with slices distributed at morning tea. Joan attended for the full day and night, accompanied by son Wade.
Both Wade and Nick Wilson, president of the QOCS, gave historical presentations that were split into morning and afternoon sessions. Their slides showed many photos that had probably not previously been seen at a public function.
Wade's morning session covered his father's early years, while his afternoon session gave the story of Alan's activities after he left the company that he founded.
Some of the activities included designing and building boats and motorhomes, supplying coach air-conditioning systems and consulting to chassis suppliers on body designs for overseas markets – often building prototypes in a very short timeframe.
Nick covered the company history, largely related to the buses produced,
and was split into the early years and the 1975-1990 history.
The picture was brought up to date with a brief talk by Michael Dempsey, general manager of Denning Manufacturing.
While this business started in 2003 and has no direct connection to the original company, it operates out of former Alan B. Denning premises in Colebard Street, Acacia Ridge, which was the site of Alan's last bus building venture.
Interspersed with these formal talks were memories from people at the tables, selected by Dick White.
Rod Hood drew on an extensive library of past magazines to provide date references for key milestones.
The real connection is one of maintaining the values of the Denning brand in building a premium product based on a chassis designed and built in Australia using an all-American drivetrain.
While this means that it has a premium price tag, it is one the market has shown it is prepared to pay.
Perhaps it is the enduring relevance of the Denning values such as quality, support and teamwork as much as anything else that saw more than 150 people prepared to spend a day and night together celebrating, as the icing on the anniversary cake so eloquently stated: "Denning: The Man, The Name, The Legacy".

Snapshots of history
The Denning history is a little like a grandfather's axe: one of fractured continuity. As a 20-year-old in 1950, Alan Denning started in smash repair at Wollongabba, later diversifying into body building with ambulances, hearses, motorhomes and utility bodies.
This led to a request to build a bus: a 22-seat side-loader completed in 1957. This escalated, and milestones included:
• First forward-control bus in 1959
• First rear-engine bus (owner did the rear engine conversion) in 1960
• A.B. Denning & Co Pty Ltd registered in 1962
• In-house re-engineering division started in 1963 to meet the demand for rear-engine coaches
• First rear-engine city bus (Leyland Panther) for Brisbane Council in 1966
• Monocoach released with a high frame for luggage capacity
• Denning SA opened 1970-75 to service order for government AEC Swift buses, followed by some private coaches
• First 3-axle coach in 1971
• Company rebranded as Denning in 1977
• First bogie drive coach in the world in 1977
• First fully air-suspended coach in 1978 (Den-Air)
• First Denflex combination route and school bus in 1980
• F series introduced for non-Denning chassis in 1983
• First Landseer in 1984
• First double decker in 1988.
The growth that led to so many milestones saw moves to progressively larger premises at Yeerongpilly (1961 – at which time non-bus activities ceased), Salisbury (1964 – first owned premises), and Landseer Street, Acacia Ridge in 1967 (yes, the bus model was named after the street).
The growth also led to ownership changes. Pressed Metal Corporation (PMC) bought 51 per cent in 1965, while Jaguar Rover Australia (JRA) bought PMC and its Denning subsidiary
in 1968, when Alan Denning became managing director of both companies.
JRA bought Austral Bus & Coach in 1989, and the writing was on the wall with production moving to Austral's Geebung factory in 1990. The service department followed in 1992, a year in which the last of the iconic Landseers was produced.
Denning gave birth to other brands: GBW, when Leigh Gamer, Dudley Brewer and Charlie Winter left in 1971; and Dennmak, when Alan Denning, Athol McKinnon, Eddie Wechner and Jim Harwood left to form Denning, McKinnon & Co. This was a result of senior JRA management vetoing development of air suspension to persist with leaf springs.
How it all happened
Dick White would regularly make comments about the need for a Denning reunion.
People who had an association with A.B. Denning remained in irregular contact, and there was the suggestion of having a get-together before too many disappeared.
QOCS president Nick Wilson, who works with Dick at Dick's
son Pete's business Bus Stop Brisbane, was at the Acacia Ridge Motel on one of the occasions when Dick mentioned the need for a reunion, and commented that Dick needed to stop talking and do something. 
Dick then booked that motel as the venue, and the mad rush to fill the gaps in between began.
While Dick was chief organiser, Lorraine Douglas-Smith looked after the 'office' side of registrations and payment, Nick ran the website for the reunion and worked with Dick's son, Pete, to help with overall management.
Stan Biega and Graham Bristow managed the vehicle display, and Graham Kircher was a late recruit to assist on the day with the PA system, queries, etc.
The smooth running of the day and the success of the occasion is a tribute to the tireless efforts of those concerned.
Subscribe to our newsletter
Sign up to receive the ABC e-newsletter, digital magazine and other offers we choose to share with you straight to your inbox
You can also follow our updates by liking us on Facebook.