BusSA conference review
---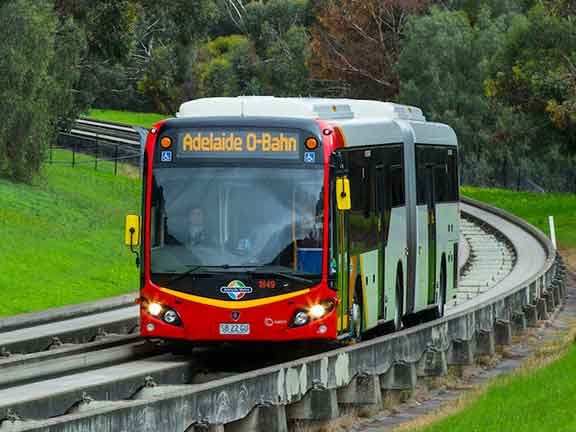 The rapid application of technology to vehicles has the potential to transform the public transport sector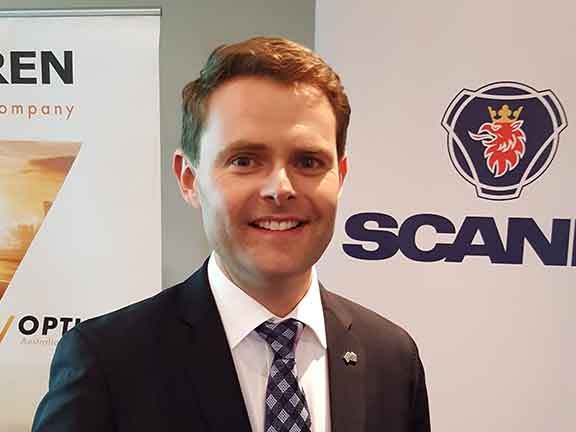 Minister for Transport and Infrastructure Stephen Mullighan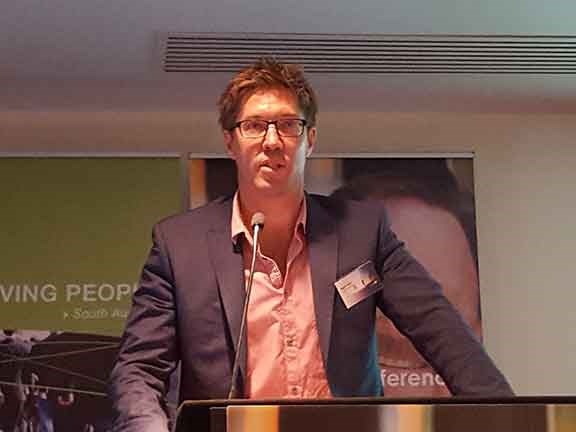 Software developer Nigel Tooth spoke about the way technology is changing the bus industry

There was positive news from Australia's biggest bus market and also from South Australia when the 2017 Bus SA annual conference convened on June 17

Transport minister Stephen Mullighan revealed an extension of the government's plan to improve public transport in regional and rural areas.
However, there was fundamental disagreement from the SA Opposition about the continued supply of school bus services by the Department of Education, with the opposition spokesperson arguing that those school bus routes would be better off in private hands.
The most persistent theme throughout the conference concerned the growing influence of technology – both in managing bus operations and in improving traffic flows on congested urban roads.
Regional committee
The South Australian government has further developed its regional transport network by announcing the funding of a trial for a regional access committee (RAC) to be based in Port Pirie.
The 12-month trial will take stock of the transport needs in and around Port Pirie and consider how to integrate the services and assets to improve service in the area. It follows similar trials in Mount Gambier and the Riverland.
"One of the things I learned very quickly was that it is important to think about
moving people rather than just moving vehicles," Minister for Transport and Infrastructure Stephen Mullighan told the conference attendees.
An RAC is a central regional body designed to better understand and assess the transport needs in the region and marry those up against the existing services and resources that are available.
"The better co-ordinated use of transport assets in a place like Port Pirie should be a model that we can roll out more broadly across SA," Mullighan says.
"Can I offer my heartfelt thanks to Bus SA for driving us to think about it a lot more closely than we were, and for also opening a new service model which will provide not just a difference in those towns, but a difference across SA."
Mullighan says the government was going to install technology on the state's buses to allow them to talk to traffic lights in a bid to get more priority running for buses, so the buses and their passengers are not held up so often.
He was pleased to learn from the local newspaper that the government was making some progress on the "old chestnut" of co-ordinated traffic lights.
Delays on some of the city's key arterial roads through the CBD have been reduced by up to one-third in the morning and afternoon peaks.
Along with increased clearway periods, these small improvements were all designed to keep the buses moving and to give customers the confidence to use buses with the knowledge that they are reliable.
Mullighan listed the $39 billion worth of improvements being made to the SA transport system over the next 30 years, highlighting the autonomous vehicle trials being conducted in Adelaide.
"I believe if we do see autonomous vehicles deployed on our streets, there will be many community benefits, principally for those people who are unable to complete the whole of the driving task themselves," he says.
The main gain would be greatly improved safety outcomes thanks to fewer road crashes.
There are trials being conducted at Flinders University, the Tonsley Park Innovation Precinct and Adelaide Airport between the long-term carpark and the terminal.
"I don't think anyone expects that in three years' time or five years' time we are suddenly going to have driverless public transport vehicles across our routes, but with these closed campus trials we will be able to progress this technology so that we can get some of the spin-off benefits like improved safety, improved congestion, and improved mobility," Mullighan says.
On a more immediate note, Mullighan says he is "all in favour" of more double decker buses being used on SA roads.
"If we can get more people on a smaller footprint, why wouldn't we? It's a no-brainer."
Privatisation debate
Persuading the education department to surrender its current school bus responsibilities in favour of private operators is still a key point of difference between the Opposition Liberal Party and the SA Government.
"I know many of you are very frustrated by the brakes put on your businesses because your major competitor in the school bus area is the Department of Education [DET]," Opposition spokesperson on transport David Pisoni says.
"It is unique to SA. Unlike the minister, I don't agree there is any risk to school communities or to how well the system will run if we decided to take DET out of the equation."
Pisoni says a decision for DET to hand over its school runs to the private sector would create a number of regional businesses.
"The SA Government could provide a core business base for a number of contractors to start businesses in regional areas in the form of a school bus route."
While he agrees with the Mullighan that transport assets in regional areas should be made good use of he says once the buses are in private hands, there would be opportunities for new companies to be more innovative.
"The fact that you know you have that school bus contract for 10 years means you might be prepared to take some risks, run a route for a while and see whether you can change the culture in a particular area.
"If I end up in Mr Mullighan's shoes after the next election, there will be a strong emphasis on getting the very best we can out of the assets we have that are privately operated in
regional SA."
Technology trends
The rapid application of technology to road use and vehicles has the potential to transform the public transport sector and profoundly alter the way operators manage their fleets, according to software developer Nigel Tooth.
The systems being developed now, including the harvesting and analysis of many sources of data and the development of autonomous vehicles, promise to deliver improvements to all stakeholders in the industry.
Tooth is no ordinary software designer, as he was a managing director of a regional bus company at 22 years of age.
The need to improve the performance of his 32-vehicle fleet led him into the exploration of intelligent transport systems and autonomous vehicles and, ultimately, to the development of a public transport app operators can install on their phones.
"Developing an app was the answer, but developing an app was also a long road. But the system has grown rapidly and is now across Australia and New Zealand," Tooth says, with the system now in use on 300 buses across Australia. "It has transitioned seamlessly into an industry that can sometimes be a little hesitant to change."
The principal role of the system is to make ticketing easier by using an iPad and a thermal printer and allowing the operator to have access to all the data from the buses in real time.
But Tooth believes this is just the start of the technology revolution. The adoption of intelligent transport systems and the increasing ease of communications and data collection means the benefits will also flow to customers, who will become more demanding of the transport system.
"The technology age is well and truly upon us and while some consider the bus industry as uncool or boring, I believe we have a fantastic opportunity to change that perception if we jump on board and make the leap to catch up with technology."
The three main areas of development will be the installation of infrastructure for data collection and communicating with vehicles, the development of on-board technology which will ultimately lead to the driverless bus and an increasingly knowledgeable and demanding customer.
Tooth believes the application of technology would help transcend the divide between metropolitan and regional and rural transport operations. However, he says it can't transform some aspects of the industry.
"For instance, I don't think a driverless bus would be acceptable on some of the backroads we all travel on in the various states. It may rattle the computer to bits and might not recognise the old painted milk tin as a bus stop."
But autonomous vehicles will need millimetre-type precision in their guidance maps and will need to be able to detect all the vehicles around them, their trajectories and their speeds.
The required infrastructure will be expensive and will require a lot of planning, he says.
The availability of real-time data could also transform the on-road experience, with trials in France showing that smart traffic light systems, not just synchronised, can detect the presence or absence of cars and cut delays caused by heavy traffic by as much as 40 per cent.
"One step further is removing traffic lights altogether and making the intersection completely autonomous, increasing the number of vehicles on the road and producing streams of traffic that are controlled completely by data and technology," Tooth says.
Regulatory burdens
The outlook in Australia's biggest bus market is positive due to more useful engagement with the NSW Government, but there are still some regulatory issues that irritate operators.
"As an industry, we are pretty well over-governed and oversupplied in the sense of what we have to do for accreditation," BusNSW president John King says.
"Every operator must be accredited and RMS [the Department of Roads and Maritime Services] is responsible for regulating bus services in NSW.
Then you have your BOAS [Bus Operator Accreditation System] auditing and you have RMS checking the heavy vehicles. 
"All this comes at a cost, and it comes with a lot of regulation and a lot of staff.
"If you look at a lot of the small operators, they are going to struggle with that.
"As an industry, we have got to come up with some solutions."
King says the heavy vehicle inspection system requires buses to be inspected twice a year.
"Some of these small operators have to do 140km to get one of those done.
"There are some challenges there because the government is cutting back on inspection stations and so on. Where do we go with that as an industry?"
Despite the level of regulation, King says there are signs that the partnership between the NSW Government and the bus operators has been improving.
"The government and industry partnership approach, as I said, it's coming back. We are seeing some quite good movement on that: the phone calls, the emails, the meetings.
"If we can keep that going forward, we can give value for money back to the government. If we can give value for money back to the government, they may not want to tender."
King says he is excited about the new technologies that are becoming available as it could empower operators to improve their services.
"We have been monitoring vehicles since 1992 with satellite tracking. This is the sort of stuff we love. We have got all those processes in place.
"Around the corner we've got an Opal card in NSW and very shortly they are going to go to live data on mobile apps.
"What do we get out of that? We get a lot of data, and the data's available, it's on websites, and you can view it if you want.
"What we can do with that data is make sure we give value for money to the government by coming up with the right results.
"If we collect all the data, we can connect our modes together, and the result will be that we will grow passenger transport. And that's what we've got to do.
"If we don't grow our numbers, we will end up a declining industry."
Subscribe to our newsletter
Sign up to receive the ABC e-newsletter, digital magazine and other offers we choose to share with you straight to your inbox
You can also follow our updates by liking us on Facebook.