Minister leads NSW summit
---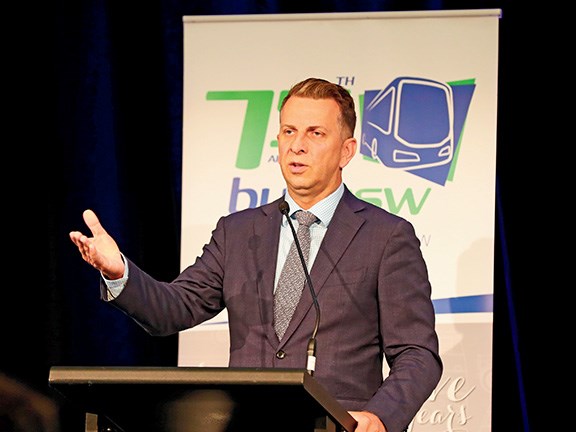 NSW Minister for Transport and Infrastructure Andrew Constance addresses delegates at the BusNSW Member Conference in Terrigal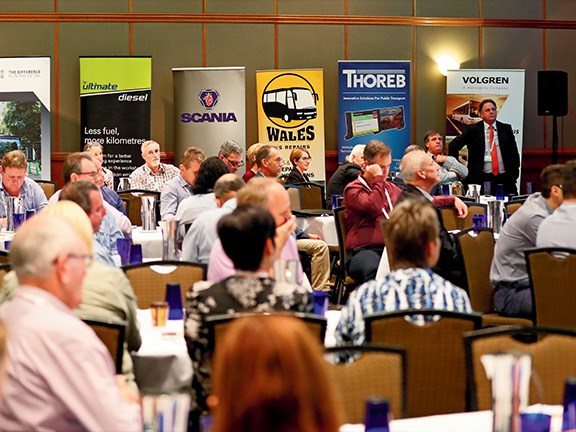 The BusNSW conference was well attended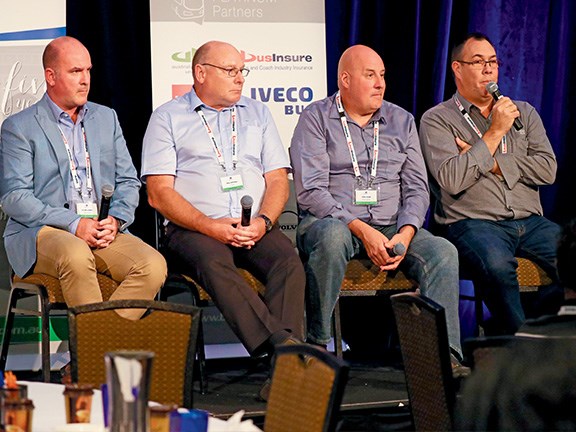 The technical design panel answered some tricky questions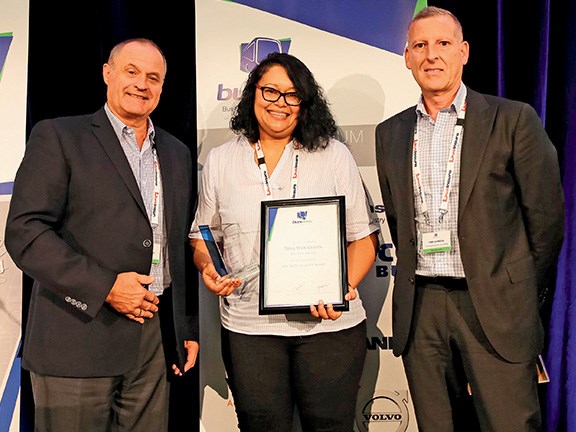 The 2017 BusNSW Achiever Award was presented to Tina Woodman from Buslines Group by BusNSW executive director Darryl Mellish and ABCU business development manager Tony La Rocca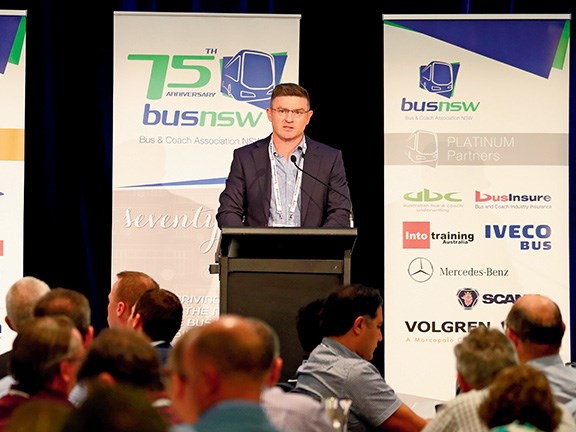 After 18 years as BusNSW executive director, Darryl Mellish will be handing over the role to Matt Threlkeld (pictured) in July

Industry came together to share ideas and discuss the challenges that bus businesses face in 2017 at the BusNSW Member Conference at Terrigal last month
The BusNSW Member Conference marked 75 years for BusNSW, and the organisation has produced a book and presented a video on the evolution of the bus industry in the state.
A session on BOAS audits and an incident management refresher workshop was held the day before, giving NSW operators a chance to brush up on their legal obligations and responsibilities.
The keynote speaker at the main conference on April 21 was New South Wales Minister for Transport and Infrastructure Andrew Constance – his address showed a solid understanding of the bus industry and public transport sector more broadly.
"The big challenge for your industry is not to get 'Ubered'," Constance began.
"In 15-20 years automation is going to take over, we're already starting to see it now.
"The very nature of transport planning is going to change enormously and this will bring both opportunities and challenges.
Transport is a technology business and for it to thrive as a sector you need to be sure that government is not standing in the way of progress.
"We need to be looking to the future, especially in regards to infrastructure. Why build something today that's going to be redundant in 15 years?"
He was pleased with on-time running and the performance of the bus services generally, saying it compares well to other modes, and spoke about the new public transport network in Newcastle.
"We were able to franchise the entire public transport network in Newcastle," Constance says.
"I think the actions of some of our unions over the last few years has been appalling. The industrial environment will change because the technology is changing."
Constance was followed by actor and screenwriter Rob Carlton, who spoke about his experiences in the lead up to his Most Outstanding Actor Logie-winning portrayal of Kerry Packer in Paper Giants: The Birth of Cleo.
His speech centred around the character research and interviews he did in preparation for the role, his take on big business in Australia and how it can be at odds with the values we hold dear – such as morality and mateship.
A gifted speaker – his message was profound – he stressed the importance of maintaining
healthy inter-personal relationships and the human side of business, which seemed to resonate with the audience.

NSW fleet safety
Roads & Maritime Services (RMS) compliance and regulatory services executive director Melinda Bailey spoke about current regulatory issues for the bus and coach industry and provided a snapshot of NSW bus fleet compliance.
"There is a huge improvement generally between first and second bus fleet safety audits," she says.
"About 84 per cent of defects we encountered [in the last audit period] were minor and this compares well with the truck industry."
Sixty-six per cent of vehicle defects in the truck NSW industry were minor and the rest more serious, which shows that bus operators are generally more compliant than their trucking counterparts.
NSW Government Point to Point Transport Commissioner Barbara Wise spoke about the work she is doing and how new point-to-point transport legislation will affect operators in the industry.
"This legislation does have an impact, even though it only applies to vehicles with 12 seats or less," she says. "It's just a matter of time before this will lead to changes in regulations for you."
"Our draft point-to-point policy is out for consideration, and the bus industry is engaged in this process."
The taxi industry has not fallen over with the introduction of Uber – but these point-to-point regulations have more or less been drafted in response to the introduction of Uber and the changing transport landscape, in a sense by decreasing the regulatory burden on traditional transport services so that they can compete on a more level playing field economically.
"One of the changes is that, for charter buses with less than 12 passengers, as long as the work is pre-booked you will be able to take payment however you want."
Transport for New South Wales (TfNSW) service delivery and performance reports were delivered by TfNSW service delivery and performance executive director John Karaboulis.
He said that although performance across the network was good, the majority of complaints for metro operators relate to buses being late, while outer metro complaints relate to drivers failing to stop at all designated stops. Reports on rural and regional operators are due in the next month or so.
Fare evasion has almost halved since 2013. Karaboulis puts this down to the allocation of more resources to policing and a softer approach among transport officers – with warnings often being issued for first-time fare evaders – and a stronger focus on educating rather than penalising people.
He thanked operators for working with TfNSW and encouraged them to contact the organisation if they are having any issues.
Incoming BusNSW executive director Matt Threlkeld presented the annual BusNSW industry report, with special thanks given to retiring executive director Darryl Mellish for mentoring him over the years.
While the industry is performing well, he acknowledges that technology is moving fast and the industry must adapt quickly to these changes moving forward.
He spoke about a range of TfNSW initiatives that BusNSW has been actively engaged in to help improve the safety of the state's fleet, including the introduction of fire suppression and tyre monitoring systems, and the rural and regional seatbelts in school buses program.
In terms of charter, he says BusNSW continues to advocate for better coach access to key parts of Sydney.
He pointed to the fact that the quantity of people using buses has increased in Sydney from 5.3 per cent in 2004-05 to 6 per cent in 2014-15 as an indicator that the industry was doing a good job of increasing patronage relative to other modes.
The final session involved a panel discussion on vehicle technology and where the bus industry is headed in terms of design.
Iveco representative Steve Heanes delivered an update on key design outcomes that were agreed to and will be progressed by the BIC Technical, Safety and Environment Committee, including the Euro 6 emission standard introduction, and he was joined by a number of other manufacturers who offered their insights into where bus design and regulation is headed in Australia.

Achiever Award
The 2017 Australian Bus and Coach Underwriting ABCU/BusNSW Achiever Award was presented to Tina Woodman from Buslines Group.
Woodman has almost 20 years' experience in the bus industry, initially taking a role in the late 1990s which involved project work relating to the bus transport task leading up to and throughout the Sydney 2000 Olympic Games.
Following the completion of the Olympics task, Woodman was persuaded to take a position with a south-west Sydney-based bus operator.
During this period, she made a significant contribution to the business.
In 2007, she moved to her current position in policy, compliance and operations with Buslines Group, a large rural and regional operator.
"In recent times with the new rural and regional contract roll out, Tina has contributed enormously to BusNSW in the areas of contracts, accreditation and compliance, and more recently with the changes to the School Student Transport Scheme," Threlkeld says.
"She has a detailed knowledge of systems and processes, and has been hugely beneficial to both her employer and the industry."
Woodman has completed a Certificate of Transport Management with the Institute
of Transport and Logistics Studies and is a qualified Bus and Coach Operator Accreditation Scheme auditor.
New leadership
After 18 years as BusNSW executive director, Darryl Mellish will be handing over the role to Matt Threlkeld.
Mellish put a succession plan to the board that sees Threlkeld appointed as executive director from the end of July 2017.
Mellish will take on a non-executive director and advisor role to the industry on a part-time basis.
Threlkeld is currently the BusNSW industry development manager. Before joining BusNSW in 2007 he managed Transit First, a large Sydney metropolitan bus operation acquired by Transdev.
He has commerce and marketing degrees with many years' experience in the industry at operational and policy levels.
Mellish says the time is right for Threlkeld to take over, saying he has great ideas and is a quality person respected by members and key stakeholders.
"We are in a period of relative stability from contract and regulatory perspectives, and it's a good time to facilitate change," Mellish says.
"There are new challenges and opportunities on the horizon for Matt, and I want to broaden my sources of fun and balance the family and work environment. "It's been a great 18 years; I have been very fortunate.
"The industry is involved in all aspects of business and community, which is a very good environment for job satisfaction.
"I have had the pleasure of working with lots of people dedicated to serve their customers and run efficient businesses."
Mellish has worked with seven transport ministers and six BusNSW presidents in a period of major reform.
Threlkeld says he is honoured to be offered the position.
"It's an exciting time to be involved in public transport in NSW and my family has a long history in the bus industry," he says.
"BusNSW has a large membership of dedicated operators and suppliers to represent, and deals with many stakeholders, which brings a high level of responsibility.
"Whilst at BusNSW I have been able to benefit from Darryl's extensive corporate experience, and am pleased that Darryl will be available for consultation.
"Darryl and outgoing president Frank D'Apuzzo have ensured the association is well placed to meet future challenges, and I look forward to building on their work with new president John King and the BusNSW board.
"With any change, there is an opportunity to reconsider how things are done, and I plan to review our member services and commercial activities over the next few months.
Subscribe to our newsletter
Sign up to receive the ABC e-newsletter, digital magazine and other offers we choose to share with you straight to your inbox
You can also follow our updates by liking us on Facebook.