Major milestone for Vic operator
---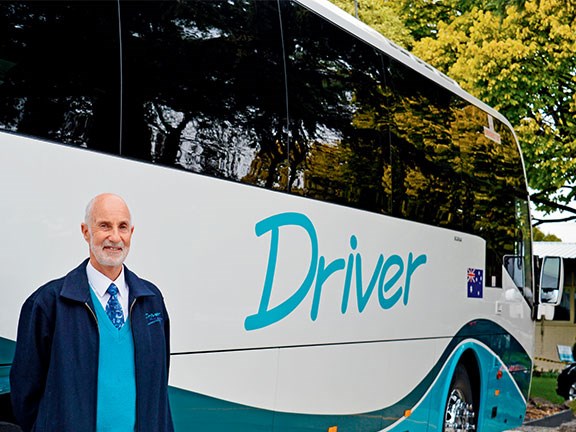 Daryl Driver has reached a major milestone with the celebration of his 50th year working in the bus industry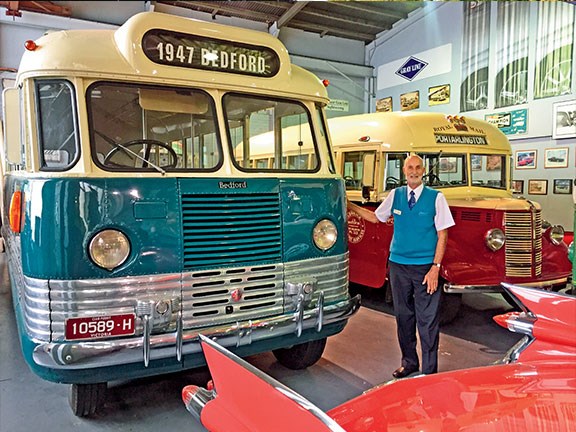 Just a few in the vinatge collection at Driver Bus Lines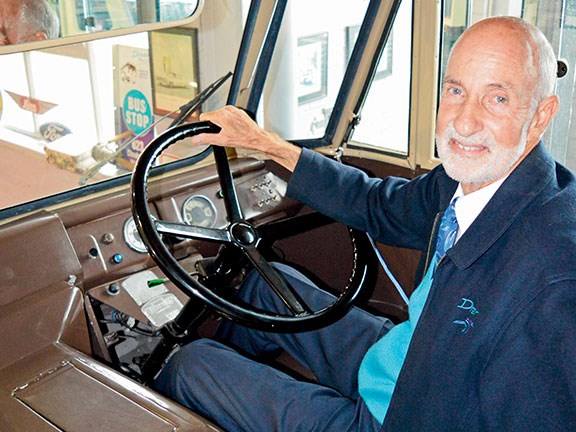 Daryl in the driver's seat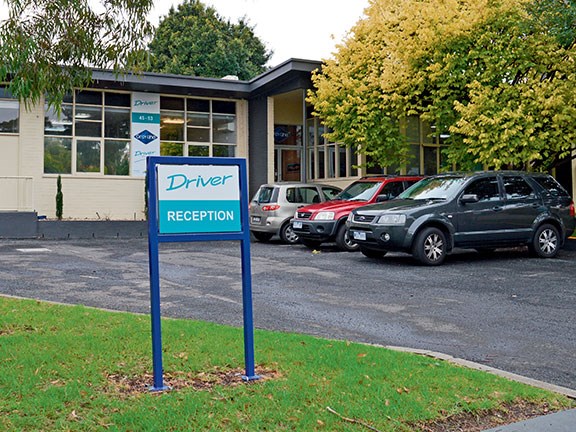 The Driver Bus Lines depot in Melbourne

Victorian operator Daryl Driver of Driver Bus Lines celebrates 50 years in the bus and coach industry this month and he's seen huge changes over half a century in business
It's strange some things you're able to recall from childhood.
It feels like only yesterday that I was sitting in the bus driver's seat pretending to drive my sisters around, printing them tickets with the old Almex machine while they tugged on the 'pullcord' as I manoeuvred the bar lever to open the doors at their imaginary stop.
Visits to the Driver bus depot is still one of our family's favourite things to do.
I can't help but smile at these memories as I too watch my own son, now 15 years old, play the same role-playing game with his brothers.
On May 11, my father Daryl Driver celebrated 50 years working in the bus industry.
'Driver Brothers', as it was once named, marks 86 years in operation this year and it's crazy to think that Daryl has been there for 50 of those years.
Growing up in the leafy eastern suburb of Glen Iris, he learnt to drive – perhaps not in the usual way – at the young age of 12.
He would often go down to the bus depot at Glen Iris Road with his father Eric and uncle Reg Driver, where he would drive around the yard and help to park the buses.
As Daryl gained more driving experience, his father allowed him to drive on the road.
By the age of 16, he would drive through the small back streets of Glen Iris.
After completing year 12 at Ashwood High School and gaining valuable experience working at a local accounting firm, Daryl obtained his full bus licence. 
Little did he realise back then that this everyday achievement would be the beginning of a lifelong vocation.
With his head full of dreams, a young 19-year-old Daryl set to work with his father in 1967, marking the start of his 50-year milestone.
Humble beginnings
Before joining Driver Bus Lines in an official capacity, Daryl worked at the bus depot part time on weekends with his younger brother Gary.
The two of them used to empty the ashtrays that were full of cigarettes from the drivers, as well as polishing wheels and cleaning the inside of bus roofs which were often stained yellow from passengers smoking on board.
They also got the buses ready for service on Saturday by checking oil and fuel levels.
As a kid, Daryl loved being around the buses and after school he would often  ride on the bus run and chat with the drivers.
Daryl started his driving career on route service 612, the company's original run.
From 1931 the route went from Camberwell Junction to Glen Iris Station, and in 1960 the run was extended to Chadstone Shopping Centre.
The bus route now operated from Camberwell to Chadstone via Glen Iris Station.
Daryl spent much of his early years driving on this service as well as venturing into some charter trips.
After some seven years working in different roles at the company, Daryl became a director/shareholder along with Gary and their parents Eric and Linda Driver.
In 1975, this hard-working and enthusiastic 27-year-old was then appointed the manager of Driver Bus Lines. With his wife Cheryl by his side and newly arrived daughters Kim and Shelley, he set to work to continue in his father's footsteps.
Expanding business
In 1978, under Daryl's management, Driver Bus Lines took over a neighbouring operator's route service, extending its 612 run to Box Hill. This was a major step for Driver as it was now carrying significantly more passengers on its buses.
While working on a new timetable linking the two bus routes, Daryl also spent time designing an extended tour program. For it was during this year that the business expanded into extended touring, something he had a real passion for.
The first overnight tour Driver Bus Lines operated was a trip to Bairnsdale, driven by Daryl. Driver Coaches soon offered local, statewide and interstate tours.
Another passion of Daryl's was snow charter trips. Apart from having to attach chains to the bus wheels in heavy weather, he thoroughly enjoyed these tours.
From these humble beginnings, the touring aspect of the business greatly expanded and today has evolved into Gray Line Sightseeing.
The '80s came with many challenges for Daryl and Gary and their management
of the business.
At the time, the state Labor Government wanted to restructure the private bus industry. Simply, they wanted small bus operators like Driver to either 'go or grow'.
Daryl and Gary wanted to protect the company's original route 612 on which it was founded, so they decided to grow.
Keeping it tidy
In 1986, Driver Bus Lines purchased Shave Bus Service, which came with three route service runs, 29 licences, 35 buses (nine of which were unworkable), as well as a depot in Mount Waverley.
The buses were in quite poor condition and required a mechanic on road nearly
full time to retrieve and fix up buses.
Many of the Shave drivers did not meet the company standards and this compelled Daryl to make many changes. 
He expected his drivers to wear ties with shirts tucked in and polished black shoes.
A number of employees did not like this but with Daryl's determination and no-nonsense approach, the culture eventually changed for the better.
With the purchase of Shave Bus Service, Driver's fleet total reached 45 buses.
It took four years to replace much of Shave's old rundown fleet but Daryl and Gary's work enabled the route service buses to be replaced and roadside breakdowns decreased.
The preferred route buses at that time for Driver were the Volvo B10M Volgren and, for charter, the GM Denning.
In 1989, the opportunity arose for Gary to fulfil his dream of running sightseeing day tours when the business of Pioneer Tours became available.
While Daryl was supportive of Gary's vision, he was relentless in pushing him to make sure this was a profitable initiative.
The original Ansett Pioneer Tours was a benchmark company that both Daryl and Gary greatly admired as they had a near 'centimetre-perfect' fleet.
With the rise of this new tourism venture, the doors opened for Daryl's daughters to become involved in the company, and for the first time Daryl saw the opportunity for the third generation to lead the way.
One of his proudest moments was in 1991 when his eldest daughter, Kim Driver, began work in Pioneer Day Tours based in the city of Melbourne.
She was later joined by her younger sisters Shelley and Angela Driver, who formed part of the Pioneer Tours team. 
In addition to Kim joining the business, there were other benefits with Kim's husband Robert Nadalin joining Driver in 1992. Daryl's son-in-law Robert, who is general manager, also celebrated 25 years of service working alongside Daryl at Driver Bus Lines recently.
Evolving services
As the '90s faded, the early 2000s approached and the direction of the company was beginning to change.
The public transport and route service focus that defined the early years of the company was beginning to be more directed towards the school charter side of the business.
The demand for bus work from the education sector thrilled Daryl, and the strong relationships he developed with the local schools in the area led to Driver being a prominent presence among many public and independent schools.
The growth in contracted school bus runs today satisfies Daryl's vision for the company.
Feeling comfortable about the future direction of the organisation, it was during
this period that he semi-retired from the day-to-day management of the company to more of an overseeing role, enabling him to spend more time with his family.
This allowed Mark Driver, Gary's eldest son, the opportunity to become more involved in Driver Bus Lines and help maintain the family-run business.
Today, the company operates a fleet of more than 120 vehicles including Scanias and Dennings. Daryl, who is aged 69, chooses to drive his favourite vehicle, a Detroit Diesel series 50 Motor Coach, three days a week.
It is remarkable that even after 50 years, Daryl remains just as enthusiastic and passionate as he was when he first started driving in the company.
To have watched his father also dedicate 51 years to this wonderful industry is a brilliant example of how passionate and loved this family business is to the Drivers.
A special mention must go to Cheryl Driver, Daryl's wife, for her ongoing love and support. Through the tough times, Cheryl was always encouraging, loyal and helpful towards Daryl to keep him going so the business could succeed.
As I sit here today writing this extract of dad's work life with my eldest son Josh, I can't help but see glimpses of Daryl in him.
Some say the love of buses 'is in the blood', and I would have to agree with this.
This hard-working industry is not for everyone.
It is for those with passion willing to dedicate their life to it – to watch the fruits of their labour grow.
I saw this at an early age in my cousin Mark and I believe I see it now in my own son.
To imagine Driver Bus Lines at the heart of a fourth generation of bus lovers
excites me.
I know dad too imagines this unfolding in the future and I only hope that the next generation will share his enormous heart for community, his determination and strong work ethic.
Dad is never more content or happier than when he is behind a wheel of a bus.
To see him teaching Josh to drive, just as his father did all those years ago, tells me
the company is in good hands and will be for future generations.
Subscribe to our newsletter
Sign up to receive the ABC e-newsletter, digital magazine and other offers we choose to share with you straight to your inbox
You can also follow our updates by liking us on Facebook.