Design focus at Canberra summit
---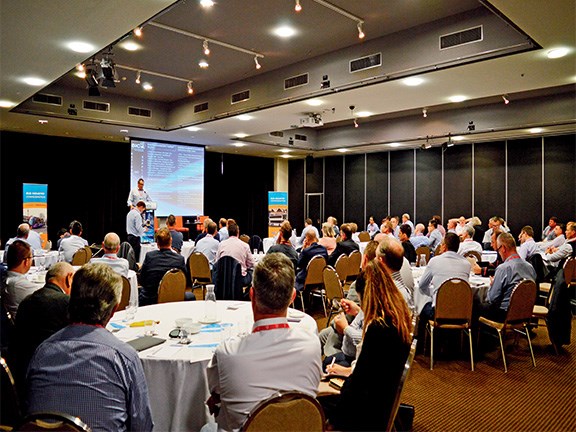 BIC vice chairman Steve Heanes speaks at the Bus Industry Confederation (BIC) National Technical and Suppliers Summit in Canberra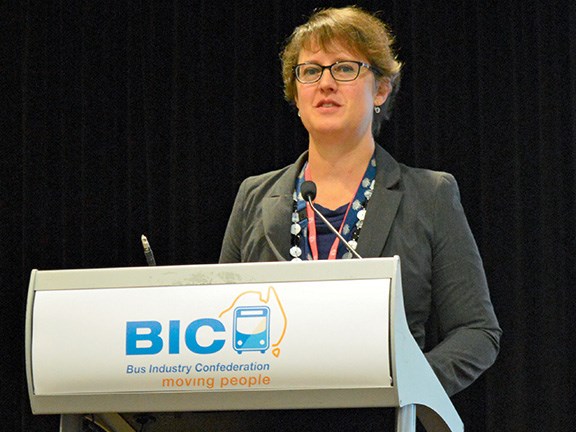 Federal road safety and transport policy specialist Katrina Cristofani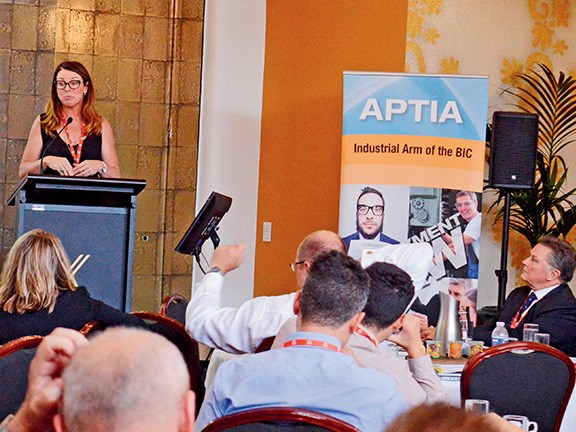 Interact Group managing director Nikki Brouwers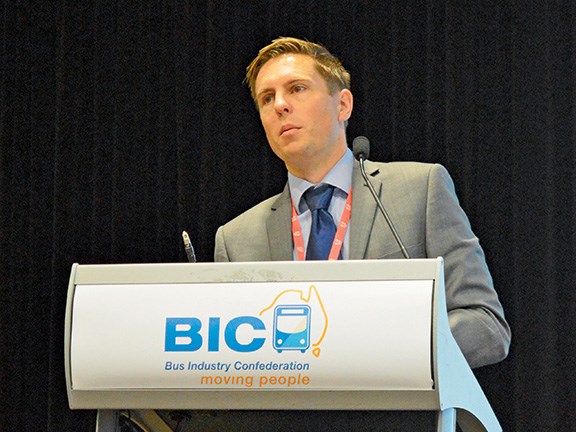 Federal heavy vehicle standards expert Mark Hester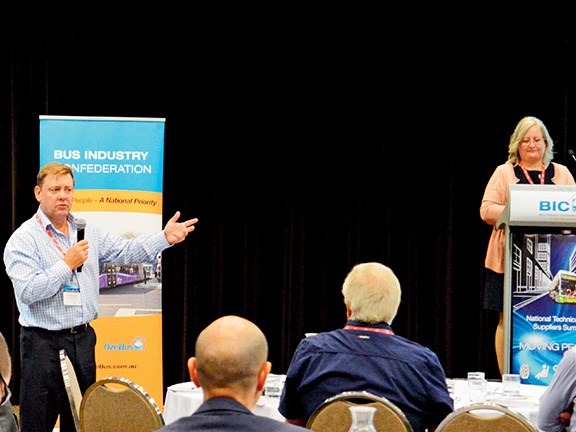 BIC executive director Michael Apps

Bus industry suppliers and policy experts tackle some of the more technical issues around bus design at the BIC Summit in Canberra
A large section of the Bus Industry Confederation (BIC) National Technical and Suppliers Summit in Canberra was dedicated to informing attendees of the latest developments in this space.
The conference got off to an intriguing start with representatives from the Department of Infrastructure and Regional Development informing delegates about the evolution of current vehicle safety standards.
Bus industry suppliers and operators are interested in what's happening at a regulatory level in the context of compliance and how Australian Design Rules (ADRs) apply, and a large section of the conference.
First speaker Mark Hester is a qualified mechanical engineer and helps to oversee vehicle certification, allowing new bus and coach products to be introduced to the Australian market.
Hester's job islargely based around creating a uniform set of design standards and his team is focused on streamlining the rules and making sure everyone accepts the minimum standards.
"The cost burden of any new regulation must be offset  by removing regulations in
other areas in terms of compliance," he says.
Hester and his team work closely with industry and road user groups. The Road Vehicle Standards Act is currently being developed by Hester's team and this will set out the law in a way that is much easier to understand than what is currently in place. These new standards are likely to be introduced in 2018.
His department is also looking at emissions standards, although it is not known precisely when an updated set of standards will have been developed and are ready to implement.
An equal footing
Next to address delegates was road safety and transport policy director Katrina Cristofani and her assistant director Geoff Smith, both of whom are working to improve disability and accessibility standards on public transport.
The Transport Standards Safety Review, which was held in July 2015, resulted in seven key recommendations that will help improve disabled accessibility. Cristofani's team is working on implementing these now.
Smith says that there are a few challenges for bus and coach operators in this space in creating equivalent access and meeting the standards.
"We are now at the point where we're trying to make our way through the issues and see if we can come up with a package by the end of this year.
"Coming out of the second review, what we found nationally is that operators don't use 'equivalent access' provisions simply because they're unsure about them," he says.
Back in 2009, a committee was formed to look into mobility scooter safety following a number of deaths. A number of these scooters are designed overseas, so as part of that, the committee also considered access to buses and trains. This led to what is now known as the Public Transport Labelling Scheme, providing stickers for scooters that meet a certified standard.
He says the committee is meeting again this month with the aim of producing an Australian Technical Specification for mobility scooters. The Australian committee has done a lot of work on technical standards for mobility scooters to fit onto public transport. One of the key areas of focus is limiting speed – perhaps to 10km/h – and also implementing a unified standard around dimensions.
National bus fleet snapshot
National Heavy Vehicle Regulator (NHVR) spokesperson Peter Austin says the national bus fleet is highly compliant compared to freight trucks and that the final report on the National Roadworthiness Baseline Survey will be released in May.
"What we are doing with the National Baseline Survey has never been done across the jurisdiction," he explains.

"We made sure we got a representative sample of the entire vehicle fleet and there is no prevalence of major defects within the national bus and coach fleet.
We will have a webinar after the release of the survey that will allow us to talk to industry about what we should do moving forward. The buses we tested performed very well; the average age of the buses we tested was 9.8 years."
The largest area of fault NHVR found while conducting its survey testing on buses was related to brakes.
Baseline survey aside, the NHVR plans to target its regular scheduled and random roadside inspections based on the perceived level of risk in 2017.
"We need to make sure that our responses are based on the level of risk and we need to make  sure that we are being consistent in terms of our inspections," Austin says.
"We are still looking at post-July 2018 when we can implement recommendations that come from the baseline survey, so we're still in the early stages.
"In the future we do want to conduct more baseline surveys."
Compliance in focus
Roads and Maritime Services (RMS) principal manager of enforcement operations
Brett Patterson says the Heavy Vehicle Compliance Survey 2015 report shed light on New South Wales bus fleet compliance.
"We work closely with BusNSW and we need to work together closely to achieve compliance," he says.
"The most common issues that we see are to brakes, auxiliary equipment, tyre faults, and oil and fuel leaks."
In 2015/16, RMS looked at 38,000 individual coaches, with 17 per cent of the faults it found  relating to brakes.
Of all the buses inspected in 2016, only 1 per cent had major defects.
A new initiative involves hosting operators, BusNSW and manufacturers to roadside inspections to help them gain an insight into the common types of faults it sees on a
day-to-day basis.
Transport for New South Wales (TfNSW) metro service procurement and contract manager Penny Harte spoke at the conference about the prevalence of bus fires.
"Bus fires have been recurring more regularly the last few years," she says.
"In fact the 2016 Fire Safety Report shows that bus fires of increased by 92 per cent; 80 per cent of bus fires are caused by the brakes.
"We have an independently cheered bus fire mitigation committee and we're working on recommendations which we will then present to the government.
"The committee includes bus manufacturers and the Bus Industry Confederation and other industry stakeholders.
"We meet with bus operators to discuss fire safety.
"We even retrofit engine bays to make them safer, which is a program we have been running for a number of years.
"We have been looking at improvements to the fire incident database to help us understand what we need to do to reduce the incidences of fire.
"We have a strong focus on prevention and operators and manufacturers help us to achieve that aim.
"Maintenance is obviously a key factor among operators."
Fire monitoring equipment is also being fitted onto the rear axle of buses in New South Wales as part of an ongoing safety improvement program, since a large number of bus fires start in the tyre well.
Harte also spoke about including regional and rural operators in the bus procurement panel for the first time this year and a potential shift towards electric buses.
"We are considering trialling electric buses in New South Wales. We are looking to go to market, look into the costs and identify what would be suitable routes first, in  regard to the operation of electric buses."
Mov3ment principal consultant Mark Gjerek says the transport industry is one of the biggest users of energy in Australia at 27 per cent.
For this reason Gjerek says the government will increasingly look to focus on the transport industry to improve its environmental standards.
Employer Responsibility
Down the road at the APTIA Industrial Relations seminar at Hotel Kurrajong in Canberra, operators were learning about best practice when it comes to being a responsible employer
and what is expected of employers in accordance with  the Fair Work Act.
Discussions were focused around the importance of adhering to strict procedures when it comes to employee dismissal and how to avoid costly payouts.
Interact Group managing director Nikki Brouwers says that keeping people healthy and happy at work is something that bus operators must commit to.
"You need to meet with your supervisors and your HR department to make sure you
have strong and consistent policies in place and that these are adhered to," she says.
Guest speaker Australian Chamber of Commerce and Industry executive director James Pearson says the industrial relations environment in which operators have to run their business these days is tougher than ever.
There's a lot of commentary around about whether the Fair Work Act is being used in the way it was intended, where employees are dismissed by their employer (in what most people would see as fair circumstances) being returned to work after decisions by the Fair Work Commission (FWC).
He also spoke about industrial action and the impact this has on the productivity of the industry.
"We know the threat of industrial action can be intimidating and can make a profound difference to your profitability in a very small amount of time, because you have to run things on time," Pearson says.
"People expect to buy a ticket and get from point to point where they're going in safety
and on time.
"Our contribution to society as employers these days is not well understood and we should
be encouraging businesses to create more jobs."
A panel of industrial relations experts discussed the outcome of some recent employee dismissal cases.
Transit Systems Australia general counsel Mike Kent, Greyhound general manager of industrial relations and human resources Kylie Henningsen, and Australian Chamber of Commerce deputy director of workplace relations Alana Matheson spoke about navigating the current industrial relations climate.
Unfair dismissal cases are becoming increasingly difficult to manage and it is very hard to know what the outcome will be from a FWC hearing, according to the trio.
The generally held view among these experts is that procedural irregularities or administrative errors made in the employee dismissal process, or a mistake in the filing of associated paperwork, can often trump (or deem invalid) a fair reason to dismiss an employee in a FWC hearing.
To summarise their advice: employers need to make sure the processes that lead up to the termination are solid and adhered to.
If employers don't follow the correct termination processes, they could land in trouble and be faced with a dismissal challenge.
Ministers weigh in
Delegates were treated to rousing speeches by two minsters during the summit dinner. First to take the stage was Shadow Minister for Infrastructure and Transport Anthony Albanese.
"We are all friends in this room and we all agree on the direction our cities should take moving forward," he says.
"We need to support jobs and Australian manufacturing. The bus industry has led the cities agenda and 30-minute city concept.
"People are living increasingly in suburbs where they can afford a home but where there aren't jobs so they have to travel large distances into the CBD.
"There are 350,000 people travelling from western Sydney into the CBD every day. We need to change that and challenge the nonsense that you can deal with urban congestion by building more roads. You can't – we need to be prepared to be honest about that.
"Unless you have mass transit, we can't have the kind of growth that we need to see.
"We need more investment in infrastructure and to improve the efficiency of public transport."
Minister for Urban Infrastructure Paul Fletcher, who also spoke at the dinner, says the importance of the bus industry cannot be understated.
"Rail seems to come first, but bus represents a third of the trips taken.
"This industry is very important for domestic tourism. All too often the debate seems to get framed in terms of rail versus road, but buses involve much less upfront capital than rail or tram.
"One of the key focuses of the new Western Sydney Airport will be bus connectivity and we have been looking at international operators, to see how we can best run services to and from the new airport.
"The Bus Industry Confederation has played a very strong advocacy role and taken the initiative on a number of issues that have cropped up over the last few years that are likely to have an impact on the industry. The arrival of automated vehicles is likely to blur the divisions between different modes of transport
into the future."


Subscribe to our newsletter
Sign up to receive the ABC e-newsletter, digital magazine and other offers we choose to share with you straight to your inbox
You can also follow our updates by liking us on Facebook.