Industry shines at Perth summit
---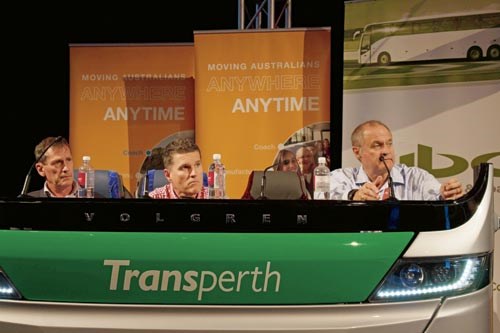 The conference dealt with overcoming governmental and legislative obstacles which operators and other industry businesses face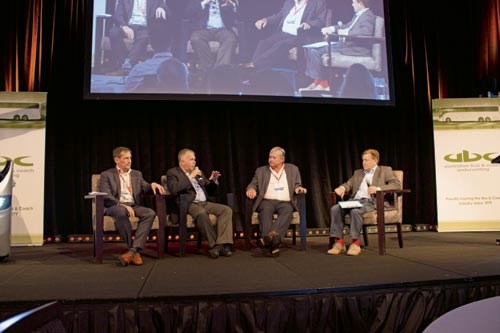 NZ Bus and Coach Association CEO Barry Kidd, America Public Transportation Association president Doran Barnes, BIC chair Wayne Patch, and BIC executive director Michael Apps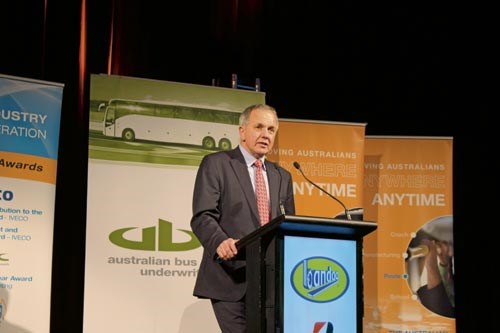 TfNSW customer services deputy secretary Tony Braxton-Smith gave a detailed view of the plans for PT in NSW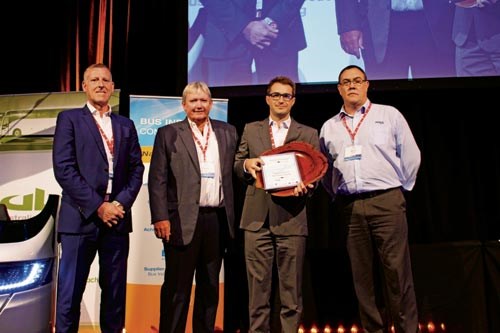 Transit Group Australia was bestowed the Environment & Innovation award for its Bustech branch

This year's Bus Industry Confederation (BIC) Conference saw the industry re-evaluate its place in the way people move.
'Moving people: Shaping our cities and regions' was the chosen theme for the BIC conference this year, which was held on the Scarborough coastline in Perth's northern suburbs.
As well as a delightful ocean sunset each afternoon, delegates were keen to look at their own futures, especially with the emergence of disruptors within the industry.
Day one proved a good time for discussion around this topic, as speakers focused on the future of the bus industry and where businesses should be looking to move, and looking to move away from.
A main theme of the conference was the integration of transport, in which bus would work with rail – both light and heavy – as well as demand responsive transports (DRT) such as Uber.
The potential for Uber to slow the bus industry down has been pointed out numerous times in the past, but the discussion appears to be becoming more productive now, as ways to work with DRT – or even like DRT – are being introduced as ideas.
NEW PERSPECTIVES
To promote the sharing and discussion of new ideas, BIC invited to the conference American Public Transportation Association (APTA) president Doran Barnes, who gave the industry a good insight into its United States counterpart.
He says APTA is an organisation much like BIC, though APTA covers all public transportation instead of focusing on bus.
"The members of the communities that I serve were, about 25 years ago, concerned that the bureaucrats in downtown Los Angeles were making decisions – much like the situation you have here – about the local transit services in our 22 cities," Barnes said.
"We still have a relationship with the regional organisation, and we still receive funding, but all the decisions that affect communities are made by our local community leaders."
The idea was floated – by a few delegates – that one organisation covering all public transport in Australia might be a good idea too.
BIC chair Wayne Patch verbalised it prominently during a panel discussion, adding he thinks BIC should remain as it is.
"Since I've been chair, it's been one of my goals to have, in spite of the issue of micro-management, an overarching non-bureaucracy.
"There is a general consensus that if we had a single voice from an Australian public transport association going to governments and oppositions, it would be a lot easier.
"Divide and conquer is a great art of the government, and if they can find anybody going against their opposition, they'll use that."
New Zealand Bus and Coach Association CEO Barry Kidd adds that, although the focus in NZ is very much on bus, there is already a body to represent all public transport.
"I think that organization already exists, and it's really for the UITP to take a greater role in that space rather than creating something new.
"We need to be heeding them to play that role to a greater extent, and lifting their profile a little bit for them."
GRAND PLANS
In addition to facing the challenges of disruption, the conference dealt with overcoming governmental and legislative obstacles which operators and other industry businesses face.
What seems like the vocalisation of an industry's frustration came from BusVic executive director Chris Lowe, who has been researching the benefits of taking into account more than just the cost of an operating contract.
"There are other costs which governments aren't taking into account when deciding who to award a bus operating contract to," Lowe says.
"These are social costs – which are included in a model I think we should be adhering to."
Lowe points to a social benefit which can be gained by considering factors aside from just the cost of an individual contract.
"The price is important but it shouldn't be the only, or the final, consideration.
"We need to quantify the social costs but, because it's rarely done, we find it hard to find the net social benefit.
"If this is done, you might just find a few different decisions being made in terms of who is being awarded bus operating contracts."
He says there is an example of this in practice already, and that it's been successful thus far.
"They've done this in the UK, and it's really good legislation.
"They introduced some acts in 2011 and 2012 called the Public Services Social Value Act, and it obliges procurers to consider externalities and social values when they're procuring."
One main reason Lowe feels this act is a good model to study is that it's carried out by locals rather than bureaucrats "millions of miles away in ivory towers".
GIMME THE PRIZE
The three-day event was not all business, as the National Awards were presented on day two, about halfway through the conference.
The 2016 Supplier of the Year award went to Steve Heanes and Iveco, Achiever of the Year was awarded to Alex Balla of Horizons West Bus Hire, and the winner of the Environment and Innovation award was Transit Australia Group's manufacturer Bustech.
Some awkwardness arose when the award for highly contested Contribution to the Industry was announced – but the winner, Rhonda Renwick of managing director of LaTrobe Valley Bus Lines, was busy taking in the intricacies of Perth's transit system on a technical tour.
Monday and Tuesday nights were set aside for dinner and drinks, sponsored by Mercedes-Benz and Scania. Mercedes chose the Joondalup Country Club as the venue for its classy-yet-lively gala dinner, while Scania went city-side, choosing Fraser's in King's Park for dining with a view of the city, Elizabeth Quay, and the Swan River.
Scania also held the award presentation for the Scania Bus Drivers' Competition at Frasers, which was taken out by Damien Christensen, a Greyhound driver from Townsville.
WINNING IN THE WEST
This year's conference was a good chance to engage with the industry and find a direction for bus to take in Australia that would ensure its survival so it can continue to move the people who rely on it.
BIC executive director Michael Apps said the conference was challenging and confronting at times, but added that delegates gave good feedback on the topics discussed.
"There was a strong focus on the future, especially in terms of opportunities for the industry," Apps said. "This is a very mature industry which is capable and willing to take a look as itself, face tough challenges, and discuss what it needs to change to thrive. 
"Overall, the conference was a success."


Subscribe to our newsletter
Sign up to receive the ABC e-newsletter, digital magazine and other offers we choose to share with you straight to your inbox
You can also follow our updates by liking us on Facebook.