FUTURE FORWARD - ZF
---
E-TECH: ZF is paving the way to an electric future with its range of electric drive solutions for buses.
With e-mobility options becoming increasingly popular throughout the bus and coach industry, ZF continues to lead the way with a comprehensive suite of proven products, it says.
From a selection of electric drive solutions to suit both traditional and contemporary configurations, through to management systems, active safety, chassis and suspension components, ZF's range of e-mobility solutions for buses is now available.
Notably, the electric drives offers multiple advantages to early adopters, especially for passengers, pedestrians and residents local to busy bus routes, with pollutants such as CO2 and nitrogen oxide eliminated, it states.
Another attractive feature of the technology is practically silent operation; a key benefit for vehicles intended to be used in densely populated areas.
The systems are also adaptable for various bus and coach configurations, including typical solo drive arrangements, as well as articulated and double-deck.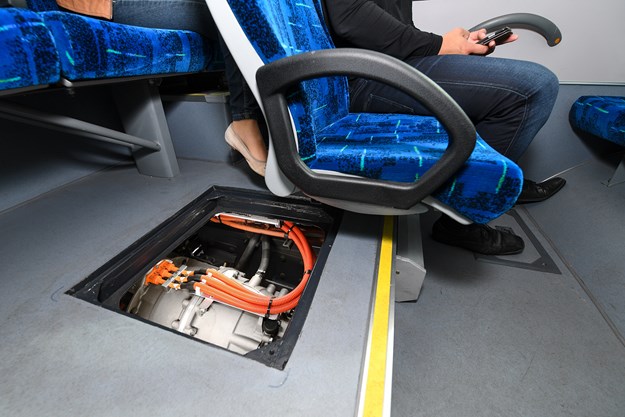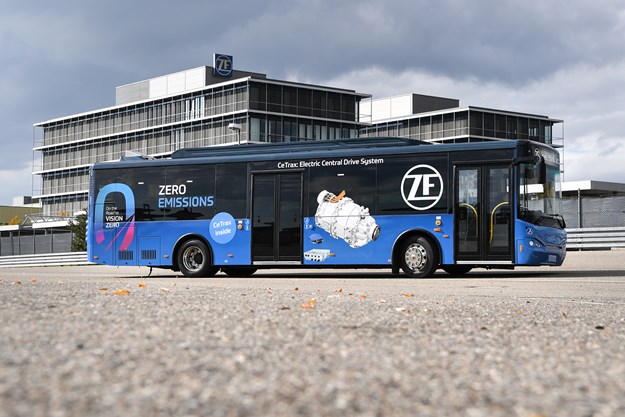 AXTRAX AXLE
Leading the way for ZF is the AxTrax AVE electric portal axle, which features integrated electric motors built into the wheel hubs.
Specially developed for demanding inner-city use, AxTrax is perfect for low-floor applications, says ZF, with the system fitting within the traditional parameters of existing wheel hub and suspension designs.
The electric portal axle opens up a range of body configuration options, with the space traditionally utilised by the internal combustion engine (ICE), transmission and driveline components becoming free.
Thus, low-floors can be carried through from the front to the rear of the bus and, if specified with battery power, the battery packs can be creatively integrated into different areas of the vehicle.
At the heart of the AxTrax AVE are two compact, high-speed motors, which deliver impressive peak and continuous power thanks to liquid cooling, ZF states.
As expected from an electric drive, power is delivered instantaneously, with the system's high torque characteristics making it ideal for stop-start driving.
Another advantage of the concept is extended service intervals and limited maintenance downtime.
The system can also be configured to provide 4WD.
The AxTrax is compatible with existing wheel rim and tyre combinations while also utilising standard brake discs, which remain located in the same position as previous, simplifying the system's integration into fleets.
The arrangement comes complete with an EST 54 electronic control unit, with the ZF developed control software providing vehicle manufacturers with a cost-effective, dependable and efficient solution, the company says.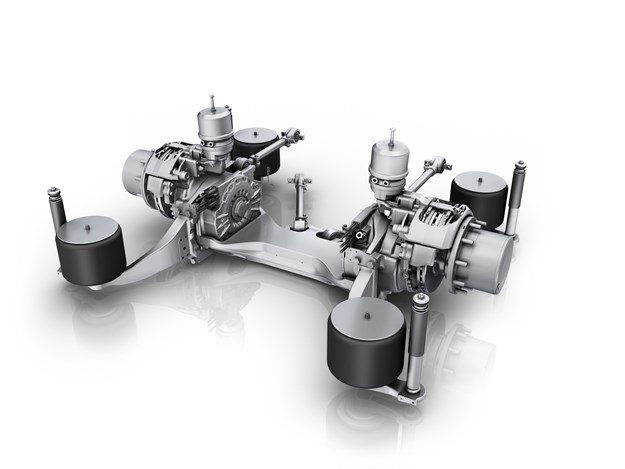 CETRAX       
The new ZF CeTrax, meanwhile, takes the traditional concept of the ICE and brings it into the zero-emissions future, with a central drive layout that can be easily adapted for a range of classically designed vehicles.
This means that there is no need to extensively re-engineer the chassis, axles, differentials or bodies of current models, essentially making it a plug-and-play option.
From a technical perspective, the CeTrax can also be specified as a retrofit option for existing ICE-powered buses.
Manufacturers can benefit from the option of using the system both for low-entry and high-floor applications, and low-floor buses in combination with the AV 133 portal axle.
Despite its relatively small size, the system packs plenty of punch, with a maximum power output of up to 300kW and a maximum torque of 4,500Nm, which compares favourably to any alternate power plant.
The high-speed electric motor is integrated with a tried-and-tested planetary reduction gear stage, as found on the ZF EcoLife transmission.
Like the AxTrax, CeTrax is supplied by ZF complete with an inverter and electronic control unit, with the design featuring integrated water and oil cooling systems.
Both the CeTrax and AxTrax provide adaptability when it comes to power supply options, including battery, hydrogen fuel cell, supercapacitors, or mains power via pantograph for trolleybus applications.
Meanwhile, the AxTrax design opens up opportunities for buses and coaches to be designed with a serial hybrid arrangement when combined with a small ICE.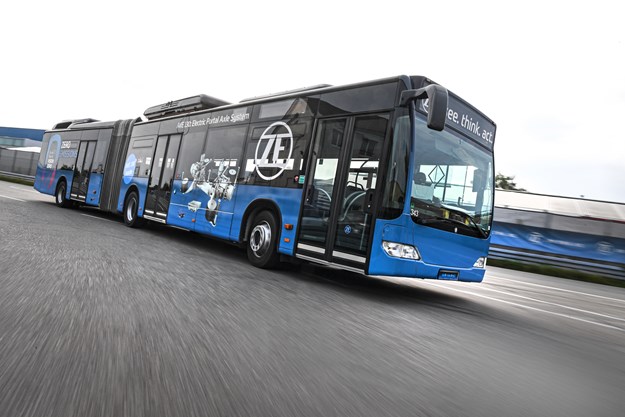 ENERGY MANAGEMENT SYSTEM
ZF has also recently introduced to the market its new Energy Management System (EMS), which controls all of the electric functions of a vehicle, including the electric driveline and auxiliary tasks such as air compressors, steering systems and fluid cooling.
The EMS can be further enhanced with the addition of ZF's ePre-Vision system, which considers the vehicle's upcoming topography profile via GPS when coordinating its energy requirements.
This includes factoring in variables such as regenerative braking, which saves wear on the service brakes while extending the battery range.
Other examples of specialist bus and coach E-Mobility products include power steering pumps and systems, the Continuous Damping Control (CDC) system, plus supporting electric controls and infrastructure.
Elsewhere, a recent addition to the ZF family is WABCO, a leading provider of advanced systems for buses and coaches, aiding in safety and efficiency.
Included in this offering are innovations in braking, vehicle stability control, automation and more.
Further information on the entire ZF bus and coach range of technology products can be found at zf.com/bus.
Subscribe to our newsletter
Sign up to receive the ABC e-newsletter, digital magazine and other offers we choose to share with you straight to your inbox
You can also follow our updates by liking us on Facebook.