ZF DRIVES ELECTRIC INNOVATION
---
SPONSORED CONTENT: ZF and the word 'technology' have been intrinsically linked for decades because, from the very beginning, that is what ZF has done – develop, manufacture and deliver innovative technology to the world's automotive manufacturers.
Whether it is passenger cars, light commercial vehicles, trucks, or buses and coaches, ZF technology has been central to the safety, performance and efficiency of these vehicles for generations.
And in the e-Mobility space, ZF's years of research and development continues to place it ahead of the competition.
"For over 100 years, ZF has globally developed a reputation as a leader in automotive systems, and has subsequently been at the forefront of the move towards electrification in the commercial vehicle segment," said Shane Trenbath, technical services manager, ZF Services Australia.
"What makes ZF unique is that the expertise for all of the different components of the EV system are available from a single source, which truly sets us apart."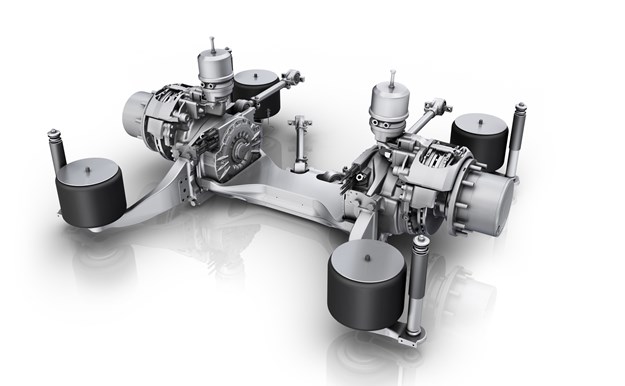 THE NEXT STEP
The AxTrax AVE portal axle has already been installed in over 2,200 electric buses globally, which have subsequently travelled around 150 million kilometres with zero-emissions.
Local Oceania manufacturers including BusTech Group in Australia, as well as Zemtec and Global Bus Ventures in New Zealand, have selected AxTrax AVE in their designed chassis, with trials commencing shortly.
The system can be utilised in numerous configurations, including pure electric buses, hybrid buses and trolleybuses, in both solo and articulated wheelbase configurations, with energy provided by battery, fuel cell, supercapacitor or mains supply.
Instead of a traditional driveline featuring an engine, transmission, prop shaft and a differential, the AxTrax AVE features a compact electrical engine installed within what would typically be the hub of the wheel.
Providing high-torque output, the system keeps weight low, while also saving space.
The system utilises regenerative braking, which tops up battery stores while saving on service brakes, with the overall system containing fewer moving parts that in turn simplifies the maintenance task.
Tuned specifically for each installation, the AxTrax AVE system features an inverter and the ZF EST 54 control unit, which manages power requests, recuperation and energy storage needs.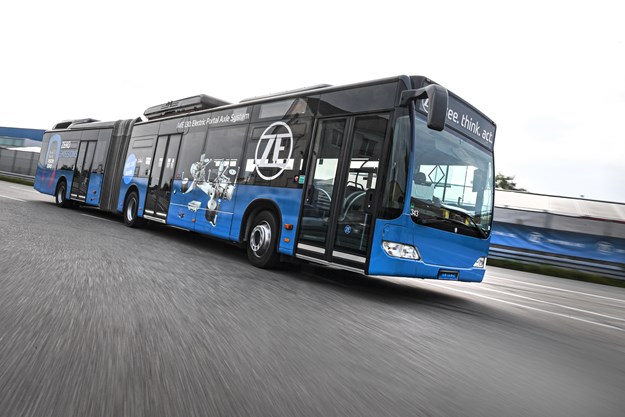 ZF CETRAX DRIVE SYSTEM
For manufacturers looking to integrate an electric drive system into their conventional vehicle designs, the CeTrax is a recent addition to the ZF range, opening up a host of installation options.
Bus manufacturers can utilise the system in both low-entry and high-floor applications, as well as for low-floor buses in combination with the AV 133 portal axle.
With a maximum power output of 300 kilowatts and a top torque figure of 4,500Nm, CeTrax has the performance to overcome the toughest terrain.
Featuring tried and proven components from the ZF-EcoLife city bus transmission, the CeTrax is lighter and more compact than combustion engine options, all while allowing for the use of standard axles and common differential ratios.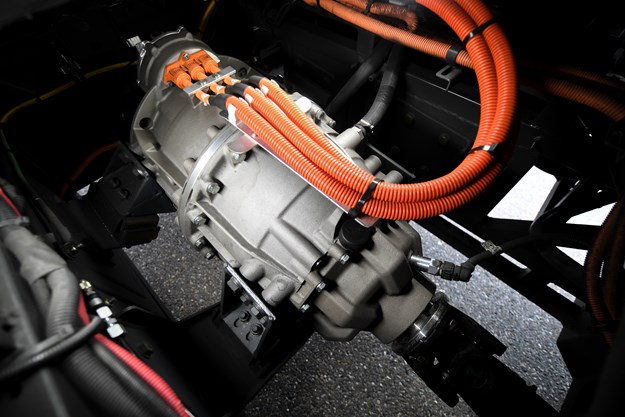 THE WHOLE PACKAGE
ZF's OE range for buses and coaches features a vast catalogue of parts, from driveline, to steering, brakes, chassis and electronic components.
Transmissions include the proven EcoLife and AS Tronic, as well as TraXon.
Aftermarket components from ZF and its LEMFÖRDER, SACHS and TRW brands include the CDC electronic damping system, individual dampers, ActivMode and EV Series power steering pumps, clutch and dual mass flywheel systems, and electronic control units.
There is also a myriad of parts including steering systems and chassis, axles, clutches, brake components and lubricants.
Further details are available at zf.com/au, or by calling 1800 ZF SALES (1800 93 72537).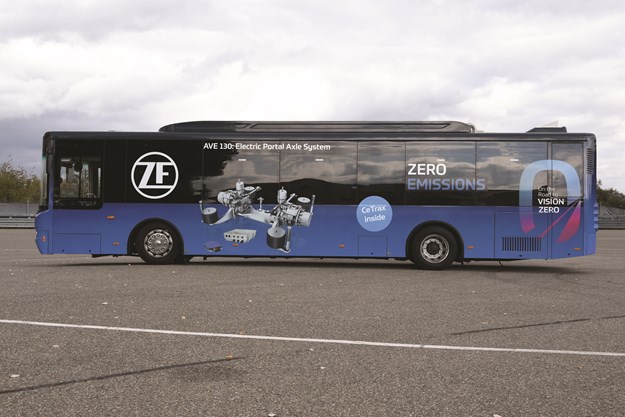 Subscribe to our newsletter
Sign up to receive the ABC e-newsletter, digital magazine and other offers we choose to share with you straight to your inbox
You can also follow our updates by liking us on Facebook.