SILVER SERVICE - VOLVO BUS 50 YEARS IN AUSTRALIA
---
SPONSORED CONTENT: This year marks 50 years since Volvo Bus first started doing business in Australia. It hasn't been easy, but through dedication to safety, quality and insightful innovation of bus product – delivered to our invaluable customers through honest and respectful partnerships – we are indeed proud of all we have accomplished today. As always, we will pursue these values into tomorrow and beyond. Please join us as we celebrate our 50th Anniversary here in Australia throughout 2021 and reminisce on the many challenges accepted, the untold goals achieved and, perhaps most importantly, the amazing people we have met and lifetime and generational friendships we have made along the way.
It's the heat that gets you first. Whether dusty, corrugated Outback tracks or less than perfect city bitumen, Australia's roads truly test any vehicle that daringly take them on, as almost any automotive manufacturer will attest to.
European driving conditions throughout the years have consistently been remarkably different to what's here, so when Volvo Europe decided, many years ago, to venture into 'the great unknown on other side of the world' with its car, truck and bus products, we quickly realised that there was just no room for error.
We did our research, as we always do. We finessed our products like the B10M and B58 with quality materials and thoughtful engineering, to meet the local conditions, as we always do. And we brought with us a dedication to passenger comfort and driver safety, fuel efficiency and reliability, as well as an aptitude and attitude to always listen to our customers and learn from our mistakes. As we are happy to admit we do.
Fifty years later, we are proud to say we are still here, doing what we do, and have worked hard to attain and maintain our number one position in the Australian bus market for more than 10 years.
With a changing automotive market around the world - from cleaner diesel engines and hybrid powertrains to full electromobility, market-shaping e-bus tech and ever-evolving battery-charging know-how - Volvo Bus Australia (VBA) is excited at the prospect of continuing this journey with our current and new partners to help provide what we like to think of as the ultimate public transport experience.
Here, we chat to a few Aussie bus industry luminaries whose success gives us great pleasure to be even remotely part of. We absolutely thank them for their valuable time and kind words.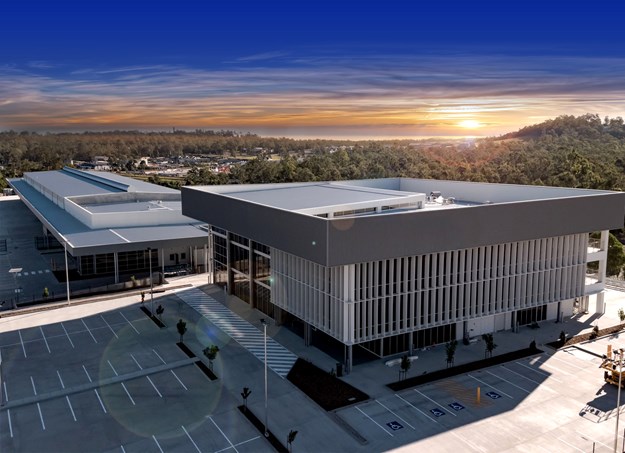 A NEW START
So just how did VBA start? Its inception isn't as clear cut as many would think, involving the fortunes of Volvo cars globally and decisions on where to export product to – or not – complemented by forwarding-thinking visionaries who through determination and chance meetings saw the bigger picture and potential of a range of Volvo product across the Earth.
The first Volvo cars were imported by Peter Antill and Lance Lowe (who later started his own motor accessories business and motoring news service). In 1962, the concession passed to British and Continental Motors (now Monaco Motors). Annual sales were around 50 units.
Antill devoted his time to the company he started in 1948, Antill Ranger, one of the trailblazers for heavy interstate transport. He was an ex-Navy Commander and business partner Ken Ranger had been a fighter pilot. Like Lindsay Fox of Linfox, Ken Thomas of TNT and Lou Marks of Brambles, after WW2 they each bought trucks and went into business.
In 1948, a 20-year-old country boy Max Winkless joined Antill Ranger as a driver, but with Antill soon recognising his potential, in 1952 he became NSW manager and then general manger in 1955. It was around this time that Maarten Mooi (eventual Volvo Car and Truck Centre manager in Moorebank, NSW) arrived in Australia and got his first job with Antill Ranger.
Following the interactions of key people, the origins of Volvo buses coming into Australia were unforeseen but now in play.
In 1954, Antill's truck portfolio expanded to become a dealer for Rootes Commer Knocker trucks, forming a subsidiary called Truck Sales and Service a year later. In 1959, the company became the NSW importer of American-made Mack trucks.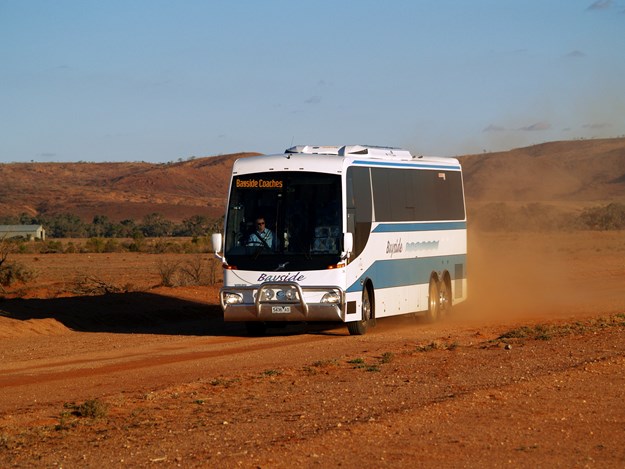 Fate would see transport giant Mayne 'Nicks' Nickless purchase Antill Ranger – including Trucks Sales and Service – in 1961, crucially taking Winkless all the way to Sweden. A group led by Winkless and including Antill weren't thrilled to be part of this new, large organisation and so pooled together and bought TS&S from 'Mayne Nicks', setting up shop in Mascot.
This site was soon occupied by Volvo car dealer Svenske Motors, which AB Volvo itself would appoint as importer for NSW, Qld and South Australia in 1965. British and Continental were retained as dealers in Sydney. Volvo offices subsequently popped in Brisbane, Canberra, Wollongong and Adelaide.
A Winkless trip to AB Volvo in Sweden to discuss importation of cars soon changed topic to trucks once he'd seen Volvo heavy haulers in action. AB's 'no' at first soon changed in the face of his persistence, with two F86 trucks his eventual first stock. These and two others were put into service with Mayne Nickless in late 1966.
This was the start of Volvo's heavy commercial vehicle base establishment in Australia, with buses inevitably to follow.
In 1968, Volvo AB started to see the brand's potential in Australia for luxury cars, heavy trucks, buses and earth-moving machines, but local company Swedish Motor Importers lacked the capital to increase volume. After much negotiation, a new company was to be formed and on July 1, 1970, Volvo Australia was announced.
The first managing director was Per Eriksson, from the AB Volvo executive group, who would lead a total of 95 employees in the new company.
Bus became a key product component to the mix and in 1971 a $2 million national headquarters was established for car, truck and bus divisions in Sydney, with VBA delivering its first chassis that year, too.
In years to come, Volvo buses would become the dominant brand in the upgrading of public transport fleets in Adelaide, Hobart, Melbourne, Canberra and Brisbane.
The rest, as they say, is history...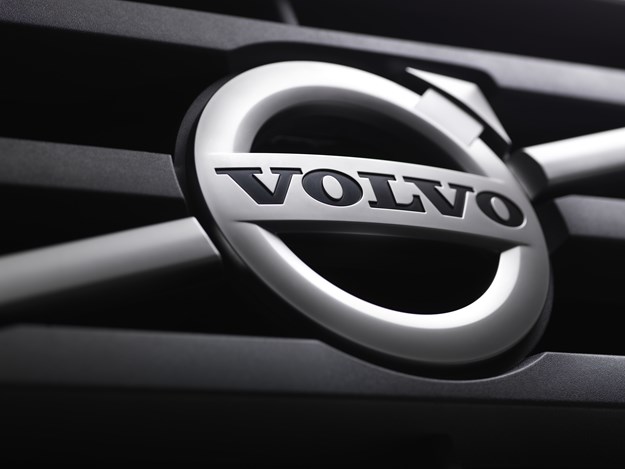 OUR BUSINESS PARTNERS
PAUL CRAWFORD – MD, CMV Group
"My grandfather started CMV in 1934 and his vision was to have a business that was focused on employees, customers and the world in which we live – it was a three-prong approach. He was quite visionary. In 1950, he started staff shareholding and all of that sort of stuff. It was about creating sustainable jobs, serving our customers and building a better society – it was quite altruistic actually.
"My grandfather had an interest in tractors, trucks and buses. We were actually bringing in Diamond T chassis from America and turning them into buses. So that was when we started with buses.
"Throughout that period we converted quite a few trucks into buses. In the '70s we came on board with Volvo bus and we got Volvo trucks in 1968. These were B58s and B57s and we went from there and we sold quite a few buses across Australia.
"We sold an odd 300 to the local authority, which were B59s with rear engines. In fact, we still have one which we've kept for history. It's kept at the dealership. We bought it off the PTA. I forget how old it was when we bought it, but despite the many miles it has done – it still runs."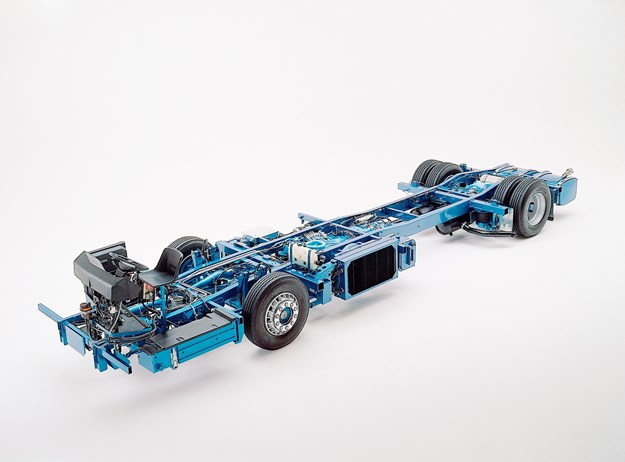 BERNARD ROYLE - previous owner Forest Coachlines
"We bought our first Volvo in about 1970, which was a B57, and this was I believe the first Volvo route bus in Australia.  When this vehicle had finished its life we gave it to the Bus Museum in Sydney, where I believe it comes out on certain days. It was registered m/o5996.
"Our next lot of Volvos were six B58s, which were bought from Grendas, brought up to Sydney and had Custom Coaches bodies fitted to them. They were heavy-duty vehicles and became the front line vehicles of the fleet. With their stronger motors they were able to handle the heavy loads up Roseville Hill, as at that time our patronage was growing at a fast rate. Over the following years we added to the fleet with B58 and B10M vehicles.
"Service was excellent over the years and if a part was needed to keep a vehicle on the road everything was done to get it to us – even if it had to come from Sweden. The two people I remember most were Simon Bath and Ray Andrich as they were our main line of contact.
"I have many fond memories of Volvo. The tours of the factories were probably the most helpful part to be able to see how what we were buying was put together.
"I think the early B58s stand out in my memory, which worked all day every day. With the heavy carrying capacity it enabled us to handle the growing business more efficiently."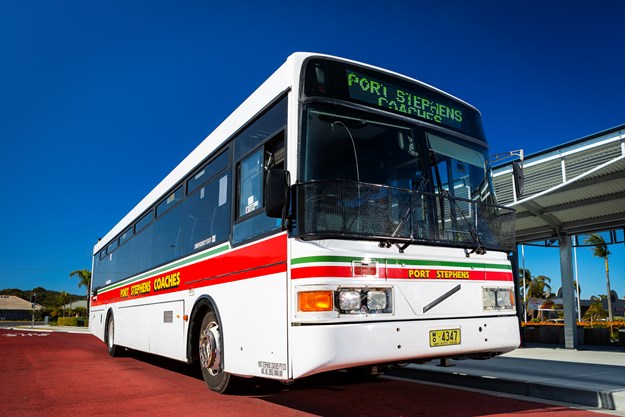 CHRIS FOGG – MD Port Stephens Coaches
"PS Coaches is a third-generation company. My family have been in the industry for 90 years. My family started in running people back and forth from Cessnock and Morelands, even before PS was formed.
"The family moved from the coal fields and ventured into Newcastle where my grandfather Syd developed some businesses and bought into Port Stephens buses back in 1957.
"His brother was in the [bus] industry and Syd had three brothers who I believe were all involved in the industry. It was his oldest brother that got started with it and then they all followed.
"PS Coaches was a very small business that was operating buses back and forwards from the Tomaree peninsula, Nelson Bay area and Newcastle with workers. It was around 1962 that my father moved to Port Stephens with my mum and they managed a business and that's when they started to develop PS Coaches. The business had a lot of growth in the late '60s, '70s and '80s. It grew incredibly fast and mum and dad were able to grow with the business in that time along with raising a young family.
"Between the PS Coaches and Newcastle coaches we have expanded and we have over 100 vehicles. In the PS and Newcastle fleet it would be 80 per cent Volvo. My dad purchased his first Volvo for PS Coaches in 1981.
"For drivers it has been a refined product to drive and it is a product that we purchase because of the quality and the great relationship we have with the company.
"They've all been good vehicles. The B10M has probably been the backbone of the industry for a lot of operators in the industry. The B12 was also sensational and is still unsurpassed in terms of reliability and being a really good vehicle. The B7s B8s and B9s were also fantastic. Throughout the past 15–20 years we've seen a lot of really good products."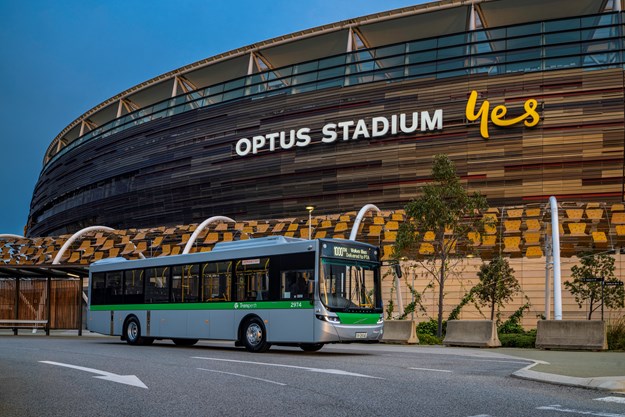 KEN GRENDA – founder Grenda Corporation
"The association with Volvo has been good for us. They have always been the best people to deal with.
"In 1967, Ken and a few other operators did a round-the-world trip to visit every major manufacturer of buses. At the time, the brands of the day like Bedford and Leyland were not meeting the needs of the Australian market, so they were looking for something better. Having trialled a few brands, Ken and the team settled on Volvo and in 1971 Grenda was appointed as the Volvo Bus chassis seller. The progress wasn't without issue [however], with the government promoting Australian-made and putting a few obstacles in the way.
"Over time, Grenda and Volvo separated. The body-building rights were acquired by Volgren and in Victoria, CMV, led by Jim Crawford, became the agent for Volvo Bus in Victoria. It was a time characterised by family businesses and strong family values – something shared by the Grenda and Crawford families, now over many decades."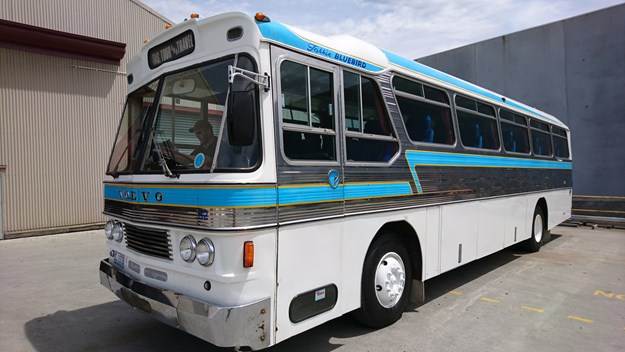 NEIL ROBINS – secretary, Tasmanian Bus and Coach Society
"We embark on scenic and enthralling tours across Tasmania and are committed to the care and restoration of historical buses and coaches. Our tours cover anywhere from anywhere from 30km to over 600km and we like to think of ourselves as Australia's only 'living museum' as we showcase vintage vehicles to the public across Tasmania. We have 11 vehicles within the fleet at the moment.
"Ninety per cent are in club registration, which is valid for 30 years, which allows us to take them all around Tasmania and take them to the car and truck shows. Everything nowadays is automatic and it's nice to step back into the past with these older vehicles.
"The first Volvo I drove was the B58 artic that I own; however, since establishing the society, the Bluebird was certainly the pick (definitely the most luxurious). Yet, the latest 1988 B10M with Hyliner body is exceptional to drive with the 12-speed splitter, so driver-wise the Hyliner is the pick for me."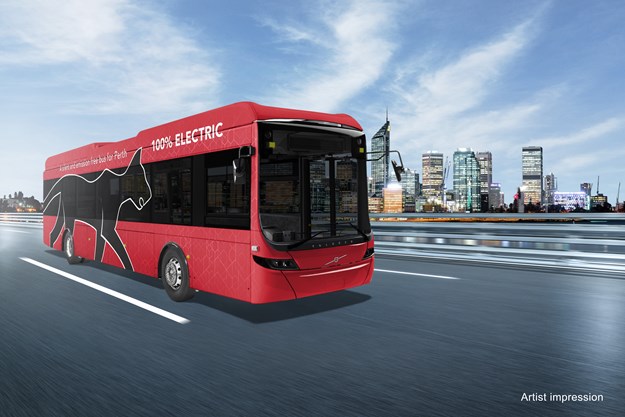 OUR PEOPLE
DAVID MEAD – vice president Volvo Bus, Asia Pacific
"Milestones? 2010 stands out as one where Volvo Bus Australia had over 600 units delivered, taking us to number one that year, which was a turning point. Now, to have more than a decade of leadership has been amazing. It's hard to get there and harder to stay there. So I'd say that in 2010 it was a breakout year. From then it's been an achievement to maintain that.
"What has contributed to our success has been never taking business for granted! We work hard not to be complacent. People often ask who are the key customers – but to me it doesn't matter, they're all key. You can be part of the Volvo family buying one or 100 units. We've also been humble in our position of leadership. For many customers that is very comforting. They've made that decision to work with us. It means they've trusted us to be their business partner more than any other brand.
"What will set VBA apart from its competitors in years to come is continuing to innovate in products – be it electric or other fuels. The other thing is that the organisation needs to keep evolving as each city changes the way they do transport. As the market changes, we must change."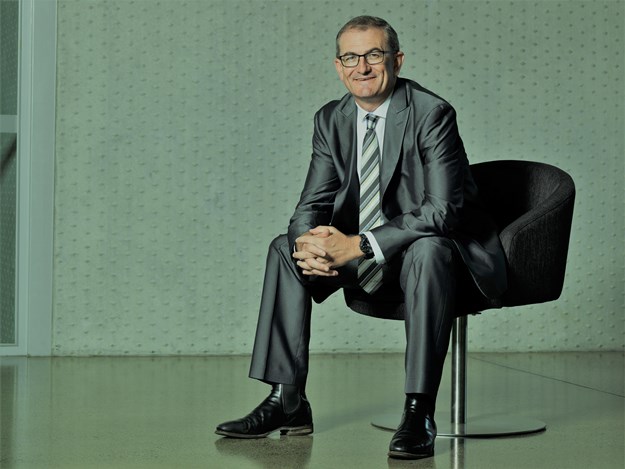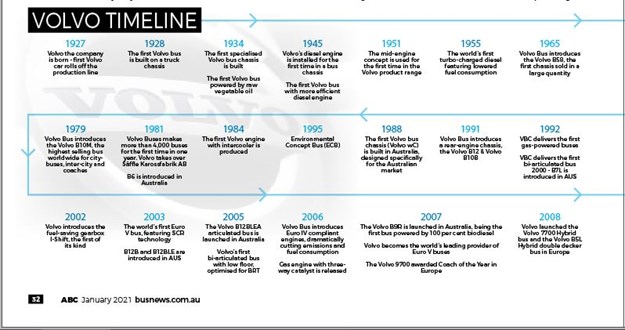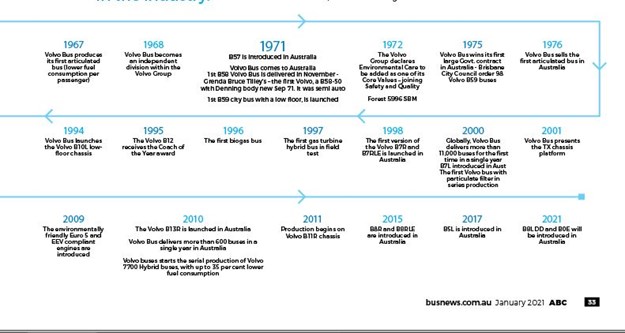 Subscribe to our newsletter
Sign up to receive the ABC e-newsletter, digital magazine and other offers we choose to share with you straight to your inbox
You can also follow our updates by liking us on Facebook.