Style and substance – MUIRHEAD LEATHER
---
SPONSORED CONTENT: Muirhead's high-performance leather is key to bus and coach operator success, says head of sales mass transit Kevin Smith.
For bus and coach operators, it is no longer enough to just transport customers in a safe and timely manner. Passengers don't only expect a hassle-free journey, but also a first-rate experience during it.
Maximum comfort, safety and hygiene, Wi-Fi access and mobile charging, real-time information screens, air conditioning and CCTV security – all delivered with sustainability in mind – are the minimum expectations for today's bus or coach traveller. The challenge is to create interiors that deliver the best possible experience at the best value for the operator. Muirhead believes that high-quality, high-performance leather is key to delivering that enhanced passenger experience and setting an operator's service apart.
Muirhead has been manufacturing fine Scottish leather at its own tanneries for over 180 years as a key supplier to the bus, coach, rail, marine and aviation industries in countries from the UK and USA to Europe, Japan, and now Australasia. Muirhead's leather is taking the passenger experience to the next level, while enabling operators to take full advantage of the value, performance and sustainability benefits it can provide.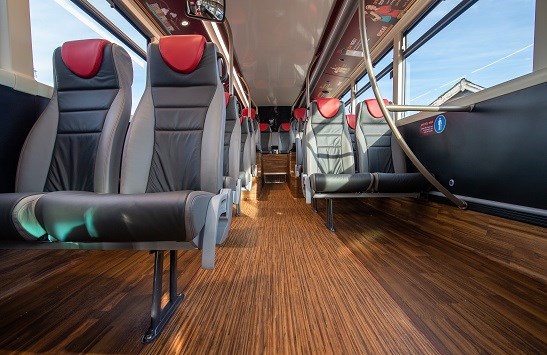 SAFETY AND HYGIENE
For bus and coach operators, passenger safety and hygiene are paramount. The coronavirus pandemic has highlighted just how easily pathogens are transferred, meaning all onboard surfaces – such as seats, headrests and armrests – not only need to look, smell and feel spotless, but also need to be quick and easy to deep clean when vehicles return to the depot.
We have all seen unsettling videos of fabric seat covers releasing plumes of dust and bacteria when given a firm slap. Muirhead's high-performance natural leather is easy to clean and, importantly, easy to keep clean long term. A simple wipe with soap and water quickly eradicates dirt and pathogens, ensuring that leather seat covers are always visibly clean and safe. Vehicle turnaround times and associated lost revenues are kept down.
Real leather is naturally flame retardant. Muirhead's leather exceeds today's strict regional fire, smoke and toxicity safety regulations for the bus and coach sector without the heavy addition of environmentally damaging chemicals required by alternative materials during their manufacture, it says.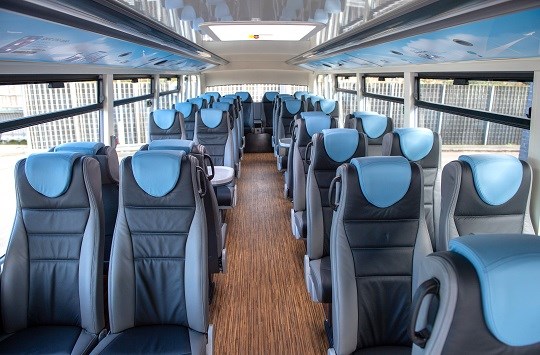 DURABILITY AND VALUE
Genuine leather is one of the most durable and best performing materials on our planet. The proven longevity and structural stability of real leather, along with its inherent ability to resist and repel stains and fluids, massively reduces the need for regular repairs and costly refurbishments.
Alongside increased CCTV security, provision of onboard Wi-Fi for entertainment and the inclusion of high-quality materials, vehicles are more likely to be enjoyed and treated with respect. If damage does occur, leather's inherent ease of cleaning and repair can provide long-term cost savings over a busy vehicle's working life.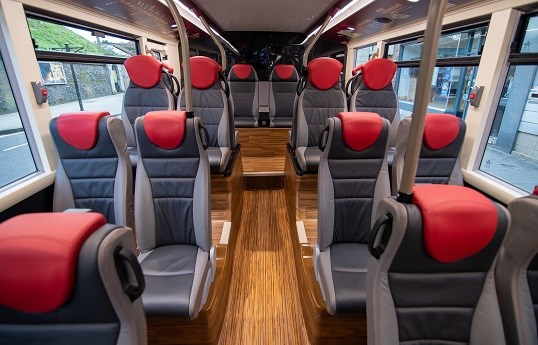 PERFORMANCE AND COMFORT
The southern hemisphere can be a hot and humid climate in which to travel. The more operators and seat manufacturers can do to enhance passenger comfort, the more people will regularly use public transport.
Natural leather breathes, reducing perspiration for a more comfortable experience. Genuine leather maintains its luxury appearance and durability over its long working life and with the ability to perforate and style leather in many different ways, it remains contemporary.
SUSTAINABILITY
Throughout its 180-year history, Muirhead has focused on creating the most sustainable supply chain in the global leather industry, it says. Today, Muirhead produces the lowest carbon intensity leather in the world, it explains.
The company works closely with local farmers to ensure cattle are treated humanely and it only ever uses hides that are a by-product of the meat industry, saving huge volumes from landfill. Muirhead's own waste products become valuable elements in the circular economy and its innovations in energy and water management make it a reliable and environmentally responsible business partner. The company brings substance to any operator's sustainability messages, it says.
For more detail on Muirhead's sustainability credentials, visit its dedicated sustainability platform at www.sustainablebynature.co.uk.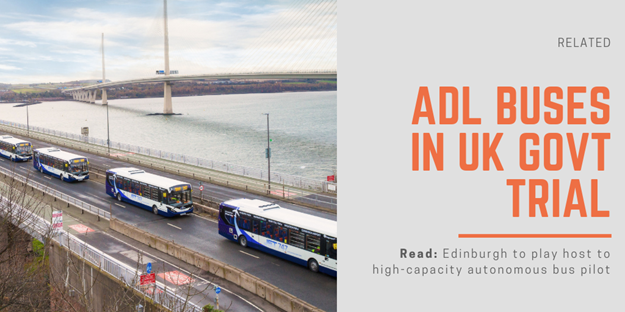 BRANDING AND STYLING
As an operator, your brand matters. Muirhead can supply leather in your corporate colours to support your brand and marketing activities. It helps make your vehicle fleets distinctive and eye-catching.
Muirhead leather can be used to colour-code seats and headrests on specific bus and coach routes to make vehicle identification easier for passengers. This attention to detail enhances the customer experience and makes public transport easier to use.
Fashion is fleeting, but style is forever. You don't want to replace out-dated fabric designs as consumer fashions change. The colours, styling options and finishes available in the Muirhead range ensure that the leather you specify will still be 'in vogue' at the end of your vehicle's lifetime, it says.
Passenger expectations will continue to evolve, but one thing is for sure – good enough is no longer good enough. Operators and seat manufacturers must continue to improve customer experiences and Muirhead believes that its genuine leather will enhance both your vehicles and your passenger experience.
MUIRHEAD AND LEFFLER
Unlike many suppliers, Muirhead has no minimum order quantity, so regardless of the scale of your project (headrest, half leather or full leather), it can guarantee supply, it states. The company's long-term sales and distribution partnership with Melbourne-based leather specialist Leffler means that stock of its 120+ colour leather range is available for delivery at short lead times.
To find out more about Muirhead's passenger seating leather range please contact its Melbourne-based distribution partner Leffler by emailing: leffler@muirhead.co.uk. 
Subscribe to our newsletter
Sign up to receive the ABC e-newsletter, digital magazine and other offers we choose to share with you straight to your inbox
You can also follow our updates by liking us on Facebook.