Video: Australian Bus and Coach Show 2016
---
Bus operators in this country are spoilt for choice, judging by the wide variety of new products on display at the Australian Bus and Coach Show in Sydney

On display were everything from double-deckers and long luxury 3-axle coaches to van-based community transport shuttles and off-road run-abouts – and of course they were just the products on wheels. There were stalls galore hosting ancillary goods and services.
Bus suppliers seemed happy with the level of genuine interest – as opposed to tyre kickers. Deals were actually done at the show too.
Operators and suppliers from around the country would have been buoyed by the speech from Transport for NSW chief Tim Reardon, who was upbeat about the increasing demand for services from a rapidly growing population in his state. The same could be said for Victoria, and maybe a couple of other jurisdictions as well.
On display were everything from double-deckers and long luxury 3-axle coaches to van-based community transport shuttles and off-road runabouts – and of course they were just the products on wheels. There were stalls galore hosting ancillary goods and services.
We can't cover everything, but here's an overview of the new offerings which caught our eye.
Aiming high
We have already test driven and reviewed the MAN/Gemilang double-decker and Bustech CDi double-decker, but also at the show was the new high-rise BCI. Since then we've driven the BCI in Melbourne, so look out for the review in an upcoming issue of ABC.
Suffice to say it's an impressive vehicle with units already running around in the spiritual home of double-deckers – London.
Like the Bustech, the BCI is powered by the 9-litre Cummins ISLe5 engine, and it has a 6-speed automatic ZF gearbox. It's an integrated monocoque bus built at the Australian-owned BCI's factory in China.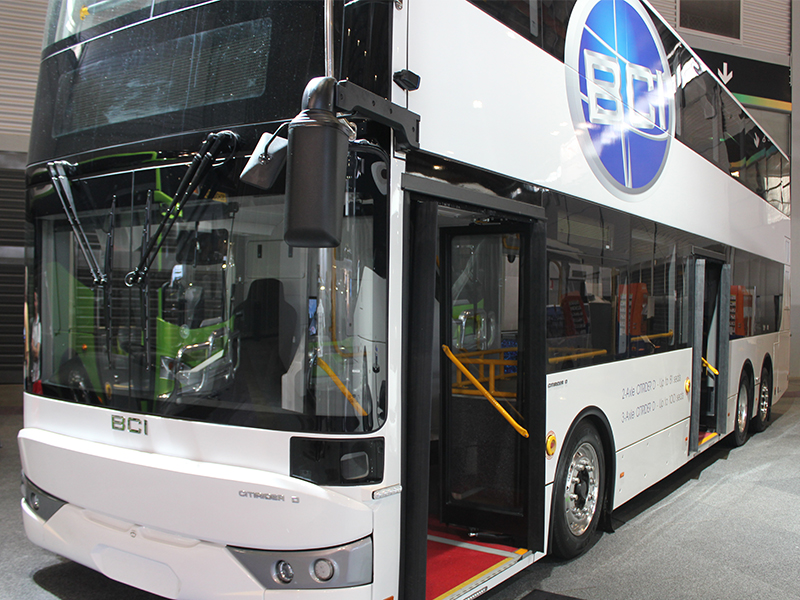 Long legs
One of the most eye-catching units on display was Cooma Coaches' new MAN/Coach Design combination. The big bopper marks the return of 3-axle MAN coaches to Australia after an absence of more than 15 years, and it's got independent front suspension to boot.
Cooma is in the NSW high country, and this coach has plenty of grunt for the big hills, with MAN's 6-cylinder, 12.4-litre putting out a whopping 480hp (353kW) with 2300Nm of torque from as low as 950rpm.
But that's not why we would have awarded this vehicle 'Bus of the Show' if there was such a prize.
Not only does it have all-round disc brakes and electronic stability program; the standout feature in our book is that, as far as we know, this is the first Australian-built coach with both lane departure warning and AEB, or 'autonomous emergency braking'.
In certain situations, the AEB – or what MAN calls 'emergency brake assist' – will use a combination of a radar system and computerisation to automatically brake the bus if it's about to hit something and the driver isn't doing anything about it. That's after a couple of warnings to the driver. Academic experts say this is life-saving technology, and it's becoming increasingly common in new cars and trucks.
The big MAN also has adaptive cruise control that automatically keeps a fixed distance from the vehicle in front, which the driver can adjust.
This unit has good carrying capacity, but that was overshadowed by another new 3-axle coach at the Show – a 14.5m Denning Phoenix school charter with 80 Styleride Orion fixed seats in 3x2 configuration. The high-capacity Kangaroo Bus Lines coach from Queensland has a steerable tag axle, electronic brake system (EBS), and it's powered by a 9-litre Cummins through a 6-speed Allison transmission.
Euro 6 pioneers
The current Euro 5 emissions standard for new buses and coaches in Australia is already very good, and the future Euro 6 requirement will take engine emissions to infinitesimal levels.
Personally I think what's far more important than going from Euro 5 to 6 is to somehow get all the old smoke-blowing clunkers off the road, unless they're paddock bashers in the bush with plenty of fresh air around. Old bangers in our cities and towns, which are more than 20 years old, have no gear whatsoever for controlling diesel particulates and oxides of nitrogen.
An ironic reminder of how many smoke blowers are still on Australian roads came during a student charter in the very same Olympic Park precinct as the bus show. It was a Mercedes-Benz 0305 from the late 1970s – the same type as a Benz on display in the vintage bus section of the show! No seatbelts either, of course.
Anyway, having said all that, Euro 6 is inevitable and there were several new Euro 6 products on display in Sydney. One of them was a 2-axle Scania school/charter with a Coach Design body and 57 seats. Its 360hp (265kW) engine only uses selective catalytic reduction (SCR) to achieve Euro 6, rather than exhaust gas recirculation (EGR) as well.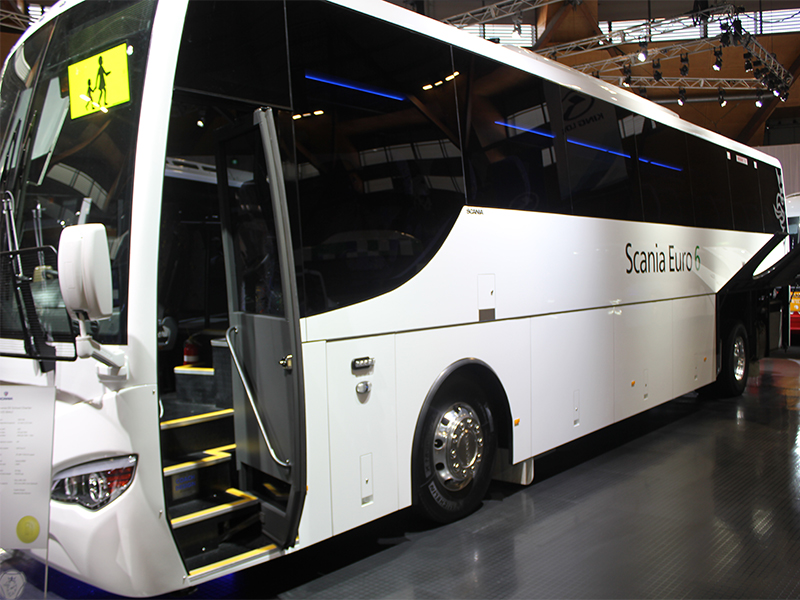 Meanwhile, Mercedes-Benz has two new route bus bodies on its 8-litre, Euro 6 OC500LE chassis which uses both SCR and EGR emissions control, and produces 300hp (220kW). There is the choice of ZF or Voith transmissions. The new bodies are the low-floor Custom CB80 with a stainless steel frame and the Volgren Optimus built with aluminium.
We saw a similar Euro 6 Benz chassis with an aluminium BCI body at Busvic in 2015, and there was another of these Benz/BCI units on show in Sydney. We have recently test driven that bus in Melbourne, so look out for our favourable review in an upcoming issue. The engine is the same as in the 2.55m-wide Citaro currently on trial in Brisbane, which we have also positively reviewed.
Off-roaders
There seemed to be more new four-wheel drive buses than we have seen at shows before, which is hopefully a sign that while the mining boom may be over, a new tourism boom is underway.
The newly released Iveco Daily 4x4 has an incredible 24 gear ratios available to the driver, courtesy of its 6-speed synchro manual box feeding into a double low-range transfer case. The 3-litre Euro 5 turbo-diesel pushes out 170hp (125kw) and 430Nm.
Technical editor of ABC's sister truck publications, Steve Brooks, concluded the following from his recent drive of a new Daily 4x4 cab chassis: "The combination of excellent approach and departure angles, extensive suspension travel, incredibly versatile gearing, and three diff locks all combine to deliver exceptional off-road capabilities."
Steve adds that engagement of the diff locks automatically cancels out the electronic stability program and ABS functions.
Meanwhile, I-Bus had a new 20-seat coach model on display based on the Isuzu 300 4x4 truck chassis, which of course means the engine is up the front. It's a 5.2-litre pushing out 153hp (114kW) with a 6-speed manual box or the choice of auto.
I-Bus says there is a move away from pods towards single integrated cabins, which not only means that the driver and/or a tour guide can sit in the front and still speak with passengers, but there is apparently a lower centre of gravity and therefore greater rollover safety.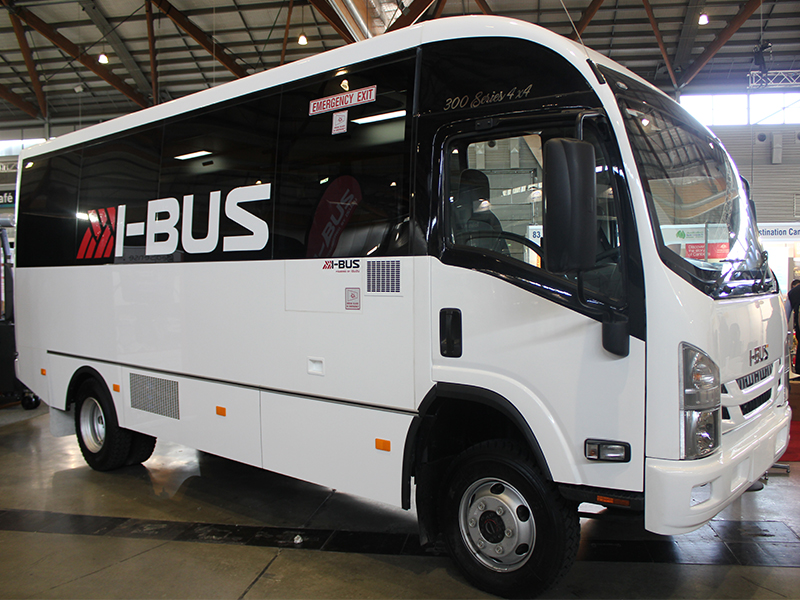 Rounding out the mud runners in Sydney was the Chinese-built 'Adventurer' AX7-AWD being distributed by Australia's largest automotive retailer, Automotive Holdings Group (AHG). The Adventurer sports a 3.8-litre Cummins producing 170hp (125kW) and an impressive 600Nm of torque, with a 6-speed fully automatic Allison transmission. Inside are 28 cloth seats.
By the way, AHG is the new distributor of Higer buses in Australia, and was also showing off its new luxury H8200 'platinum edition' with eye-catching black livery. It's powered by a 4.5-litre Cummins.
Happy Birthday King Long
Getting back on the bitumen, King Long is celebrating 10 years in Australia with a new urban route bus product. For the first time in a city bus for Australia, the Chinese bus builder is offering a 9-litre Cummins ISL engine rated at 320hp (235kW), matched with a 6-speed ZF Ecolife auto box.
What stands out to us about this bus is that it boasts some impressive new safety technology. This includes lane departure warning, forward collision warning, and tyre pressure monitoring. Also on board is King Long telematics.
It seems to us the forward collision warning will be especially handy for city drivers. It will vibrate the steering wheel and activate an audio alarm, and is factory fitted in this integrated monocoque bus.
Also for the first time in Australia, King Long displayed a coach with a Volvo chassis – in this case a B11R.
School duties
Meanwhile, Custom was showing off its 'SB50 Midi' school/charter bus, with up to 49 adult seats in the 11.5m body, and what it says is a 25-year design life with the stainless steel frame.
Custom is pleased to have secured Category 3 'fully funded' status from the NSW authorities for this unit, which is apparently a very good thing, but apologies that this writer couldn't get his ageing head around the intricacies of the NSW system to explain it further.
"Like its CB80 brother [mentioned previously], the SB50 won't require an expensive midlife rebuild," Custom says. "The fibreglass waist panel will never corrode, no matter where you operate in Australia."
The SB50 is available on all chassis, and this one is on a Mercedes.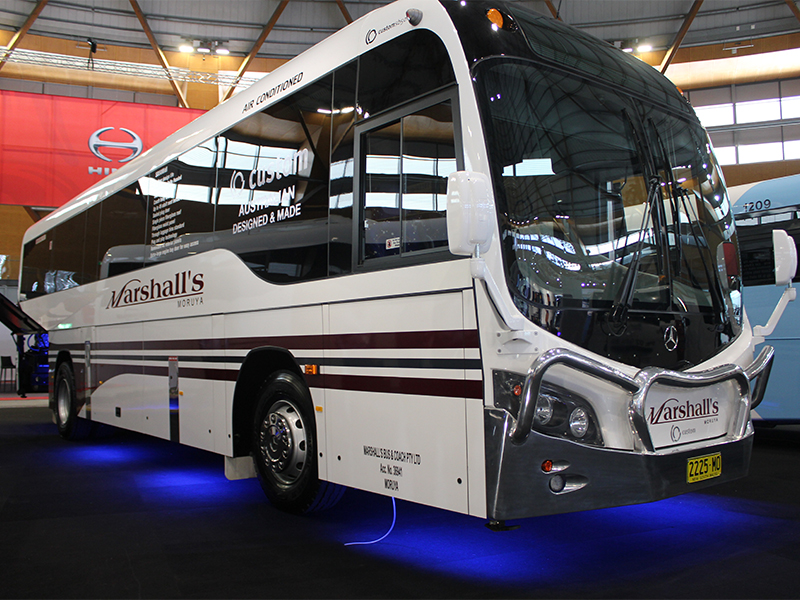 Small shuttles
As we all know, disabled access has become a huge issue, and there were several small new low floor wheelchair-friendly models on display in Sydney.
We have previously reported on the launch of the Hino Poncho, modified for the Australian market. This cute little bus is surprisingly spacious inside, and has a 180hp (130kw) engine up the back, with an idle-stop function to save fuel.
Patico Automotive was showing off the Irish-built EVM community and city low-floor minibus, which is also deceptively roomy considering it's based on the Mercedes-Benz Sprinter cab chassis.
Meanwhile, combining an Italian drivetrain with British bodybuilding was a 'Mellor Orion', a brand we hadn't heard of before. This Fiat-powered minibus has both side and rear entrances and holds up to 22 seats or five wheelchairs.
Extra show goodies
There were a couple of optional equipment additions to buses and coaches which caught our eye at the show, with the manufacturers of both items saying they increase safety.
One is Volvo's 'dynamic steering system' or VDS, with a simulator being the centrepiece of Volvo's large stand near the entrance of the show pavilion.
We reported last month how an independent study in Sweden concluded that the electronically controlled system cut muscle strain and fatigue by an average of about 30 per cent in a study of 20 bus drivers.
Volvo also says VDS increases safety by self-centring, keeping a heavy vehicle heading straight ahead in that common regional Australian scenario of having to drop off the bitumen while passing another vehicle or, heaven forbid, if you have a steer tyre blowout.
The big Swede says dynamic steering has been operating successfully in trucks in Western Australia. The system is available now in its Euro 6 B8R school/charter bus and, from mid-2017, in Euro 6 city buses and Euro 5 coaches.
Another impressive option on display at the show is for coach bodies, developed by Express Coach Builders at Macksville on the NSW north coast.
It's a bin door that can be controlled by the driver without him or her leaving their seat, thus eliminating what surely is the highly unlikely chance of a passenger trying to take the wheel and drive off while the driver is attending to luggage. To avoid injuring any passengers who might get their hands or arms in the way of the electronically controlled door, there is a camera in the bin, as well as sensors in the door itself.



Subscribe to our newsletter
Sign up to receive the ABC e-newsletter, digital magazine and other offers we choose to share with you straight to your inbox
You can also follow our updates by liking us on Facebook.