Vic operator's services boom
---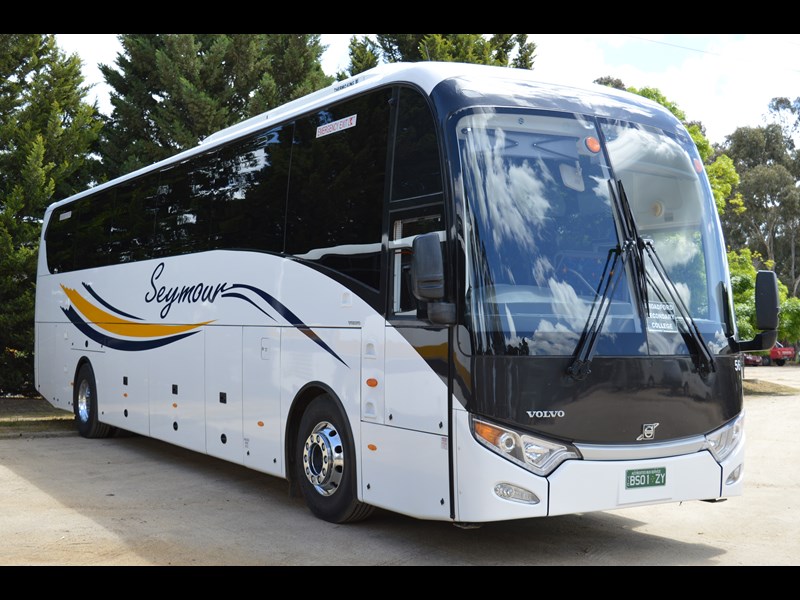 Just one of the four new Volvo-King Long combos that was delivered to Seymour Coaches earlier this year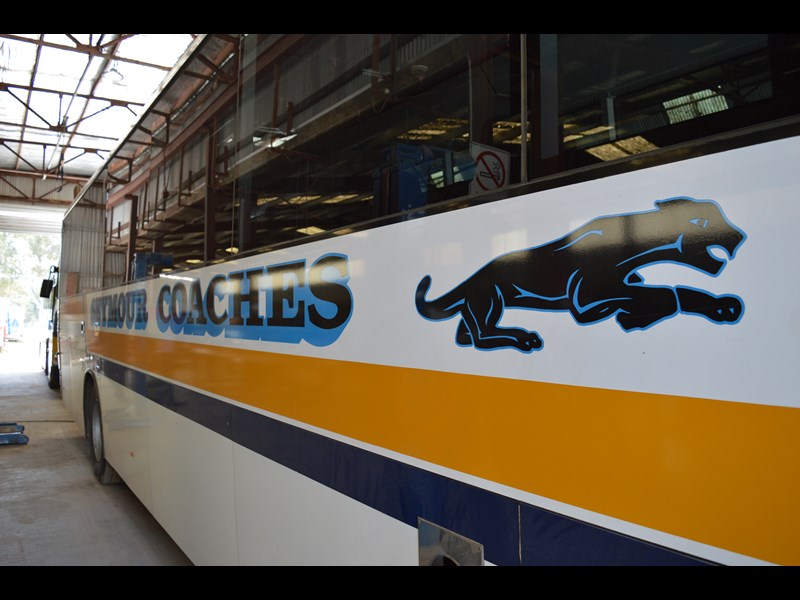 The livery has undergone a few transformations over the years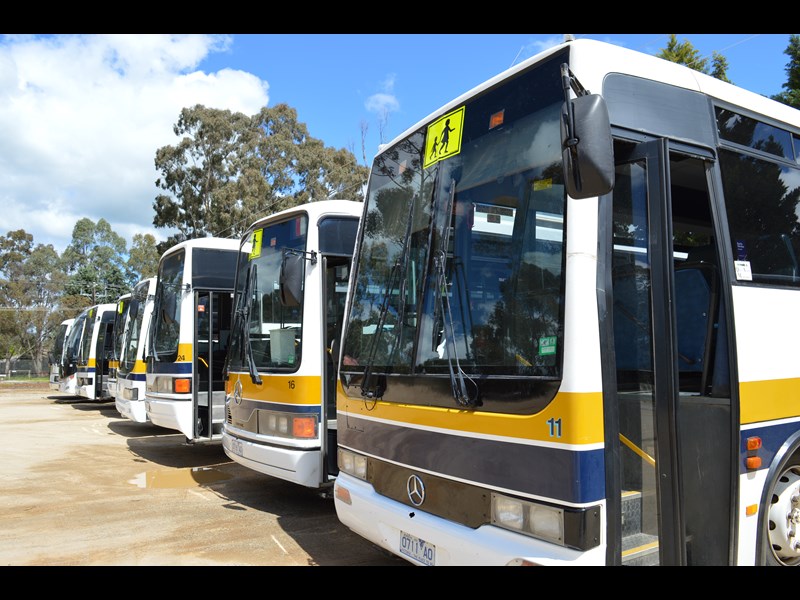 The fleet is evolving from Mercedes Benz to Volvo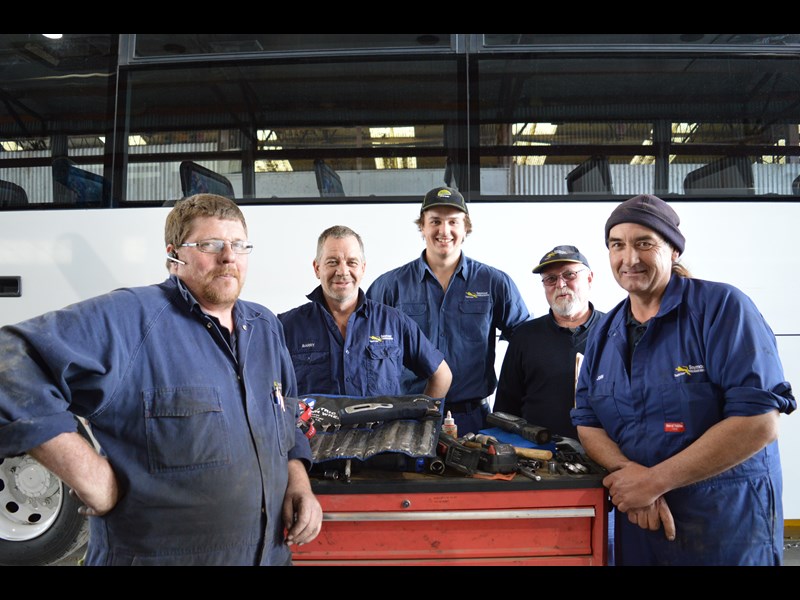 Seymour Coaches team members Matt Smith, Barry Evans, Wil Ulrich, Trevor Burgess and John Hibbert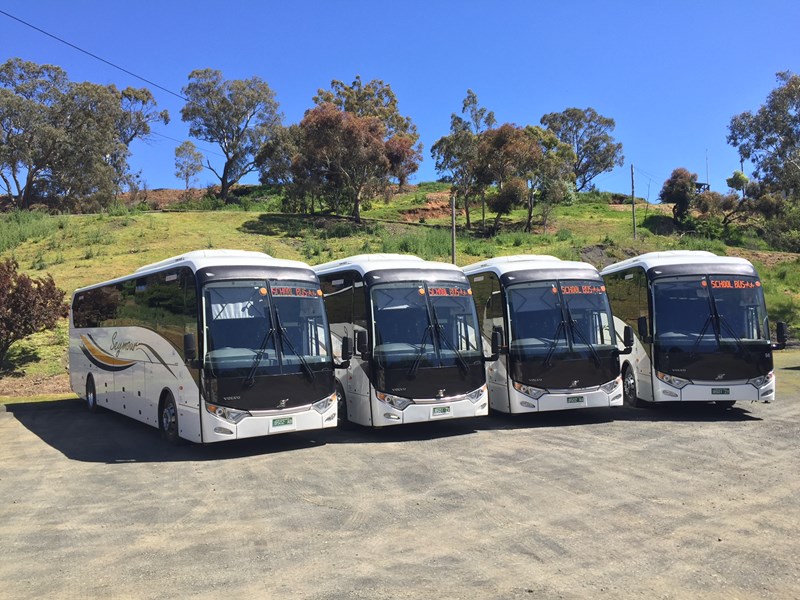 The latest addition to the fleet are not a bad looking bunch

Regional Victorian bus operator Seymour Coaches is lapping up the demand for new services as a result of a local housing boom.

In real estate it's all about location, location, location. House prices in our cities are through the roof and young families are moving further out, in order to purchase their first home.
This trend is especially evident in Sydney and Melbourne where anything under $500,000 simply cannot be found in close proximity to the CBD.
Speaking from the main depot and headquarters about 100 kilometres north of Melbourne, Seymour Coaches general manger Stuart Locke says the booming residential development in Wallan, Broadford and Kilmore in what has come to be known as Melbourne's Northern Growth Corridor has seen school rolls, and so the number of school bus services it provides, grow massively.
Seymour Coaches is owned by Kastoria Bus Lines and it operates route, school and charter services primarily in the Mitchell Shire.
Kastoria Bus Lines is headed up by Dom Sita and it has owned Seymour Coaches since 2011, purchasing it from Peter Loughnan.
Broadmeadows Bus Service, Kastoria and Seymour are now all part of the wider Northern Transit Holdings group.
Seymour Coaches has four Depots at Kilmore, Broadford and Wallan and the main one at Seymour and each depot has its own dedicated supervisor and set ups for fuelling, vehicle maintenance and cleaning.
"The Wallan depot opened back in 2005, when we started operating school services in the area," Locke says.
The organisation runs a route service between the old and the new housing estates and the train station at Wallan.
Seymour Coaches/Mitchell Transit operate in Wallan and Kilmore — Mitchell Transit being the name that the organisation uses for its urban route services.
""Essentially, we drive the public transport users 3 or 4 kilometres from the local stations, which are located to the east of each town," Locke says.
"It's an essential service really; the only problem is that we have to drive in a circuit right around each town in order to cater to everyone who lives in these expanding rural townships."
An increasing number of people are living in Wallan and Kilmore and commuting to Melbourne for work every day during the week.
"The hardest thing out there is when the trains are running late in the evenings," Locke explains. The driver can only wait so long for the train, and at the same time adhere to the bus timetable.
"I'm trying to get two separate services in each town (Wallan & Kilmore), because these buses are at capacity and so we can offer a better and more direct service for the train commuters. I'd like one to service one side of the housing developments, and another for the other side. That way we can run a more direct service to get people from their estate to the station and home again almost as quickly as if they used their cars."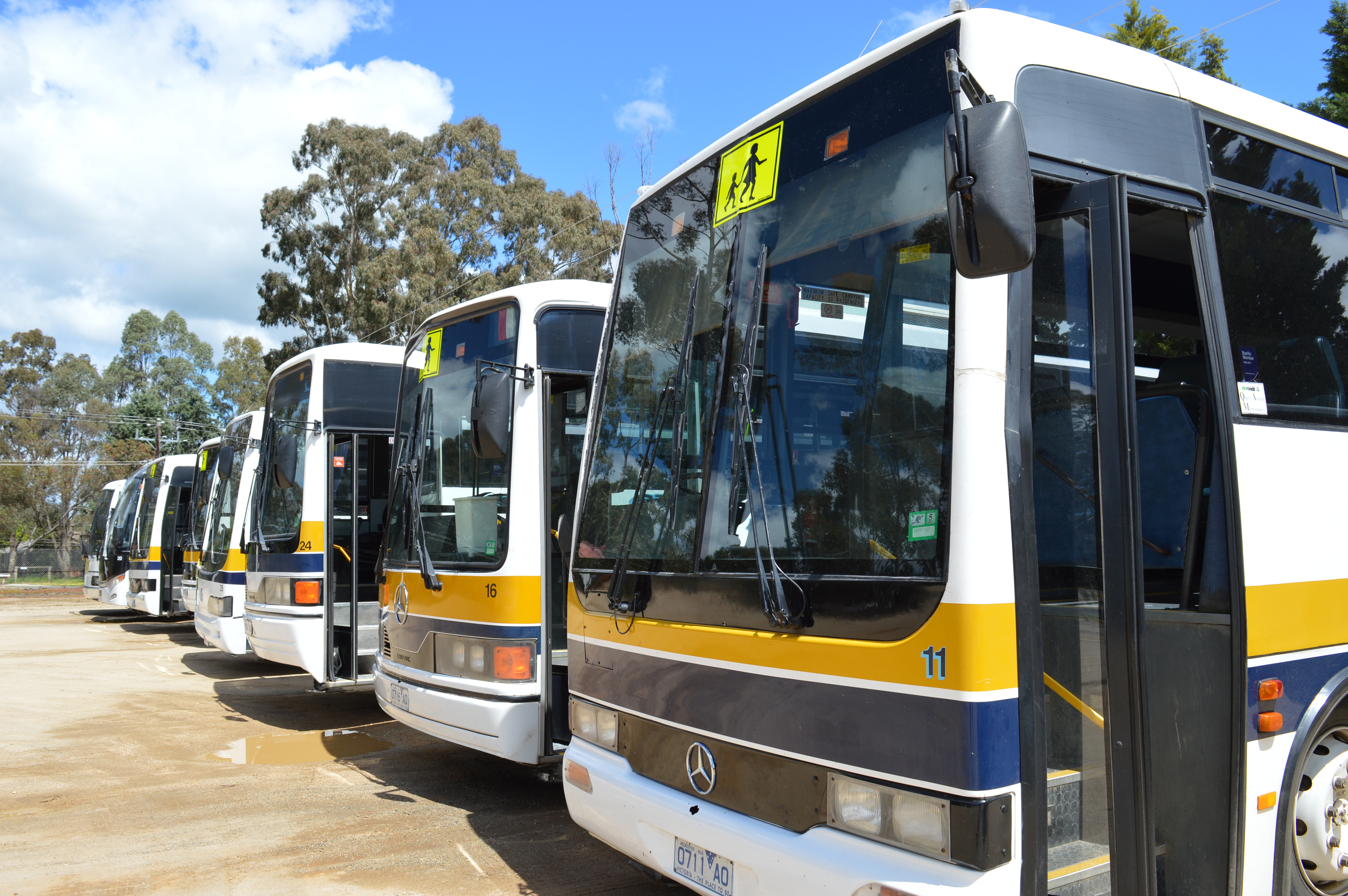 Evolving fleet
Seymour Coaches' fleet size is 60, 95 percent of which are Mercedes-Benz buses. Prior to 1986 Seymour Coaches used primarily Bedford buses.
"Merc was the basis for the company and now we have changed to Vovlo," Locke says. We have always had a really strong focus on carrying out preventative maintenance and really looking after our vehicles. "We have our own workshop here in Seymour and three mechanics and one apprentice.
"Our workshop team ensures the stability of our fleet and they have 37 years' service between them. We generally do all our own maintenance and repairs on site, unless it's something major."
The organisation also has a few mini and midi buses, including a couple of Fuso Rosa's and a number of Toyota Coasters, in order to accommodate the smaller charter jobs.
They also received four new B11 Volvo-King Long combination buses at the start of this year, which are now operating as school buses and for the occasional rail replacement job on weekends.
"The move to Volvo has only just begun really, our latest B11's are really nice to drive," Locke reveals.
They are using the new  King long Volvo's for VLine replacement jobs too on weekends, because they are fuel efficient and they massive storage bins.
"It's really important that we have a reliable fleet, because we have positioned ourselves to be a 24 hour a day, seven day a week on-call operator," Locke says.
"Staff at the local train station and the operations centre know that they can call us at any time day or night to get buses to help out, when there are issues with the trains.
"At times this is almost a daily occurrence, with the Seymour, Albury and Shepparton rail lines all merging in Seymour here."
A huge rail replacement project started in 2007, with buses replacing trains on the Seymour line, due to electrification works at Craigieburn.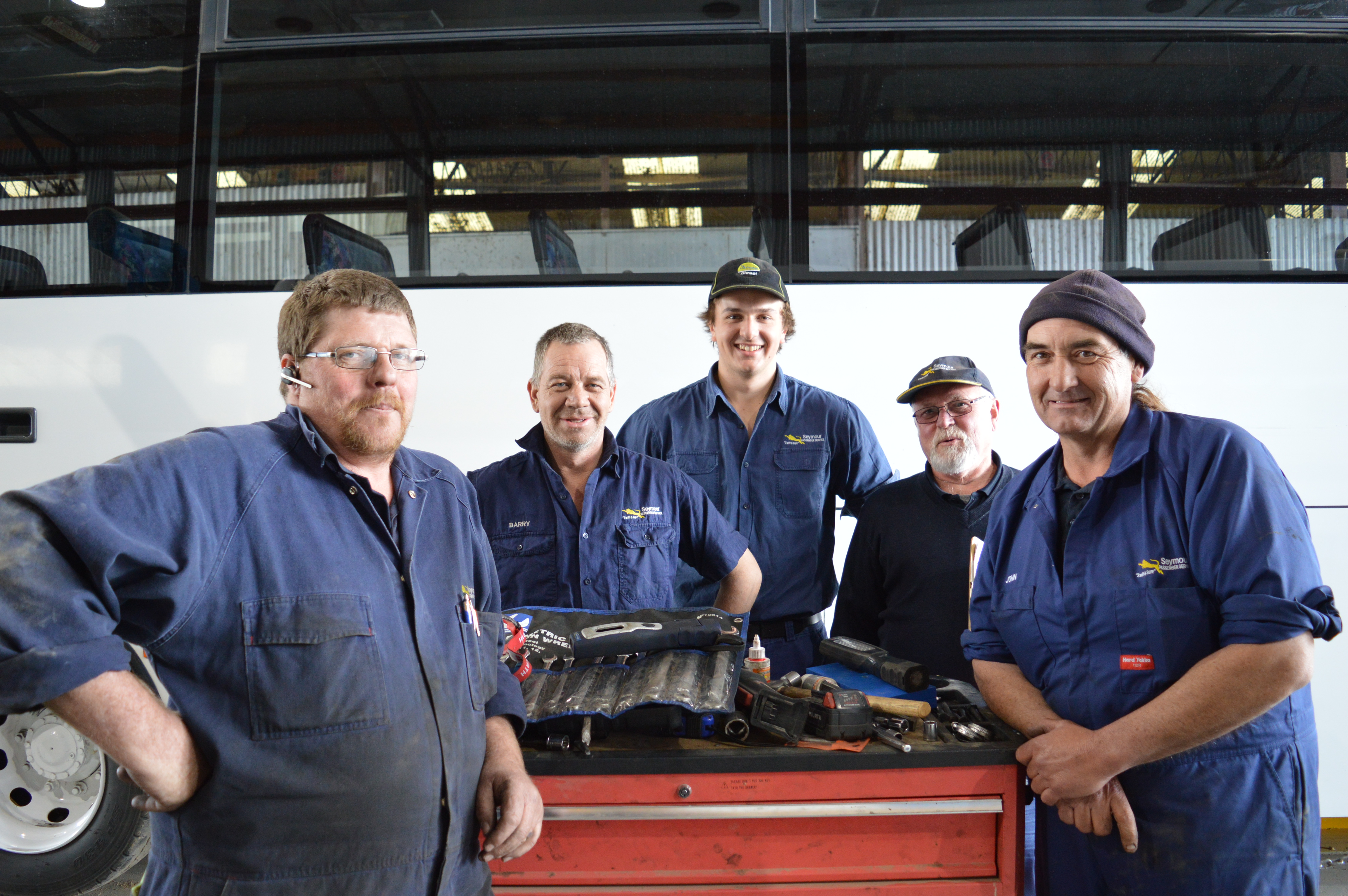 Population explosion
The two route services that the organisation operates in Seymour run on a half hourly basis, which is a high frequency compared to the hourly services in other regional Victorian towns and even some cities such as Wangaratta.
In the case of Seymour, having a half hourly services means passengers don't have to worry about a timetable.
"We never get complaints about people missing trains. The people of Seymour are very lucky to have such a frequent route service."
The Seymour east service has been around for decades but a second town route service, the Seymour north service was added about 7 years ago.
2005 saw local route services upgraded, with the organisations first low-floor dedicated bus route in Seymour.
While the route service does keep the team busy, it's the school contracts that keep the business ticking along nicely,
"Schools are a far greater component of what we do, compared to the route services," Locke says.
"We have government school runs running out of Seymour and Broadford, and then more again operating out of Wallan and Kilmore."
Broadford Secondary College used to be the only school that serviced a very large area including Wallan and Kilmore, but this situation has changed dramatically over the last decade, thanks to the housing boom.
"Now those areas have their own schools and some of the principals tell me the number of students is growing at a rate of 10 to 15 per cent every year," Locke says.
"Wallan has grown amazingly, now there's Wallan Secondary College, a Woolworths, shopping mall that popped up six or seven years ago. Now they've got an Aldi, It's just exploding. They say the town is going to be bigger than the city of Wangaratta by 2030."
"There seems to be a new school popping up every couple of years — that's how fast it's growing."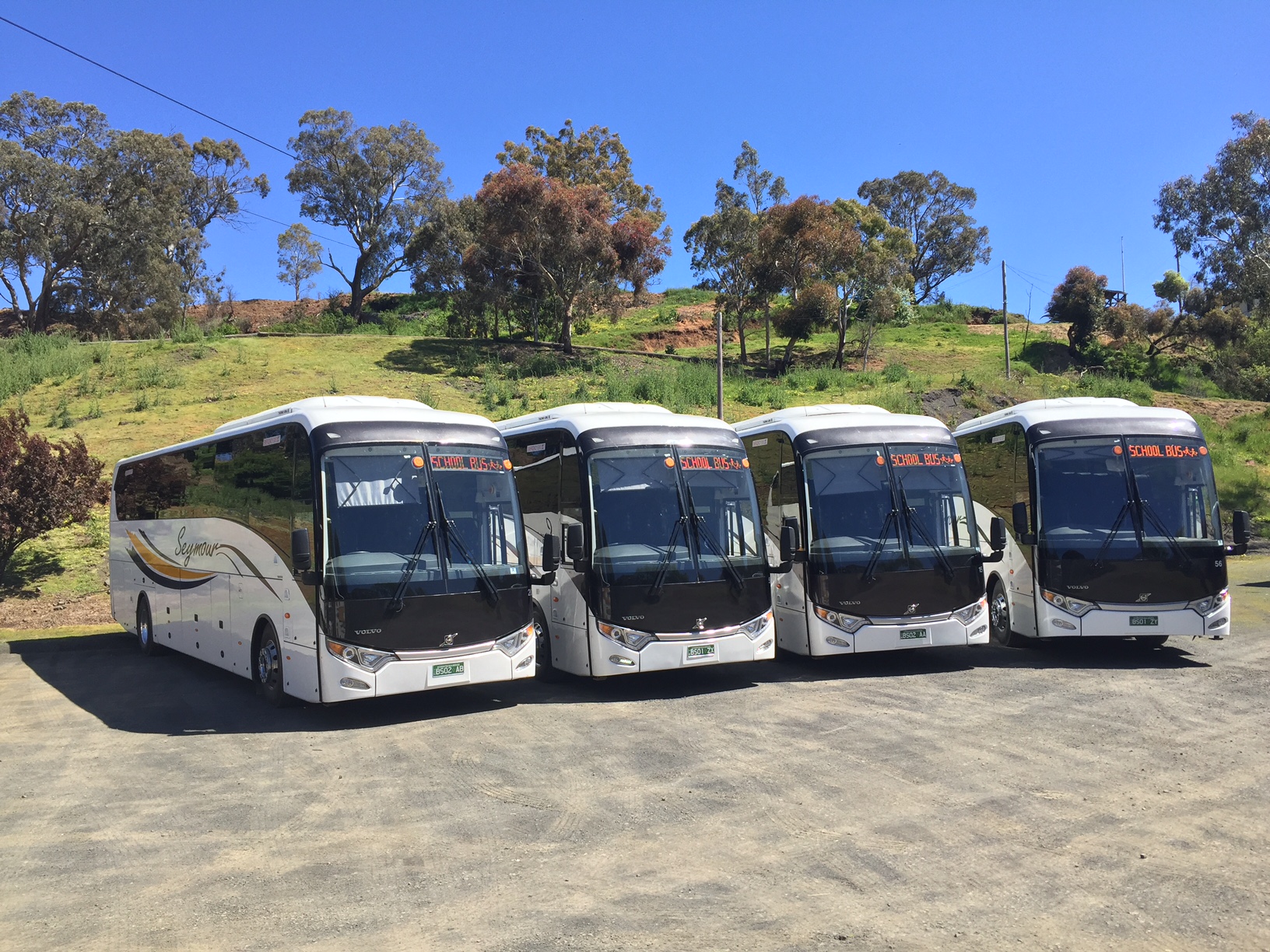 School runs growing
The organisation earns its keep through a healthy mix of private and public school runs and this is one area of the business where Locke sees the potential for huge growth.
"We currently run all of assumption college's school runs from all depots, so that our biggest school in terms of the number of buses that are being used. Seymour College is also a big one for us."
It's in the housing growth areas closer to Melbourne where the company sees the most potential.
"The school runs out in Broadford are going gangbusters," Locke beams. "Kilmore doesn't have a government school, so the kids either have to go to Wallan or Broadford.
"And there's just been a change in zoning so the students living in Kilmore can choose either Wallan or Broadford without having to pay to attend those schools after a recent Education Department ruling."
Special school services started with the Department of Education in 2003, with more services and wheelchair accessible buses being added in 2006.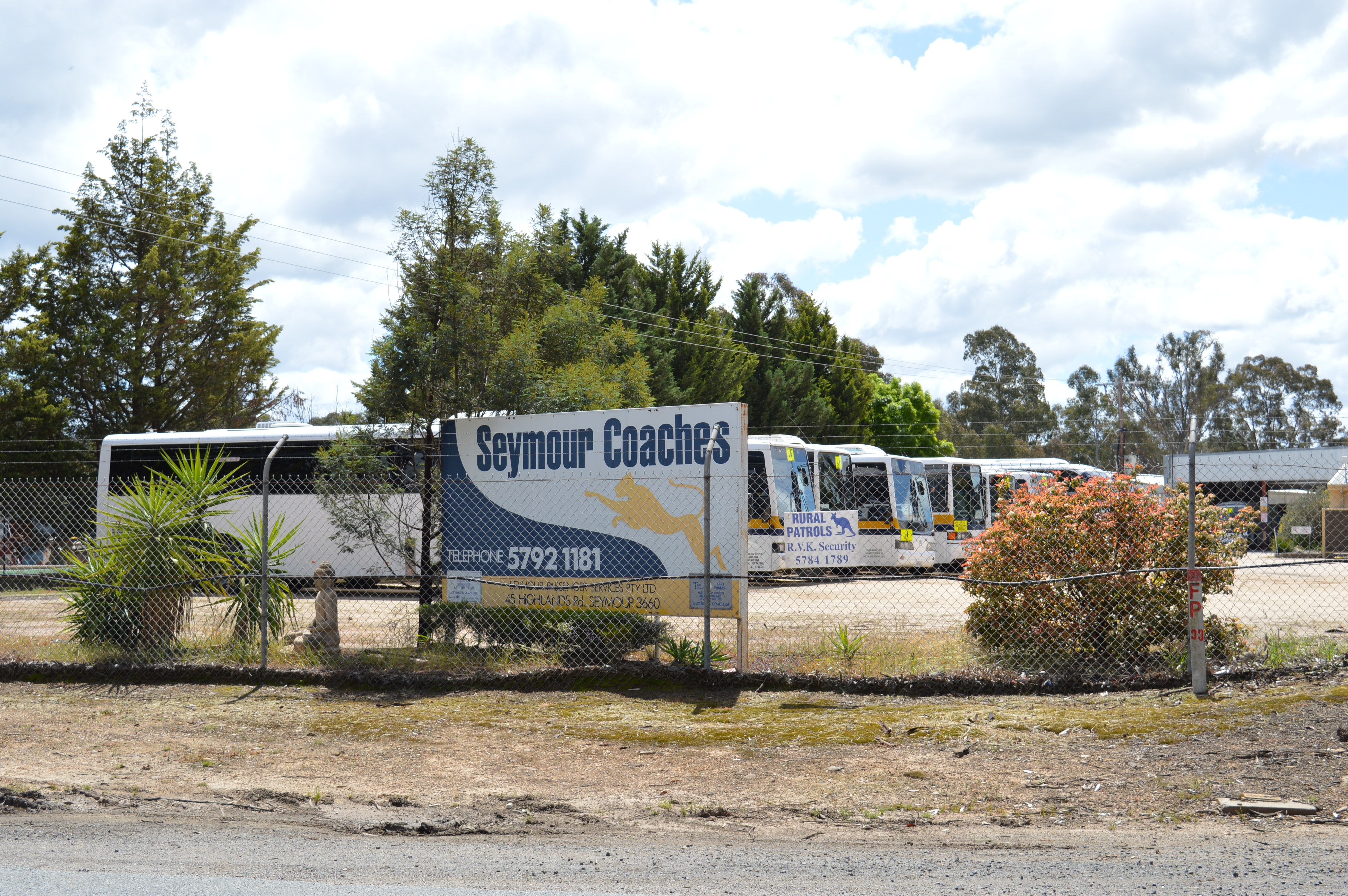 Plans to expand
The organisation has 64 staff in total, most are drivers but the administrative side also keeps it fairly busy.
"We have two coordinators to deal with routes, schools and bus stops and I liaise directly with the school principals. We like to look after our schools and make sure we are meeting their needs.
"There are still many dirt roads around here, as well as roads that are prone to flooding, so we also work closely with the Mitchell Shire Council and we have a fantastic working relationship with them."
The organisation has come a long way in terms of gender equality too, having brought the total number of female staff from two in 1991, to 11 currently.
With all this growth in housing and schools, Seymour Coaches is in a position where it needs to expand or relocate some of its current depots, in order to accommodate more buses.
"My Kilmore yard has run out of space for my buses. It's pretty urgent there, so there are plans in the works for me to get the use of a bit more land. "Once that's done I hope to be able to fit more buses there and I'm hoping to have that done and ready by the start of the first school term next year."
Wallan is at full capacity now, so the organisation will either have to rent more land or move to a bigger site. Broadford is also getting crowded, so we will need to address that soon as well."
Major renovations to the main office building at the Seymour depot in 2009 resulted in a very modern outfit and a more functional area for the administrative staff. Similar plans are in the works for its other depots, in due course.
"We have very new vehicles and very good drivers, so we get a lot of repeat charter business," Locke says. "Because we're doing charter trips to Melbourne, it makes no sense for our drivers to come back to the depot, so they stay with the group. That means we are never late to pick up the kids because we never leave them. Some metro operators are likely to go and do another job and then they might be late to collect the school groups - but that's not an issue with us."
As house prices in our cities continue to rise, bus operators in these outer growth areas will continue to benefit. They just need to ensure they are well organised and prepared to make the most of opportunities brought about by the growth that comes with such rapid residential development.
Subscribe to our newsletter
Sign up to receive the ABC e-newsletter, digital magazine and other offers we choose to share with you straight to your inbox
You can also follow our updates by liking us on Facebook.