Flashback Friday: Green line Routemaster
---
This ABC article from November 2005 recalls the long lived Green Routemasters of London
THE SUCCESS of the Routemaster coach prototype, CRL4, combined with growth in Green Line travel, prompted London Transport to build a large class of 68 coaches called RMC's. 
They were modifications of the standard Routemaster, 27ft 8in long, 8ft wide, with an enclosed rear platform and electric doors.
This also meant having a downstairs emergency exit, which was built into the rear of the platform. Fluorescent lighting, a touch of sheer modernity for the quality customers, was installed.
The air suspension, applied to a few of the early standard RM's, was fitted to the whole class. The same 9.8-litre AEC AV590 engine was used, but with a different gear ratio to permit higher speeds.
All this, plus deeper upholstery and more widely spaced seating, was designed to give a more comfortable ride.
The exterior finish was excellent too, Lincoln green, with pale green trims around the windows and a matching cant-rail band. There were small Green Line roundel plaques on the 'tween-decks panels, and a small roundel transfer above the centrally placed rear number-plate.
Another touch of distinction was added by adopting the current fashion for twin headlights.
The first 20 RMC's went into service on August 29, 1962.
The new buses settled down in service but they did have teething problems, different from the town RM's. In particular, the air suspension was unreliable at first and the less frequent braking meant that a different policy about dust guards had to be adopted. Pitching when running fast was also a problem requiring suspension stiffening.
As the '60s progressed the Green Line network suffered. A buoyant growth area after the war, it competed badly against the rise of the motorcar, both in direct abstraction of its target clientele, and in terms of service slowing through traffic congestion.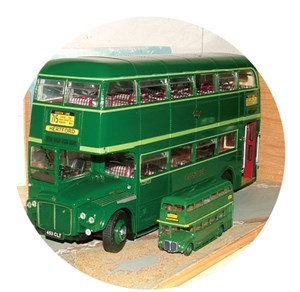 Overhauls during 1967 produced a simplified livery, with no window lining, and with large transfer roundels replacing the small raised ones. It was not an improvement. All the RMC's, including the prototype, passed to the London Country Bus service. The RMC's were eventually officially demoted to bus work.
During the mid-1970's the RMC fleet gradually spread and contracted, as London Country spent its efforts trying to iron the bugs out of its newer classes.
The spares shortage that was crippling LT also affected the London Country fleet, and by the autumn of 1977 seven RMC's were out of use, non-runners and up for sale. London Transport bought the non-runners, plus others, in December 1977, but neither company had the parts or resources available to put all the non-runners back into service. Twenty RMC's were included, of which 18 were put into LT service. They went into the training fleet, often wearing NBC green with London Transport white bullseyes, until they were repainted into red.
London Country's survivors struggled on, increasingly acting as spares. But eventually London Transport offered to buy all of London Country's remaining RMC Class buses except RMC4. London Country finished its Routemaster operations in March 1980.
London Transport eventually put 53 RMC's into the training fleet, managing to repaint 21 of them into red before they started. One even received a green repaint! But eventually they were all repainted red, the last being in May 1988, some 18 years after acquisition!
The RMC training fleet continued fairly uneventfully until 1987, when one RMC was converted to open-top and upgraded to PSV standard for hire work and special occasions.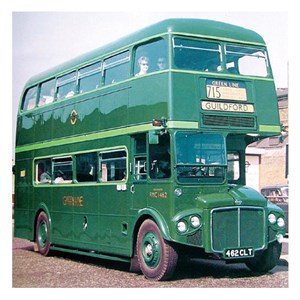 Also in 1987, one trainer was converted for use as a recruiting/training bus, with reception, interview and test rooms, with mains-powered heating and lighting. Externally it was painted red with yellow window surrounds/cant-rail band and had silver wheels. The non-standard features of the livery received disapproval from London Buses, and it quickly reverted to standard.
But the major event was the return to service in March 1989 by East London of first six and then another RMC. They were refurbished for passenger work, repainted in red with gold lining, and put to work on the X15 'Beckton Express', linking the new Docklands developments with Central London as a crewed commuter service. Their luggage racks had all been removed, and standard three-piece destination displays were fitted at the front. Five of them survived through to the privatisation of London Buses in September 1994.
RMC1461 was overhauled and restored to full early Green Line condition, ready for the Routemaster 40th year celebrations in September 1994. It retained the livery (including fleetnames) in Stagecoach ownership, appearing sometimes on the famous route 15.
Into the 21st century RMC1456 retained the red-and-gold Beckton Express livery, with Stagecoach logo and RMC 1485 has the same style but with cream lining. RMC1490 forms part of the Stagecoach preserved fleet in Scotland. RMC1513 had been transferred to Metroline, and was privatised with that company.
With the end of Routemaster operation in London this year the remaining RMC's passed into preservation or private hands. They all chalked up 43 years' service. Not a bad effort for a bus that was declared obsolete even before it was built.
REPLICAS
The recently-released Sunstar London Transport Routemaster bus models have to be almost as good as it gets without getting the real thing. The scale is also unusual in that it is 1/24 (the same as used by Trax on some of its cars). This produces as big model and in that scale many working features can be replicated.
The first Sunstar range was of the traditional red London buses, however, in the second release some more adventurous colours were tried. Many are in the all over advertising liveries that were popular at the time.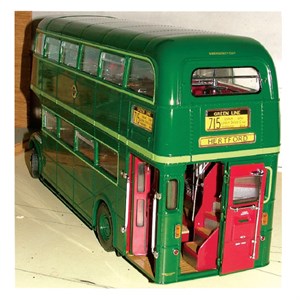 But it is the replica of the Green Line Routemaster coach that really catches the eye. Sunstar has taken their standard model and rather than just paint the model green, has re-tooled it to incorporate the differences and produce an attractive and extremely accurate model. Several important features are well represented, namely the dual headlights and the distinctive front destination indicators. The side destination indicator on the real thing sits higher than the standard bus to accommodate the door operating mechanism, and so does the one on the model.
Below, of course, is the door and it really works, as does the rear emergency door. It goes on and gets better ventilator details on the windows, opening bonnet with fully detailed engine, fine mesh grill, full interior including drivers cab and all controls and seats with the correct pattern material. All handrails are there as are parcel racks and fluorescent lighting, conductors mirror at the top of the stairs and used ticket box.
Mirrors and the well-known projecting indicators are supplied and are simply a push-fit.
The bus depicts Green line route 715, which was the first route that this particular vehicle worked on. The vehicle is modelled in as-built condition although through their long lives there were many modifications. As the scale is the large at 1/24 all lettering, registration and fleet numbers are well portrayed, printing is to scale and clear. A pre-production model was reviewed by the UK magazine Diecast Collector and described as "drop dead gorgeous". This writer can only but agree.
If only an Australian model could be produced to this standard. The model is difficult to fault and who would really want to anyway. Perhaps the only drawback is the price, anywhere between $220 and $260. But for that price you get an awful lot of model. However, compared with some of the smaller bus models that come from Hong Kong and (at 1/76 scale) retail at more than $100 this Routemaster coach represents real value.
Remember though, it is big and you may need a big desk to put it on. But be quick for few are imported and despite the price they do go fast, because like real buses they will not come along in threes.
Subscribe to our newsletter
Sign up to receive the ABC e-newsletter, digital magazine and other offers we choose to share with you straight to your inbox
You can also follow our updates by liking us on Facebook.