EXCLUSIVE: IF EVER THERE WERE a reason to do another Mad Max movie, this bus is it! Movie-star looks aside, Victoria Police's next-gen, award-winning 'booze bus' is an Australasian manufacturing collaboration at its best.
It's the flashing lights that get you. It furrows the brow, flushes the face and gets the heart racing. Any assured complacency rapidly dissipates into abject fear and panic, masked by the need to appear cool, calm and collected in the face of the law, as you pull your car into the marked alcohol and drug testing areas.
Once ushered past the bright-orange witches hats, Amanda (not her real name), a Melbourne mother of two, recalls the night she was stopped for a random breath test after a quick pub catch-up with girlfriends a few years ago.
A breathalyser reading of 0.048 was much too close than she thought she'd be, but enough to allow her to get home without arrest.
"That was the dumbest thing I've ever done," she said frankly. "Lesson learned."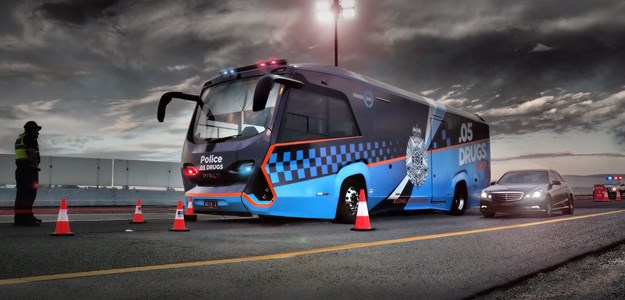 Just like an increased amount of drivers who are under the limit or record a zero reading these days, no harm done. Yet sadly there are still drivers out there – you know, morons – who flout the law and excessively drink-drive, putting themselves and innocent others at risk of serious injury or death.
And this 'risk' that many drivers still toy with when it comes to drinking alcohol – or increasingly these days take god-knows-what type of drugs – before getting behind the wheel is crucially combated by 'deterrence'. That is, the need for people not to exceed the legal limit of 0.05 blood alcohol content (BAC) in their state or territory and then drive their vehicle on public roads.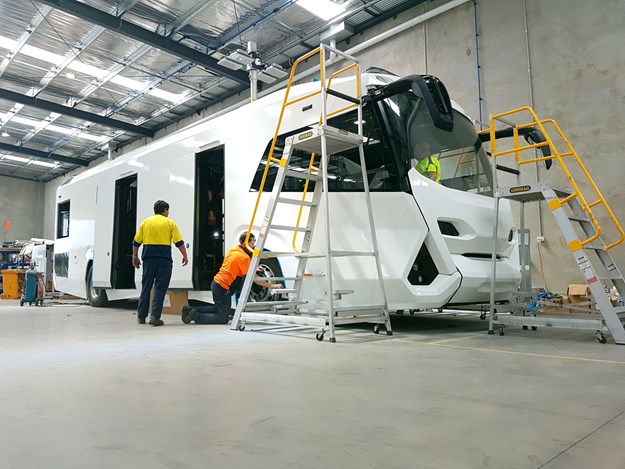 Having recently won a Best in Class Product Design award at the 2018 Good Design Awards, in Sydney, the latest ADT Victoria Police (VicPol) 'Booze Bus' is proving key to instilling that much-needed deterrent today.
All up, 10 new buses have been commissioned to be built by VicPol, with Victorian manufacturing underwriting the project's success.
WHO MADE WHO?
A joint venture between Ballarat-based Brimarco and Derrimut-based Byron-Wade (BBW), the bus-construction contract will see VicPol's Alcohol and Drug Testing (ADT) fleet increased from the current eight vehicles to 10, thanks to four 12m vehicles with the Metro ME Low Floor chassis supplied by Dandenong-based Iveco Bus Australia and six 10m vehicles with the Midi Low-Floor chassis and base frame supplied by Perth HQ'd but Hallam-based Bus and Coach International (BCI). And, gee, don't these buses look hot?
Dressed in striking police-insignia vinyl wrap from Label Concepts – on a custom-designed body with menacing fibreglass 'mouth' created by Cobalt Design – few would be able to miss these sexy beasts heading down a highway (the Ivecos for major arterials), or nimbly skirting through smaller urban streets (the BCIs for more minor roads). And that's exactly their point, in terms of looks. They are eminently functional for day-to-day police duties, as well.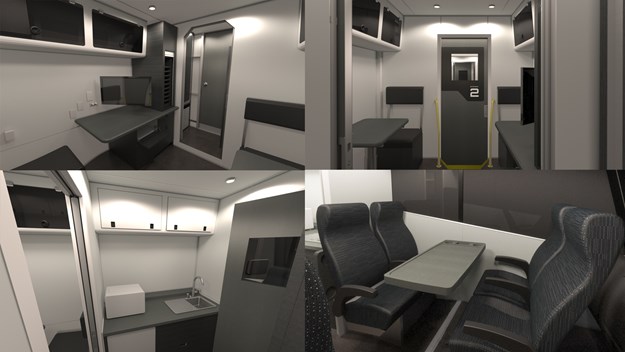 Brimarco-Byron-Wade (BBW) managing director Matt Kirwan-Hamilton, speaking exclusively to ABC magazine, explained the concept, contract tender process, bus build and functionality, and long-term aims and objectives of the product:
"This is actually series three of VicPol's bus fleet. Brimarco built the first two … but we decided with this one to joint venture for a more specialist focus.
"So we came together with Byron Wade and they're fitting the interior; we do the engineering, frame and body.
"We took the brief from VicPol originally being Brimarco-Byron-Wade and then we brought in Cobalt Design – and went about trying to understand exactly what VicPol was wanting to achieve in terms of aesthetics, functionality and those sorts of things.
"Predominantly, Cobalt worked out a design and then provided it to the engineers, Ottimo Design. That design then became engineers' drawings.
"So, the current fleet that is being replaced was also created by Brimarco, Cobalt and Ottimo Design. That was one of the winning features I think for VicPol [this time].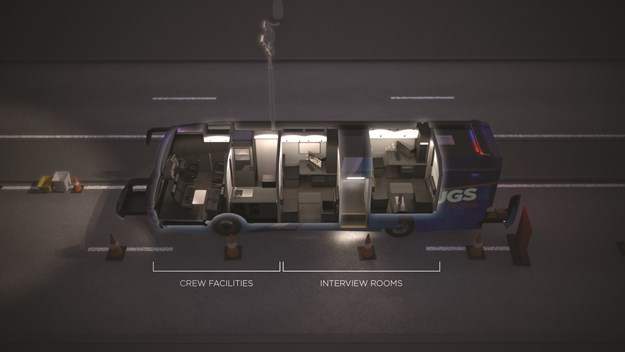 Kirwan-Hamilton added: "We listened to them intently. Some enhancements were needed from the last fleet. While it was great in its day, 14 years later there were some operational and functional things that didn't work.
"There were some OH&S issues with the [truck] chassis that we had used and entrance angles [for staff] and people falling down stairs and having injuries, so we needed to fix those things that we could see over time didn't work. With this enhanced version, it is a similar process, but on a bus chassis instead."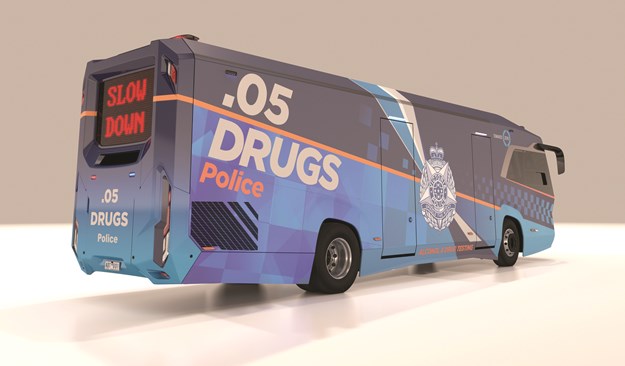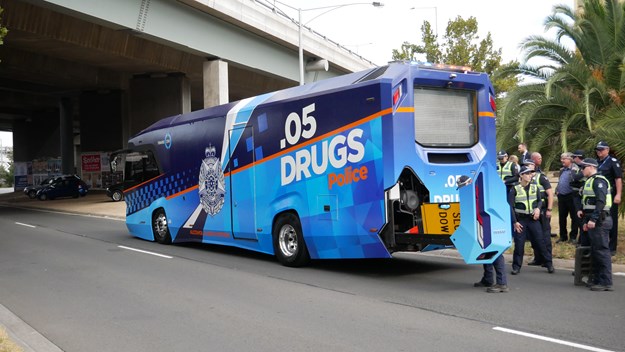 WHY A BUS?
Kirwan-Hamilton explains that with a truck chassis it had quite a high floor, so with a bus they could achieve a flat low floor, a flat crew area so there was no need to climb over engines [to get in to drive].
"The original brief [for those] was 10 years and they've lasted 14, so they have over delivered in terms of reliability. I think that's another thing VicPol was very happy with, that we built something to last. And so we'd do it again," he explained.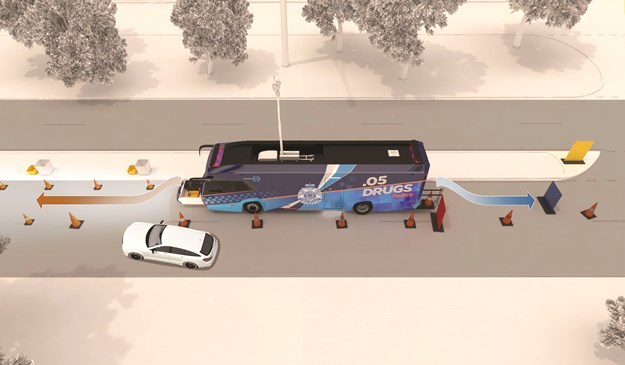 SHAPESHIFTER
"There's actually a range of fibreglass panels to achieve the shape, attached on to a metal frame. The sides are a fibreless FRP panel – Cobalt designs each part and then Bolwell Corporation gets those 3D drawings and makes the parts."
Kirwan-Hamilton says they are pretty light, but overall there's a lot of structure and strength in that frame, so it's all pretty tough: "It was built to last and to be strong."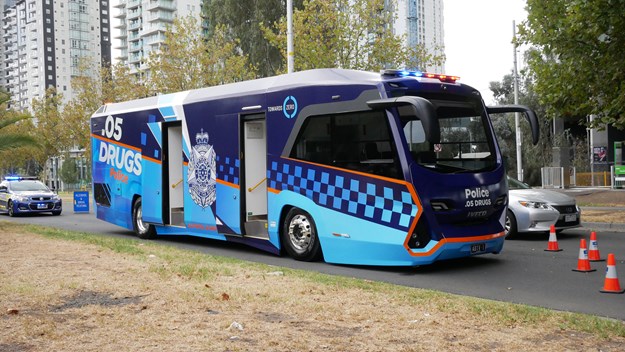 BCI GETS A SHOT
An Australian company based in Perth with their factory located in China, Kirwan-Hamilton says BCI was the best model of chassis BBW could source that suited the 'shorter' 10m vehicle it needed, as requested by VicPol.
"The turning circles of both [chassis] are incredibly improved over the previous truck chassis, so the manoeuvrability is superb," he said.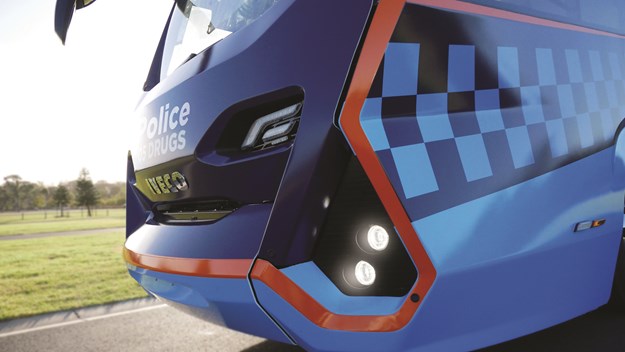 INSIDE STORY
"As explained, the [interior] styling uses modern colours and materials, like stylish aluminium.
"The interior was drawn in 3D by Cobalt and then engineered by Byron Wade, everything was maximised, the best materials used to give lasting functionality. The smaller BCI vehicles are basically identical; they are just 2m shorter. They have one less interview room (the Ivecos have two), plus the smaller ones also have one less side door. But aside from that they are exactly the same shape.
"All the parts we could use for both, like the seats, are the same, or of a similar standardisation."
Every bit of available space has been maximised for storage, circuitry or other reasons.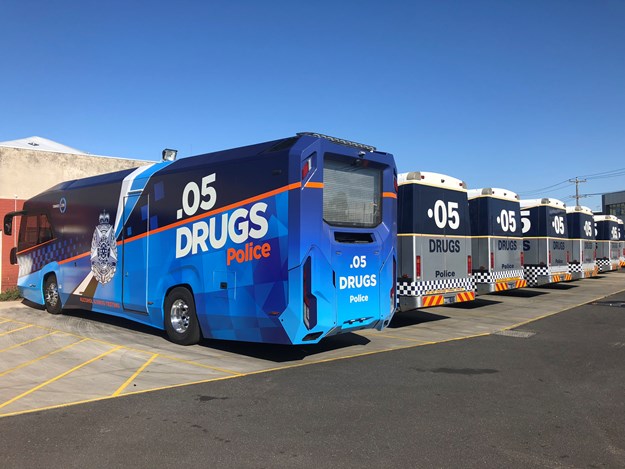 GAME OF THRONES
In terms of the seats, between the two bus sizes the seats are nearly identical.
"They are actually a standard but wider McConnell seat, so they allow police to sit down with their belts and all the apparatus on it. The old buses did not have quite as wide seats, and these are much more comfortable.
"So the first double seat on the passenger side can actually rotate, creating a meals area for the crew; these were fully engineered, designed and ADR approved. When they travel they face forward, when staff want to have meals or a break they can rotate around – there's a table that folds up from the wall. This was not on the last model.
Each bus fits seven staff: six passengers and one driver. So there's three double seats – two on the passenger side, two behind the driver and the driver seat, Kirwan-Hamilton explains. Trained police officers drive the buses.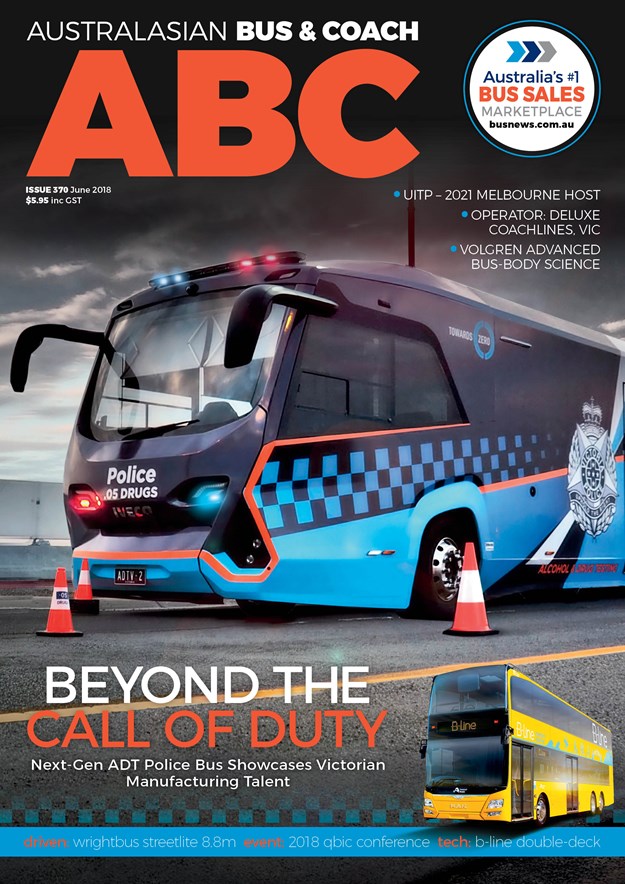 LET THERE BE LIGHT
There's a large Fireco telescopic mast, sourced from Italy, on the bus roof that has flood lights, cameras and all sorts of things on it. The top of the mast is 8.7m from the ground when extended. They are a 4.5m mast on top of the 4.2m high ADT roof. Other features include a Czone digital control and electrical system, generator, rechargeable batteries, ducted air-conditioning, 360-degree internal and external cameras plus a rear VMS (Variable Messaging Screen), which is by Bartco. All the other fitout is done by Byron-Wade.
"The lights and systems can run from the generator, can run off rechargeable batteries, or they can plug in to 240V, so it has three sources of power."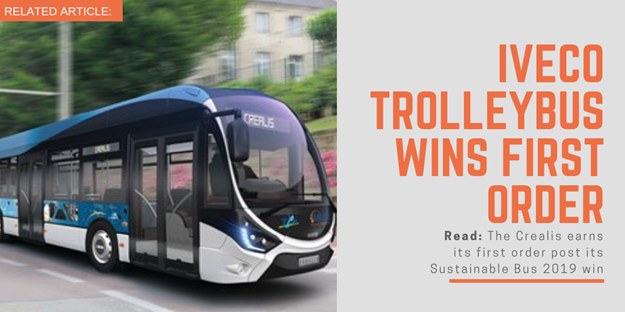 GET THE LOOK
The outside vinyl wrap is stunning, and exceedingly offsets the custom front end well, all the way along to the cool LCD embedded rear.
"It's applied in sheets. It takes about 2-3 days to wrap a bus, depending on what time we have (for other processes).
 "It's a really full-on process because they use heat and stretch it out over all the rounded edges and corners – it's an application that looks quite fiddly."
"There was a tender put out, multiple people tendered for it with different designs, but Label Concepts won and they are wrapping them."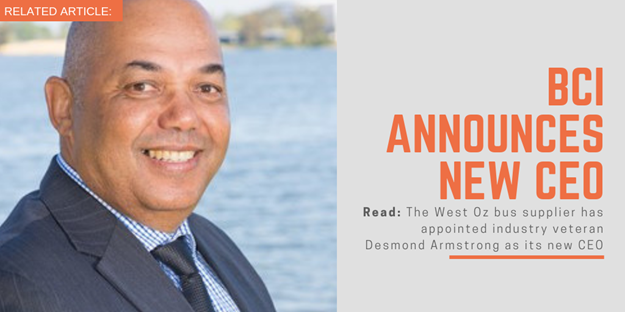 FURTHER USES
BBW says the bus is receiving loads of interest from other organisational bodies, both here and overseas.
"We went to Civsec recently, which was an international security show at the Melbourne Exhibition Centre," Kirwan-Hamilton said.
"We took it with VicPol because all the Australian and NZ Police commissioners were going to be there for their PC18 conference."
"We've got a license to sell and manufacture these two models worldwide," he added.
"We are looking at showcasing the bus to other states who might want to buy these vehicles."
Kirwan-Hamilton says various government departments were interested plus a large private prison company was just so impressed BBW built the buses exactly how VicPol wanted them with all the form, functionality and customisation.
"We can basically provide those two models totally customised to whatever is needed for the interior, or however a customer wanted. It could be ambulance, SES, Army, Border Force, whoever it might be," he said.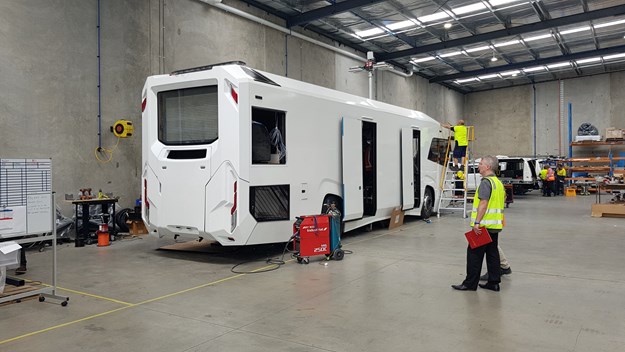 LOCAL SUPPORT
There are about 45 staff in total in BBW, but also an enormous amount of local suppliers and speciality people involved. And that's a bit of a strategy of the whole project, with everyone local loving all the work that's coming from it, Kirwan-Hamilton says.
A total of 26 new jobs were created at the Ballarat and Derrimut locations, it's reported.
"We've got a mix of ages working on the project. There's quite a few young people working on the team. I mean, they are pretty cool buses, so people love working on them and are very proud of them. It's really good for their morale and for Victoria to see great quality stuff coming out."
TEAM WORK
"And I must say from a customer point of view, for us VicPol are really good at including the end operators in the process and consulting them, having them part of the decision making – that was really clever on their behalf. And that means the acceptance levels are much higher. And ultimately that's better for our brand because the last thing you want is the people who use it every day to say it doesn't work, or it's no good, or 'I can't see because the sun's in my eyes', or whatever – those little things really make a big difference, it's really important."
"There's always a few challenges here and there, but it's been a fantastic relationship; it's been two-way, everyone's listened and acted fairly."
WHY IVECO?
"There was a certain level of local content required under the contract (VIPP, Victorian Industry Product Placement) and so Iveco Australia being based in Victoria was the first step. The second step was – and we tried some other manufacturers – Iveco had a chassis that suited the purpose of the low floor. And thirdly they'd done a lot of work with VicPol in the past, and we'd used Iveco in the past, so we had a long relationship and it just made a lot of sense."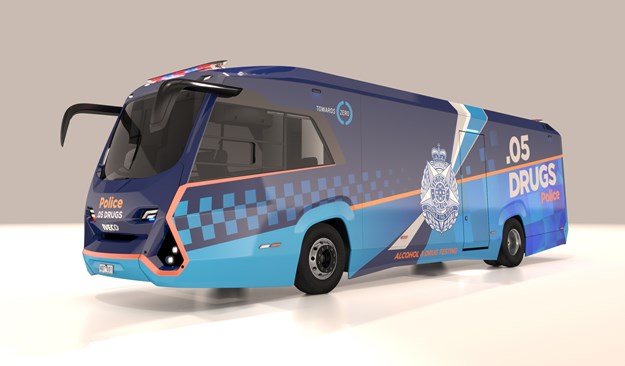 EXCITING TIMES
"There's a lot of pride in this project from the workers and suppliers. We are very happy with the external recognition of the design award, we are rapt that VicPol likes the result and that ABC magazine wanted to do a story, so we are hoping others will approach us to do their other special projects."
"We spent a lot of time and money on this one; we needed to show the world what we can do as a group, and we want to believe that from this we will get other opportunities in future."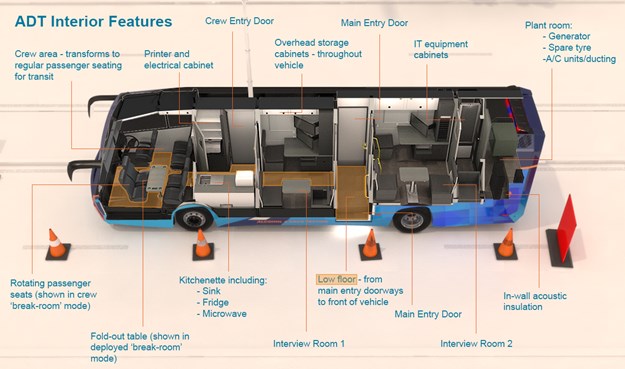 VICPOL DELIGHTED
Speaking to Victoria Police Assistant Commissioner Doug Fryer about the new buses, he said: "The tendering process was over several months. We had a number of people tendering for it, it was a complex process. Our requirements were really quite specific and unique. When it came down to it, BBW has been an incredible partner to work with. They've continually updated [us] and given tours of Ballarat and Derrimut facilities to check out the progress.
"Importantly for us it's been great to see local business get this contract, which has then created jobs. We've been really pleased to be part of that.
"Public feedback thus far has been really impressive. The buses create the presence and theatre around deterrence. These ones have modernised our drug and alcohol [campaign]. The public are liking it and our members, importantly, have found them incredibly comfortable. Our workplace is the vehicles that we are in, and so to be able to travel in something that has such comfort and member welfare front of mind is important for us as well," Fryer explained.
SAVING MORE LIVES
Fryer says in 1976 Victoria Police was the world leader in randomised breath testing. That year, 950 people died on Victorian roads and more than 50 per cent of them, over 450 of them, exceeded 0.05 [blood-alcohol reading].
"Versus last year in 2017, we had 29 people die who were over 0.05. We had 21 die over 0.05, we had 27 who had illicit drugs in their system, and we had a further eight who had both drugs and alcohol, so we've come an enormous way in 40 years," Fryer said.
"We know that the more we test the more people separate their drinking and drug taking from driving – and that's all we ask: that they separate their behaviours."
"We are finding less and less people now are drink driving. And our strike rate of those who drink drive is about 1 in 370 – and we do about 4.5 million tests. So we get about 12,000 people per year for drink driving, but we are seeing a reduction in alcohol-related trauma.
"We know the more we test, the less people drink and drive.
"The one that concerns us, and the buses are part of this, is drug driving. We do 100,000 tests per year and our strike rate is 1 in 12.  So it's about 8900 we got last year for drug driving. We do get a significant amount of repeat drug drivers, but we are seeing less and less of repeat drink drivers, so the message is getting through," Fryer said.
He further explained that Victoria recently brought in a new law on 30 April that anyone over 0.05 loses their licence for three months and then it's a six-month 'interlock' after that [a device where you must blow into it first before a vehicle will start].
"I don't think the other states have that. Anything over 0.05 in some states are a penalty notice and you still keep your licence.
"But in Victoria everything over 0.05 is a loss of licence for three months or more – depending on your reading – and a minimum of a six-month interlock."
TOUGH STUFF
"Victoria has the most stringent drug and alcohol [driving] laws in Australia.
"It's fair to say Victoria were the world leaders and the world first in designing randomised testing and we continue to lead the way in innovation to do with drug and alcohol testing. And rolling out these types of buses is another example of constant change to ensure that we are ahead of the pack."
"The whole premise behind our drink driving regime is general deterrence and normally the publicity around it. So how you get people to change their driving and drink-driving behaviour is the thought that they may get tested. All we want to do is separate behaviours, so the idea of the bus is to be really 'loud' and visible; they have a presence and we want everyone to see them and know that they will get tested.
"In Victoria we have 4.5 million drivers or riders and we aim to test every driver per year, so one test per driver per year and we are on track to do 4.5 million tests for this year."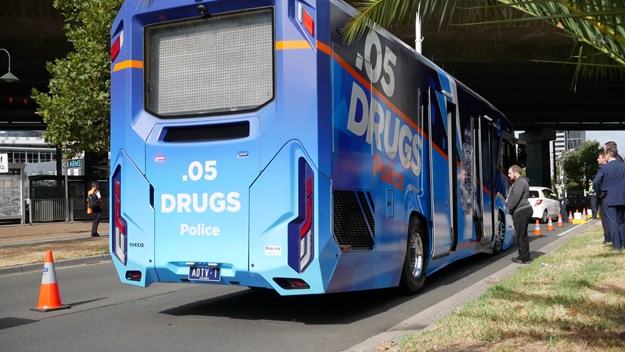 Specs
MAKE: Iveco
MODEL: Metro ME Low Floor
BODY: Label Concepts-wrapped 12m Cobalt Design with fibreless FRP panels; Iveco frame – powder-coated high-strength, low alloy steel channel
ENGINE: Cummins ISLe5 ADR 80/03 Euro 5 8.9-litre turbocharged with (air-air) intercooler, water cooled, four-stroke diesel cycle, six cylinders in line, EDC control. SCR, Non EGR. 280hp ADR 80/03 (Euro 5) Emission. Power – 209kW@2100rpm; Torque – 1056Nm@1100-1700rpm (Optional: 320hp; Power – 235kW@2100rpm; Torque – 1350Nm@1100-1500rpm)
TRANSMISSION: Fully automatic six-speed automatic Allison World Series T375R with torque converter and integrated hydraulic retarder. Foot pedal controlled
SUSPENSION: Front Hendrickson HAS60 five-link system with two air springs, anti-roll bar, heavy-duty shock absorbers and single-height control valve; rear Iveco four air spring with anti-roll bar and heavy-duty shock absorbers. Vehicle lifting front and rear, lowering at front, electronic control air suspension: ECAS (electronic set-up adjustment, kneeling device, vehicle lifting and lowering).
AXLES: Front Iveco 5876 forged steel I-beam, rear Meritor MC11-165 fully floating single reduction 5.38:1
BRAKES: Service EBS ventilated four-wheel disc brakes: 430mm; dual-circuit air system, total lining area – 8376cm; 510L/min compressor parking brake; rear wheel spring actuated with modulated control interlock facility on park brake and secondary brake circuit
WHEELS/TYRES: 10-stud steel disc wheels 8.25×22.5-inch; PCD 335mm; Tyres – 295/80 Goodyear UrbanMax (Optional aluminium disc wheels 8.25×22.50inch)
MISC.: Fireco telescopic mast, Czone digital control and electrical system, generator, rechargeable batteries, ducted air-conditioning, 360-degree internal and external cameras plus a rear Bartco VMS (Variable Messaging Screen), wider McConnell seats.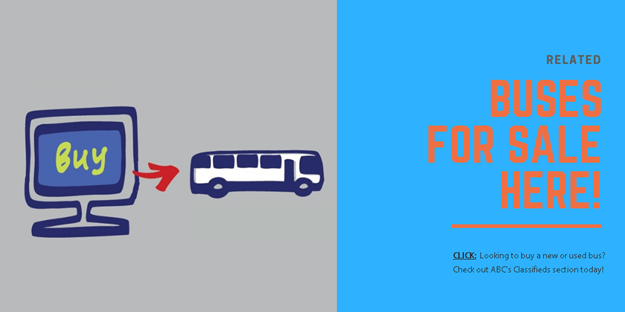 Photography: Cobalt Design