Be it business or personal, in life our 'journeys' will be hallmarked with many ups and downs – just as it should and always will be. It's the milestones along the way, though, that make said journey all the more special. BCI's 2,000th Australian-delivered bus is one such moment.
What makes a successful business? With so many variables and contexts at play, the question is arguably loaded, with often the only real quantifiable benchmark being longevity in business itself.
That is, there is that point where how long a business has been in business is the very essence of success because it – at a minimum – expresses time amassed. Or to put bluntly: survival. And this is no mean feat in an often ruthless corporate world.
Businesses failing is easier than any chance of it lasting, let alone doing whatever it does well, but for some companies like Perth-based Bus and Coach International (or more simply known as BCI) producing its 2,000th bus for the Australian market – delivered to NSW central coast operator Red Bus – as it steams ahead towards its 30th anniversary in 2021 proves it's succeeded and exceeded, with the branding and 'runs on the board' to prove it.
Speaking exclusively to Australasian Bus & Coach magazine, we spoke with some of the key players and personalities behind BCI's rise and evolution as it prepares to celebrate 30 years in the Australasian bus and coach game.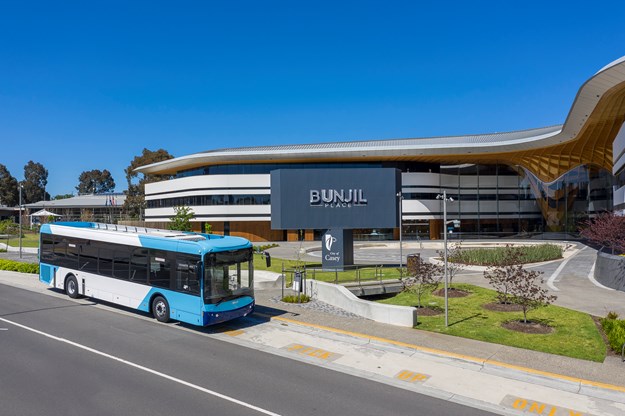 HOME GROWN
Perhaps it's its geographic isolation and the untold beauty of the Swann River that snakes its way through it that makes Western Australia's capital city of Perth that extra bit special when it comes to being the home for what would become an arguably major commercial vehicle and transport company with global reach and product appeal.
Yet, the 'City of Light' – dubbed as such in 1962, apparently, when local residents proudly lit their home lights to match the city's streetlights as American astronaut John Glenn orbited overhead in his Friendship 7 spacecraft – would prove a perfect bedrock for a company like BCI to take root from.
As the company explains, BCI began building buses in Western Australia over three decades ago, moving operations overseas to offer a competitive international product. However, throughout its journey, BCI is still defined by its stringent Australian design, engineering and production processes, it states.
In 2011, BCI opened a new purpose-built environmentally friendly production facility in Xiamen, China, which offers an increased production capacity (up to 1,200 buses per year) and greater quality control and boasts state-of-the-art manufacturing machinery, the company explains.
Prior to this, BCI briefly shared workshops with other Chinese manufacturers, but the new Fengtai Group joint-venture saw it produce its own buses, with the factory to date having more than 500 staff, including in excess of 80 design and production engineers.
There are also more than 25 expats from various countries working on various projects for different international markets, it states.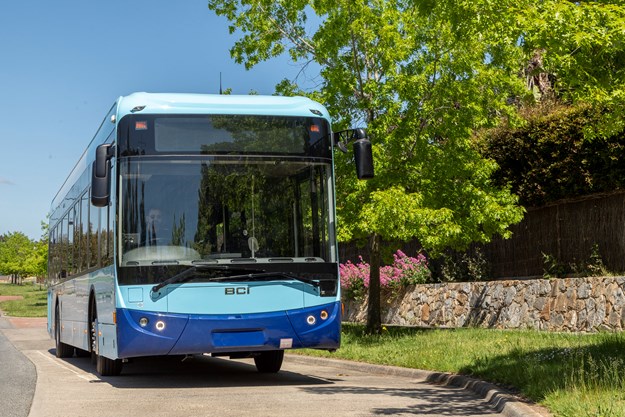 FAMILY RUN
There would be few in the local bus-making industry unfamiliar with the BCI nameplate; it is arguably now one of the most recognisable brands in Australia, New Zealand and beyond.
Founding chairman Ron Nazzari and current CEO Desmond Armstrong have shared 30 years of friendship and partnership building and distributing buses in Australia, it must be noted and commended.
When founder Ron established the company in 1991 it was a small, family run operation in Perth – and while today the head office is still located in Perth, it has dealerships in Victoria, Queensland and South Australia, with a growing export flow to New Zealand, North America and Europe.
All BCI buses are built to international government statutory requirements and all in-house manufacturing and design is based on ISO 9001 standards, it confirms. The factory has current COP (Conformity of Production) certificates for Australia and Europe, as well as being authorised builders of bodies on Mercedes-Benz chassis, and pods (passenger units) for full drive trucks (Isuzu, Mercedes-Benz, Hino and Fuso).
Quality control is closely inspected on the production line and extensive training for all engineering, technical and production personnel is key to the company's approach, it says.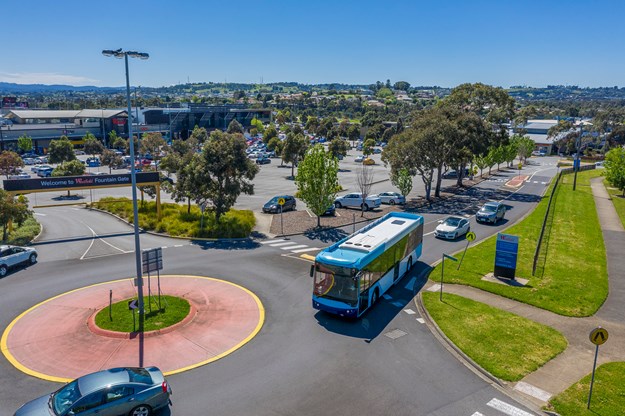 LATEST TECH
The BCI factory in China boasts a state-of-the-art assembly line with six paint spray booths, a rain simulator, on-site test track, over 37,000 square metres of floor space on a 97,000 square metre site and the best international bus engineering team, it boasts.
Its partnership with industrial conglomerate Weichai has enabled BCI to design and build the highly engineered buses required by the international market – and, in particular, the Australian market, it states.
This partnership with Weichai has also allowed BCI to use that company's high-tech research facility in Shanghai and BCI has full access to all Weichai's research engineering team and its advanced computer software for FEA analysis of BCI's complete buses, it explains.
BCI now offers the latest technology in its product range including Wabco EBS 3 braking systems, ESC stability control, Tailguard reversing brake system, adaptive cruise control and lane-departure safety systems, it adds.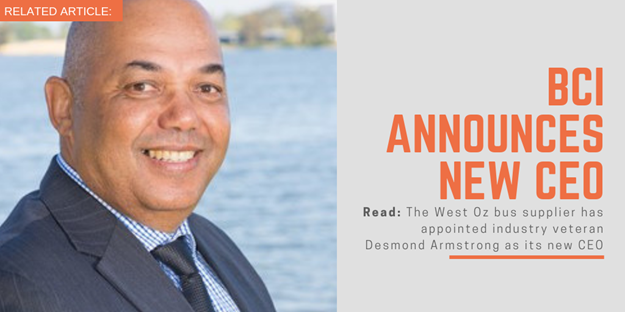 THE FUTURE
While sprouting the seeming benefits of e-mobility and low to zero-emissions buses (ZEBs, as the latter is now known) is all the contemporary rage, with sundry politicians and pundits basking in the glory of the tech to a – respectfully speaking – dumb electorate to curry voting favour along the way, it seems, discerning bus fans will recall BCI's championing of the tech about a decade earlier than many others.
As one of the few that did, BCI made the call about the importance of such electric tech and how, at the time, e-buses looked destined to become the next big thing. Display models at Australian bus shows many years ago did much to help explore the idea.
To this day, it still has endeavoured to lead the way, bringing ever-advancing e-bus and e-battery tech to the Australasian bus market into the 2020s.
It says it believes the future of bus is electric and that's where BCI is going to focus more in the next five years. We are about to see a whole transition in the industry to electric during the next 10 years and BCI only recently launched a new electric Citirider E 12m bus, with an estimated range of 400km plus.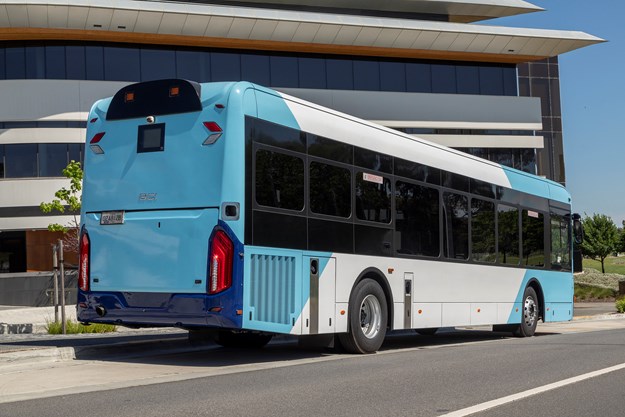 CORE STRENGTH
BCI product ranges from 7.9m to 14.5m city buses, school and charter buses, luxury coaches and double-deck buses. BCI buses are powered by the latest emission standard Euro 6 diesel, hydrogen fuel-cell systems and now full electric, it says.
It also offers three main types of materials for chassis and bodies, Australian Standard galvanised steel, imported 4003 stainless steel and aluminium bodies, it adds.
Late last year, at BusVic 2019, BCI launched its luxury 12.3m New Cruiser coach with 53 reclining seats, a fresh body design and all the advanced safety systems available to it, BCI confirms.
BCI is mainly focused in Australia and NZ, although it currently exports via the JV with Weichai Group to other markets, like: the UK, the Netherlands, Canada, USA, Israel, Singapore, Hong Kong and South-East Asian countries.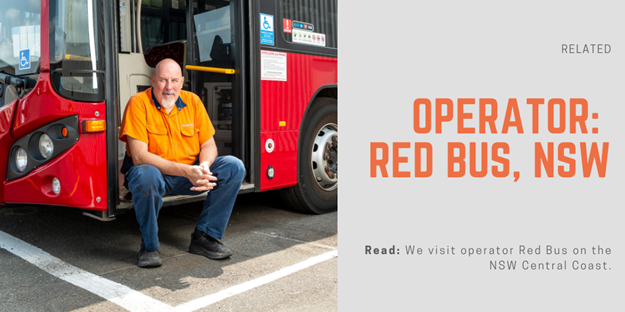 THE CUSTOMER – RED BUS
The recipient of BCI's 2,000th bus was operator Red Bus Services on the NSW central coast. We asked owner John Shore about the product and purchase, and its significance to his company.
Q. What brought you to start the process of looking outside your traditional supplier?
JS: There has been no commitment that our current supplier can offer Cummins in Euro 6 and this led to us going to market about 16 months ago.
Q. Had you experienced BCI product before?
JS: Yes, we have had a couple of Fleetmasters that we bought second hand for our charter business. They have been great charter buses and our customers and staff like them, too.
Q. What were a couple of key factors on deciding on the BCI product?
JS: "Past track record of dealing with some key people at BCI. They could offer the Cummins/Allison package that we were looking for. With the Fleetmasters we could not fault [the process] when we have phoned up for parts. BCI had the parts and shipped in a timely matter. We were also looking for better value that would help with our next round of submissions with TfNSW. BCI is celebrating 30 years and we see them as a supplier in the market place for many years. The new Citirider model we are taking delivery of is very similar to the EV and hydrogen vehicles they offer, which long-term helps us with commonality when we do go down that path.
Q. How has the experience been so far?
JS: From a delivery point of view, BCI has worked very hard to deliver compliant TfNSW vehicles including the smallest details that are important to us. [They are] the most compliant buses ever delivered to Red Bus and have been very reliable from day one. We talk with BCI on a regular basis, which enhances the positive experience.
Q. How has the acceptance been of the product with staff and key stake holders?
JS: It definitely turned heads when it arrived with a lot of expectations/assumptions pushed aside with the style/quality and features the bus has. The drivers' reaction has been very, very positive.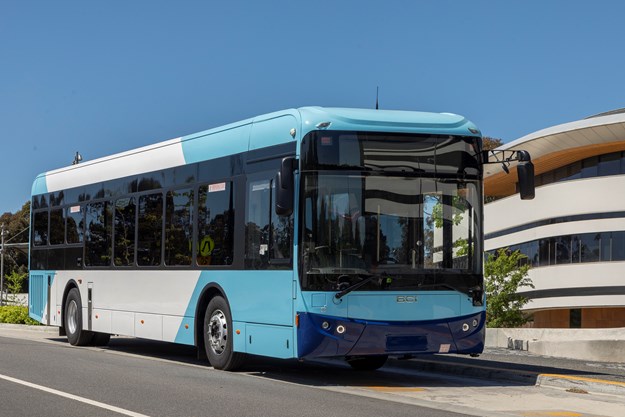 TALKING HEADS
"Looking back to our start as the West Australian Hino dealer trading as Nazzari Hino Bus Sales, then building bodies in Perth, to today, where we build our own complete vehicles for the Australian and international markets, has been an interesting journey to say the least," said Ron Nazzari, BCI founder and chairman, when speaking to ABC. 
"I have great memories looking back to our early builds and how the company was growing from a family operated business to a recognised international brand offering premium products, and certainly I can say we feel very proud of our contribution to this journey, which is now part of the Australian bus industry history. And I acknowledge the dedication and fantastic performance of all our employees along these three decades.
"Although I retired a few years ago, I sincerely feel passionate about BCI, and really love the buses we continue building. Sometimes I can't believe how they've improved and how the industry is changing and I know BCI will continue to improve and grow under the guidance of our CEO Desmond Armstrong and the strong group of managers in Australia and internationally," Nazzari stated.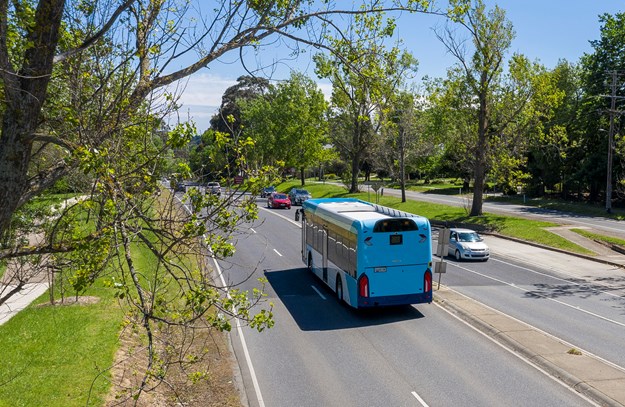 STABILITY AND RELIABILITY
"Our records tell us we have reached a milestone of above 2,000 BCI-branded buses delivered to more than 600 Australian clients in all states and capital cities," said Desmond Armstrong, BCI CEO.
"It's important to highlight that this is our 2,000th delivery into the Australian market, but we also export buses overseas," Armstrong explained.
"We should thank our other dealers around the world, especially our
New Zealand distributor for their efforts in securing large orders of three-axle double-deck city buses for Auckland and Wellington during their last tender round," he added.
"Our stability and reliability as a manufacturer, based in the relationship with our customers, and aftersales care for the product we deliver, has always been BCI's main focus and the reason we're still here after all this time.
"The new generation of BCI buses (the new coach, the low-floor, the zero emissions bus) has this 'sort of European flair' due to our exposition to international markets, where we are permeable to understand the latest requirements from world-leading operators and top suppliers. This allows our talented engineering team to portray these fresh ideas into innovative designs that bring to Australia the best combined elements totally adapted to our country's special conditions, thanks to our experience and constant communication with end-customers, their drivers, mechanics and passengers," he said.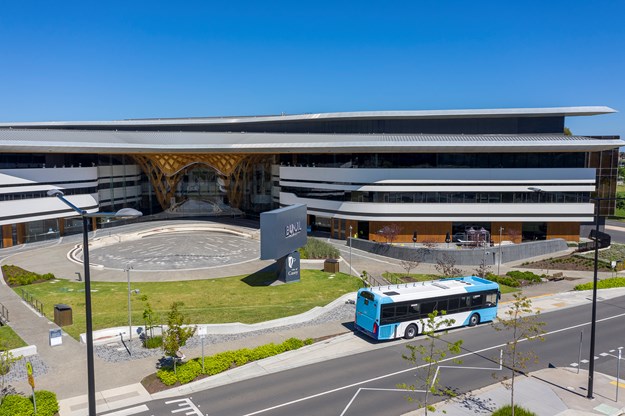 FIRST OF ITS KIND
"As a matter of fact, the bus that makes number 2,000 of BCIs delivered to Australia is actually the first of its kind," said BCI Victoria state manager, Cameron Millen.
"Our new-design Citirider 12 has a completely renewed modern look with smooth, cleaner lines and A/C system concealed below the roofline.
"From a driver's perspective, it provides a friendlier environment at the cockpit, with all controls within easy reach.
"In terms of maintenance, operators shall also experience a lesser cost, with its full stainless steel chassis and body frame, plus a lighter weight due to the integral design for both body and chassis," Millen explained.
CUSTOMER INPUT
"With Cameron and myself knowing John at Red Bus for over 20 years, it was a great base to be able to have honest conversation about his expectations/criteria," said Robert Lanteri, BCI NSW sales executive.
"With John's journey, we just listened to what he didn't like and did like over the years from different suppliers – and his own personal experiences.
"Spoke to John about the BCI team here in Australia with people such as our engineer Lorenz Eberl and the Australian contingencies at the factory including someone like our head of production Boyd Denning.
"John's non-negotiable Cummins-preferred engine we were able to commit to, offering the ISB engine, which will grant the fuel efficiency gains he is looking for as well.
"Luckily, BCI already had John's wish list covered with vehicles being approved on the TfNSW panel with the specifications that he was looking for."
Photography: courtesy BCI