VIDEO REVIEW: HINO-CUSTOM ADVENTURER
---
Hino's RN8J with Custom Adventurer body brings together local design and build with the long-running experience of a business that seeks to understand and support its rural operators. You're in safe hands with this latest creation – built to meet strict TfNSW school safety guidelines.
Hino has been delivering buses in Australia for 55 years, with the first seven Hino buses built in 1965 by Freighter Industries in Adelaide. Five went to the Gold Coast, one went to Tasmania and one to Adelaide. Hino has actually been in the bus market longer than it has been in the trucking industry and to endure for so long, and have success in both industries, it isn't taking the 'one size fits all' approach to its business.
This is the first Transport for New South Wales (TfNSW) Rural and Regional Category 4 school bus with the Custom Adventurer body on a Hino RN8J automatic chassis. Although not a new chassis for Hino, what is new for this particular product is the combination with the Custom Adventurer body and it's the very first for TfNSW built to a school specification.
This bus has been bought by Kelly Coaches in West Wyalong. It currently has a fleet of eight buses; three are Hinos plus this new purchase, so it obviously trusts the brand.
Sara Clark, bus manager for Hino Australia, explains that father and son, John and Peter Kelly, are really excited about the new bus, particularly Peter, who will be driving it.
On why they had again gone with a Hino, Clark said: "It's a proven product for reliability, simplicity and great fuel consumption – all of the things that go with what the Hino brand is known for."
"Aside from that, a lot of operators that buy the RN chassis are regionally located. Hino makes it very easy for them to self-service and maintain their vehicles in regional areas. If you're in a metropolitan area it's easy to take it into a workshop or into a dealership. We will support our customers to suit their business needs."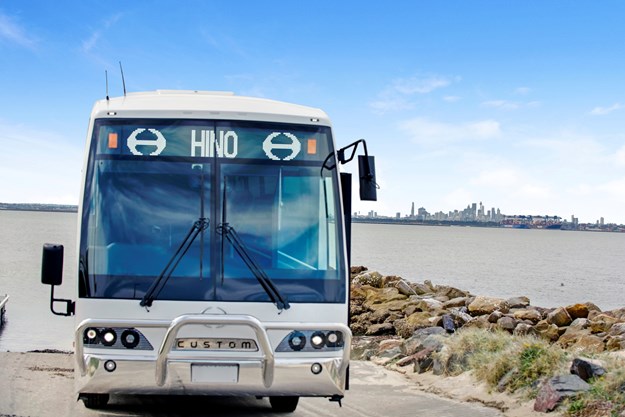 HINO ADVANTAGE
The Hino Advantage program offers bus customers fleet training, a dedicated in-house customer care centre and 24/7 access to genuine parts and service. Clark says that this makes a difference to customers.
"It can often be the benefits that happen after the initial purchase, when they leave the dealership, that can be equally as important as the product or sales experience," she explained.
"We have enhanced operational efficiency and customer service by providing technical support specialists in our in house call centre. Hino bus customers can also access the Hino fleet portal, a comprehensive information hub that includes Product Information Bulletins and the ability to book Fleet Training sessions. The Customer Care Centre is more than a call centre: it is a complete support solution for all our customers and their businesses through every stage of bus ownership.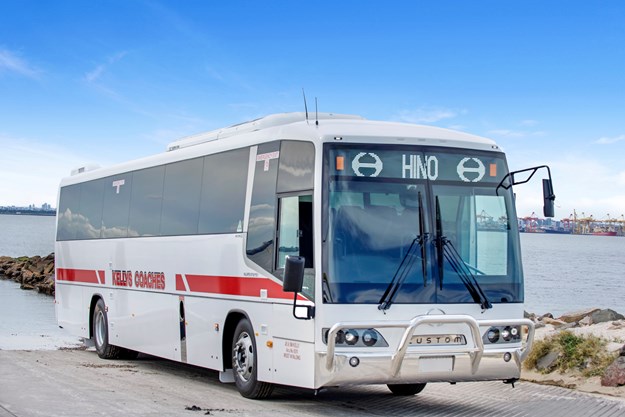 "Being able to accept and respond to all enquiries within the walls of our head office represents the ongoing focus that places our customers at the centre of our operation.
"The advantage for businesses is connecting them directly to the nerve centre of Hino knowledge and the peace of mind that we have the solutions to keep them on the road for longer.
"Hino make sure that the way it supports the regional and metro operations meets the very differing needs of the operators.
"With Hino Advantage, Hino has a comprehensive suite of business solutions, designed to reduce the costs over the life of the vehicle. Obviously other manufacturers have different offerings, but we want to make sure that our bus customers are looked after in a very similar way to our truck business.
"We want all customers to have the same business solutions, but we know that there's a big difference between the two different types of product offerings. So we're making sure that any expansion in parts or services or customer experience suits the bus customer's needs. I think that's really important.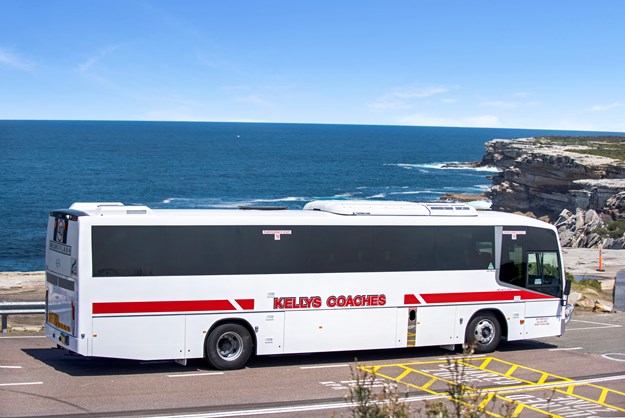 "It's also a very different business dealing with regional operators these are family people not large city fleet operators and we need to look after them. Obviously, we have those as well, but it's, it is heart-warming at times, we're dealing with families." 
Clark explained that rural school bus operators rely heavily on quality product, as their nearest dealership could be a significant distance away.
"Rural regional school bus operators have to abide by contract rules the same as larger urban operators; if they have a break down they have to report it, if they have multiple break downs they have to report them. This goes against their contract records," Clark explained.
"Most school bus operators are on the road from 7.30am to about 9.30am and will back on the road for the afternoon shift around 2.30pm.
"The operators only have that window of time from the morning shift, finishing until around 2pm when the buses get back on the road, so if you need to get to a dealer for repairs that timeframe may not always achievable and we recognise that these customers require a different level service.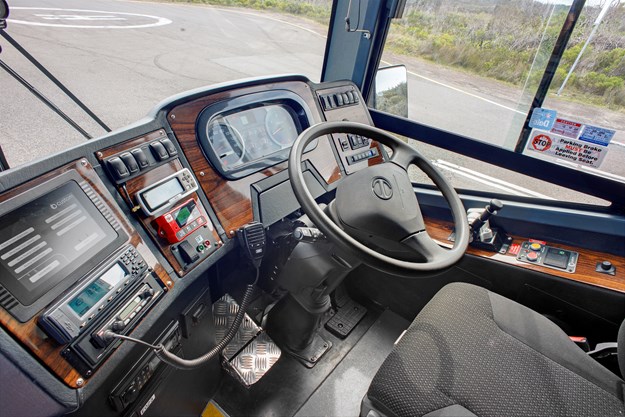 "What you find is most rural operators do their own routine maintenance. They are relying on our product and that's what we build our ongoing relationships on.
"That support of our customers is what we want to sell in regional areas. It's the mainstay of our business so when we deliver a bus we know the bus and before we leave the client we ensure they know the bus. We make the process personal from the beginning and it's a much smoother process.
"We have dealt with fathers, now we are dealing with their sons and daughters coming through the business and we can see the next generation of children that will follow. We deal with families and you need to be part of the family, that's really important to us", Clark stated.
We asked her what are the stand-out features of the RN8 chassis...
"It's a proven product, fuel consumption is excellent, stability and quietness are key, and you will notice this when you drive it. You can be in the back seat talking to the driver and you'll never need to shout over a noisy engine."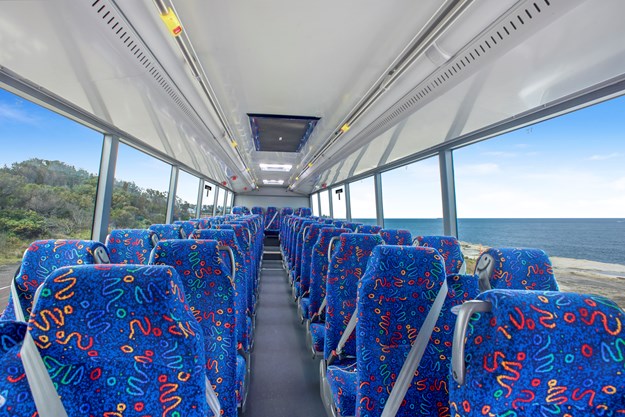 AUSTRALIAN MADE
The Custom Adventurer body is Australian made and locally certified, designed and produced. That statement in itself is impressive and one that will relate to many operators.
One big advantage of local production and simplicity of design, Clark says, is that if one part is used on a Hino bus, it's used on the next bus, and the one after that. With that ethos comes the advantage of availability and speed of availability.
"Custom are amazing – they even manufacture their own seats on site, who else does that all in one place?" Clark asked.
"It's pretty outstanding to visit and just see what they do. They also have their own custom care facility there," she explained.
Regarding the order time, Clark explained: "As this was the very first one to come through, logically it took longer than future builds will.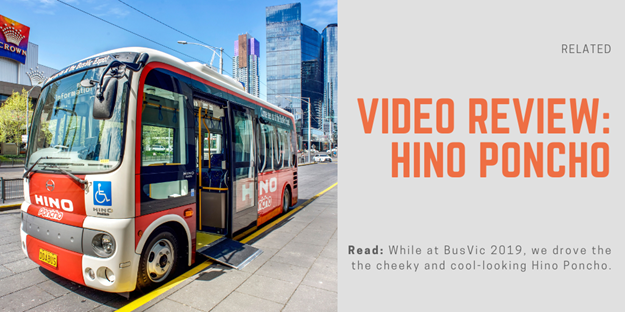 To Custom Bus' credit, this has all been achieved during lockdown. I don't think they shut down entirely at any time, but they had a reduced operational capacity; it was a challenging time and to their credit they came through with the goods.
"Something to be mindful of in this particular category of school buses [is that] yes, there are higher horsepower models out there in the market, but what Hino found with this particular model is that the higher power isn't really necessary for most school bus applications. They're not traveling high speeds anywhere, there's no distance highway work and the obvious benefit is that it's very fuel efficient. So, it's entirely suitable for when we measure our market. We cap it at 300hp (224kW) for a true school bus.
"Anything over that, it's for combination distance charter and school bus applications. That's our definition and I'm sure everybody segments their market differently. For our school market we will likely always have an offering in that lower horsepower segment because of its fuel efficiency and it also offers good value for money.
"The technology and engineering, the local support, makes all the difference. We support local manufacturing and local content. We have a long history with Custom – it's certainly something that we embrace, and I think the operators respect and appreciate this relationship as well," she concluded.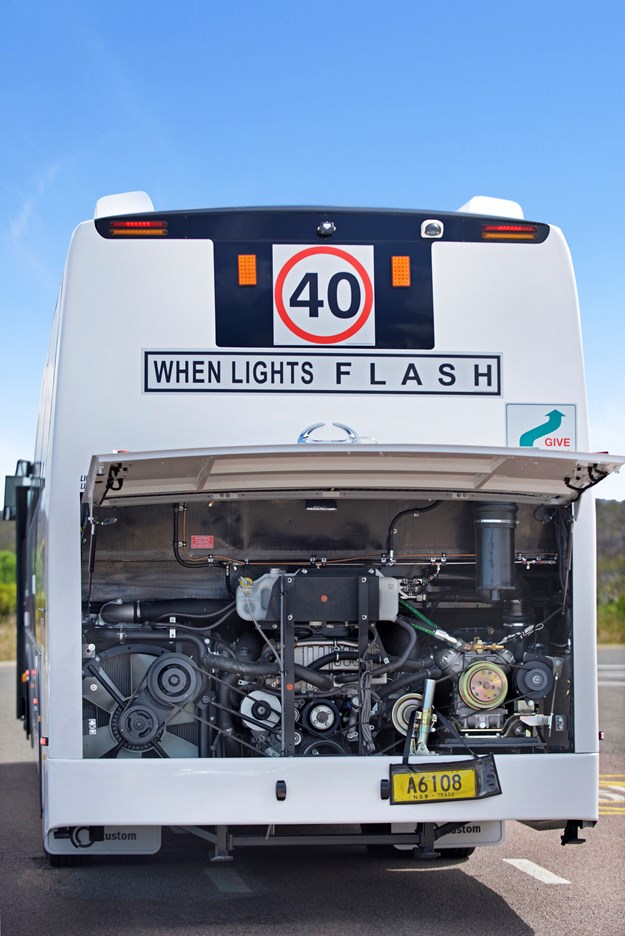 BEHIND THE WHEEL
This Hino RN8J with Custom Adventurer body is painted in the Kelly's Coaches red and white livery, finished off with an alloy bullbar – essential for rural and regional driving.
Approaching the bus you have to notice the destination system: we're told it's the largest size available and it stands out, which will be good for when the school bus is approaching from afar in rural areas.
Powered by a Hino JO8E VD six-cylinder turbocharged and intercooled diesel engine that puts out 206kW (285hp) at 2,400 rpm, it has an overhead camshaft coupled with a ZF Ecolife six-speed automatic transmission with retarder.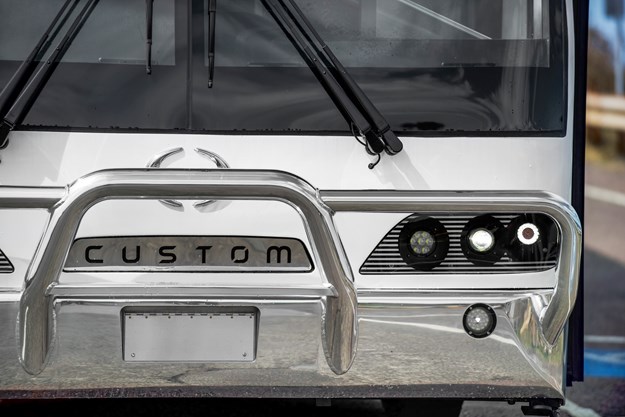 At 285hp, the horsepower isn't huge, but for its application as a school bus this is more than ample. Going up even inclines, it hardly needs a foot on the pedal and there is plenty of zip. The combination with the ZF transmission is perfect; it chooses the right gear without any issues and knows where it needs to be.
Visibility is great – we were told that the windows for both the driver and passengers had been lengthened and all round visibility subsequently is without fault. There are large heated electric mirrors for the driver and a Mobitec CCTV 5 camera system that is easy to use and gives the driver easy access to all areas both inside and out - perfect!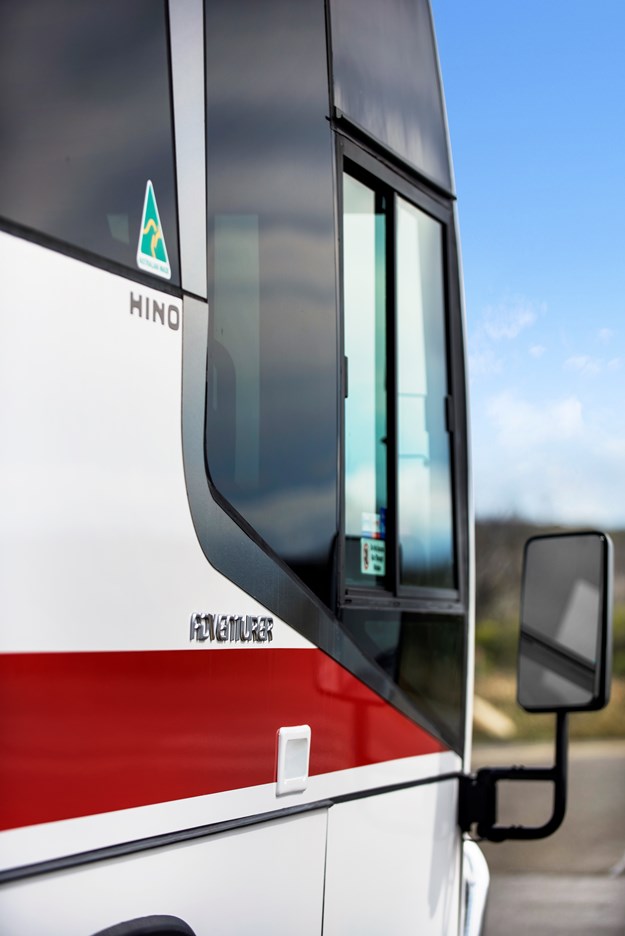 Another part of the design that helps with driver visibility is the positioning of the instrument panel and steering wheel.
You often are looking through the steering wheel and there can be a slight obstruction of the sight path with some wheels, but the design on the RN8J means that the driver seems to be in a more raised position, which gives a clear view of the instruments and no loss of road visibility. The driver's area is simple, easy to use and operate. The maxi brake is situated in a good position beside the driver. Overall, it is very Hino in feel and something that just works.
At one point we realised we hadn't been using the retarder, but flick it to one and it's great. Into number three and wow it does slow down. We had been told we probably wouldn't need to use the brakes that much and that was certainly right.
The 57 standard seats in this bus are McConnell Educator seats, but operators can also choose Styleride, and Custom also produces its own seats, so there are set options for the customer to choose from. The McConnells have a 2/3 seating configuration, so for children under 12 there are three seat-belted seats available.
In the rear engine compartment the layout from an accessibility and mechanical point of view is perfect. Daily checks will be easy with good access to belt changes, pulleys and the AC compressor. In a front side exterior compartment there is easy access to electric componentry and fuses, and this area also offers a safe spot for driver belongings.
As drivers, historically, we've always really loved driving Hinos. We've driven many over the years and find some common features in them all. They are always predictable and not over-complicated, so easy for us drivers to operate. They just go and go. Hopefully this new generation will continue the Hino legacy. Overall, it was a really pleasurable drive.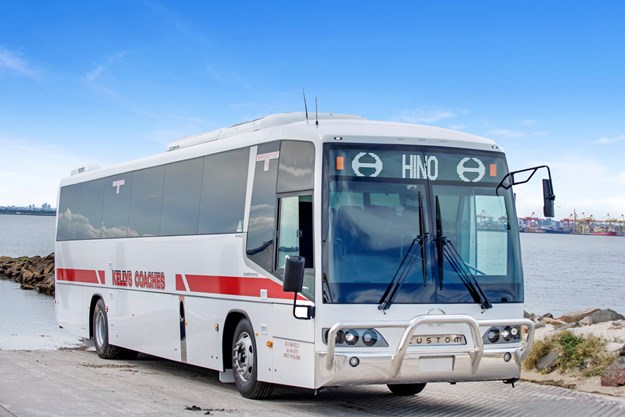 Specs
MAKE: Hino
MODEL: RN8J
BODY: Custom Adventurer
ENGINE: JO8E VD six-cylinder diesel, turbocharged and intercooled
TRANSMISSION: ZF Ecolife six-speed automatic
POWER: 206kW@2,400rpm
TORQUE: 824Nm@1,500rpm
GVM: 15,000kg
BRAKES: Full air, dual circuits, S cam type, leading and trailing shoes for front and rear; ABS
SUSPENSION: Two bag suspension with double-acting shock absorbers and stabiliser
FUEL TANK: 250L
DIMENSIONS: 11,460mm x 2,450mm x 1,855mm
WHEELBASE: 6,000mm
SEATING: McConnell Educator, 57 seats (model can accommodate 45–61 seats) 
Subscribe to our newsletter
Sign up to receive the ABC e-newsletter, digital magazine and other offers we choose to share with you straight to your inbox
You can also follow our updates by liking us on Facebook.