VIDEO REVIEW: 1997 Volvo-Alexander Olympian
---
In 2010, Fantastic Aussie Tours brought over four 1997 Volvo Olympian buses from the UK to run on its Blue Mountains tourist routes. Paul Aldridge dropped by to learn more about the family owned company and try out an Olympian for size.
This test drive is a bit different; it's a home town story with a focus on a long-running, family operated tourist business.
The big red Explorer Buses are a part of the Blue Mountains scenery; on weekends you can't drive the streets of Leura or Katoomba and not pass one. The Explorer Bus has operated in the region since 1986 and currently there are six double-deckers in the fleet.
Speaking with the operations and fleet manager for Fantastic Aussie Tours, Darrell Booth, he gave some background on this long-running Blue Mountains company. 
"The company was started in 1974 when John Cronshaw purchased two local companies to combine to become Golden West Tours. They operated day tours in the Blue Mountains, extended tours around Australia and school tours," he said.
"In about 1988, we got involved with Bus Australia; they wanted to expand on the tourism side in NSW.
"We repainted our coaches into Bus Australia colours and the long-distance coaches were branded as Bus Australia."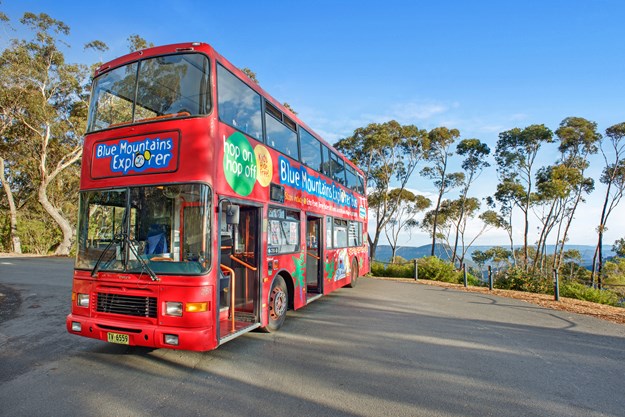 The next part in the company's journey was a name change from Golden West Tours to Blue Mountains Sightseeing, which continued to operate tours,
"In around 1991, Bus Australia decided to step away from the tourism industry in NSW to concentrate on the Express Network," he added.
"We basically took over all the tour and charter work that we had developed with Bus Australia in Sydney and we partnered with Chris Brownlee from Manly Coaches with that. When we eventually stepped away from Bus Australia, we branded ourselves as Fantastic Aussie Tours."
The iconic Explorer Bus is a hop-on, hop-off service started by the company in 1986 as a weekend and public holiday service, but which then expanded to become part of the core business, Booth explained.
"We have four Volvo Olympians that we imported from the UK in about 2010. That purchase was a massive leap for the Explorer Bus," he added.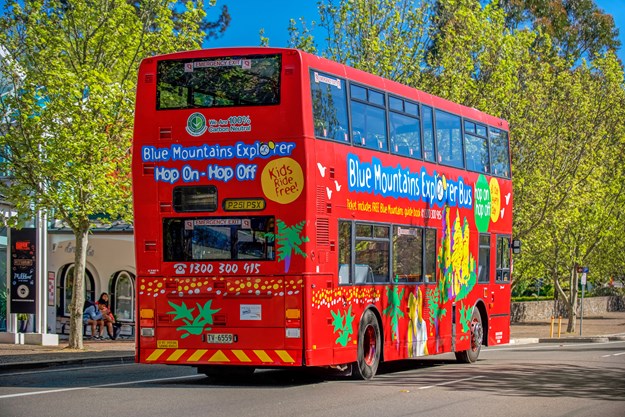 VOLVO OLYMPIANS
On why the company decided to import the Volvo Olympians from the UK, Booth said: "Effectively in 2008 we owned the newest double-decker 'bus' in Australia at the time, which was a 1980 MCW Metrobus, as well as 1973-model Leyland Atlanteans and Bristol VRs. We needed to do something with the Explorer Bus fleet and at the time you couldn't buy a double-decker bus in Australia, so we imported these buses and it was a process that took two years.
"What this purchase did actually changed the Explorer Bus overnight; all of a sudden we had a clean, modern fleet, [that was] well-presented and impressive. Staff morale went through the roof, whereas prior to that we had the old Leyland and Bristol buses that were still running in 2008 with all the 1973 technology."
The old Leyland and Bristols required a lot of maintenance and parts were fast becoming scarce, he explains.
"It was just so hard; we would use the bus all day and I would work on them all night in order to be able to use them the next day.
"So, we had to do something. We stuck our neck out and bought these four Volvos from the UK."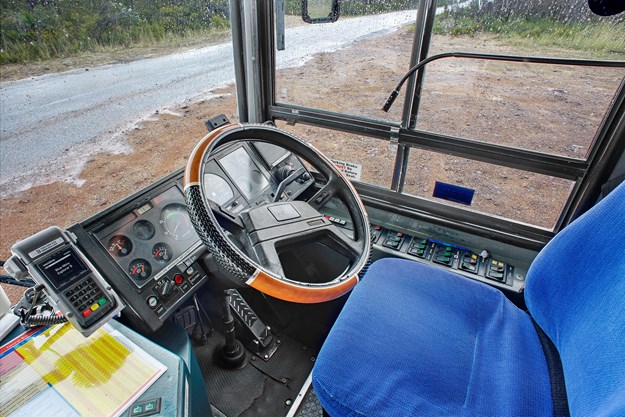 The Olympians were originally a Leyland brand, before Volvo took the company over in 1988 and revamped them to match the new company's style, launching its own version of the bus in 1992.
"There are still a couple of features that really date back to the Leyland days," explained Booth, "but all in all they're basically like a B10M Volvo. They're a great vehicle with a heavy chassis, well built, comfortable, and really easy to work on."
The Olympians brought over to Australia were built in 1997, so we asked how they compare now regarding performance and fuel usage. From what Booth says, the Olympians are definitely a great example of a solid, well-built vehicle.
"The performance has been exceptionally good," he explained. "I have a lot of confidence in the product. Fuel consumption is around about 1.7km/L and that's based on the nature of where the run goes: each bus does about 150km per day. Being the Mountains, half of the run is uphill, half of it is downhill and the average speed would only be 30km/h. Although the speeds are low, they are working hard with all the inclines.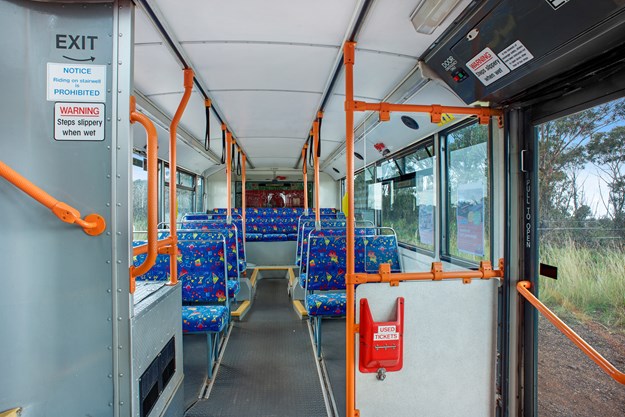 "The engines overall have been great. On the coldest of days, they're all fitted with cold start, but we've never had to use it. You turn the key, press the button, the thing fires up on the coldest of days. Generally speaking, the bus is just a very well built bus: robust and super strong."
A common theme when purchasing old vehicles is the problem with availability and time delays sourcing spare parts, but Booth says that he has been impressed with the support provided, even after so many years.
"Volvo has been outstanding in their support of these buses right from the beginning.  There's no problem with parts. Volvo immediately put the VIN numbers on their computer in Australia. All I've got to do is ring Volvo, and say: 'This is the VIN number, I need this part.' It's a no brainer," laughed Booth. Sounds like a good thing to know – if you're going to buy an old bus, a Volvo sounds like a smart choice.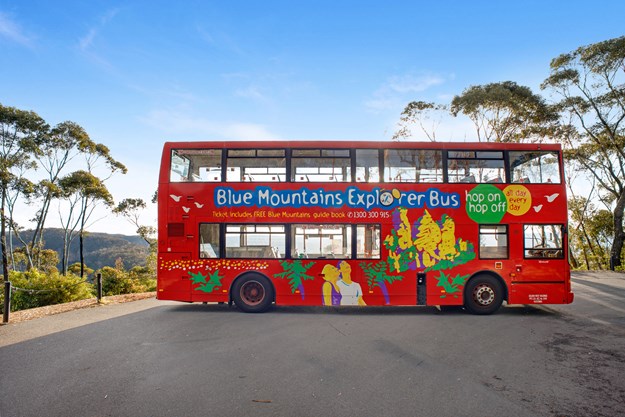 CARBON-NEUTRAL TOURISM
On the Explore Bus website it states that it is "proudly Australia's first 100 per cent carbon-neutral tourism service". Asked how this came about, Booth explained that to achieve certification, auditors calculated the company's carbon footprint, which included fuel emissions, on-site energy usage, fleet maintenance and the life-cycle emissions of each bus in its fleet.
"We were independently audited to the international standard, then neutralised carbon emissions by buying more carbon offsets than the amount of its emissions," he said.
"We recognise that people are conscious of the need to be clean and green. How do you do that with a diesel fleet? You know it's easy to say 'go get an electric bus', and for the 'hop on, hop off 'we will investigate that down the track certainly, but at the moment the only fuel that we could consider running these days – because our coaches might need to drive 1,000km a day – is diesel, so you need something that can just go and go and go."
However, he adds: "Being a carbon-neutral tourism service is a great and positive initiative to be part of and we promote it proudly."
FAMILY BUSINESS
The company motto is 'Service, Family, Enduring', which is the underlying foundation of all aspects of Fantastic Aussie Tours' operation.
"The other things that we really are promoting now [are being an] Australian family owned and local business.  One hundred per cent self-funded, we don't take a cent in subsidies from anyone. If we don't sell the tickets, we don't eat," he emphasised.
"The local council has had a great initiative since the bushfires earlier in the year impacted the Blue Mountains – the 'Love Local' campaign promoting to the community the economic benefit to the local economy of spending their money in town.
"We have always recognised this and, as a locally owned family business, do as much as possible to live that creed and put money back into our town. We buy everything we can locally – fuel, tyres, printing, stationary, uniforms, IT services – albeit at a premium, but how can we expect the kids we carry on school excursions to have a job in the Mountains if the community doesn't spend money in the Mountains?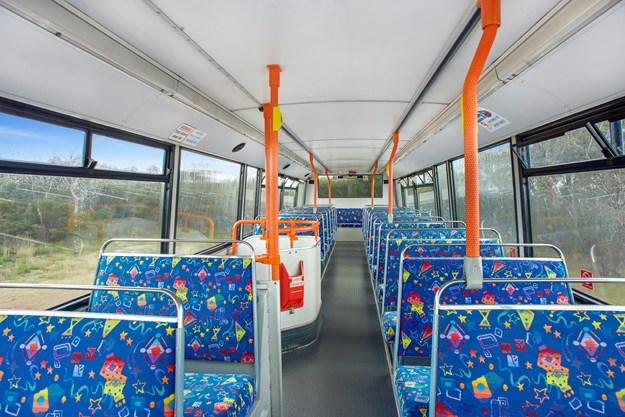 "There are a number of family bus businesses in the Mountains to choose from, but It really frustrates me when we lose a job to a multinational with economies of scale or an operator who has driven 150km of dead running and can do a job cheaper than we can do driving around the corner. How sustainable is that for them or our community? We need to constantly put ourselves out to the marketplace to say, 'hey look, we are worth investing a little bit more money on'. 
"If you want to hire our buses, sure it might cost a little bit more but here's the reason why. We're promoting to our customers these benefits, as well as that we are carbon neutral."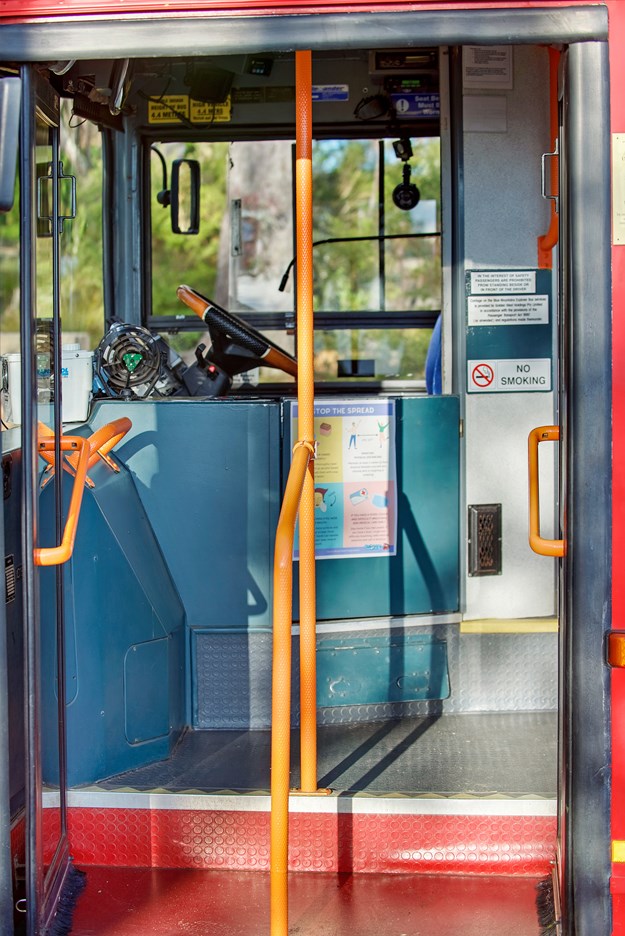 COVID IMPACT
Asked what the change in visitors from mainly overseas to fully local means for the Explorer Bus, Booth said: "For international visitors the dollar spend is different. If you go overseas, you're generally going to spend a lot more money on experiences than you would visiting locally."
"So that's why the international markets are so important. They are to us, percentage wise, probably 80 per cent of our business. At the moment, whilst the Mountains are booming from domestic visitation, where coffee shops and even accommodation are doing well, the local attractions and tour operators are still struggling with no international and minimal interstate visitors. 
"What's been really helpful for us is JobKeeper. It's been a lifesaver for us. We still have all our people employed and because the asset of our business is not the buses, you know – you can buy them anywhere as they're a dime a dozen. The real asset of our businesses is our people and that's what I believe sets us apart from other operators."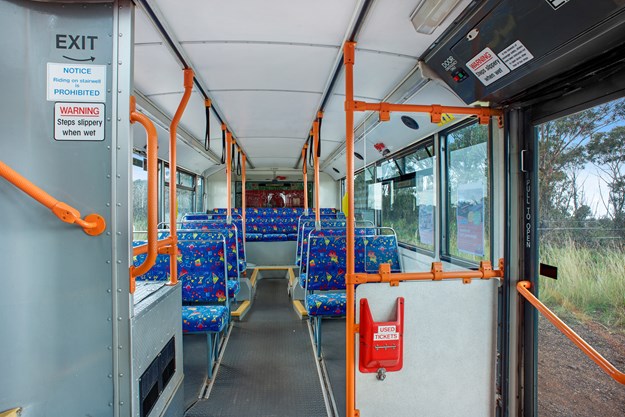 Asked if there have been any positives from this year's upheaval, Booth pointed out that it, "...has certainly made us really knuckle down on our costs. But the main positive for us has been the strengthening of the relationships with our staff."
"Another positive may well be that the industry might come out of this a little bit healthier because those that do survive, have survived because they've been well managed businesses.
"It's also a chance for people to reinvent themselves a little bit. We're reinventing the wheel at the moment; we're coming up with new ideas, new products that will be more attractive to a domestic market."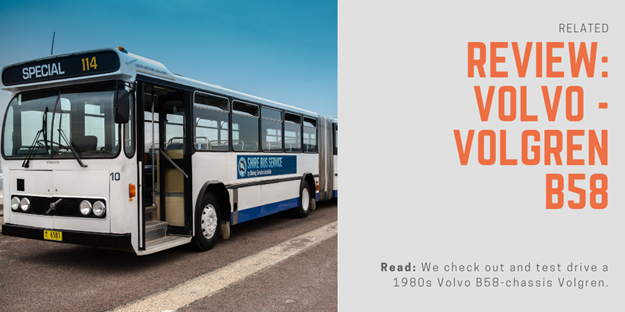 TEST DRIVE
The 1997 Volvo Olympian being driven today was the first to be purchased by the company and its original fleet number of 251 has been retained. Other than meeting Australian Design Rules regulation requirements and the removal of some hand and support rails for improved passenger visibility, the bus is pretty much mechanically how it was from new.
The driver security screen has also been removed to help the driver be more part of the passenger experience, but all changes have been minor.
The Volvo Olympian has a 77-passenger capacity and is powered by a 10-litre D10A engine with 250hp (186kW) and 1,200Nm. This second-generation build is a new and completely revised version of its Leyland predecessor, and this two-axle model comes in at just under 10.5m.
We set off today from the Fantastic Aussie Tours depot at Katoomba. The 251 hadn't been driven for a few days and once this driver found the start button (Doh!) she started first go. A tricky manoeuvre through some vehicles and off we set.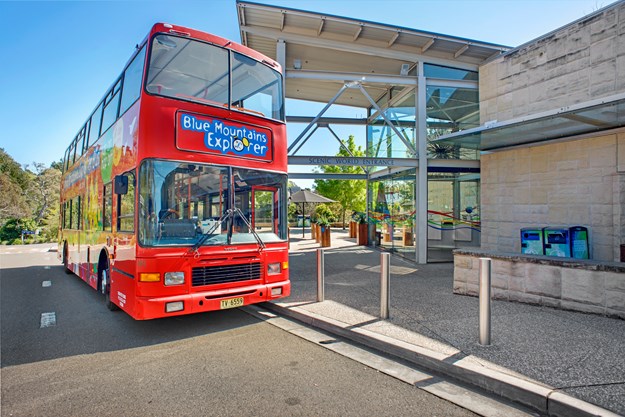 The roads today are familiar, so we were looking forward to driving with the extra deck on top to see how it handles. If you've ever visited the Blue Mountains and done the scenic route you'll know that there are plenty of inclines and tight bends to tackle.
Being an older vehicle, you would expect a limited dash display. Booth pointed out that it's a typical B10M Volvo dashboard, but it wasn't missing any modern day necessities. All was easy to read and understand, with the added bonus of a digital clock to keep your eye on the time. A safety feature on the dash is that you have to press a green button before selecting reverse. It did take a few minutes for the air to build up for the brakes and airbag suspension, it must be noted.
Visibility was good, even though the mirrors are smaller. However, this is necessary on tight mountain roads, where we often are scarily close to overhanging branches.
Another feature that we'd been told was really good was the ZF transmission. In fact, Fantastic Aussie Tours was so happy with it that it asked for it to be in its new vehicles as well. It's a ZF 4HP/500 with an integral retarder and as soon as you start driving you feel just how smooth the ZF is. Considering this bus and drivetrain has 950km on the clock, there shouldn't be any problems soon.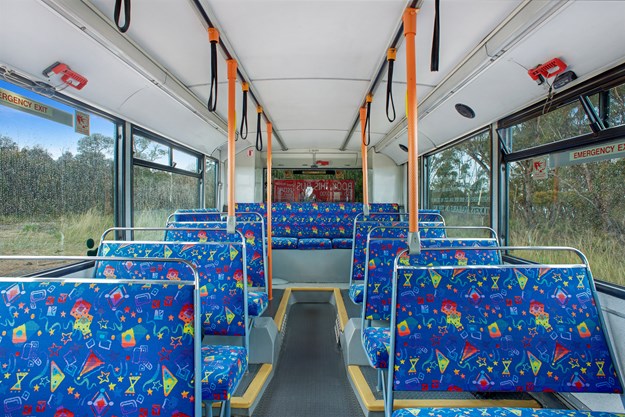 The safety features are all more mechanical because the Olympian was a conventional suburban-type route bus with Z-Cam brakes. The brake system has really impressed Booth because they have never done a brake reline on any of the four Volvos and the average distance travelled is around the 40,000km per year mark, he says.
As the average speed these buses get to on the tourist route is only 20–30km/h, combing the brilliant retarder system with the Z-Cam brakes means these buses aren't experiencing any really heavy braking.
Blue Mountains roads are a mix of suburban streets, tight hilly terrains and highway driving. On the drive today we've given the Olympian a test in its everyday environment and tourist routes. Being a shorter and taller bus, you'd assume pretty heavy body roll, especially in a vehicle of its age in comparison to one with modern-day technologies applied, but the Olympian surprised us. Overall, there was little to not like.
For the era, the staircase is curved and easy to get up and down. A smart safety feature that Booth incorporated into the external emergency exit ladder treads is the addition of handles, which would make for a much safer exit in case of emergency. It's a long way down when you're looking from the upper deck, it must be said.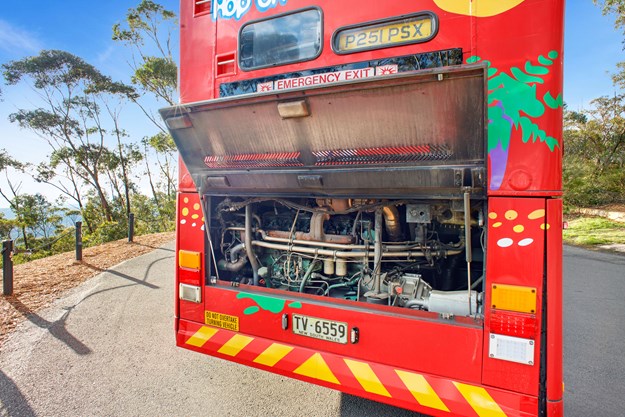 These Volvos started their lives as route buses in Edinburgh and one feature that certainly translates well to the Olympians' new home in the Mountains is the radiating heat system. It can get pretty chilly in the winter and although the locals are used to the cold, tourists certainly aren't. Booth told us that it works so well you'll see the drivers in short sleeves in winter.
One of the outstanding features of a Volvo chassis is its turning circle. The Olympian, though 23 years old, still has the same impressive turning circle as a modern vehicle. Katoomba Street and neighbouring main streets have several busy roundabouts that can be tricky for buses and the Olympian handled them well. Great job for an old girl.
With 950,000km on the clock, No. 251 drove like it was a much newer build; the combination of the build quality and being a Volvo chassis makes this one strong and solid bus.
This year has certainly been one to look inwards; to look at how we do things and what we can or need to change in the way we all go about our lives. Yes, testing times for ours and many industries but also time to re-evaluate and re-invent if we can.
Looking at the Blue Mountains region, the Explorer Bus has always been an icon of its streets. If you've never been, now's the time. Fresh air, great villages with wonderful restaurants, cafes and shopping combined with beautiful and scenic beauty that's second to none – with the best view upstairs on the Explorer Bus.
Come visit! Mountains' springtime is amazing, you'll love it.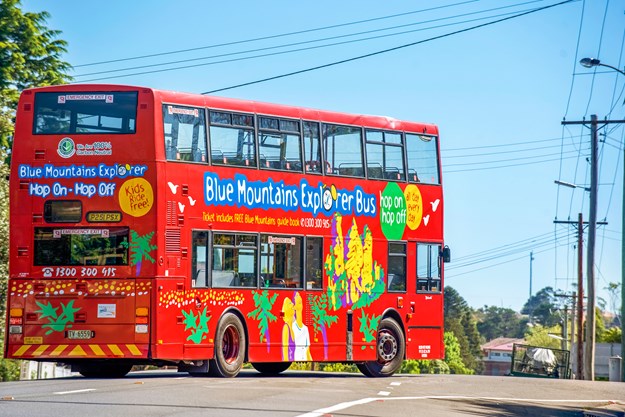 Specs
MAKE: Volvo
MODEL: 1997 Olympian Explorer
BODY: Alexander (Scotland)
ENGINE: 10-litre D10A
POWER: 250hp/186kW
TORQUE: 1,200Nm
TRANSMISSION: ZF 4HP/500 with an integral retarder
SEATING: 77-passenger capacity
LENGTH: 10.5m
BRAKES: Z-Cam
DASH: Original B10M Volvo dashboard
Subscribe to our newsletter
Sign up to receive the ABC e-newsletter, digital magazine and other offers we choose to share with you straight to your inbox
You can also follow our updates by liking us on Facebook.