VIDEO REVIEW: MAN-BLK PRESIDENT
---
MAN partnered with Bus and Coach Sales Australasia (BCSA/BLK) mid-2019 to give the market a quality yet affordable school/charter vehicle to compete with other OEMs. The MAN Bonluck President is the very first of its kind and is aimed specifically at the school bus and charter market.
Regional sales manager at MAN Mark Nichols explained to ABC magazine on our test drive that although the MAN-BLK President is aimed specifically at the school bus market, "...it certainly doesn't look like a bread box".
"It's a very nice vehicle to drive," he added. "I've driven it to Melbourne a couple of times and it's exactly the same as driving a coach."
We were speaking with him to find out more about the collaboration between MAN Bus and Bonluck (BLK), which Nichols described as being very close.
"We're all from the bus industry; I've known Rodd Hood and Athol McKinnon from BLK for quite a number of years," he commented.
"They approached us, and we were looking around at the same time, so I think it was meant to be. The bonus is we all get on very well, and we all work really well together. We're based in Wacol and with these guys being based in Yatala, we're only half an hour away from each other."
QUALITY, QUALITY, QUALITY
The relationship is always a big factor in successful collaborations, but there needs to be reasons it actually 'works' for the end product to be a success in the marketplace. Asked about this, Nichols says that this collaboration, "...is a success because quality is the main component – a quality chassis with a quality body. This will be one really long-lasting vehicle.
"I'm very happy with the interior fit-out and the noise level; MAN pride themselves on that whisper-quiet chassis and it works so well with this body. I think it's come together great and it just works, I'm sure it will be very well received."
The President we are driving today was built as a demonstration model, but has already been sold for a school bus application, MAN confirms.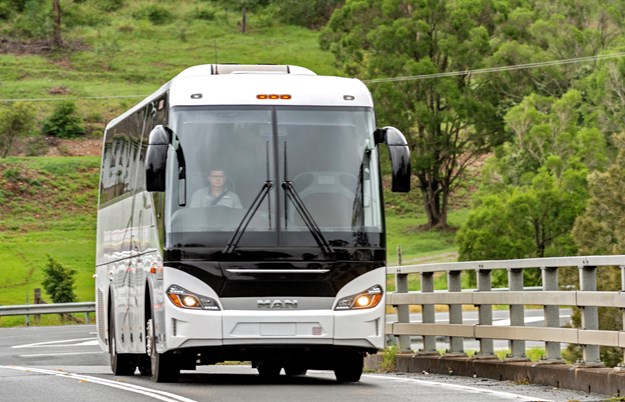 "This is our first President, the MAN IC19.320 Euro 5 horizontal turbocharged inline six-cylinder (RR8) with a 12.36m bus body," Nichols explained.
"It has a 57 seated-passenger capacity, but can also be built on the MAN two-axle chassis [13.2m], with 61 fixed adult seats. We've already built two massive 65-seat capacity two-axle options for Coast and Country Buses. Those two big capacity ones are running around very successfully for them."
Sixty-five seats is a huge capacity vehicle, which Nichols puts down to having worked closely with Lutz, MAN's Germany engineer, and the team from Bonluck.
Asked if the vehicle ABC is test driving is the standard format President, Nichols said: "This is the standard format you can get, but if you order you certainly have choices. There are options: you can increase the horsepower of the chassis, there are body options, aircon options and of course there are the seating options."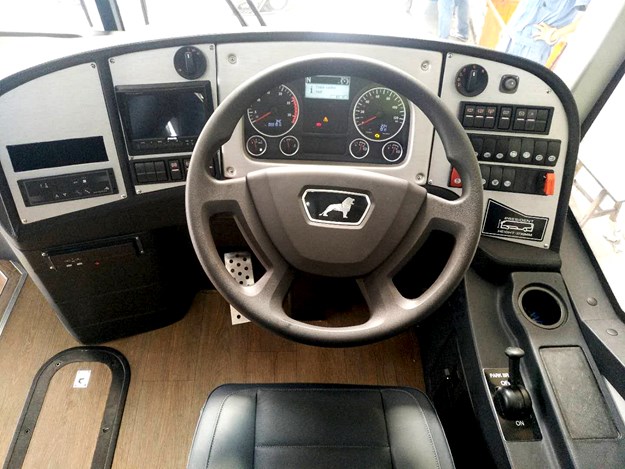 STRONG, SILENT TYPE
"This chassis is a very economical chassis, whisper-quiet, with the clean side cooling package, and it does 320hp [239kW] with 1,600Nm of torque. It just works really well," Nichols said.
Every MAN chassis we've ever driven, we have to agree, have been quiet. They have a certain feel to them, so we were looking forward to the drive to see if the same MAN feel came through.
Nichols also explains that the Bock air conditioning compressor is engine mounted rather than body mounted, which removes a lot of noise and vibration through the body, making the ride a lot quieter.
"It's mounted on the side of the engine just like in a car and it actually moves with the engine," he said.
"A much quieter option and just another reason this chassis is super quiet," he said.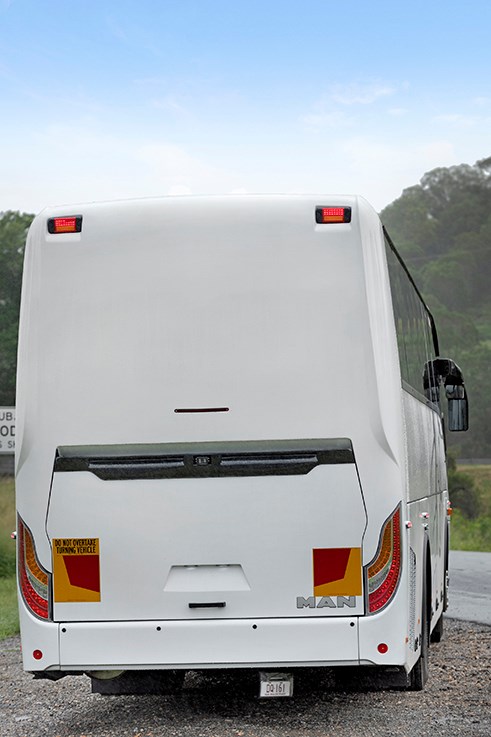 THE TEST DRIVE
Some Queensland sunshine greeted us as we drove from the BCSA (Bus and Coach Sales Australasia/Bonluck) headquarters in Yatala and did some suburban driving to give the President a run through familiar territory. After that we headed for the hills of Wolffdene to give it a bit of a more regional driving workout.
This was the first time driving the new platform of the BCSA and MAN collaboration. Our last drive of a President was April, 2017: a Bonluck President 2 powered by a Cummins engine with an Allison transmission. Collaborations give our industry the best of what's on offer worldwide and it's great to see companies like these two major players working together to come up with the goods.
The President has ADR68 Sege seats fitted - a popular choice amongst luxury coach builders and usually in leather. However, these are cloth and the polyester-wool mix fabric feels really strong and durable; MAN says that this vehicle is built to last and you can really feel that in the quality of the fit-out.
The chequered fabric seats combined with the wooden-look vinyl flooring and black accents are an appealing combination. Underneath, there's 10 square metres of storage capacity with three doors on either side, so internally and externally the passengers' needs are well appointed for.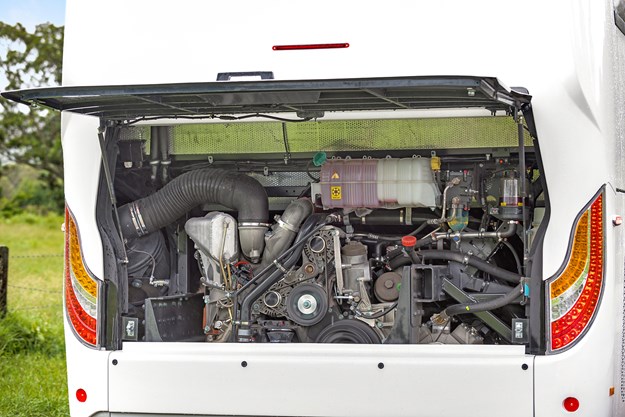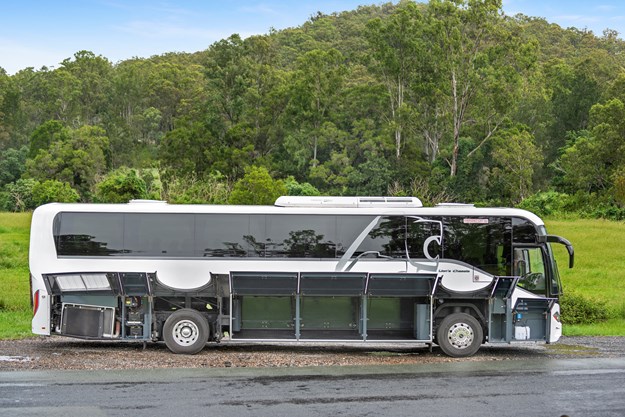 As soon as you sit behind the wheel of the President you feel at home. It might be because it's a MAN chassis, which are very predictable, so you can trust in the quality.
There are no complaints with regards to visibility out the front and mirror vision is good in all areas, it seems.
There is some pretty impressive soundproofing; jumping onto the highway all we could hear is a slight noise from the aircon system and a little tyre noise from the road, which is to be expected from brand new tyres. Everything else is remarkably quiet.
The chassis comes standard with an electronic braking system (EBS), electronic stability program (ESP) and electronically controlled air suspension (ECAS), but can also be ordered with a 'Driver Assistance Package' that has cruise control/adaptive cruise control (ACC), emergency braking assist (EBA), lane guard system (LGS) and automatic wipers and headlights.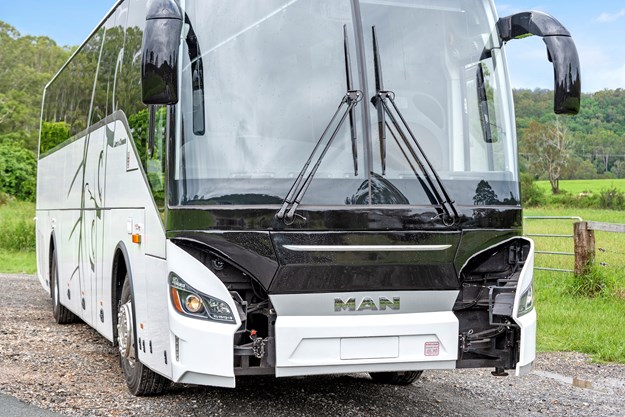 The ECAS is a good feature for school bus applications as it electronically controls the suspension to stabilise despite loading conditions, making it perfect for country roads and a changing load like you get with school children.
Stability plays a huge part in both passenger and driver comfort. MAN says this is part of its 'comfort suspension' and the drive today was a firm but very comfortable one and easy on the driver.
With 1,600Nm the bus punches along quickly. There's definitely no waiting for the power to kick in, it's pretty instant. Sometimes with Euro 5 you can expect things to be a little slower off the mark, but the President certainly isn't.
In our drive we were able to get in a good mix of urban roads, highway driving and some country hillside driving, so we got a good feel for the vehicle over different road conditions. In all-flat driving you can't get a true feel for power and torque.
As a driver, it's a pretty nice feeling sitting up the front in this one.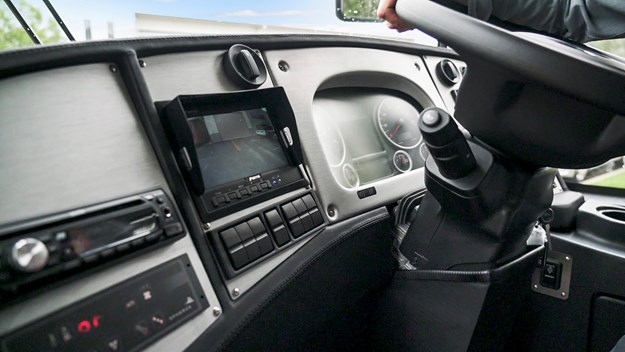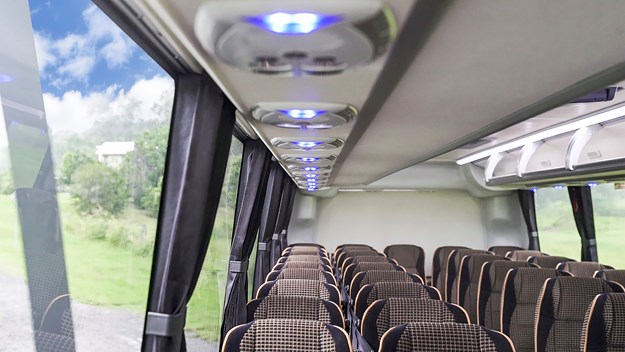 We just kept coming back to the sound quality – it really is so quiet inside. We couldn't even hear the cars passing. Without the mirrors, we wouldn't have even known a car was approaching – which is really impressive and this certainly will make longer journeys more comfortable for the driver, as well as it being an all-round positive, more comfortable experience for passengers as well.
The window tinting comes as standard from BLK and it's really dark, which is a welcome addition for the Australian summer and passenger comfort, we say.
The retarder system was also a stand-out and we gave the hill descent feature a go – just double tap the brake and it will not go above your current speed. It's not a cruise control, but it stops you from gaining momentum downhill, which is a handy feature, especially for regional areas.
Drivers today are spoilt with the developments in bus and coach technology, they are so car-like and comfortable. Today's drive of the MAN President was all we expected it would be.
Us older or experienced drivers have probably all had stints on buses that were actually physically tiring to drive, so having a bus this smooth and easy to drive plays a big part in reducing driver fatigue and improving the overall safety and longevity of driver health.
It's very easy to be impressed by the features offered on this new MAN-BLK President and truly appreciate just how far our industry has come.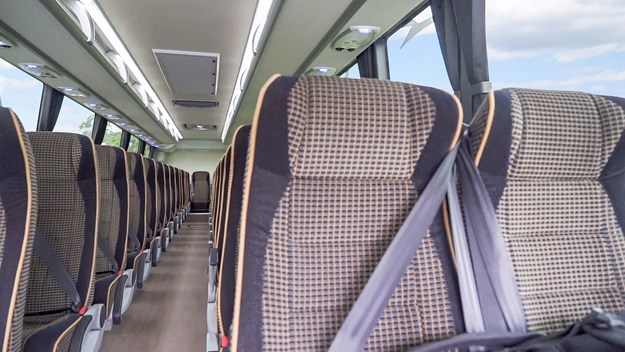 Specs
MODEL: MAN-BLK President
CHASSIS: MAN IC19.320 E5 (RR8)
LENGTH: 12.36m
ENGINE OUTPUT: MAN D2066 Euro 5. Power - 235kW (320hp)@1,900 RPM
TRANSMISSION: ZF 6AP 2000B Ecolife
BODY: Bonluck (BLK) President
SEATS: Sege - two-axle max 57 seats; three-axle max 65 seats
STORAGE: 9-10.0 cubic metres
AIRCON: Spheros CC-355 or Thermo King KRS
STEERING: ZF Servocom 8098
SAFETY SYSTEMS: EBS, ESP, ECAS, cruise control/ACC, EBA, LGS, automatic wipers and headlights
Subscribe to our newsletter
Sign up to receive the ABC e-newsletter, digital magazine and other offers we choose to share with you straight to your inbox
You can also follow our updates by liking us on Facebook.