VIDEO REVIEW: BCI-MB OC 500RF CRUISER
---
In business, an enduring collaboration usually proves two things: the relationship is strong and there is trust in the product or service. BCI built its first Mercedes-Benz-based coach almost a decade ago and this MB OC 500RF chassis Cruiser is the latest member to the BCI family.
Speaking with BCI Bus and Coach Victoria state manager Cameron Millen, you soon get the idea this latest coach collaboration was never going to be anything but a new design using the Mercedes-Benz technology BCI trusts.
We first saw this latest BCI Cruiser at the 2019 BusVic Bus Expo [and doesn't that time seem a lifetime away now? – Ed], an event where, as a visitor, you get to see the latest and greatest bus product showcased in one spot while also giving bus builders a chance to show their wares; come up with something a bit different or great looking, and they get that all-important attention.
This new BCI Cruiser coach body is painted in a silver Mercedes-Benz car colour and, under the showroom lights at the expo, it certainly looked accomplished, stylish and impressive.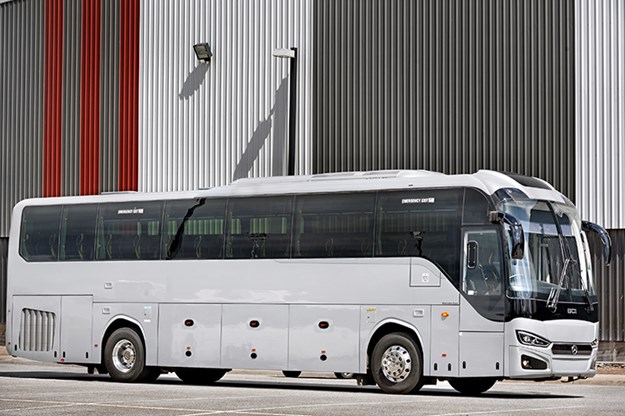 FEEDBACK TICK
Millen says this is an entirely new coach body with a long list of new features.
"We've been building the same model for five years and a couple of years ago we all sat together and looked at what design improvements we could make to come up with a new model," he said.
"This new build has been designed specifically around the Mercedes chassis, but we've also taken on board the customer feedback we've had over the years and we've integrated the feedback into this model, from enhancements and things like that, to really improve it."
Daimler Truck and Bus Australia Pacific Pty Ltd national sales manager for Bus and Coach Grant Simmonds added: "With the RF chassis we've grown our market share considerably with this product. We've got various Euro emissions and horsepower ranges. We've got a Euro 5 12-litre engine, then we've got the Euro 6 new-generation engine, which comes with 7.7-litre up to 10.7-litre. So, it's a versatile, very fuel efficient product and certainly feedback from the marketplace when anyone drives the product is that everyone is impressed."
Hmmm… So with all the changes, has the target market changed?
"The BCI coach body could suit everyone from a school bus to the high-end coach user, so two-axle, three-axle. We've got two models, a school bus version and a coach version. This one is the coach version, so you go from school bus right up to three-axle 14.5-metre coach. This particular chassis is a high-end coach chassis and it would be ideal for a V/Line or that type of application," Millen answered.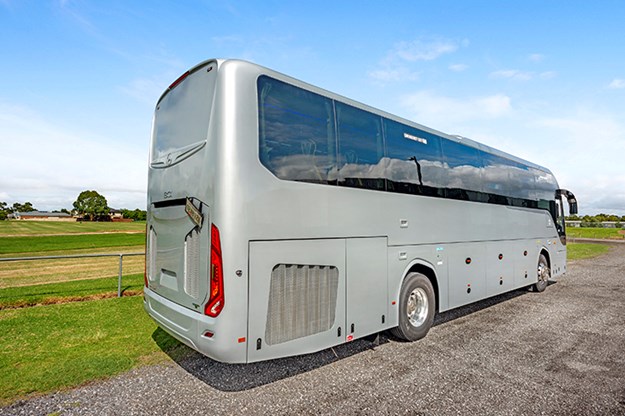 EURO LOOK
When asked which features BCI is proud of with this new coach, Millen explained: "I think the fact that we've designed this from the ground up so this is a completely brand new model. We had three or four designers come in and present and then we chose one. From there it went to engineering and was engineered, but I think we've achieved that European look we wanted, it's quite stylish. We've gone all the lower skirt panels of fiberglass composite, which are lightweight as well as very strong - even with a sledgehammer you can't break them!"
The brochure states the new model is "easier to fix and more resistant to damage caused by impact", so the new model is more than just improved looks. Quicker and cheaper repairs are always welcomed by operators.
"I think these fibreglass skirt panels are the big gun, opposed to all-aluminium skirt panels," Millen pointed out.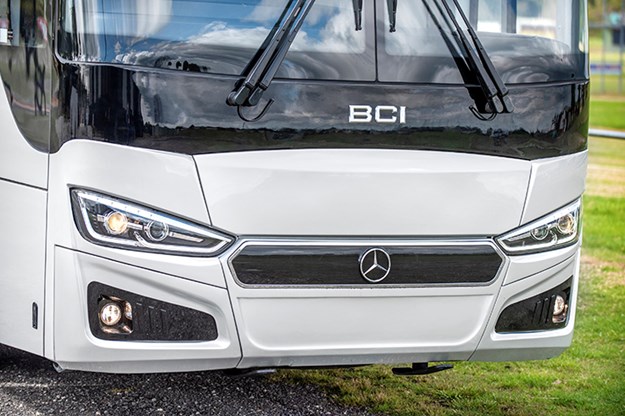 "The big difference is, when you crash into an aluminium panel you've got to replace it, whereas with these it's very hard to break, and if you do break them, it's fibreglass, so you can repair them quite easily.
"We first introduced these panels about three or four years ago on some Trainlink Coaches. So the first lot of buses we put out had aluminium panels and we were constantly replacing panels; we couldn't keep up with the supply. Now, on the second lot of buses we did for the same operator, we put in these panels and we haven't had to replace a single panel yet."
The BCI coach body is built on a ferritic stainless steel frame made of 4003 stainless steel made in Finland. Millen explained that by using the stainless framework, BCI can go from a 50 by 50 frame to a 40 by 40 frame so the internals of the buses are a little bit wider as well.
"Importantly, this steel has more strength and it's lighter because we need to use less material to get the required strength," he added.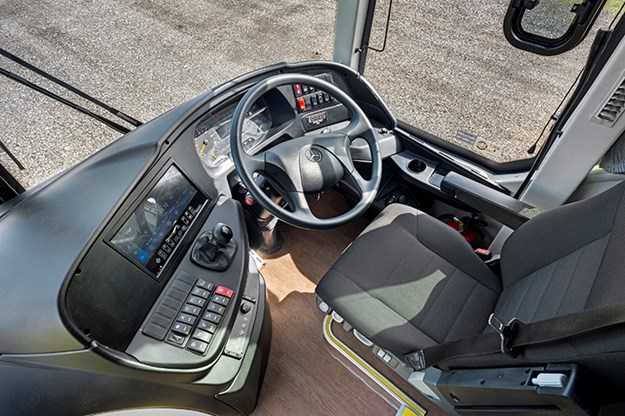 DRIVER'S WORLD
With all the changes and upgrades externally, has the driver also benefited from the new build?
"So we've changed the whole driver's area; it's got a whole brand new dash," Millen said.
"And you'll see a lot of it when you drive it. [It's] very driver friendly with the option to have a fridge in the dash area. It's very much a coach-looking dash, [which has been] ergonomically designed. A lot of this design comes out of Europe. You'll see when you drive it, it's a very nice feel."
Due to the overseas components, the expected turnaround build time for this model is about five months from when BCI receives the chassis in the factory, which is shorter than it could have been.
"The warranty as standard we offer three-year/300,000 [km] for the complete chassis, so it's not just the drive train, it includes the electrics complete chassis," explained Simmonds.
"Servicing all depends on the mileage, so for that we have various categories. It differs for short haul and long haul. Depending on the mileage, you can get extended service intervals, so it can be 60,000 or even up to 120,000 [km] depending on the application."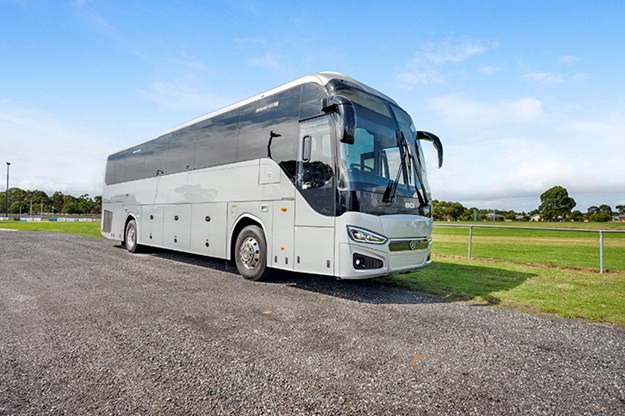 What's next for BCI in this constantly evolving market?
"What we're looking at for the future builds in the next 12 months is going to be adding digital, electronic mirrors. We're going to trial some very shortly. I have seen them in Europe; they work really well, but I've never driven a bus with them on. So we'll get some feedback from operators. We see it as a real feature; for one, the quality of the vision is a lot better at night in rainy conditions and also the savings of not damaging mirrors is another bonus," Millen said.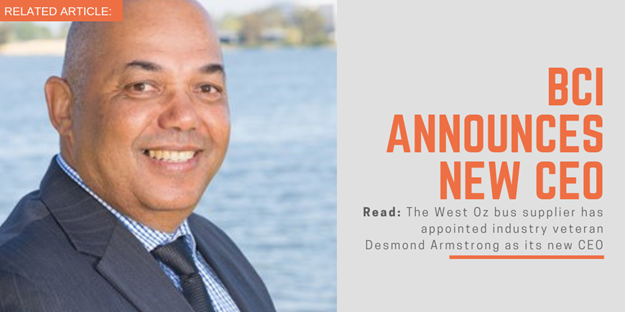 NO COMPROMISE
"We do manufacture in China, but we don't build buses for China," explained Millen.
"Everything's built for export. We only build for Australia on our own chassis or the Mercedes chassis. When it comes to designing the bus, it's purpose designed for that chassis, so you're not putting it on multiple chassis types where things are all slightly different, [which] may compromise the build. Everything's been designed around that Mercedes chassis. We work closely with our engineers just to make sure we get it all right. There's a lot of work to get it right and we are really proud of what we've come up with."
The passion and commitment that goes into a new design is evident when you speak with people like Millen and Simmonds. There's so much background trial, error and collaboration involved to get a company like BCI to a point where it is proud to exhibit its "new family member" at the BusVic Expo and see what operators and critics alike think. Now off for the drive…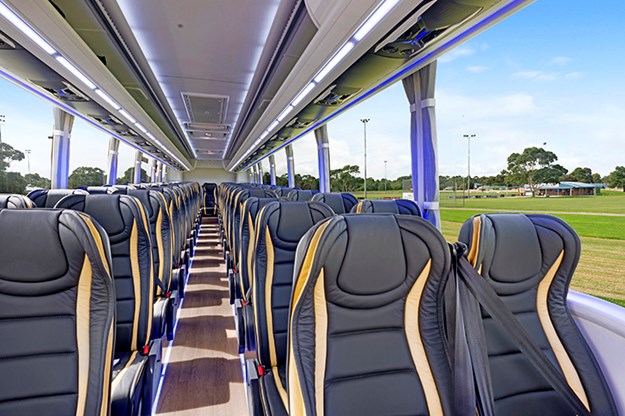 TEST DRIVE
Today's drive of the BCI coach body with Mercedes-Benz OC 500RF chassis was a mix of city driving and country rolling hills to get a feel for the coach in a mix of conditions its likely to drive in. Setting off from BCI headquarters in Hallam, Victoria, we headed out to the highway through urban Hallam in medium traffic.
Straight away the quietness internally is impressive; there's no doubt this coach is well insulated and sound proofed - the plug door is doing its job well. The steering was just right – not too light, not too heavy, with a nice feel. At all speeds this doesn't change – it keeps at a perfect constant.
The driver's cabin has good vision. The changed windscreen sits lower than the previous model and there were no complaints with visibility. The blind spot mirror works well, providing a wide field of view and plenty of glass for clear, unobstructed vision. The driver's seat was comfortable with a fold-down armrest. What was a very nice driver inclusion was the 12.3-inch (31.2cm) media screen with an optional navigation system, including access to Googlemaps. How did we all survive before Googlemaps? As standard there are four cameras at the front, left and right side, and rear for 360-degree vision.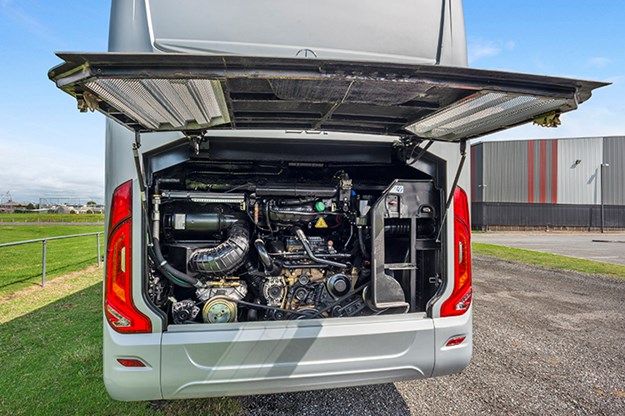 It would be easy to be fooled by the smoothness of this coach into thinking that the power of the motor and the torque aren't as great as they actually are. The added bonus of great soundproofing, incorporated with specifically coach-designed rear axles and transmission all combine for one super-quiet, impressive drive. The automated Mercedes-Benz GO250-8 Powershift eight-speed with Voith secondary water retarder, for the 291kW (390hp)@1,800rpm, is the perfect match for this coach. As a driver, few wouldn't be wanting any more than what's offered.
As standard, the OC 500RF comes with anti-lock braking system (ABS), traction control system (ASR), electronic stability program (ESP) and electronic braking system with brake assist (EBS/BAS) and is available with an optional lane-departure warning system (LDWS) and advanced emergency braking system (AEBS). The integrated hydraulic Mercedes-Benz retarder system is outstanding. This is a constant standout in the Mercedes-Benz platforms and a feature that certainly will positively affect both driver fatigue and reduction of brake pad servicing intervals.
The new front of the coach certainly has the desired European look that BCI sought, with a striking combination of silver paintwork and black highlights with mirrors and some chrome work trim features. Not only is the front great visually, there's a two-door, flip open hatch with easy access to headlights, pressure regulator for the door, horn and spare tyre.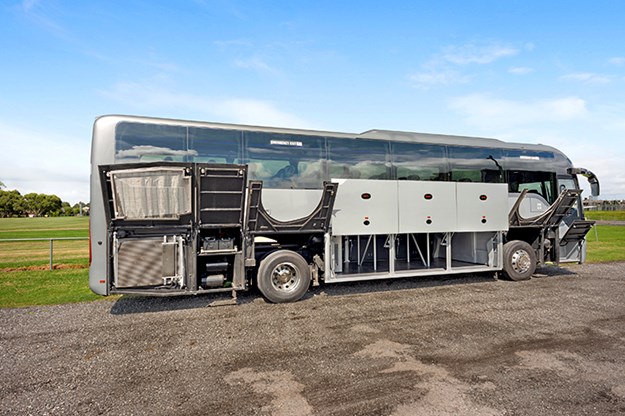 As Millen mentioned earlier, both the front and rear of the new BCI coach body have been completely redesigned. From the rear the shaped panelling and integrated perforated mesh grilles in the engine compartment hatch means even from behind this is a great-looking new coach.
For passenger comfort there is VIP reclining leather Sege seats with armrests and folding trays. These have the all-important USB ports that no high-end coach could be without these days.
A smart look is the LED strip lighting on both the roof and floor; the blue and white lights evoke the internal design of an aircraft - great for night-time travel, especially on models with the toilet included.
Both for looks and driveability, the BCI-Mercedes Cruiser coach OC 500RF didn't disappoint. This coach, although obviously luxurious, didn't have every bell and whistle option included, but it was still an impressive vehicle. Great European looks, an affordable price point and Mercedes-Benz reliability make for one great collaboration and a job well done by BCI.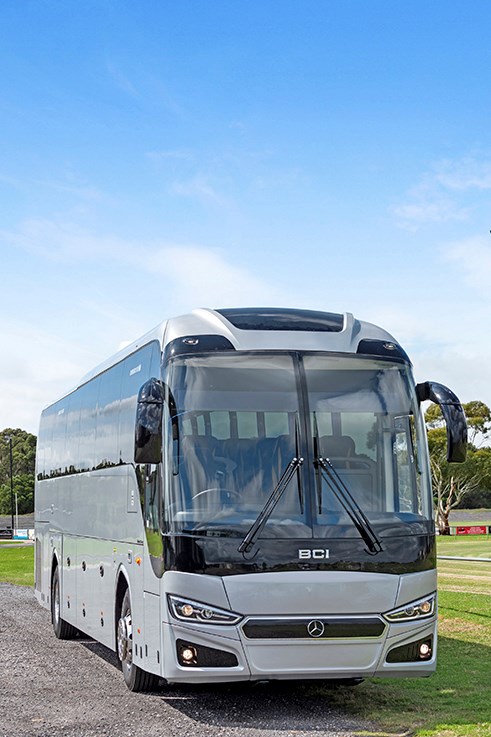 Specs
MODEL: BCI Cruiser coach
CHASSIS: Mercedes-Benz OC 0500RF
LENGTH: 12.3m
ENGINE OUTPUT: Mercedes-Benz OM470LA Euro 6 291kW (390hp)@1,800 rpm 
TRANSMISSION: Automated Mercedes-Benz GO250-8 Powershift eight-speed with Voith secondary water retarder
STEERING: ZF Servocom 8098
BODY: BCI; Seats - Sege (two-axle max. 57 seats/three-axle max. 63 seats); Storage - 10.3 cubic metres
Misc.: Aircon - Thermo King; Safety - standard with ABS, ASR, EBS/BAS, fire detection system in the engine compartment; Options – LDWS, AEBS, TPM, axle load display
Subscribe to our newsletter
Sign up to receive the ABC e-newsletter, digital magazine and other offers we choose to share with you straight to your inbox
You can also follow our updates by liking us on Facebook.