VIDEO REVIEW: BLK PRESIDENT DD3
---
Think standard double-decker, think inner-city people-mover usually, right? In this Australasian region, at least. Yet this stunning BLK DD3 example for the longer range tourism market puts spacious and comfortable holiday sight-seeing trips done in luxury right on the map.
Today's drive of the BLK 12.5m President DD3 double-decker is one we've been looking forward to since last year's BusVic Conference and Expo in Melbourne. A real standout vehicle, big and imposing in both size and bold colour, she was definitely a show-stopper.
Were such initial impressions justified and echoed at that show by others? We asked Rodd Hood and Athol McKinnon, directors at BLK Bus and Coach Products in Australia.
"It certainly opened up a lot of eyes," Hood said.
"It was a big surprise for a lot of people at the show, at what BLK can produce."
"At BusVic, operators were taken aback with this coach. We achieved pure European styling and quality built at BLK using high-end componentry sourced from all around the world."
So … why a luxury double decker? What was the thinking behind this new product in the Bonluck 'BLK' family?
Hood explained: "Athol and I had been talking about building a double-decker for the last couple of years. It was put on hold because of the axle weight constraints of 20 tonne, which has now been lifted. We now have 22 tonne - and hopefully not too far down the track, 23 tonne to fall in line with other countries around the world".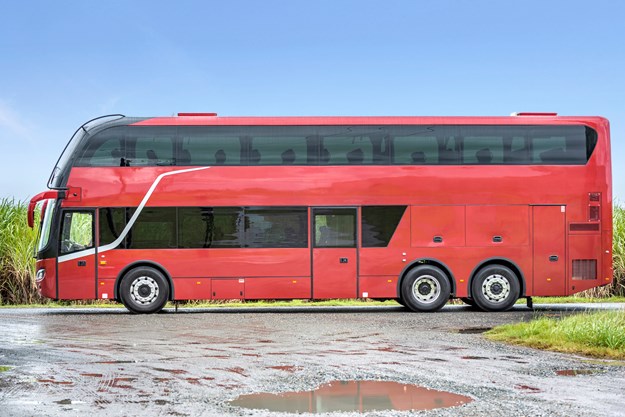 He continued: "It suits a lot of applications where people only want the smaller footprint of 12.5m, no permits required, which is the key. So it opens up a lot of opportunities for operators on the Great Ocean Road, Blue Mountains, the Cairns Tablelands - anywhere there's a restriction of 'over-length' vehicles."
"The [double-deck] city bus has been on the agenda for a lot of manufacturers, for government contracts, but no-one's really focused on a current day, modern double deck coach".
"When Athol and I were at Austral and Denning about 30 years ago that was the last time a double-decker coach was built for long distance and touring work. There have been a couple of others, but probably not using the latest components that we're using today and at a price range that's affordable for a lot of charter and tour operators who are not funded by government subsidies."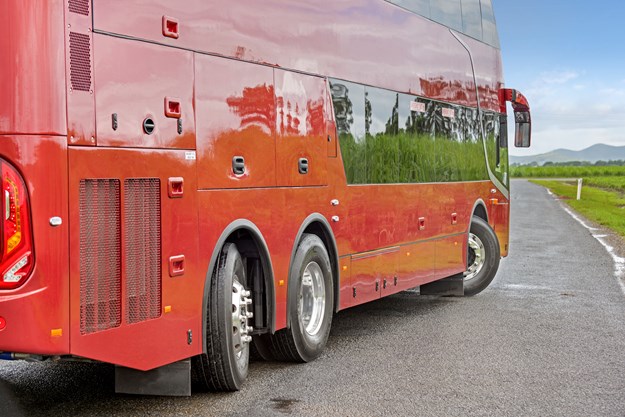 Simple thinking from years of industry experience has obviously given the pair the knowledge and insight to understand what the market needs. As Hood explained: "There's a hole in the market; people have been and still are refurbishing 30-plus-year-old Austral and Denning coaches, as Austral had built a few double-deckers in that era as well."
"There is only so long that it will be viable to keep rebuilding these older vehicles and who wants to keep running around in 30-year-old vehicles? You're also very limited in where you can operate these coaches as there are only a couple of states in Australia that don't have age restrictions.
"In Queensland, Victoria and South Australia they're too old, so we could see that there was an opening there for someone to design and manufacture a 'modern day double-deck touring coach' that was of a high specification, modern and affordable".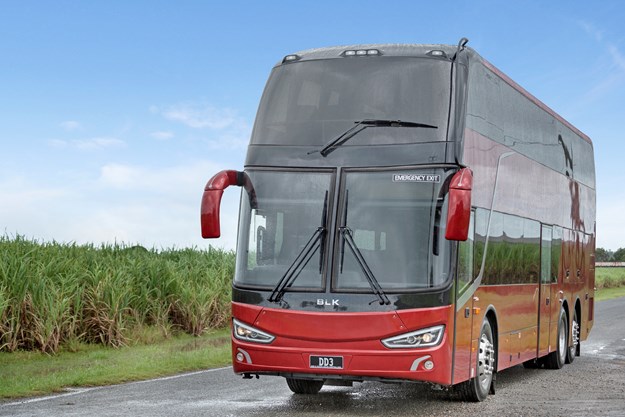 CURB APPEAL
With the DD3's big 71-seat capacity and its smaller footprint, it's obviously going to be suitable for different markets, with Hood and McKinnon both explaining its appeal as "wearing a multitude of hats".
It would suit school charter up to 73 seat-belted capacity, extended touring or charter, and the city market, as well. It has the capacity to fill a lot of different roles for operators with no restrictions of size access in all states and territories.
"It's a great curb-side ticket seller, too. People see this coach pull up alongside a single-deck coach, the people always gravitate towards the double-decker. We have stood on the footpath and watched what people do; if you've got two buses on the same job they always go to the double-decker," Hood said.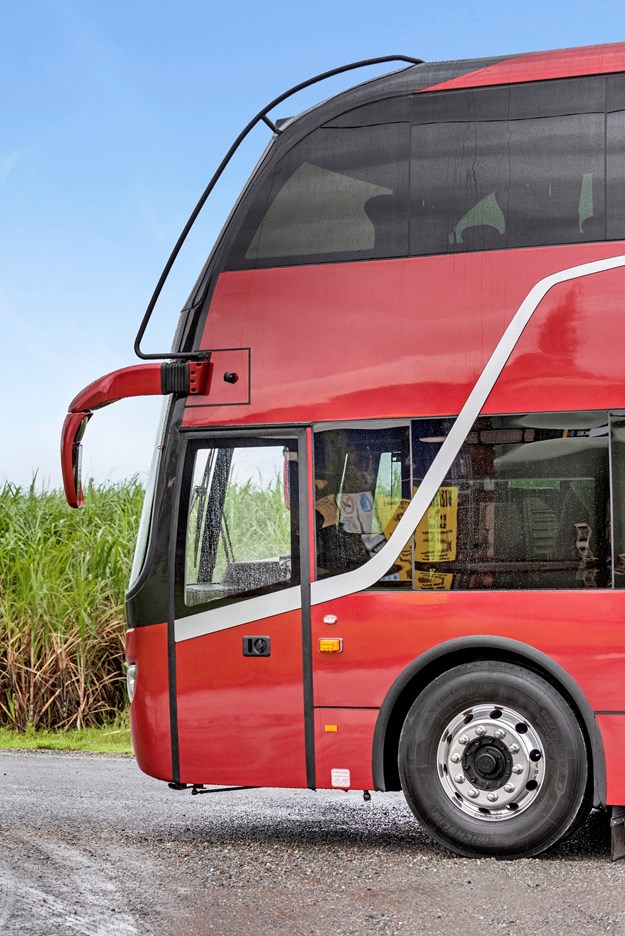 POWER APLENTY
In terms of the engine, a big people-mover like the DD3 needs something impressive behind it. Hood explained: "It's the new Cummins X12, with 480 horsepower and it's only the second one of its type in Australia."
"It's 200 kilos lighter than the previous engine that we're using from Cummins, which was the 440 horsepower. So obviously it helps with our packaging. It's the next-generation engine for Cummins; they've been trialling it here in Australia in large truck-trailer type combinations seven days and nights a week - they've had exceptional results".
Hood further explains that when the pair went to China a few years ago, they went to the Cummins factory, where the engine is manufactured and they've already produced more than 250,000 units of them. Thus although new to Australia it's a well proven Cummins choice for the DD3.
FUEL EFFICIENCY
Some impressive fuel savings have also been experienced so far by BLK, McKinnon says.
"Cummins are using a European mentality with the gearing of the engine. We've now gone away from 1600rpm cruise speeds at 100km/h down to 1200rpm. Obviously that's where we get the savings in fuel consumption and we've seen that already even though we haven't put it into operation. We've done eight and a half thousand kilometres and it's returning the same fuel consumption as … our two-axle coach," he explained.
"On the same trip running nose to tail to Melbourne, it was exactly the same fuel consumption between the two".
What's impressive is that the comparison was between a 48-seater compared to a 71-seater.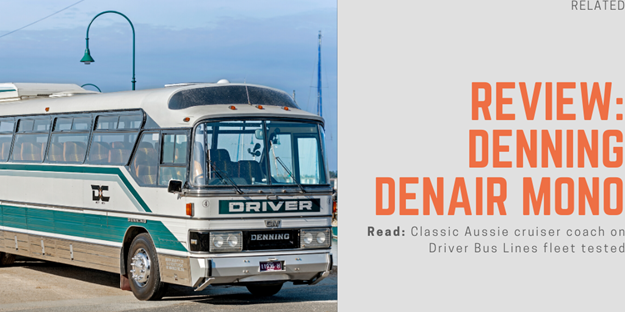 HOW SAFE?
To obtain 22-tonne carrying capacity the vehicle is required to have electronic stability control (ESC), which came into effect in 2019. So it's got ESC, it has independent front suspension, six-wheel disc brakes, and Allison in-built three-stage retarder in the transmission.
Hood explained: "We have additional options, like lane assist and adaptive cruise control; however, we've had feedback from operators.  Some are saying 'no, let's keep it simple'. So it's got a bit of a mixed reaction to some of those additional safety-related options, but we're certainly going down that path and we'll continue investigating all options." 
McKinnon added: "We are actually building more as we speak and we are keen to try the remote camera system for the rear-vision mirrors as they are being fitted, too. We have spoken to drivers that have driven with this new camera system and the reports have been very positive for both vision and the possible reduction in damage to existing external mirror set-ups. So that's something exciting for the next build."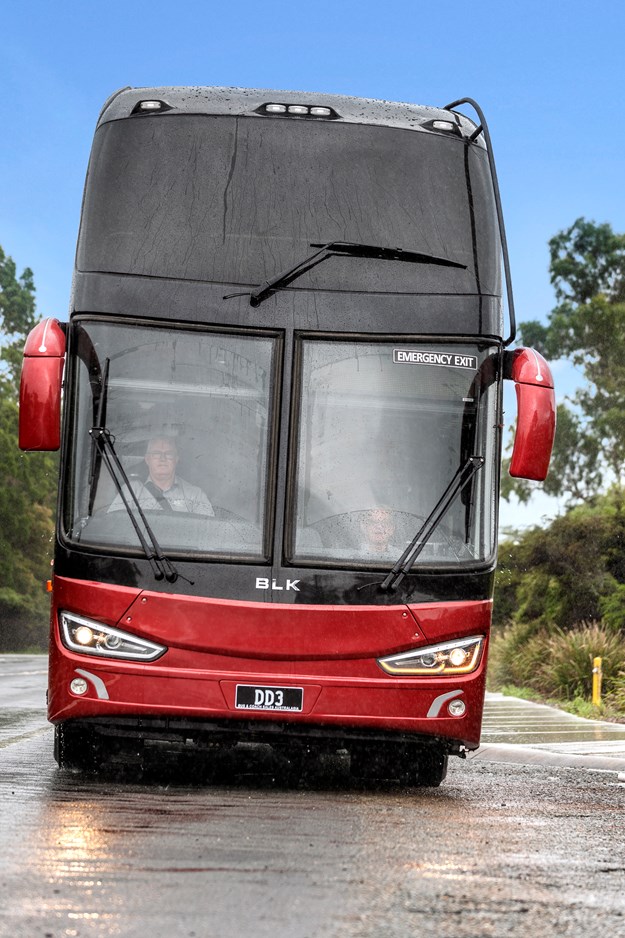 LUXURY COMFORT
The DD3 has Sege leather seats inside, and their luxurious look as soon as you enter is undeniable. Apart from their good looks, they are practical and ergonomically designed for comfort on those long hauls, says Hood.
"The Sege seats are also delivered to BLK that suits their short build timeframes. So if you want to change the seat belt, you're not removing the rear seat cover like some of the other brands. It's a very simple and quick process that would take approximately 15 minutes. You have USB ports at the back of the seat and optional tray tables.
"Sege seats tick a lot of the boxes of what we want to do and the trim options are as long as your arm! The delivery from Turkey to the factory timeline works for us; Sege can meet our four months' turn around. Meeting our deadlines has been a problem in the past; we've had the coach built and we are still waiting for the seats to arrive".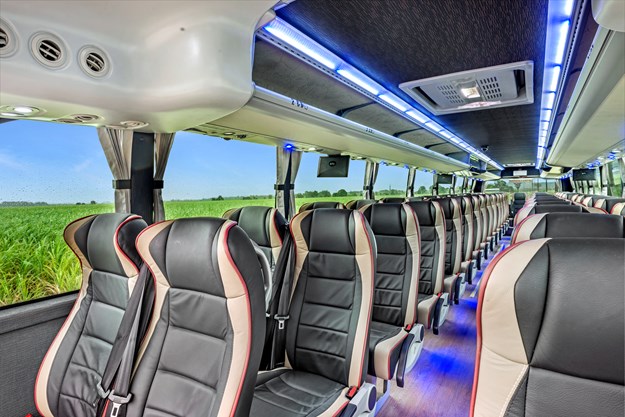 ORDER TIME
Time for all operators is very important and for some new Australian builds it can take fairly substantial times from order to completion. The order time - a speedy four months – is surprising being an overseas build, though at the moment with the current world issues BLK says it could be a maximum 5 months.
"It takes about 6 or 7 weeks to build the coach at the factory. We pre-order a lot of our long lead-time components like the Cummins engines; depending on the model, some are still coming out of the UK. Allison transmissions come out of Hungary; ZF axles come out of Germany as well. So we forward order because Australia is a bit unique in specification compared to some of the other countries that BLK sell their coaches to. So BLK have got a lot of the long lead-time components, even the Stalatube Stainless steel from Finland - a standard fitment in the DD3 - has a long lead time; the galvanised steel then comes from Australia. BLK is the only overseas manufacturer that is using Australian galvanized steel; 'Duragal Plus' that comes out of Brisbane and gets sent to BLK," explained Hood.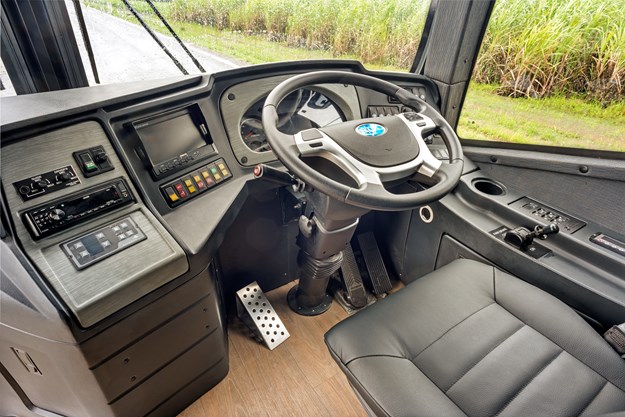 WITHIN REACH
The reaction to the DD3 has been a great example of the importance of shows like BusVic to our industry. These shows give manufacturers an opportunity to discuss and showcase their latest and greatest product directly with operators and industry people.
So what did the BusVic show mean to BLK and the launch of the DD3?
"It's created a lot of interest to operators that traditionally would buy a European chassis and have an Australian body fitted because now there is a double-deck coach within reach equivalent to that of a single-deck high-end coach built in Australia," Hood said.
"Way before it was very limited to a few people who could justify spending $800,000-$900,000 on a double-deck coach. Now it's within a lot of people's reach, so all of a sudden a lot of enquiries are coming in from operators that can see the double deck coach really working for them," Hood explained.
So … what's the 'affordable price range' for the DD3, we asked?
"Let's just say it's attractive," Hood answered.
"You could be less expensive than 25 per cent of a similar spec'd coach built here in Australia."
OUT OF THE BOX
It's an impressive bit of kit, indeed, but an attractive price-point means nothing if the base model and then what we see today are poles apart - especially when you are looking at a vehicle that was showcased.
As McKinnon explained: "As it stands there's really not much more you would want to include; however, it is up the purchaser to alter the specification to suit their individual needs, of which BLK are happy to do so."
"But generally all the expensive parts are already there so there's not much more you would want to put into the coach. So it is really that the variable would be from an operator with optional seating capacity depending on how much luxury they want, and what colour trim," he added.
Sounds pretty good for operators if it boils down to pretty much being already 'what you see is what you get' as a standard coach – with anything else their own ultimate choice.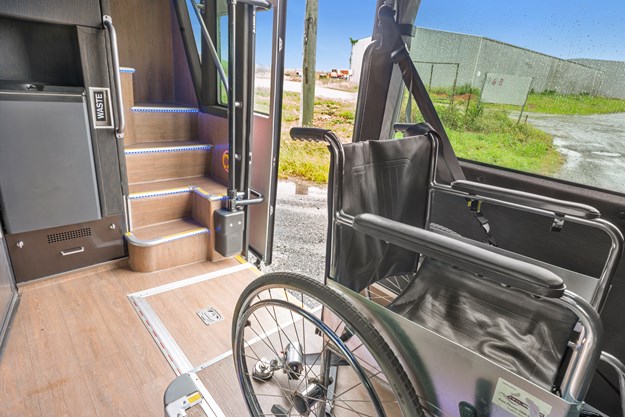 THE TEST DRIVE
The first thing you notice about the DD3 is its looks. Sometimes you need to drive a coach to be impressed by the overall package and sometimes just looking at a vehicle you know you are going to be impressed. When we saw this standout double-decker at BusVic last year, ABC just knew it had to drive it someday soon.
Being big and bold painted in a rich burgundy hue, the DD3 was parked away in the corner of the show, but she certainly wasn't hiding there. Many made tracks to have a look at this standout double-decker luxury coach. The DD3 is definitely set to 'break the mould' of what's traditionally double-deck travel in this region and is a clever addition to the BLK family.
From the front view the looks are all pure European. A tall wall of black glass with high-set heated mirrors, the appearance is luxury multiplied and far from what you'd normally expect from a tourist double-decker here. On board the luxury continues with the Sege leather seating. A bonus for the drivers, they have matching comfy luxury from the ISRI seat, but with lumbar support. This will certainly be appreciated by drivers over long journeys.
The drive today was from the Bus and Coach Sales Australasia headquarters in Yatala, Queensland, about an hour's drive from  Brisbane. We left the town of Yatala and did some highway driving to the scenic sugar cane fields and some country roads.
The first thing you appreciate when you get behind the wheel is the power of the Cummins X12 - impressive, with 480hp and 2200Nm. 
The drive was in pretty tough weather conditions, it should be noted. We ran into a big wind and rain storm. We thought with the coach being so tall the wind would have had an impact on the bus's movement. We expected it to sway because of its height, but it didn't. Even in the wild wind it stayed planted and felt firm on the road.
The coach stayed impressively quiet inside while outside was blowing a gale. If it can be quiet in this type of weather we were definitely impressed; the weather certainly put on a show and the bus really performed well on a wild ride. The heavy-duty Doga windscreen wipers from Spain did their job, as vision was really good even in the horrible conditions.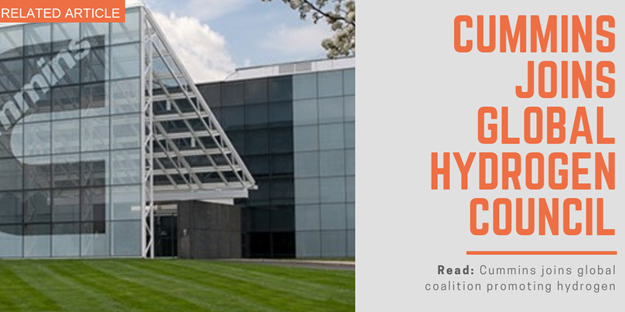 AIR TIME
One thing you often experience in coaches and buses is internal fogging when there are extreme weather conditions outside, but the Spheros/Valeo CC430FS system worked great. Very cool conditions with extreme rain and the system worked perfectly, it didn't miss a beat giving a clear 'unfogged' cabin.
Inside, as standard, the features are pretty much everything you see coming as is: reclining leather seats, reading lights, individual air-con nozzles, USB ports, and the inclusion of a bar fridge! This would be one comfy ride for passengers. As a bonus on long trips, the bathroom is not your standard one with a great sized vanity and hand-dryer.
Internally, a standout feature is the wheelchair accessibility. What's most important about it is that once secured in the coach, the passenger is facing the same direction as all the other passengers and is seated at the same height, so they have the same outward visibility as all passengers.
BLK has achieved this by implementing an air-operated platform to bring the wheelchair passenger into a standard height position. This forward thinking will be really applauded and appreciated by its users.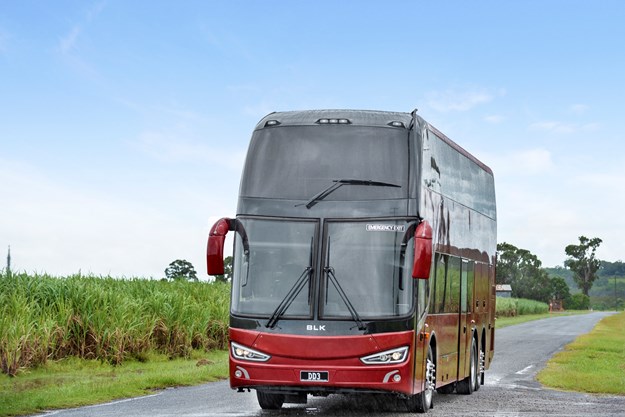 The driver's cabin area is well appointed and easy to navigate. The large glass areas make driver's visibility easy, mirror vision no complaints whatsoever - you can see both sides front to rear perfectly. A small feature we love is the driver's left footrest, which should make a difference over long drives for driver comfort.
Being 4.25m in height, a driver does have to always consider your upper passenger level, but this would go for any tall vehicle. It just takes a bit of extra thought and consideration when driving, but like any oversize vehicle a few drives and these considerations would become natural to the driver, we expect.
As a driver, you don't actually feel any real difference with the level above, the centre of gravity felt as per a standard coach, but again we tested the coach while unloaded.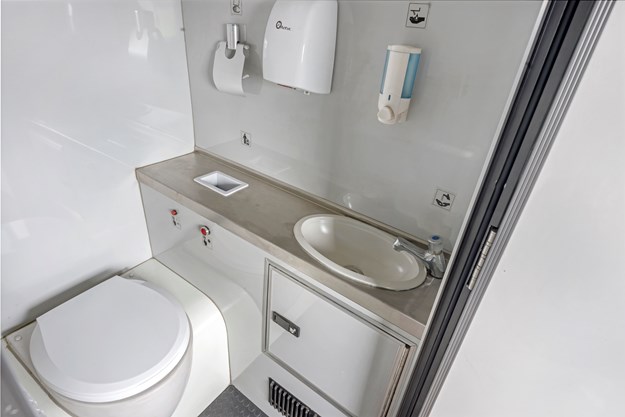 SPACE RACE
This coach is rear engined, but this has no detrimental effect on the storage capacity, we found. With a high passenger capacity it's really important that the coach can handle not only that, but the associated luggage requirements that go with this.
It has two lift-up doors each side in combination with a full-height side hinged-access door to give two options for luggage access. It has excellent bin capacity at around about 8 cubic metres, so ample storage for all. The full-height door would make accessing heavy items easier.
The weather certainly gave ABC magazine the opportunity to experience any shortcomings of the BLK DD3, but we came away impressed. It was like 'Here! Go out for a test drive!' and someone turns on the wild weather to show you just how the DD3 can handle and perform under these conditions and it was perfect.
Handling in the wet weather was solid, driver visibility was great, cabin noise and vehicle stability were excellent in combination with way-more-than-ample power. Overall, two big thumbs up! It was really impressive.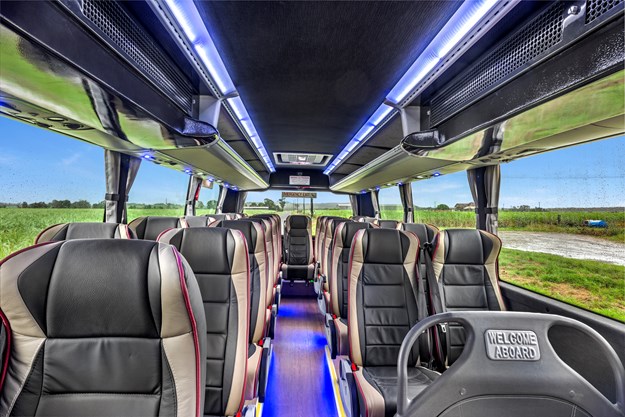 BROAD VISION
When you speak with both Rodd Hood and Athol McKinnon you get the clear picture that they are a team going way back and working well together. They are two very experienced industry heads who understand the needs of our industry well.
Looking forward, McKinnon said: "What attracts us is all the different propulsion choices that are around the corner. We're not going to stick with diesel forever and a day. We've got the electric-driven side of it already as an option as BLK have been building electric buses for over 13 years and hydrogen, which is just around the corner in both bus and coach format. Watch this space!" 
A LITTLE CLARIFICATION
"It's often written in articles that only the locally built buses are built to last the distance for 25 years," raised Hood.
"The BLK bus and coach product is made no differently to the locally made buses here in Australia using only high quality components, so it needs to be reinforced in some discussions," he said.
"It's people's perceptions, when you don't know all the facts, and to be honest we may have had similar thinking before we went to China in 2006.
"At that time it too was all new to us, but once you're exposed to it you realise it's a very labour-intensive vehicle to build and labour in Australia is very expensive, say no more.
"You know it's unfortunate, but that's just the way the industry has gone to remain competitive in the marketplace. So at the moment we've got a vehicle there that is very highly spec'd, attractive in style and attractive in price to meet both the Australia and New Zealand marketplace.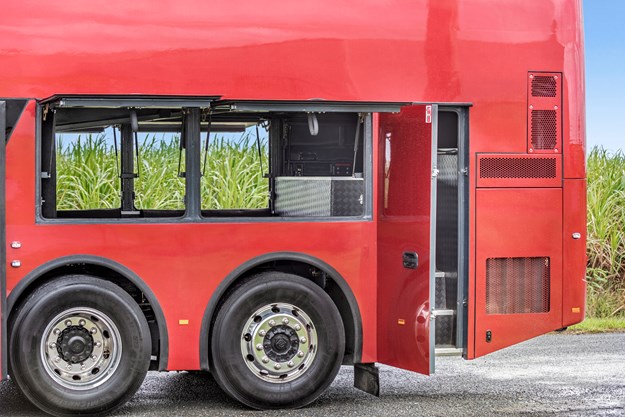 Specs
MAKE: BLK (Bonluck)
MODEL: DD3 President Double Decker
DIMENSIONS: Length - 12.5m, Width - 2.5m, Height (overall) - 4.25M
ENGINE: Cummins Euro 5 X12 with vertical water-cooled six-cylinder four-stroke diesel engine with direct injection, exhaust turbocharger and intercooler, engine brake, low noise and environmentally friendly. Cruise control, electronic diesel control system (EDC). Power - 480hp (360kW)@1,900rpm; Torque - 1623lb-ft (2,200Nm)@1,000rpm
TRANSMISSION: Allison T525R six-speed automatic with built-in three-stage retarder
SUSPENSION: Air suspension with eight airbags including raise, kneel and tag axle dump
BRAKES: Service brake - dual-circuit air brake to ADR directives by Wabco; EBS, ESC, spring auxiliary and park brake. Direct-acting spring-loaded air brake acting on drive axle. Mechanical release possible on pressure drop. 
STEERING: ZF/Bosch 8098 ball-and-nut power steering with integrated servo unit and test connection. Steering column adjustable for height and rake.
BODY: Stalatube 'Lean Duplex' fully stainless steel body frame and body
INTERIOR: 71 + driver (ISRI seat) full-leather Sege recliner seat-belted seats with USB (+ courier seat), two wheelchair spaces (65 when two wheelchairs fitted), plus a toilet (seating capacity options from 58 to 73 available)
MISC.: Spheros/Valeo CC430FS auto heat cool unit with heavy-duty Bock compressor and unloader with a brushless boost pump. A/C mounted at rear of coach above engine bay. Driver's individual controls for both upper and lower decks; Alcoa wheels
Subscribe to our newsletter
Sign up to receive the ABC e-newsletter, digital magazine and other offers we choose to share with you straight to your inbox
You can also follow our updates by liking us on Facebook.