VIDEO REVIEW: VOLVO DYNAMIC STEERING
---
It's what you can't see – rather feel – about this Volvo B11R Euro 6 coach featuring Volvo Dynamic Steering and Driver Support Systems that makes it worth a good look.
ABC magazine's usual test drives often have a focus on the latest and greatest bus body building, driver functionality, passenger comfort and new technology. Visually, we are always impressed by a new-look exterior, great craftsmanship and exciting features that make for a comfortable ride or just a great-looking vehicle to admire.
Today's drive of the latest Euro 6 Volvo B11R vehicle, however, is a bit different. Although it definitely is one great-looking coach, it is all about what you can't see and the huge impact these features will have on all aspects of the drive, from both operator and driver peace of mind, driver comfort and usability and, most importantly, passenger safety.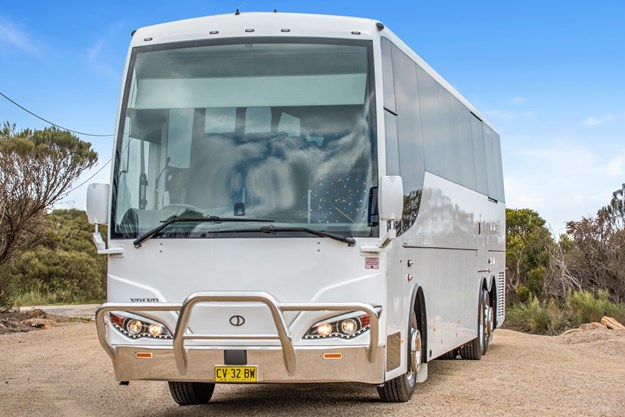 This chassis comes with the Volvo D11 six-cylinder in-line diesel engine, making 460hp (343kW) and 2,200Nm, Volvo I-Shift 12-speed transmission and, most importantly, the long list of safety features.
Talking with Stuart Woodward, regional sales manager (NSW) for Volvo Bus Australia, we started with who built the body before getting into the behind-the-scenes features that today's drive is all about.
"The Volvo B11R test vehicle body was built by Coach Design in Brisbane," said Woodward.
"Coach Design proved to be a good option due to the fact that they are hand built. It was also very easy for us to incorporate the additional items that we required to be put in for the driver support systems on this coach. They've also got a history for building great quality high-end touring coaches."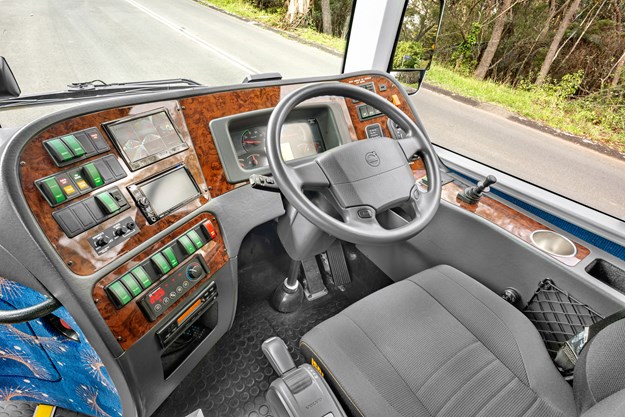 BEYOND LEGISLATION
To have a demonstration vehicle there are obviously some special features Volvo wants you to experience first-hand, explains Woodward.
"We built this demonstration vehicle to encompass the two new features on the coach: the driver support system (DSS) and the Volvo dynamic steering (VDS) system fitted to this coach. This is technology that we've used in Europe for many years on our complete-build vehicles."
With Volvo's advertising brochure stating that it goes "beyond legislation" to bring these new features to the Australian market, Woodward expanded on this further: "None of the driver support systems, such as a lane keeping system, adaptive cruise or forward-collision avoidance are legislated yet in Australia. Some of those are legislated in Europe on this class of vehicle, so we're ahead of legislation here, and that's a real positive for us".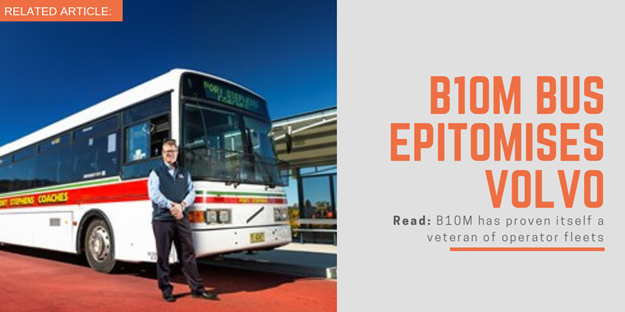 DYNAMIC STEERING
Asked what he considered to be the most significant safety feature of the chassis, he said: "I'd have to say the most significant features of this chassis above and beyond anything that we've built before is definitely the VDS system. It has such a positive impact on driver fatigue – and the DSS systems are there to protect you should you need them.
"We have used VDS across the Volvo Group for a number of years now. This is its introduction into coaches in Australia. It is the single biggest technology improvement that I have seen in my career in the bus and coach industry."
VDS detects all road irregularities and calculates the necessary compensation to create a desired predetermined steering experience. It's operated by a control system and a powerful electric motor that assists the hydraulic steering gear. It reads the various signals, such as the vehicle speed, steering angle and the torque applied by the driver, and the software calculates all the variables to obtain optimum steering responses by detecting and correcting all minor deviations at a rate of 2,000 times per second. Pretty impressive!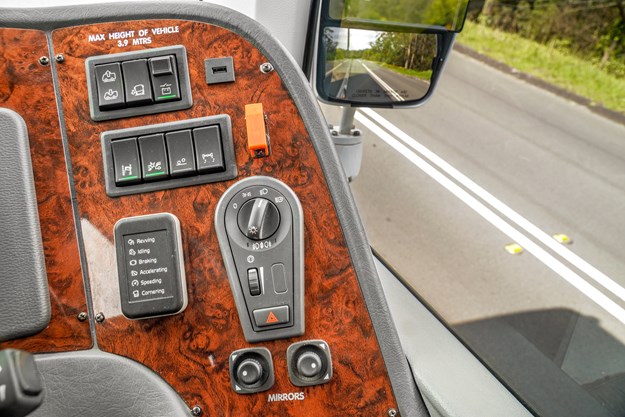 The VDS system at low speeds does most of the steering, greatly reducing driver fatigue by taking pressure off the driver's arms, shoulders and back. At higher speeds the system gives the driver a more relaxed driving experience because of the improvements with the directional stability, Volvo says. On extended trips this would have a huge impact on driver comfort and fatigue, and the positive impact this would have on long-term driver health with wear and tear injuries would be immense.
"The driver does not need to compensate for sideward drifting continuously and the result is a steadier and more comfortable ride. The steering wheel automatically returns to zero in parking and other manoeuvring in tight areas - for example, in roundabouts. Especially when reversing, this improvement saves a lot of strain and effort for the driver," said Woodward.
"The return to zero function, in all honesty, takes a little bit of getting used to, but once you're used to it it's a really, really cool function. Combined with the low-speed manoeuvring, the return to zero function really works well. From driving this coach, and having driven this coach many thousands of kilometres, I can personally say that it is a really good function for minimising fatigue," he continued.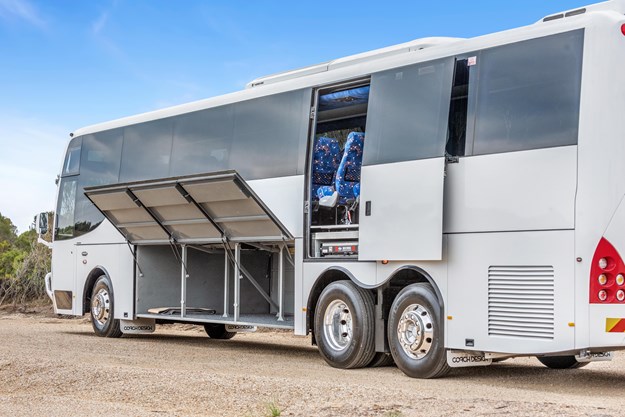 DRIVER SUPPORT
Next we move onto the DSS and Woodward's "...number one safety feature that I have found to be useful from a driver's perspective is definitely the adaptive cruise control", he said.
"It ensures that you maintain a safe distance from the car in front and it allows you to focus on other things. So it allows you to focus on how you're driving the vehicle and what's going on around the vehicle."
Adaptive cruise control works via a radar mounted in the front of the coach and it will pick up a car in front of you. The driver has the ability to set the detection distance via the cruise control store. So the driver can set whether to detect a car very, very far ahead to maintain a big gap or very, very close to maintain a smaller gap.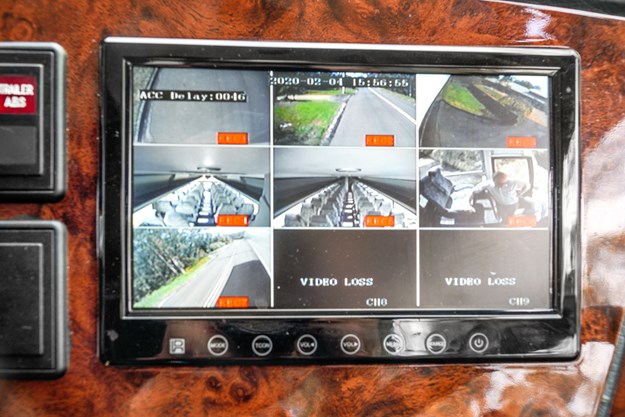 The lane-keeping support function recognises the road lane markings and predicts the vehicle's proximity to them. When the driver crosses either lane line without the indicator on, there is a haptic warning provided to the driver via the haptic seat. If you cross a lane line on the left-hand side, the left-hand side of the seat will vibrate and similarly on the right-hand side.
"The lane-keeping support function only works off a centrally mounted windscreen camera. So you'll notice on this coach here it's a single-piece windscreen because for the lane-keeping system we need to have a centrally mounted camera, which is in the sweep path of the wipers.
The system is active above 55km per hour and it monitors both broken and unbroken lane lines," Woodward explained. 
After spending the morning talking with Woodward and learning about this B11R and all it has to offer in both safety and driver experience, it's clear that any driver who gets to be behind the wheel of a B11R with it is sure to gain huge peace of mind from the extra safety systems built in.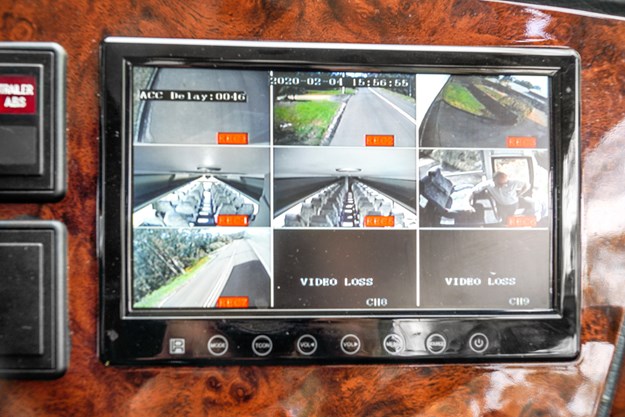 TEST DRIVE
Woodward had kindly brought the B11R Euro 6 Demonstration Coach for a scenic drive up the NSW Blue Mountains. Today's drive was all about the Volvo safety features, most of which we didn't get to test out, but it's about learning and understanding what they are, how they operate and what benefits these features bring not only to operators, but more importantly to driver and passenger safety.
I-Coaching is part of the Volvo safety system and we think that operators will really love this feature. It's a dash-mounted controller that monitors a driver's acceleration, braking, revving, idling, speeding and cornering. Each driving parameter is highlighted by a red light and small chime, giving the driver instant, easy-to-see feedback. Going through the sharp bends on the way to Meadlow Bath the cornering alarm went off, warning that a corner had been taken too hard. It's easy on long stints to get into auto pilot, so this feature does help keep your driving on track.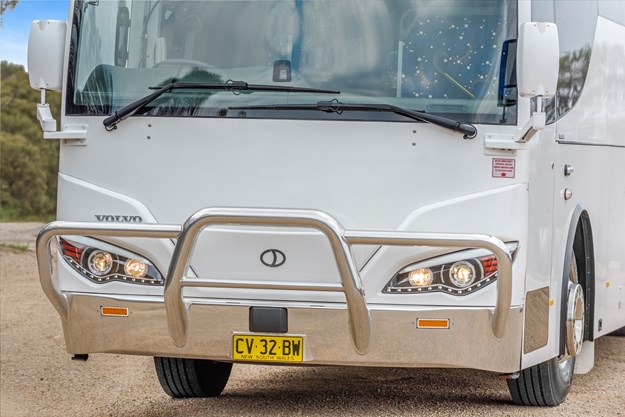 The I-Coaching operates by GPS and the information can go back to the operator and well as direct to Volvo, so it has the opportunity to monitor a driver's habits. This might seem like you're being watched, but in effect it gives feedback on your driving. As drivers, if we have bad habits that we fall into, it's better to get feedback on your performance. It eliminates lazy driving habits and we think this will certainly improve safety levels and passenger comfort.
The forward-collision warning with emergency braking and head-up display is one you hope never to activate, but certainly it will give operators and drivers ease. It's another feature of the Volvo safety collision avoidance system, mounted at the top of the dash, and it works when the collision-avoidance system or the collision warning is activated.
The system will flash red LEDs onto the windscreen and there is both visual and audible warnings that goes through different stages for the driver: first step visual light, next step visual light and alarm, next step is both functions combined with soft braking and the fourth and final step is visual, acoustic and full braking, bringing the bus to a complete stop. With a fully loaded coach this feature has the possibility to save many lives.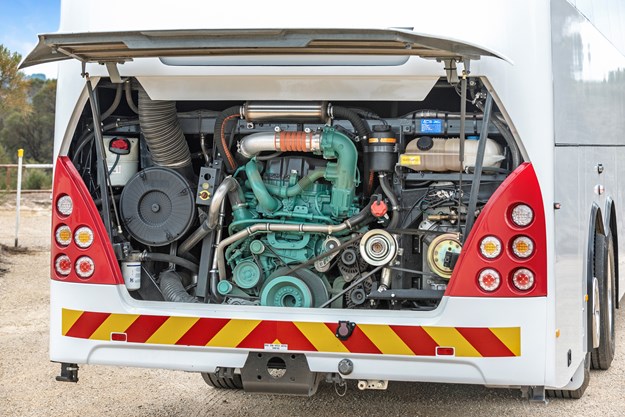 With the VDS in play, straight away you can feel there's something different with the steering and feedback of the road through the steering wheel. To give this feature a trial we did some roads that ideally you wouldn't normally take the coach on – rough surfaces and potholes, poor quality surfaces, etc.
With VDS, the driver doesn't feel the normal feedback from poor road surfaces as it compensates for road issues and eliminates the wheel vibration normally felt. Long-term, this is a definite bonus for driver comfort and health, eliminating the normal strains and fatigue associated with heavy steering. This feature is an all-round winner for drivers and operators alike.
Like Woodward had explained earlier, the return to zero function of the steering wheel does take a little getting used to. It does a slight flick back in your hand, but once you've experienced it a few times you get a good feel for how it works. The benefit we experienced on the drive was when we pulled into a tight parallel parking space with the wheels virtually in full lock and when we let go of the wheel it returned back to centre – a real bonus.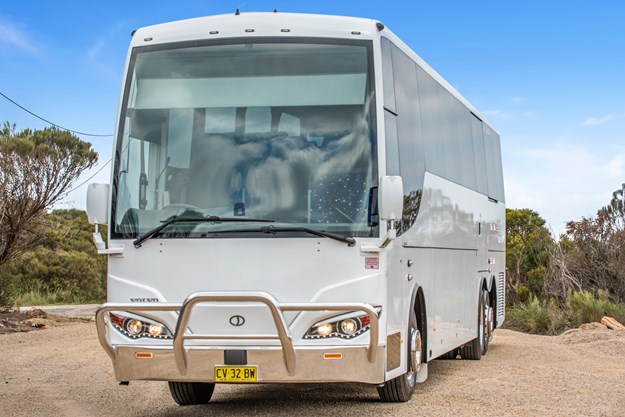 The VDS certainly makes driving comfortable. It's very responsive, easy and smooth.
The adaptive cruise will operate whenever the cruise control is operating, which on Volvo coaches is above 40km per hour.
You can set the distance parameter between yourself and the vehicle in front. Once you set the distance the bus stays at that distance no matter what – if they slow down, you slow down.
It was super easy to set as it is on the indicator stalk with one-touch control for operation and the function displays on your LCD instrument display panel.
This is a great safety feature and we loved how this function works. In particular, this would give maximum safety on highway and freeway driving or extended charters.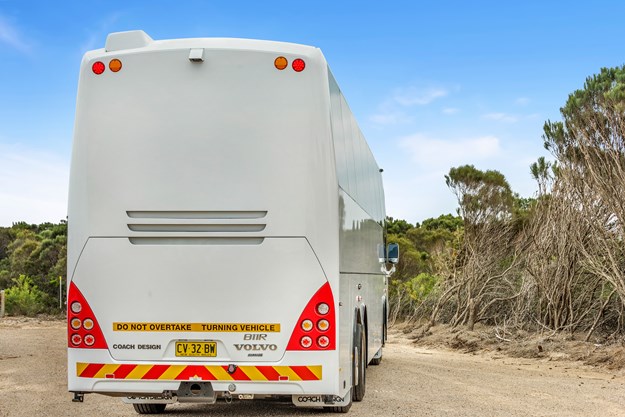 We tried it out a few times and it really does give you less worry. At one point the vehicle in front did a hard brake at the lights, but the bus braked smooth and flat. An impressive function, we have to admit.
The test drive was a great learning experience. Woodward's knowledge of the chassis and his first-hand driving experience with this B11R made for a day where we had the opportunity to get to really understand and test many of the features that time limitations don't always allow.
Volvo has delivered a chassis with utmost consideration, not only with regard to overall vehicle safety, but also the delivery of an impressive level of care and consideration for driver health and wellbeing, and our drive experience and comfort. Hats off to Volvo!
Specs
MAKE: Volvo
MODEL: B11R three-axle
BODY: Coach Design
DIMENSIONS: Length – 13.5m; Width – 2.5m
ENGINE: D11K, six-cylinder, in-line diesel; Power – 460hp/343kW, Torque – 2,200Nm
TRANSMISSION: Volvo I-Shift 12-speed
SAFETY: Volvo driver support system; collision warning with emergency brake; adaptive cruise control; lane-keeping support
Subscribe to our newsletter
Sign up to receive the ABC e-newsletter, digital magazine and other offers we choose to share with you straight to your inbox
You can also follow our updates by liking us on Facebook.