VIDEO REVIEW: CUSTOM ENDEAVOUR
---
At the beginning of 2018 things were looking dire for Custom Bus as it went into administration, but the start of 2020 tells a completely different story. Its brand new body, the Endeavour, has been tweaked from nose to tail - a symbol of Custom Bus' transformation into a bus manufacturer with 'industry-shaking' plans up its sleeve.
Custom Bus started in 1955 under the name Cycle Components Manufacturing Company and that's where its logo with the three Cs first came from. Over the years there have been changes in ownership and leadership, but in a little over a year since Scott Dunn and the Dunn Group took ownership of the company after it went into administration, Custom Bus certainly looks like it has a bright manufacturing future opening up.
Today's test drive and story behind the new Endeavour bus body is a lot more to many people than just another new bus on the market. The path leading to this point means the Australian bus manufacturing industry retains a long-serving player and Western Sydney will certainly reap the huge benefits of having this expanding business in its community.
In the dictionary the word Endeavour means to 'try hard to do or achieve something', so it's definitely an apt one for this first bus under the new ownership. Speaking with Custom Bus sales manager Mick Neskes he said: "To me and all the employees at Custom Bus, Scott Dunn taking on the business is certainly a good news story."
"These are people put out of work by an administrator and now with Scott we have a new lease of life. It's been a huge turnaround from facing unemployment to where we sit today."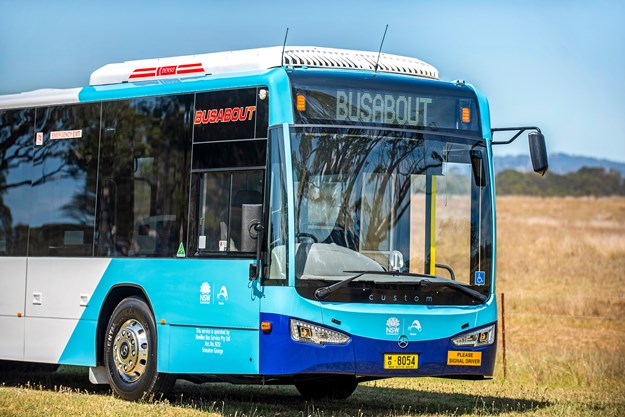 HAPPY TO BE BACK
"They were so happy to be back and I can't tell you how many times I hear staff endlessly thanking him for taking on the business. Originally, we started off with just over 100 employees and we're now up to 200 people, so we've doubled the workforce. I heard an interesting stat the other day that with every sale of a bus it creates point six of a job, so the more buses we sell the more jobs we create," said Neskes.
It's great to hear staff talk so positively about their employer and you can hear the respect in Neskes' voice when asked about Dunn's background and what made him the right person for the transformation of Custom Bus.
"Scott started with buses at a very young age. His family were in the bus industry and he'd be out in the yard changing tyres and doing jobs with his grandfather and working really long hours. Pretty much every spare minute he had, he was either out washing buses or working on buses," Neskes explained.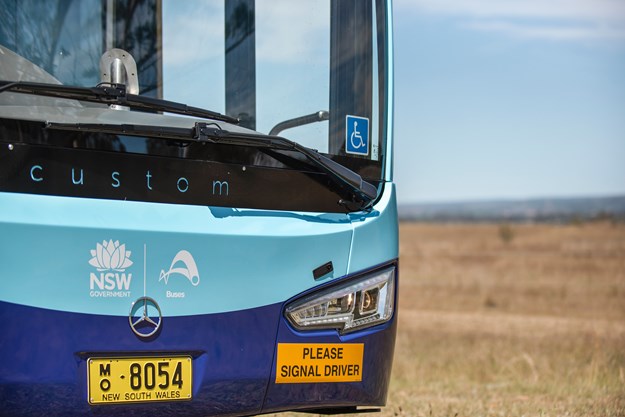 "By the age of 14 he was rebuilding engines and gearboxes, so it's really is in his blood, and that's both from a bus operator's perspective and from a repair and maintenance perspective. He really is a true bus person. Passionate only begins to describe Scott's relationship with buses – he's got a lot of knowledge and I'm learning a lot from him. He's younger than me and just the knowledge he has is enormous."
Since moving from Villawood to the new premises in Sydney's St Marys in February, 2018, and commencing production in April, 2018, Custom Bus had built an impressive 100 buses by June, 2019.
"There were actually another 36 from the previous regime, which Scott bought back so he could complete them and get those buses delivered too, so there was a lot of work just in completing those ones as they were at various stages of build. So we'd actually completed 136 in our first year," Neskes clarified.
"This past year has been a real big step forward and looking at where we are today, Scott's just investing so much into the people. He's investing so much back into the business. His priority is to keep bringing in the new technology to make sure that we keep consistent quality in the builds. It's chalk and cheese to what was done previously. Don't get me wrong, the old business was great, but Scott's made it so much better."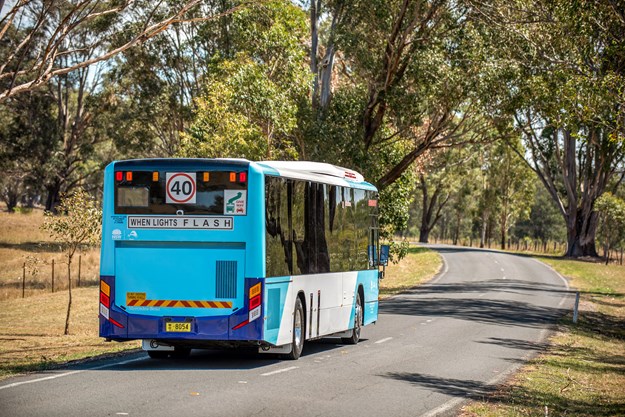 BUILDING IN REPUTATION
To be an Australia-based company and achieve the impressive first year figures under new ownership that Custom Bus has wasn't an easy achievement. When asked how Custom Bus plans to stay competitive against the increasing numbers of overseas players in the market, Neskes replied:
"We're never going to be 100 per cent competitive with the overseas market based on price alone, but where we are competitive is that we're putting in processes to make sure that our quality and consistency is there; we want to make sure that if someone buys one bus today and then they buy another bus in two, three or 10 years' time the parts will absolutely be the same. So they can order the part, based on the original bus and it should be exactly the same for the bus 10 or so years down the line.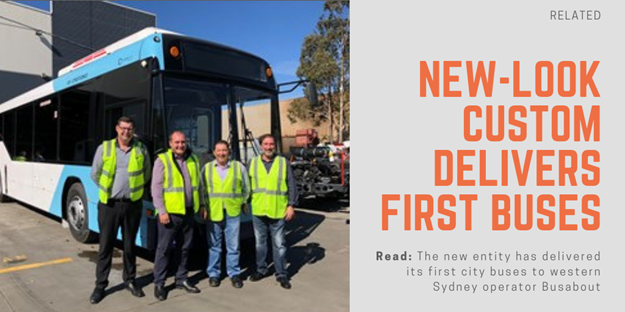 "That's something that a lot of bodybuilders haven't been able to achieve," he added. "The other thing is, of course, we've got to remember that the Australian contracts these days are for 25 years. So, you're basically looking at running a 25-year operation with the same vehicle. Don't get me wrong, the Chinese, the Asian market, and the overseas market in general have come a long way, but I think in a lot of cases they're not there yet. We're building buses totally with that 25 years in mind.
"Predominately when you look at the overseas market, they're building for their own market, which is generally a seven to 10-year market. So where we're going to be competitive is in the long-term. We have a product that's going to exceed the lifespan of those vehicles. So that's where we build our reputation back into the vehicle."
He explains that when Custom Bus was bought out, Busabout was the first customer to offer a hand and the first to place orders with the new regime. Tony Calabro, co-owner of Busabout, says that he wanted to make sure Australian manufacturing exists in the future, so as a show of support he placed some orders for two CB80s on MAN chassis.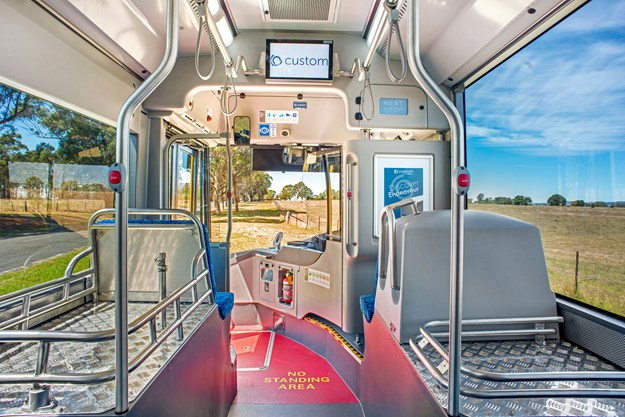 "There's a real bond there now and if we continue to do the right thing and look after Busabout, I think they'll continue to stay a loyal customer long-term," Neskes said.
When asked about the choice of the Mercedes chassis, Neskes explained: "It's funny you raised that because I've had a lot of questions from the other OEMs asking me why we didn't offer them the opportunity to build the Endeavour. It was quite simple; it wasn't a case of us choosing which chassis it was going to go on, it was us offering it to the customer who helped us get off the ground. So, they got first bite of the cherry. Busabout chose the Mercedes chassis so if they had chosen any of the other chassis we would have built it on that choice just the same. So it was a customer-led decision."
Neskes added: "The Endeavour's been in the making pretty much since Scott took over 12 months ago, but it has a lot of features added to it that have been in the making over the last 40-odd years of Scott's life. So, he had an idea, he had a vision, and it was our engineers' job to bring that vision into fruition. So, there was a lot of work and there were a lot of long hours to develop this vehicle."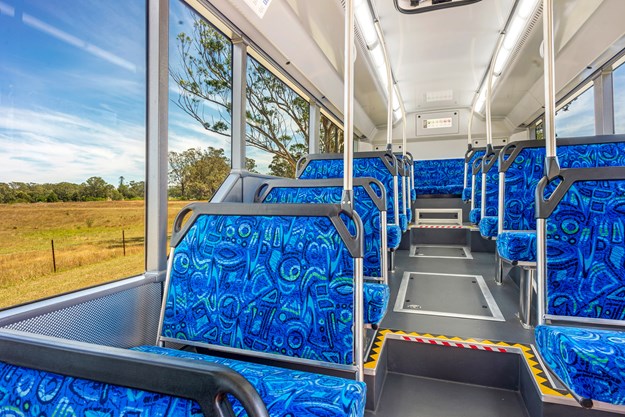 TEST DRIVE
This new Endeavour built for Busabout will be a route bus whose home won't be far from the St Marys Custom Bus manufacturing plant. It soon will be back home to do runs from Campbelltown to Narellan. Having driven the Custom Coach CB80 previously, it was good to see the changes and adaptations this new bus had been given. We'll start on the cosmetic changes as Neskes mentioned that this is where small things make overall a big change.
The Endeavour has retained the same stainless steel frame work, windscreens and roof structure as its predecessor and many of the changes have been cosmetic after taking on board customer feedback while keeping all features that they knew worked well.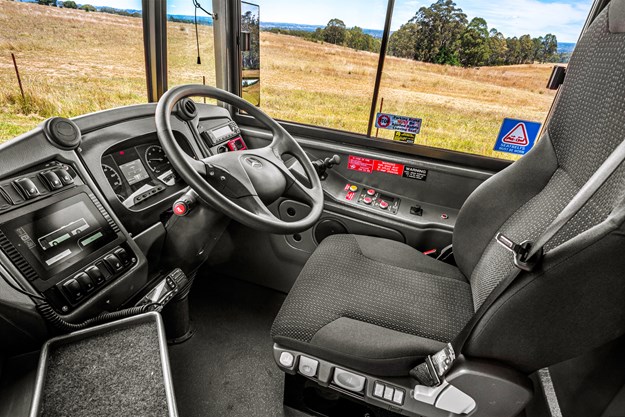 The driver's area is surprisingly luxurious for a route bus, which might have to do with the inclusion of the Mercedes chassis, but it was more comfortable than expected. Leg room and vision for the driver is excellent. Features particularly appreciated are the left foot rest, the cup holder and the driver's AC booster fan.
The internals have been updated and the luggage area is really strong and robust. Chequerplate and stainless steel racks give a bright and quality finish that will definitely stand the hardest wear. The stippled stainless wall linings also mean there will be no tired-looking finishes as this bus ages. With a 25-year lifespan the use of these durable finishes can make all the difference to longevity of the interiors.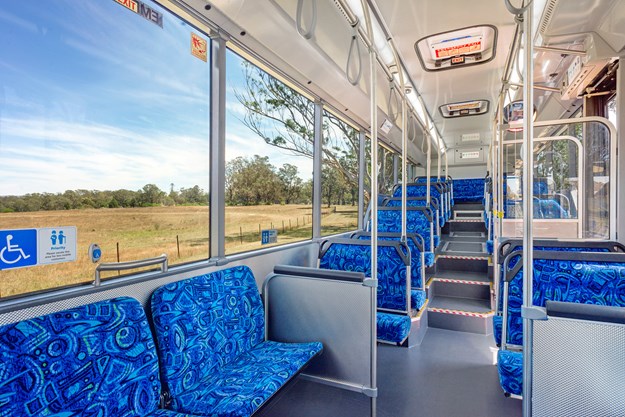 One issue addressed was the gap behind the rear seat and underneath seats being great points for rubbish deposits, so these have all been fully sealed. Another amended issue is the new powder-coated ducting, which has eliminated rattles and helps with ease of cleaning. Not sure if it was this change that did make for a much quieter drive than previous models of the CB80, but overall drive was definitely quieter.
Externally, the biggest changes have been the new front end with fold-down apron and lights for ease of maintenance and the inclusion of LEDs. The new larger desto gives the front a modern full-glass appearance; the previous model desto size had issues with compatibility with some operators' programs. Again, these changes were made based on feedback.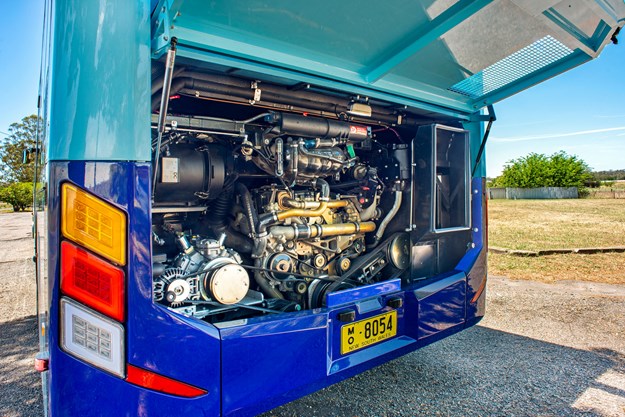 The rear header is also a new design – now with a cavity where the fire-mitigation system that was usually stored under the bus has been moved to. The internal access is a safety improvement, making for quicker access and easier ability to check certification, as well as helping keep the equipment clean. The new rear also has chamfered corners and lights. Neskes says this feature was changed because damage often happens to buses from drivers cutting corners and taking out the rear corners. With that being chamfered, they are hoping this helps reduce the amount of damage caused.
The roof has been adapted to have a gutter rail that runs both sides the length of the bus, which eliminates water sitting on the roof when it rains. This dirty water used to spill over the windows when the bus tilted, but the new system means water is now dispersed to the front or rear of it.
This Endeavour is fitted with seats built by Custom Bus and has a Denso LD8 air-con at Busabout's request. It has been using these systems for quite some time and has been really happy with them and it is a good example of Custom Bus adapting to customer requirements.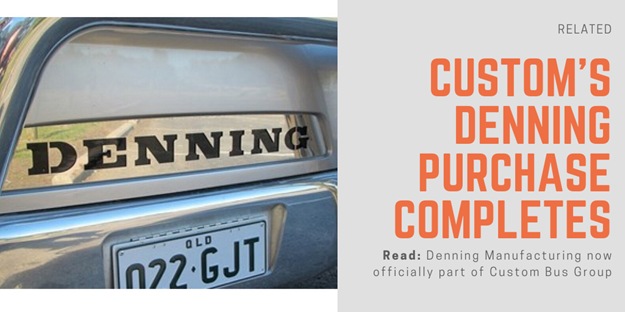 The drive took us from the Busabout headquarters at Smeaton Grange through Camden and Cobbity, which was scenic. We did a little bit of highway driving and the residential areas that this bus will normally travel.
The Endeavour has a Mercedes Benz OC 500LE chassis harbouring 7.7-litre engine with 299hp (223kW) and 1,200Nm. There are no complaints with the Mercedes running gear behind the new Endeavour.
The ZF- Eco Life six-speed automatic transmission has no surprises and it knew which gear to be in at all times. There is also an impressive turning circle on this chassis, which is great for busy urban routes and the many roundabouts this area has.
The brakes were very car-like and very well matched to the size of the body. This improved Endeavour will certainly take the Custom Bus fleet to a new level for everyday driving.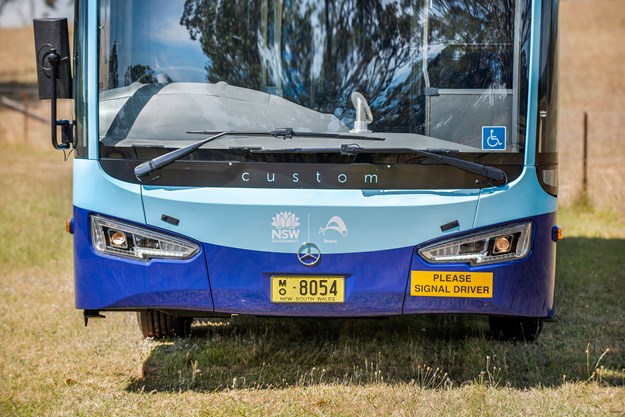 FINAL WORD
"We got a lot of new stuff coming up I can't tell you about as I'm sworn to secrecy!" exclaimed Neskes, but he did confirm that Customer Bus is planning to "really shake up the industry".
"We've got a lot of big plans," he added.
"The main thing here is that we're listening to customers. We listen to what they want while working with the government to give them what they need.
"If you read between the lines you know where I'm heading, but we've got some really interesting products coming up.
"You'll see them within the next 12 months.
"Like I said, we're going to have some showstoppers for the next show in two years' time and we're working on those now."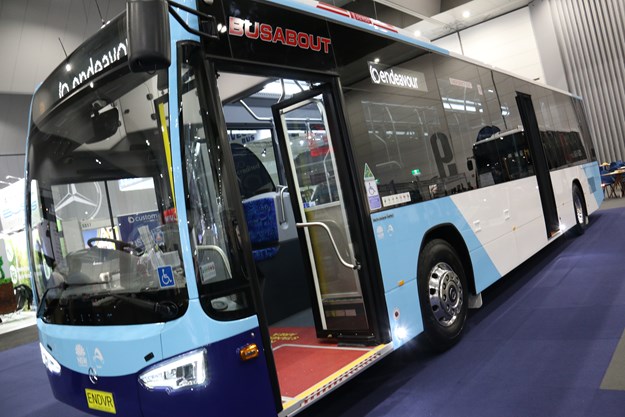 In a wide-ranging interview that covered the plans Custom Bus has in motion going forward – from purchasing the iconic Australian brand Denning Manufacturing to acquiring robotic and laser technology to improve and grow operations – this could easily have been three feature stories in length. Yet this is the story of the new Endeavour and the energy and drive of a team with a dream and the people that are making it happen.
It's people like this that have built our industry foundations to achieve what we know today.
Neskes spent most of this conversation singing the praises of his work colleagues, especially the wheels Scott Dunn initially put into action, and without the efforts of these men, including Mick Neskes himself, an Australian Bus manufacturing company dating to the 1950s might have been just another statistic of a company that couldn't move with the times.
From what we can tell, if hard work, forward thinking and dedication can make the dream happen then Custom Bus will certainly succeed.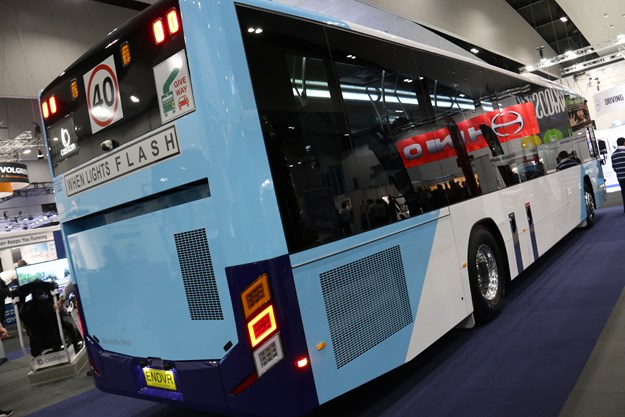 LITTLE KANGAROO
With regards to the use of Australian-made components, Neskes pointed out that a lot of Custom Bus' components are supplied from Australia and quite a few are manufactured on site.
"We recently obtained our Australian made certification, so we've actually got the little kangaroo and we'll be applying that to all vehicles from now on," he added.
"We only received that about a week before the bus show so we're now 'Australian made' certified and we also are ISO 9001 approved."
Explaining how the certification works, he said: "The ISO standards are a series of world standards that you have to adhere to. There's a lot of items and boxes you need to tick and it goes right back to your production, where you source the components, how you build your componentry, your own internal audits that cover all these things, right through to customer satisfaction, feedback, customer follow-ups, and how we deal with warranty or dispute resolution - it's a complete process.
"Annually, a neutral auditor comes out and goes through every one of our systems. They look at every single aspect of our business to make sure that we're ticking all the boxes. If we don't, we can't maintain certification.
"So, every aspect of our business is scrutinised by ISO 9001 and that's something that we've done by choice to show people that we're committed. We're committed to the bus industry, to safety and quality, and we're committed to creating Australian jobs.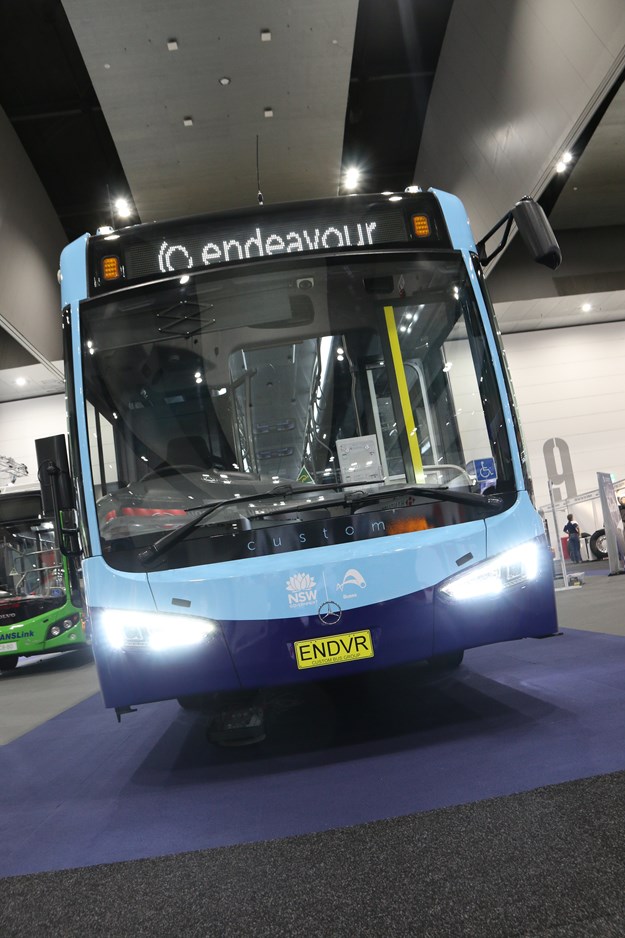 BUILDING THE EMPIRE
"It's taken a lot of hours and a lot of work and I can say that Scott Dunn, Daniel Bale - our operations manager - and Ben Kiddle - our custom care manager - together as a team have done some magnificent work," Neskes continued.
"They've done a lot of long hours, they've put in so much effort and they have invested all their time into working to make this happen, make this dream a reality and grow this little empire. The thing is that an empire can only grow when all facets of the empire are satisfied. Customer needs to be satisfied, the employees need to be satisfied. You can't grow a business when you're top heavy. You've got to grow the business from the roots. You can't just throw in a whole heap of managers and hope it works.
"So what we've all done is that we've had to learn all different components of the business.
The one word that explains it all is teamwork and it's teamwork led by example. We've got three dedicated bus people who really have buses in their blood. And when you have a team that's so strong, and that knowledgeable when it comes to buses, I don't think anyone else could compare. I've never met a team that has that much knowledge and experience. That's why we're going to be successful because we've got people that understand both sides of the business, from a customer's point of view, an operator's point of view, and now from a builder's point of view. So it's really, really good having those guys around me, makes my job easy," said Neskes.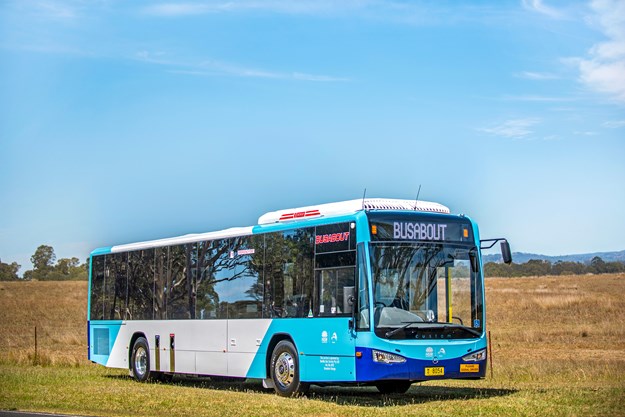 SPECS
MAKE: Custom
MODEL: Endeavour (body) on Mercedes-Benz OC 500LE
ENGINE: MB 7.7-litre OM 936LA (Euro 6); water-cooled, in-line, four-valve, turbocharged and intercooled horizontal six-cylinder incorporating SCR and EGR; Power - 220kW (299hp)@2,200rpm; Torque - 1,200Nm@1,200rpm
TRANSMISSION: ZF-Eco Life six-speed automatic GVM: 19,600kg
SAFETY SYSTEMS: Anti-lock Braking System (ABS); Traction Control System (ASR); Electronic Braking System with Brake Assist (EBS/BAS); Electronic Stability Program (ESP); engine-bay fire detection system
WHEELS & TYRES: Ten-hole 8.25 x 22.5-inch alloys; Tyres - 295/80R x 22.5-inch
FUEL TANK: Capacity - 280 litres (approx.); Adblue 45 litres
BODY FEATURES: Low-floor; wheelchair access; space for 60 passengers (46 seated); LED daytime running lights; LED exterior lights
Subscribe to our newsletter
Sign up to receive the ABC e-newsletter, digital magazine and other offers we choose to share with you straight to your inbox
You can also follow our updates by liking us on Facebook.