VIDEO REVIEW: 1970 BEDFORD FREIGHTER VAM70
---
A beautifully restored 1970 Bedford Freighter VAM70 is keeping history alive at Moonee Valley Coaches.
It's hard not to admire families like the Higginsons in our industry – companies that started from humble beginnings in the '60s and continue to be a success story. In times where big business is becoming increasingly the norm, these types of family run operations keep us in touch with our industry history and today can still show us how it's done.
For this test drive we got to drive another golden oldie, a 1970 Bedford VAM70 that is entwined with the history of Moonee Valley Coaches, now run by Garry Higginson, the son of founder Ray Higginson.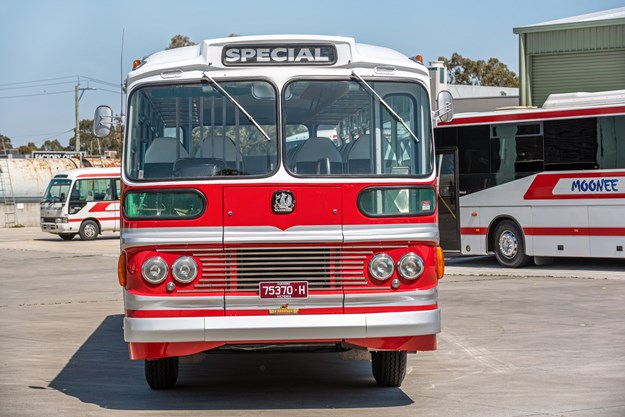 BEDFORD ON BOARD
Moonee Valley Bus Lines was formed in 1966 by Ray and a partner Joe Bellafiori.
"In 1970, dad bought his first brand new bus, which is the Bedford Freighter, which we're driving today, and started doing tours to Central Australia and all over the place from Canberra to Swan Hill. So, he was doing both charter and route service."
"As the business grew he started to get a few better vehicles to be able to do that and also got involved in our own travel company," Higginson said. Next year will be the Bedford's 50th anniversary with the company.
The partnership 'had its moments', apparently - like most partnerships do - and in 1972 Bellafiori bought NuLine Bus Services in South Caulfield, Victoria, and changed the name and company colours to the red and white of Moonee Valley Bus Lines. Ray Higginson stayed and ran the Brunswick operations and that continued until 1985 when the partnership was dissolved. The two operations went their separate ways and Ray Higginson had the freedom for the first time to have full control of his company and move things in the direction he wanted to go in.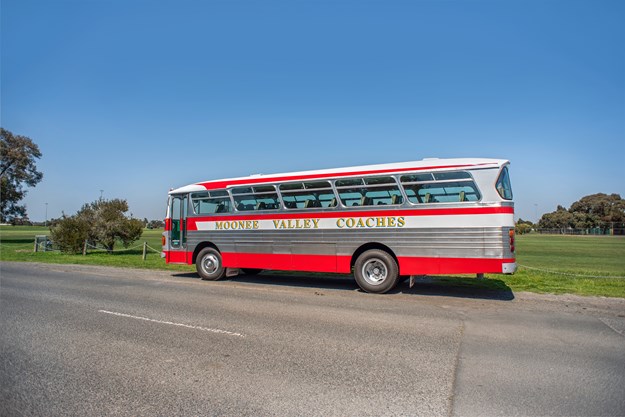 NEW HOME, NEW FOCUS
In 2005 Moonee Valley Bus Lines had moved to Tullamarine and around that time it commenced to close the touring side of things down.
Higginson said that there were two reasons for this: "Firstly, because the local business was growing and growing, and also it was getting harder to compete with the competition, and over time it became a challenge to get good staff to be away in Darwin and places, so we just made the call that we've 'been there, done that' and let's just focus on the growing local market and that's still where we are today."
One thing that has remained, however, is a passion for older vehicles, with the family developing a collection of around 20 cars, trucks and buses.
The restored collection started when Ray was alive, with his son continuing to expand it.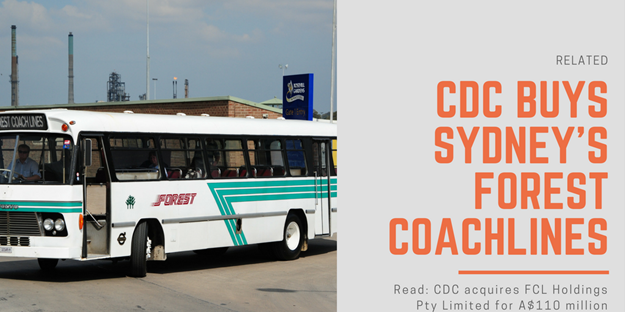 "The Elwood we bought brand new in 1988," he said.
"We took it off the road and, at the time, I had built a shed up on my block that we lived in while I was building my home, so I put the Elwood in the shed. I took the seats out and we used it while we were building - then it just stayed in the shed, which preserved it really nicely because it was protected the whole time."
The Elwood became the first restoration project and it snowballed from there.
"Dad had had Dominoes since the late seventies. They were great vehicles; everyone had them," Higginson explained.
"We already had the Tourmaster and, around the time Dad passed away, we were getting ready for that to be our next project. We didn't do that one ourselves; I did the inside and I did underneath myself, but externally it was pretty rusty and crappy. So I spoke with Evan Isaacs at Coachworks
in Brisbane and, when it was ready, we flew it up and, when I saw it, it blew me away. It was like brand new."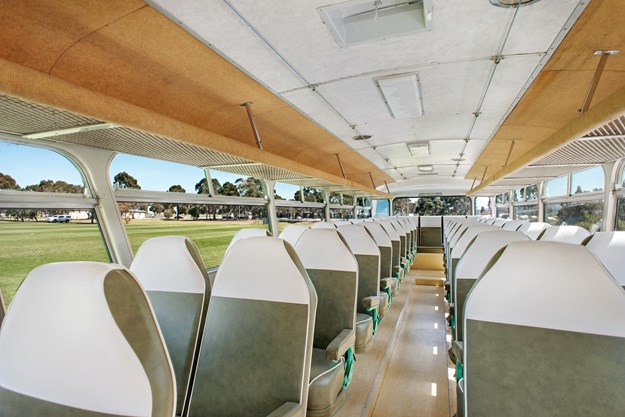 BEDFORD HAS ITS TURN
Finally, it was the Bedford's turn - and sentiment definitely played a part, says Higginson.
"The Freighter was the first brand new bus Dad ever bought; it never left us and we thought, 'let's do it next'. Having it always in the fleet and having a lot of sentimental value, I was the first person in it when I was nine years old. I went to Adelaide to pick it up with Dad. We flew there in a plane and we got to go through the Freighter factory, got in the bus and I drove home with Dad.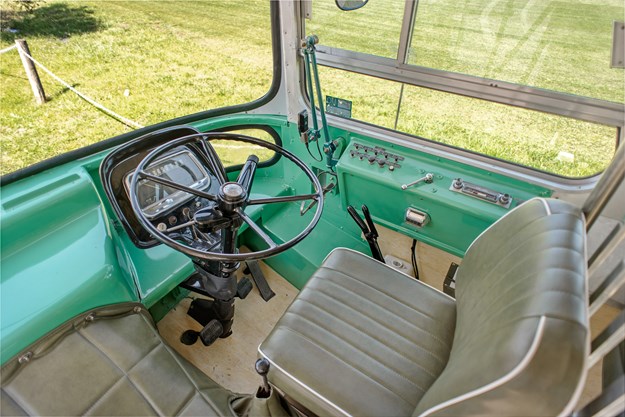 "Four months later we got to go to Alice Springs for the very first time in it. I drove it myself plenty of times over the years. It's always been ours so it has all the original badges and switches – they are all still preserved. The original seats are restored back to the original colours. When you look at it today you think: 'What were people thinking?' It has every colour of the seventies in it, but that was the time.
"I've still got the original barbeque, too. I even have the original stands made to put billies on, so Dad could cook and give the passengers a cuppa and boil veggies. When we go to shows we set it up to show how it was done back then. It makes it just that bit more special. I'd love to come to work every day and just do that," he continued.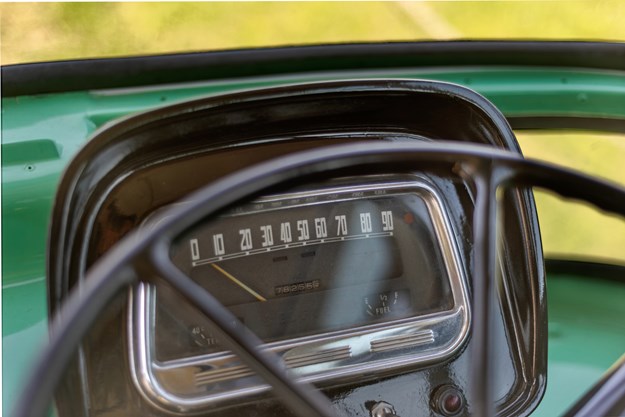 Talking about the old bus's history, Higginson said it was taken on trips to Uluru where, "...nearly the whole trip was on dirt". You can just imagine it, with dust flying everywhere and roadside stops with the driver preparing drinks for the passengers. It was certainly another era and a reason buses like this are here to ensure we remember these rugged times and the vehicles that pioneered the way.
"We started to restore it in 2015. It hadn't been [in the] Outback for over 40 years. When we were pulling it apart I said I bet we find some red dirt - and we did. Once you get red dirt in something it's there forever." 
The restoration took Higginson just under two years. When asked if in its time it had any outstanding features in comparison to its competitors, he replied: "You probably could have bought better, but I guess, like all things, it comes down to finances. It did cost more to restore, though, than what it cost new. I have all the original documents and it would be a guess, but I think originally it cost Dad around $17,000 to buy."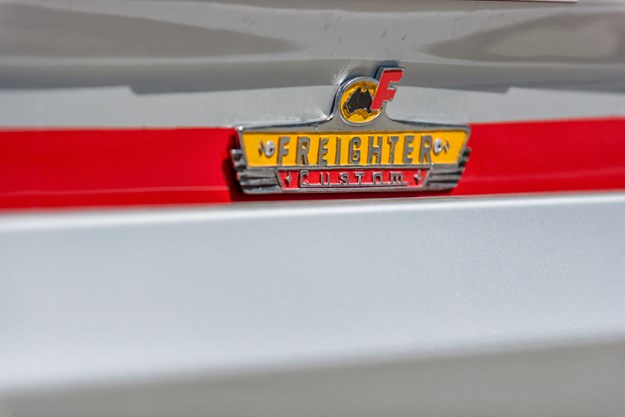 TEST DRIVE
When asked what to expect from the drive, Higginson said: "It will be noisy because the engine is sitting next to you. And the steering will be nice and heavy. It's like driving an old car compared to a modern car, but in its day … you'd be the king of the road. Nobody now wants to go back from having 400hp to 280hp, but it's enough."
Regarding the brake system, Higginson laughingly described it as being "virtually non-existent".
"[They're] typical Bedford brakes," he explained. "Air-assisted hydraulic, an air-assisted master cylinder and single-wheel cylinders on the back, twin on the front. Bedfords - for whatever reason - never seemed to have good brakes. It's got a 466 in it – it's not the original, but we still have it. You just start it up and you know it's a Bedford." So I guess we'll be avoiding any tricky braking!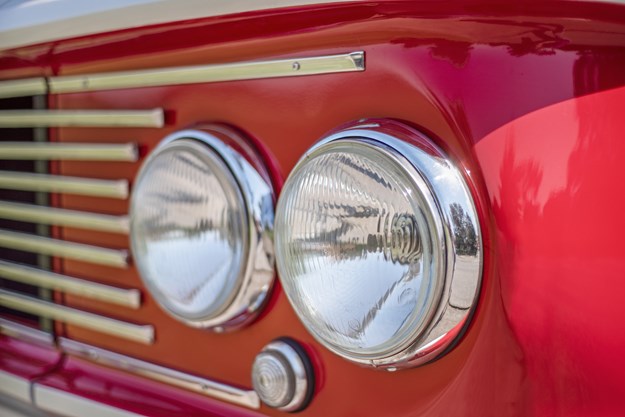 Externally, this is one great-looking retro coach. The Moonee Valley colours and the alloy side panels with original rivets, which are exact pressings of the originals, make this one a real head-turner. The raised central roofline with the desto and bullet clearance lights on each corner are striking and the front face has two oval wraparound windows to give better vision for the driver. A split, curved windscreen with top-mounted wiper - you can't get more '70s!
We set off from the Moonee Valley depot at Tullamarine and because this is an old classic it's not going to be the easiest or most comfortable drive, but that's not what this Bedford is about. In a bus like this, you want to sit back, take some leisurely roads and enjoy the drive of the old girl, letting it take you back to the days when buses were much simpler, and most of us could understand just how they operate and what drives them.
Approaching the first intersection the brakes were surprisingly better than expected. We didn't do lots of breaking - and certainly no hard braking - but they certainly worked fine. We went through an area with lots of speed humps and again the bus handled them suitably well.
With 44 seats plus the driver and a lowered central floor, it has a more spacious coach-like feel, especially with the parcel shelves for hand luggage and single back seats. The Bedford came standard with a radio and PA that sits on a swinging arm next to the driver, but aircon wasn't available – that too was pretty common for the era unless it was an American model bus.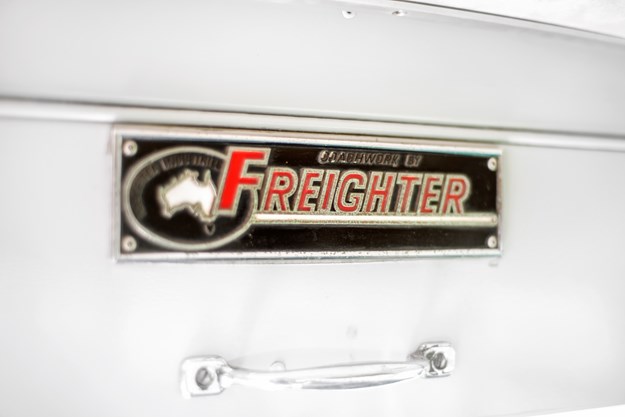 It's got a syncro gearbox in it and it's nice and smooth, no complaints at all. It did pop out of gear, but it's just what the old gearboxes did, so that is to be expected. The big steering wheel is certainly an arm workout to turn, but good for the biceps. Driving a bus of this era does take a degree of skill and it's not clear how drivers of today would manage the combination of using two hands to turn the wheel while also trying to keep it in gear while accelerating. It's a bit of trial and error, but that's all part of the fun of these old vehicles.
Overall, this Bedford's a beauty and it's easy to realise why Higginson was so happy with the restoration – this bus does scream 1970s. There's something solid and impressive with older buses you just can't beat.
The Bedford finished up after a long life in around 2000 having spent 30 years on the road. Higginson says that was before the 25-year frame inspections, but still he says this one would have passed with flying colours. They certainly made them tough.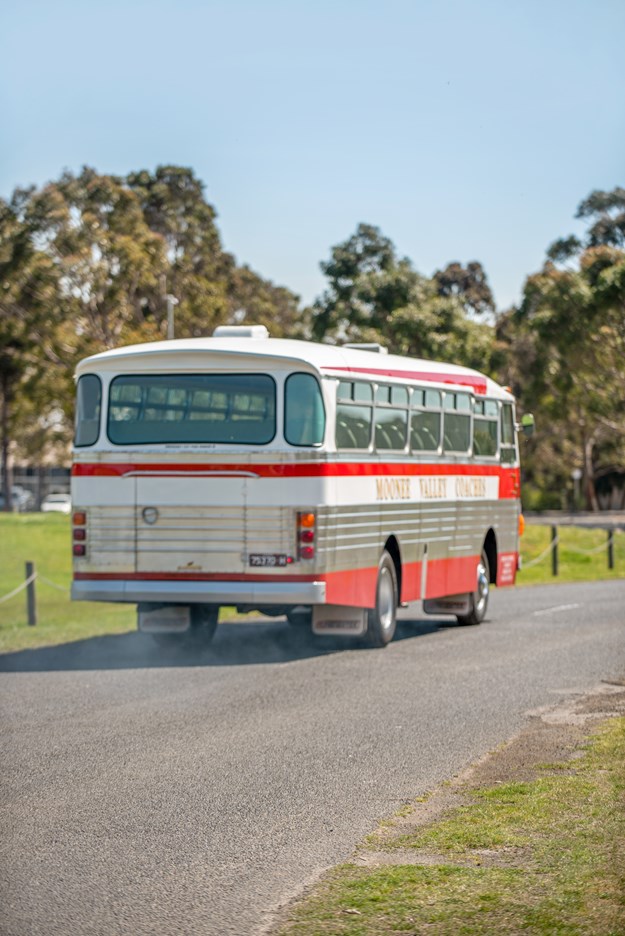 Specs
MODEL: 1970 Bedford Freighter VAM70
ENGINE: 466 cubic metre Bedford
POWER: 280hp
BRAKES: Air assisted hydraulic
TRANSMISSION: Syncro gearbox
CAPACITY: 44 plus driver
Subscribe to our newsletter
Sign up to receive the ABC e-newsletter, digital magazine and other offers we choose to share with you straight to your inbox
You can also follow our updates by liking us on Facebook.