VIDEO REVIEW: I-BUS SERIES 2 NQR 26-32
---
Isuzu is synonymous with trucks and a reputation built on strength, dependability and just being tough. The decision for I-Bus Australia to distribute and build buses using the same chassis and drivetrains was thus a very smart move, indeed. Here we test its latest Series 2 NQR 26-32.
With all that Australian roads and weather conditions can throw at our vehicles, I-Bus's advantage is its existing reputation of an industry stayer and success story when customers are looking for a tough bus or coach built to perform and last.
Just over a year ago we had our very first drive of an I-Bus 500 Series and we've been invited back to the
I-Bus headquarters at Burpengary, Queensland, for the release of a new model – the I-Bus Series 2 NQR 26-32 – which had just landed. We heard it was just as tough but smarter and cheaper all around, so it was time to check it out.
Built on the Isuzu NQR 87-190 cab chassis (8,700kg GVM 190hp [142kW]), the  I-Bus Series 2 NQR 26-32 will deliver a vehicle with new features and changes made based on customer feedback and the big picture of whole-of-life cost of ownership, the company states.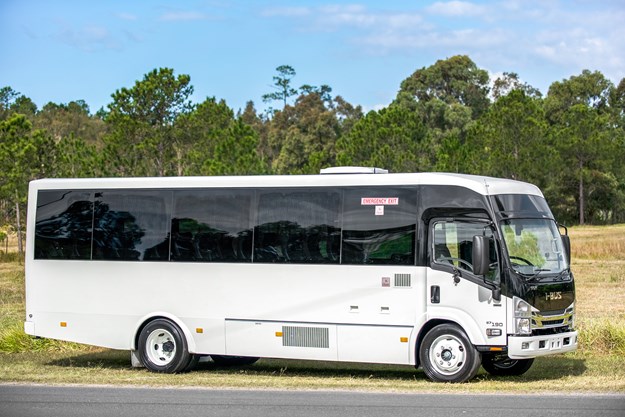 We asked sales consultant Craig Marshall what was behind the drive to develop a new model in such a short period of time.
"We made the decision as an organisation to bring out an improved, more user friendly vehicle. I-Bus had identified issues and features since we took over as distributors that we knew we could improve on," Marshall explained.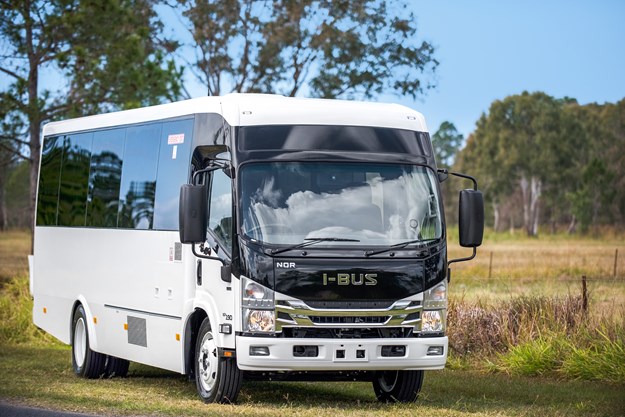 "We've gone, 'we can do this better' and also listening to customer feedback; when they say 'have you ever thought of doing this', so we did."
"So the owner of Brisbane Isuzu, the general manager of I-Bus Australia, and myself flew to Malaysia to get involved with the builders – even down to the profiling of the roof and the fact it's now got flared guards instead of a piece of rubber over the wheels.
"All of that sort of stuff is… Well, we're very excited in the way this product's come out because obviously we haven't seen it since we were over there and we're happy to have it arrive," he said.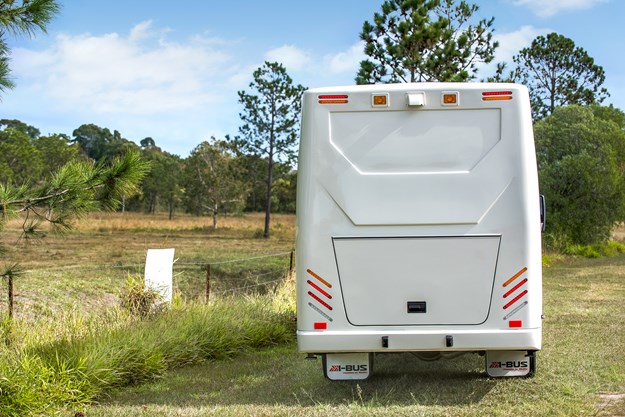 IMPRESSIVE ORDER TIME
The body work is done in Malaysia by Quality Bus and Coach. Marshall explains that I-Bus Australia continues to use their existing builder, but had worked hard to strengthen the relationship.
"What we've done is we're using the same people, but we've spent a lot of time building a much closer relationship with them than our previous distributors did," he said.
"We've told them this is what we want to see and the vehicle today is the result.
"They have even moved to larger premises to be able to meet our demands and get them out pretty quickly for us," he added.
The new larger premises for Quality Bus and Coach means I-Bus can offer a pretty impressive order time.
"We believe that from the day of order – if we haven't got one already on the floor – we're at somewhere between three and four months from go to whoa. So its two weeks in Australia, two weeks on a ship, four to six weeks over in Malaysia, two weeks back and then the Australian fit-out and pre-delivery done by Coach Works at Acadia Ridge to refine the spec to whatever the clients requires," Marshall stated.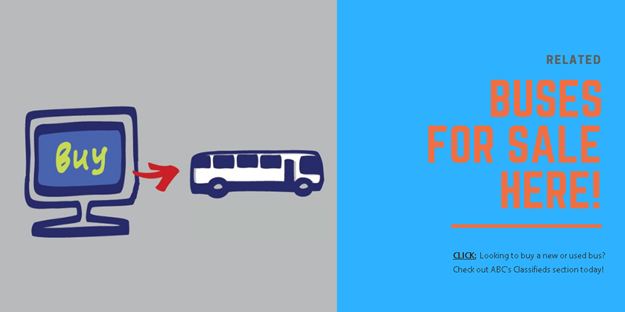 PARTS – CHEAP AS CHIPS
A rare but always welcomed feature of this new offering is a price reduction. When asked how this was achieved it seems that some smart moves by I-Bus means long-term benefits and savings for operators.
"Basically, we no longer widen the cabin and they will all have two front doors. By doing that we save quite a lot on labour costs," Marshall said.
"It also means that we can use more factory parts like windscreens.
So to buy a windscreen for one of these is around $300, a bus windscreen anywhere in Australia is normally way more than that.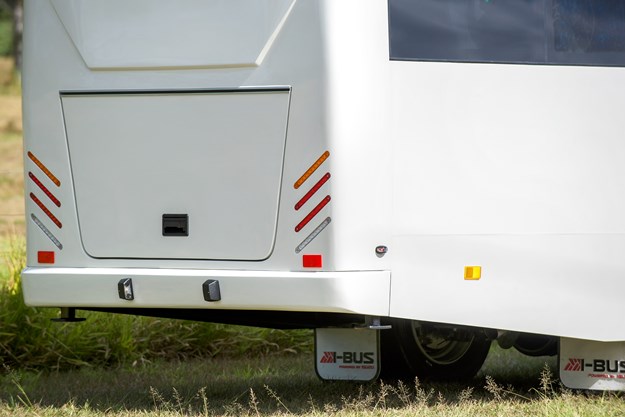 "Any of the 60 Isuzu dealers in Australia, or Windscreens O'Brien – or for that fact most windscreen suppliers – will have these windscreens in stock and can fit them."
So the price point has changed, but by just how much?
"We've brought them down somewhere in the region of about 7.5 – 8 per cent. Obviously, there's a retail price and the government price, but we have managed to get the pricing to come down and we've now got higher Australian content, which did raise some of our labour costs, which has offset the overall savings we made.
"But we've made them a lot more user friendly for mechanics, as well as the operators, and we've gone to more factory-standard parts, which we didn't have in the past," he explained.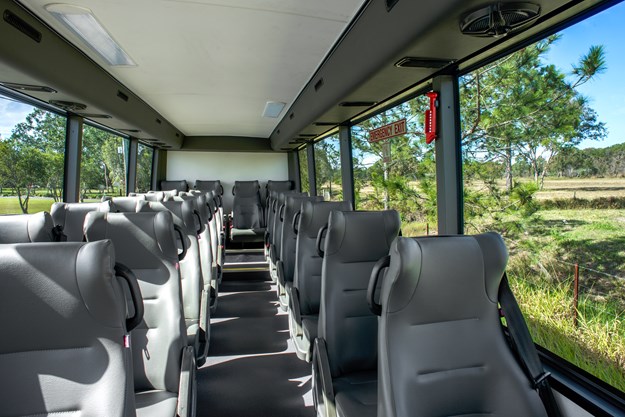 NEW LOOK
So is this new look and approach the future for I-Bus and will it flow on through the other models in the fleet?
"Well, we're going to clear all of our Series I stock and we are currently designing how the new ones will look. They will be a bigger version of what we've got here, right up to a 75-seater with a 2/3 configuration.
"They are all 260hp [194kW] with the biggest one 300hp [224kW]."
The Series 2 has a six-speed manual gearbox that has been automated, so there is no clutch pedal in the vehicle.
As Marshall explained of the benefits: "As far as driver error goes, you can't ride the clutch. You can't change into the wrong gear – if you're in sixth gear, you're doing 120km on the highway, which these cant because they are speed limited, but if you were in the truck version doing 120 and you tried to tap it into fifth gear – if it's outside of the allowable rev range for that gear – the gearbox goes beep, beep, beep and doesn't change. So you can't change into the wrong gear, you can't over-rev it and you can't ride the clutch."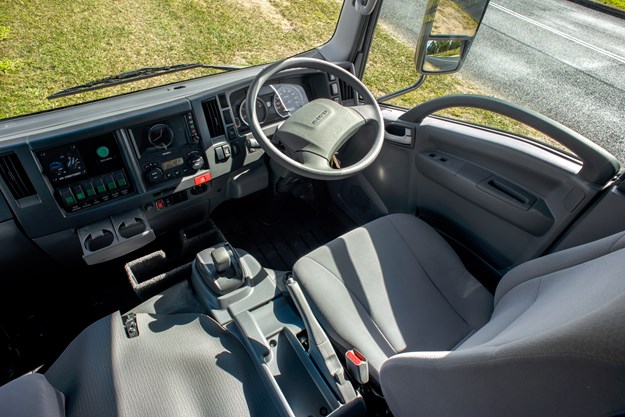 COME INSIDE
The interior trim levels, instead of having basic fibreglass air-conditioning vents, for example, are now all vinyl trimmed. So all of that reduces the noise, makes it actually look nicer and then in the front above the cabin there's an overhead panel designed to contain school bus lighting, or an LED destination light.    
This Series 2 could be used in lot of different applications, but we asked for whom this vehicle had been designed for as the target market: "This particular bus being 26 to possibly 32 seats will be designed directly [as a] two-wheel drive for schools, especially if we can get to 32 seats – then basically you're looking at a class of 25 or 26 a driver, teacher and a teacher's aide all in one vehicle," he said.
"At the moment a lot of other brands in the market of the smaller sizes can't get to those sorts of numbers because of the GVMs, which means that they're sending out a bus and maybe a minivan or two other vehicles.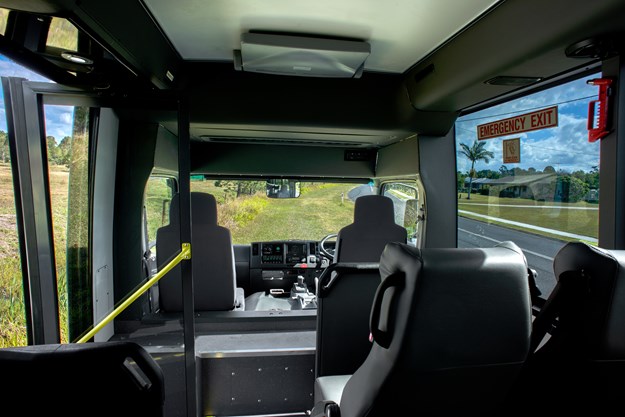 "The whole idea is that you can just all hop into one vehicle, the whole class is in there, off they go.
"We're just looking at continually improving the product. The TVs have been upgraded, so they now actually have HDMI compatibility. Instead of having a PA system that is operated off a driver stalk next to the driver's ear, we're going [with] wireless microphones – so that if you have just the driver using it, he can just put it on his ear and he's away.
"If you have a tour guide we actually have these designed now for a rearwards facing seat. All of the mining site vehicles have a rearward seat fitted for the trainer that has a HDMI plug next to the seat and a wireless microphone.
"So the trainer sits between the driver and the front passenger looking down the aisle, and that's something that can be put into any vehicle.
"What we like is that the whole quality level is just steps above what we had before because we've asked for it. We've specified this is what we want and we are so proud of the finished product," he explained.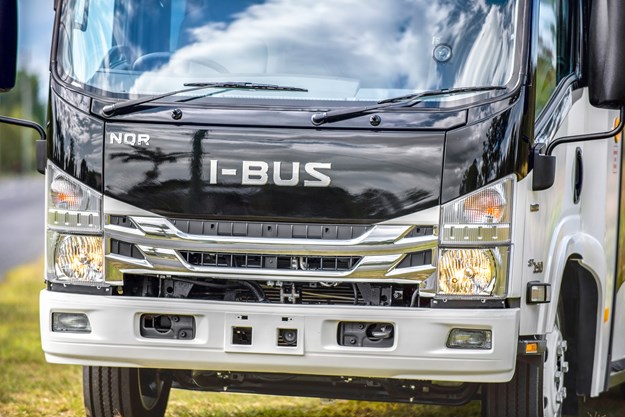 THE TEST DRIVE
Probably the smartest move by I-Bus with this model is the return to the original cab and chassis, eliminating any costly parts or delays with custom parts.
All parts are stock available at 60 dealers country-wide and the windscreen-replacement price and ease of availability from standard suppliers will mean reduced time off road and reduced costs to operators.
Going through a roundabout, the gear changes are really good. When a bit of an incline there were no issues with the automated manual transmission (AMT).
Through the gears, first and second gear are a bit louder, but once you get through the gears driving is very smooth and cabin noise reduces significantly.
We did both freeway and country roads, plus did a series of bends, and it sits really flat when cornering. Power and torque performed well under all conditions.
This bus has the potential for 32 passengers, but it doesn't feel big to drive. Driving is easy; you might expect with being a truck chassis and drive-train that driving and handling might be more truck than bus-like, but this is good driving, seemingly no effort required.
The Isuzu mirrors give great vision top to bottom of the bus. The internal mirror is larger than the previous model, for much improved internal vision.
The blind spot mirrors work well. Coming into a corner, we had to veer to the left and the last three cars were easily visible. They huge mirrors are as standard, so no complaints there.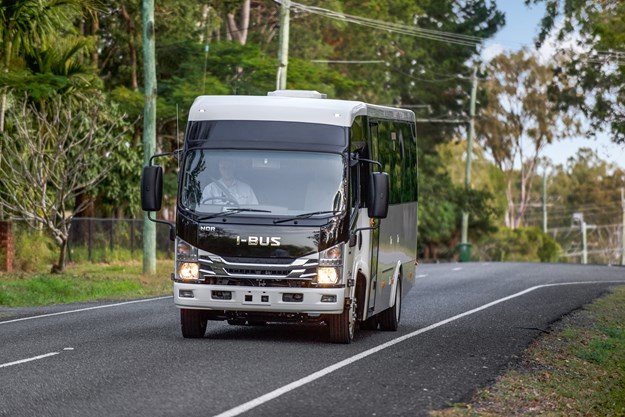 TACTILE TREASURE
A welcome update internally that will make for a more comfortable passenger experience and more luxurious look is the upgrade from plastic and fiberglass internal fittings to soft-touch vinyls.
The vinyls used are also meant to add to the noise reduction internally; again a positive change. It's the collective improvements and upgrades that add up to a big difference in finish and refinement.
What's really impressive is the sound quality of this new bus – not that the Series 1 was loud, but this new model is definitely quieter – a big bonus for driver and passengers.
The elimination of the cab widening process has meant that all the sound deadening is intact and the upgrades to the interior in combination give a much quieter drive.
Another big change on the new model is that it no longer has an outward-opening air-operated door. It's now an in-swinging electric door, which should cause far fewer problems because it reduces all the possibilities of failure with air leaks and compressor issues, I-Bus says. We're assuming the outward door also had limitations with space and hitting obstacles or the gutter, so this streamlined system is much safer.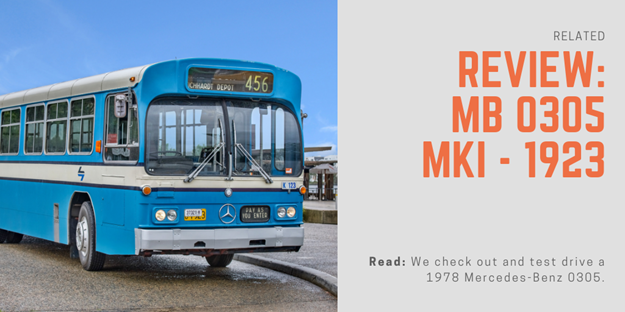 Another likeable feature are the changes made to the ease of daily checks; they've now got one panel on the driver's side and you've got your coolant and fuel filters right next to the air cleaner – daily checks all in one spot. The air-con and diesel tank are also in this area, so it couldn't be simpler.
As for the engine hatch, now you just have to pop two clips for access to the engine and oil dipstick whereas before you had to undo screws – a huge improvement.
The rear luggage compartment door has also had an upgrade to a new hinged system for a weathertight seal, said to eliminate pinching of the seals and ensure no dust or water can enter. It just feels stronger to open and close.
The new model has dual doors; we like the driver's side entry door, which makes for easy entry and exit. It will also assist all age groups of drivers as you no longer have to climb over the engine compartment to enter the driver's cabin area. This also would be of benefit as a safety bonus in times of emergency for ease of exit. Nice one!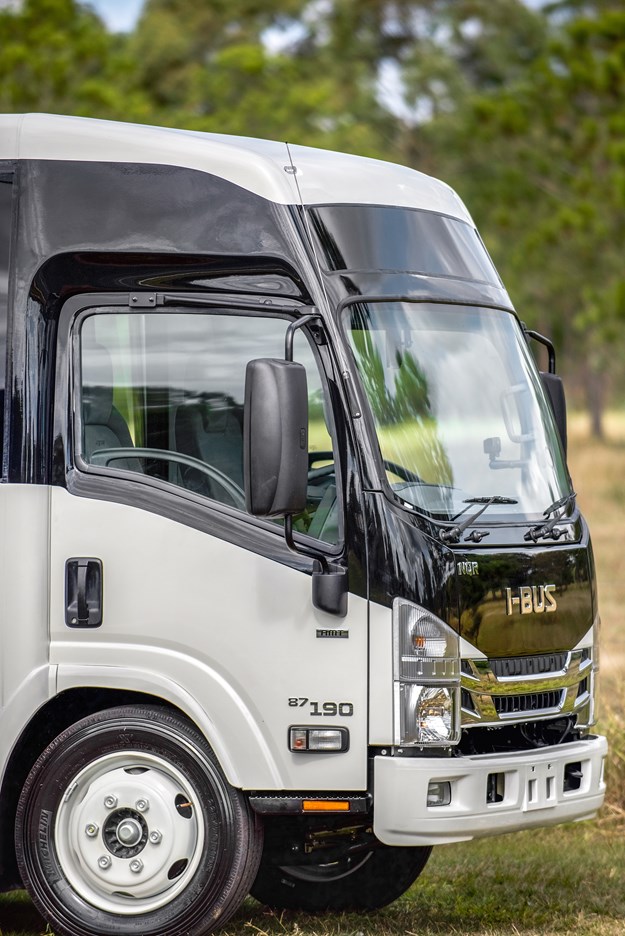 LITTLE THINGS, BIG DIFFERENCES
Some of the high-fives about this new I-Bus are not about the drive so much, but the thought process that has gone into its redevelopment. Small things have been looked at, changed, upgraded and tweaked to give a finished product that – although effectively in a lot of ways is so similar to its predecessor – in many others is so much more.
Marshall had proudly stated earlier that one in every four trucks on the road is Isuzu and last year the company celebrated 30 years of outselling every other truck in Australia. So, with those bragging rights for Isuzu trucks, it's easy to see the logic behind I-Bus using the chassis.
"They are not the cheapest truck on the market, which means that the buses aren't going to be the cheapest vehicle on the market. But at the end of the life of a vehicle, when you take into account your servicing costs, your trading costs, etc., generally they work out cheaper than anything else.
"And that's one of the reasons [why] you'll pay a little more to buy one today, but in five years' time or seven years' time, when you go to update it you'll actually make your money back," he explained.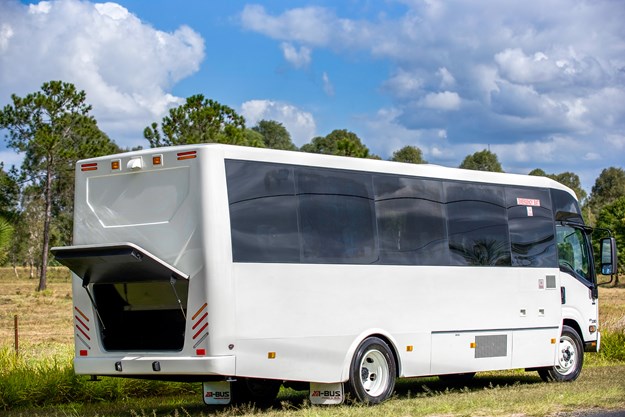 A LOOK AROUND
One part of ABC magazine's visit that we didn't get to do before at I-Bus headquarters was a walk through the impressive engineering workshop.
Here I-Bus extends the chassis and preps it for transportation before they go to Malaysia ready for the body to be dropped straight on top. While walking around we got to see a chassis cut and extended; 90 per cent of the chassis work is done pre-arrival at the body builder. It's certainly a pretty impressive operation.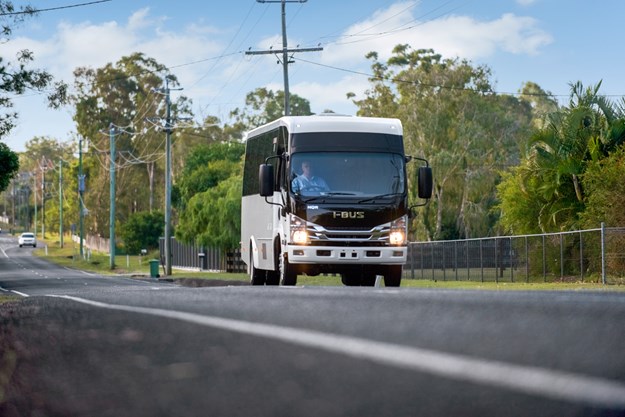 Specs
MAKE: I-BUS
MODEL: Isuzu Series 2 NQR 26-32
ENGINE: Common-rail fuel injected Isuzu 4HK1-TCC SOHC 16-valve, four-cylinder Euro 5 diesel, air-to-air intercooled and electronically controlled variable-nozzle turbocharger; Power – (DIN) 140kW@2,600rpm, Torque – (DIN) 513Nm@1,600rpm–2,600rpm
TRANSMISSION: Isuzu MZZ-6F six-speed manual gearbox automated
SUSPENSION: Front single-stage alloy steel taper leaf springs, rear multi-leaf main spring, multi-leaf helper spring, rear suspension has 'helper' airbags; double-acting hydraulic shock absorbers and stabiliser bars all arounds
WHEELS/TYRES: Steel six-stud 19.5x6-inch wheels, 225/70R Michelin XZE Tubeless
BRAKES: Auto-adjusting front (363mm) and rear (348mm) disc brakes with dual-circuit hydraulic control, integrated boost assist and EBD; ABS, ASR traction control
BODY: Quality Bus and Coach (Malaysia), contoured adjustable driver's bucket seat with suspension, single front passenger seat
OPTIONS: Digital AV unit, Isuzu SatNav, tyre-pressure monitoring, airbag-compatible bulbar, HDMI-compatible TVs
Subscribe to our newsletter
Sign up to receive the ABC e-newsletter, digital magazine and other offers we choose to share with you straight to your inbox
You can also follow our updates by liking us on Facebook.