VIDEO REVIEW: BUSTECH VST – MAN A95
---
Wearing the hats of both operator and bus builder in the early days means Bustech has the knowledge and insight to know exactly what operators need. Skybus is one of those that Bustech has built a long-lasting relationship with – most recently supplying six 13.5m VST transit buses on an MAN A95 chassis.
It's the story of a home-grown hero going international, and the Bustech VST 13.5m transit bus on a MAN A95 chassis is well and truly in the spotlight.
Bustech has the bragging rights to the claim of being Australia's largest privately owned bus manufacturer, 100 per cent Australian owned and operated. In an era where we see an ever increasing international presence in our industry, it's pretty exciting to acknowledge the success of a home-grown family business that initially grew from the owners' frustration with products available on the market in the mid-90s through its transition to become a bus builder.
Over the years the obvious success of the building side of the business has meant not only an Australia-wide presence for Bustech-built buses, but success in the overseas market as well. Today's test drive vehicle – the 13.5m VST – is one of six heading off to New Zealand.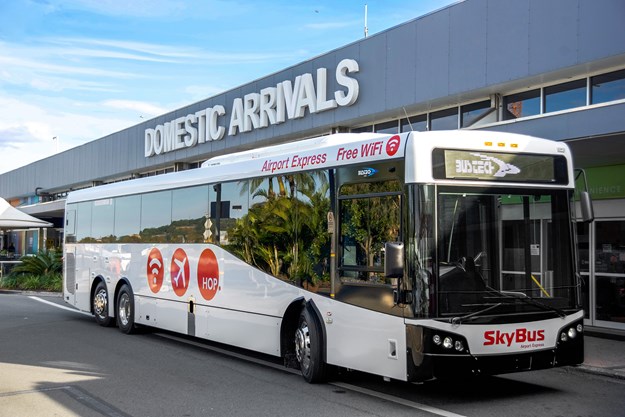 GROUND-UP BUILD
When ABC magazine asked Anthony Roder, CEO of Bustech, what sets the company apart from its competitors, he replied: "We pride ourselves on being able to customise the bus to the customer's wishes, so that's one major factor of our success, but also really importantly we build out of stainless steel. It gives us advantages and the strength allows us to have differences like roll-over compliance. It does come at a cost, but it gives us and the customer added benefits as well."
"Stepping from that to the integrated frame, that sets us apart again," he continued.
"We're the only ones doing that at volume. So we build from the ground up rather than building on a chassis like the majority of other builders do. So they're probably the three main things that set us apart: the benefits of customisation, the stainless steel frames and the ground-up build process."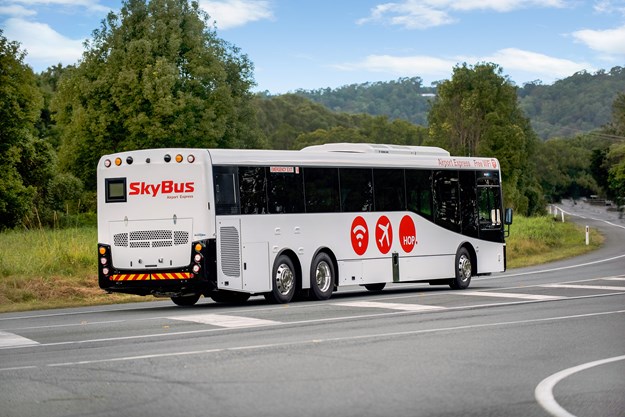 The VST 13.5m is longer than what Bustech would usually build, Roder explained.
"It's a low-floor bus with an MAN A95 chassis. We've got a long relationship with Skybus, particularly with the deckers going down to Melbourne. We've built all those vehicles for them, so we've developed the relationship over time. We've also done a number of these buses for New Zealand in the past as well," he continued.
"Skybus came to us and said, 'Are you willing to build on the MAN chassis again?' We said 'Sure, why not?' Especially when we've got a repeat order. There are six in this order; it gives us some ability to put some engineering to it up front without costing us time and money.
"There are certain things we need to do different for New Zealand – unique New Zealand standards and compliance items that are different to domestic state guidelines and Australian design rules. They've got a different level of engineering certification in New Zealand as well."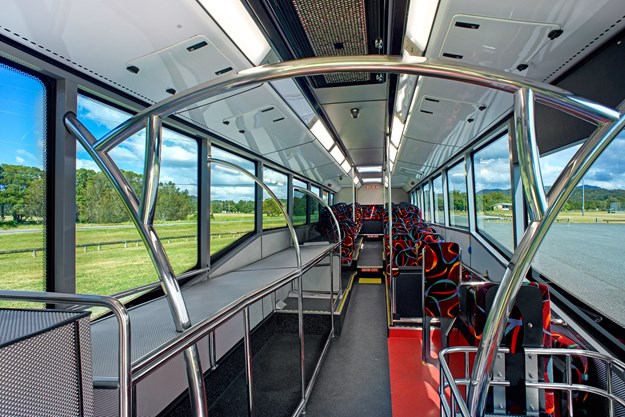 As the VSTs are being built for use as airport shuttles, ABC magazine queried the sort of distances these ones will be doing.
"I don't know off hand how long the exact routes in New Zealand will be, but it will be similar to the ones we built for the Melbourne Airport," Roder said.
"There's also the ones at the Gold Coast that go down to Byron and ones that take tourists to the theme parks as well. So they definitely do a lot of runs as well as stop/start. The double-deckers in Melbourne do a huge amount of kilometres; we've sold them around 20 so far, so lots of buses doing lots of kilometres."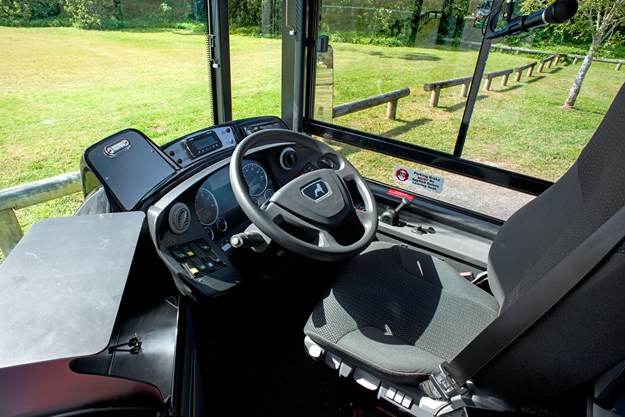 KEEP 'EM COMING BACK
What's key for companies that make large purchases is the positive relationship they have with the company they're buying from. These relationships are integral to the trust needed to make these large purchases. To be getting repeat large orders therefore, the Bustech-Skybus relationship must be solid and that comes down to the people in the equation, just as much as the product.
"Skybus is critical for us because we've got a long-standing supplier relationship with the deckers; we've done some development work with them on these airport-style transport," Roder explained.
"So, we'd like to think we are partners in that sense. Beyond that, the Skybus mother company has just bought Transit Australia Group, so they now will be operating the local fleet here, which we obviously have a strong relationship with. We've got a good relationship existing now and we're hoping that continues and grows."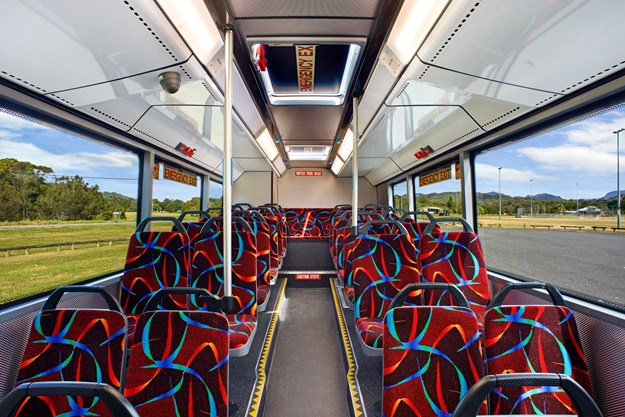 Regarding the specs and internal options Skybus wants for the current order, Roder said, laughing: "The same as last time. We have a detailed specifications sheet that clarifies major options, like AC and seating, down to minor preferences like switch placement.
"We go through the specifications with our customer way back when they order it, five to six months ago for this one. There's a few differences on there though to our standard specs like, for example, Gilbert doors, which we don't fit on any other vehicle other than these going to New Zealand. Gilbert are a New Zealand company and requested by the customer for ease of any future servicing."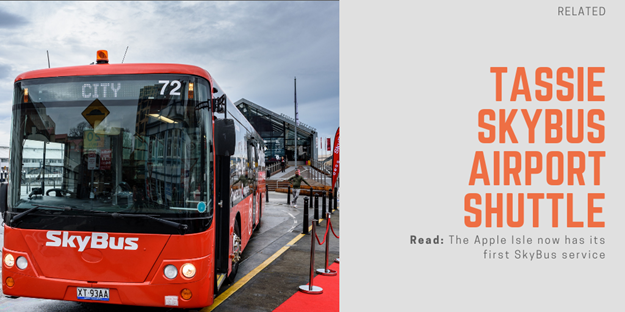 CAN'T GET MORE LOCAL
A question ABC always asks bus builders is what Australian components they have used in the build and Roder was happy to explain.
"The majority of the bus is Australian. All the steel comes locally, the fibreglass, the seating usually comes from just up the road, but this one doesn't as the seating in this one is a Skybus request," he said.
"What is usually supplied by us is local - and by that firstly I mean Australian - but of the Australian suppliers most are Queensland based, so you can't get more locally produced than that!
"For example, most of the buses that we build have Styleride seats in them. The glass kits come from Melbourne. The fibreglass – which is all of the exterior and roofing etc. on the bus – comes from the Sunshine Coast. The flooring before we put the vinyl down is from a local guy around the corner and we use local painters."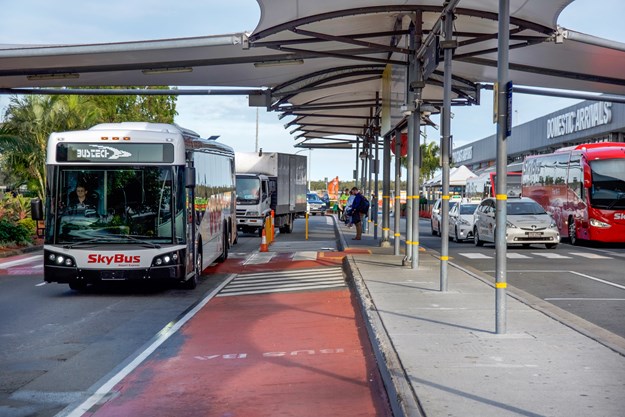 So a Bustech bus is a true local bus! It's great to see local Australian suppliers used so heavily in these buses – making them a true local product that keeps businesses in business and gives a different level of pride when a company can say those statements about their product and the bigger impact this choice makes on their local communities.
With these six new VSTs heading overseas to New Zealand, ABC was keen to know how the after-sales parts and servicing would work.
"We don't stock everything over there, but again working so closely with Skybus we do have the most common items that need replacing, like the front corners and rear corners and mirrors," Roder said.
"Some of those sort of things have to be available either in their workshops or in a central repository over there, so the basics are held as stock on hand.
"We obviously hold stock here for all parts Australia-wide, so there's no difference to putting a part in a box and sending it over the water instead of on a truck down the road. So within reason, the main spares and parts that commonly get damaged and replaced more often from unavoidable road incidents, those parts will be there – everything else is just a phone call away!"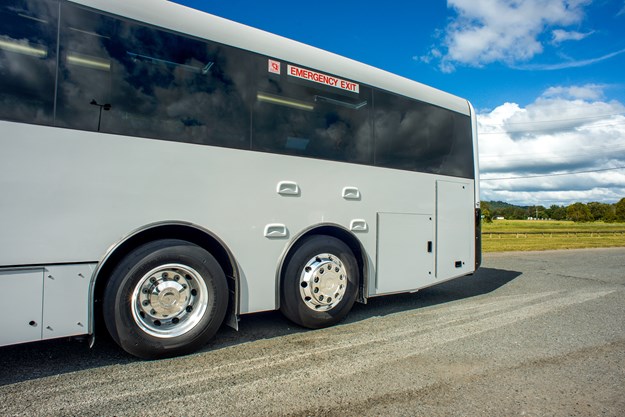 PROUD OF THE BLING
So what special features are on this bus that are out-of-the-box or particularly stand out for Bustech?
"The racking is probably front and centre; it's customised and we are pretty proud of it," said Roder.
The stainless steel is certainly a bit of bling you notice as soon as you hop on board; they're definitely not your average luggage racks.
"All our buses are roll-over compliant; in Australia the majority of buses don't have to be by law," Roder explained.
"We like to think we are a little bit more advanced than that and provide buses that are right for the function.
"Again, for Bustech it's the difference. It's effectively a double-deck chassis that they built over in Europe that have really heavy weight on them. Obviously, MAN in this case has chosen to go with this chassis to give them the length and the axle spread as well. It's an example of what we can do. Prior to this one, we had a short 10.5m hybrid chassis going through and we put a 13.5m one behind that and then a double-decker behind that. I'm not saying it's easy, but this is an example of what we can manage through the business; it is pretty amazing!"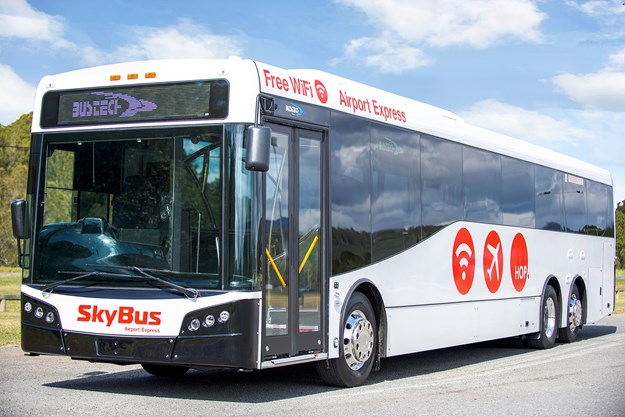 IMPRESSIVE BUILD TIME
Build times vary dramatically from company to company and they are often dependant on the level of customisation required, but a speedy build time can also be a big plus when purchasing.
Bustech's build time is short in comparison to a lot of builders, so a positive for operators with time restraints Roder explains.
"We build in around the 50 to 60 working days' mark. This one's probably closer to 60 days, so call it 10 to 12 weeks. Again, it depends on the complexity of what we're doing and how much we build in house versus not. Generally speaking with repeat orders, we'll get down to around the 45-day mark."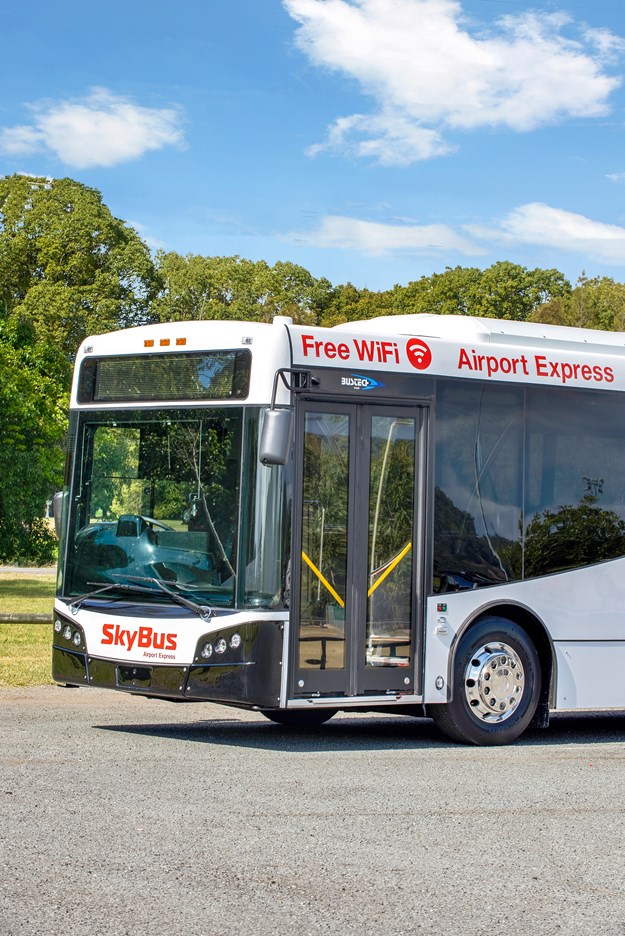 THE DRIVE
Today's drive was through the urban areas of Burleigh Heads on the beautiful Gold Coast, but no scenic vistas unfortunately as the route heads out through the suburbs to the airport to take the VST where it belongs.
Sitting in the driver's cabin of the VST you easily feel at home, like it's a bus you've been driving for ages. All the controls are really easy to navigate, reach and operate.
Roder had told ABC that Bustech had put a lot of effort into the driver's compartment and this is clear; everything was very comfortable with the Isri driver's seat high quality and supportive. The high-set reversing camera allows for perfect visibility along both the sides and internals of the bus, which is very important when dealing with tourists and luggage. A bonus for the tourists is the free Wi-Fi; we all know that as soon as you get off a plane everyone needs to use their mobiles.
The A95 ND 323 F chassis is traditionally used as a double-decker build, so the power-to-weight ratio in this low-floor bus means there's certainly a lot of power available. This presumably would be a big benefit for fuel efficiency, with more than ample power there.
The power steering isn't too light and the turning circle is superb. ABC did a fair few runs around a roundabout and this chassis has a perfect turning circle for a vehicle of this length, no complaints at all. The rebound for the suspension was firm but at the same time still comfortable – there is clearly the capacity there to carry a lot of weight and maintain stability when fully loaded. The MAN also has a great retarder system so you hardly ever need to hit the brake pedal. The bus rides very nice and flat under braking, with no dipping.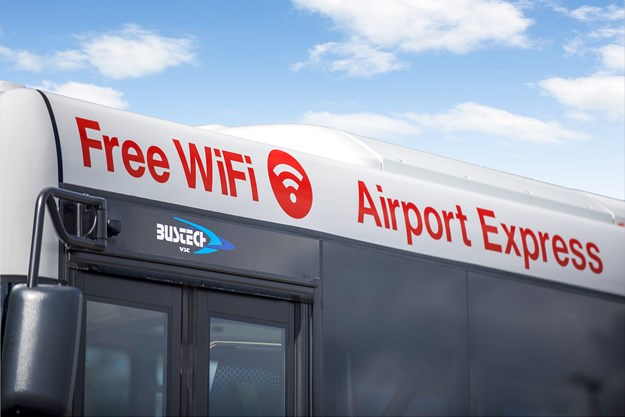 External features that show thought has gone into more than just looks or mechanicals is always appreciated. Behind one door on the side of the bus is an easy to get to charging station with a jump start pack; just open the hatch and no more flat batteries. It's on the passenger entry side as well, so a good safety feature as it is away from the traffic.
Access to the engine is from the side doors, again on the passenger entry side, so it makes it both safe and easy to get into the engine compartment. It's these small features that make the job of everyone that drives, works on and maintains the buses just that bit easier, which in turn saves time and saves money. The openings are really quite generous and obviously don't compromise build strength.
The opposite side of the bus has access to the radiators via large door that will be appreciated by taller mechanics.
On this build the operator stipulated [Skybus wanted] the A95 MAN chassis, but everything else in the build frame is stainless steel, with fibreglass sheeting running along the central externals. It pretty impressive – just one long sheet that runs the whole length of the bus, which gives a smooth, seamless look unlike the side rippling you can get with individual metal sheeting.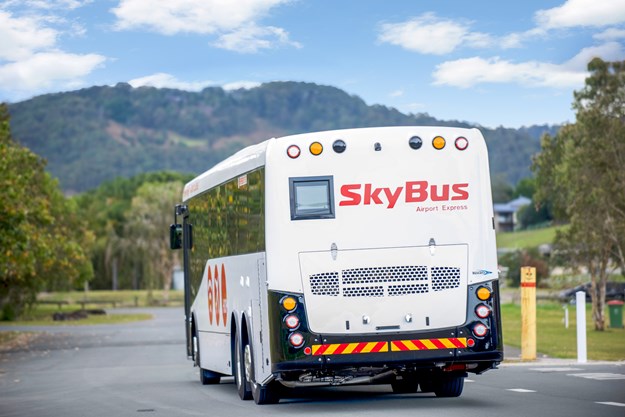 The lower panels externally are simple screw-off alloy panels, so those bits that will get damaged the easiest are quickly replaceable. All the service doors have stainless piano hinges that are super strong.
Lifting the rear service door to the heart of the bus, it's easy to be impressed by the 320hp (239kW) MAN engine with 1,600Nm. Again, this is easy to access; all the belts are there and the rear bumper can be removed if you need to get in for even more access. All the fluids are there too for daily checks; it couldn't be simpler.
A walk around the Bustech manufacturing plant was certainly a noisy but pretty amazing experience. Seeing all that it does first hand with computerised programs right here in Australia was surprising. When we live in a decade that has seen the loss of some of the biggest and long-running car manufacturers in our country it's both unexpected and really important to see what companies like Bustech are doing for the home grown bus manufacturing industry.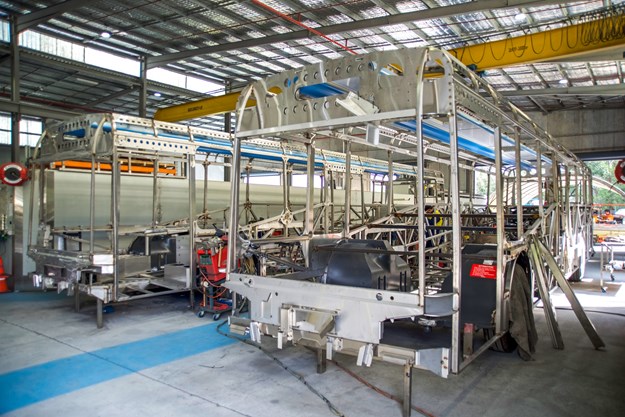 Specs
MAKE: Bustech VST 13.5m body
MODEL: MAN A95 ND 323 F chassis
ENGINE: MAN D20 horizontal inline turbocharged six-cylinder, exhaust gas recirculation; Power - 235kW (320hp)@1,900rpm [optional] 265kW (360hp), Torque - 1,600Nm@1,000–1,400rpm
FUEL: 100L temporary fuel tank, separate preliminary fuel filter and water separator
COOLING: Electronically controlled hydrostatic fan drive, right rear cooling package with hinged charge air cooler for ease of maintenance access
TRANSMISSION: ZF Ecolife six-speed 6AP 2000B automatic
CHASSIS DESIGN: Super low floor
DIMENSIONS: Front overhang - 2,310mm, rear overhang - 2,668mm + 1,500mm; Wheelbase - 5,220mm standard
AXLES: Front - cast tubular rigid, Drive - portal type Ratio 5.74:1, Tag - rigid non-steered
BRAKES: Disc brakes on all wheels; electronic brakes system; electronic stability program
WHEELS/TYRES: Alloy 8.25x22.5-inch standard/ 275/70 R22.5
SUSPENSION: Electronically controlled air suspension
Subscribe to our newsletter
Sign up to receive the ABC e-newsletter, digital magazine and other offers we choose to share with you straight to your inbox
You can also follow our updates by liking us on Facebook.