VIDEO REVIEW: SCANIA TOURING
---
The Scania Touring has hit Australia providing a versatile choice for operators and a range of Australian-designed options that make it ideally suited to this country's varied needs. ABC magazine takes an exclusive first local test.
We all know that Australia has some of the most varied and harsh driving conditions worldwide, and it's a common theme that's always brought up when we talk to importers. When the global market meets our market it's always reassuring to know that our conditions have been considered. It's a good sign the vehicle's longevity, safety and comfort will meet our needs and they will be well received.
The Scania Touring is advertised as an affordable, quality vehicle suitable for different applications from daily school runs to charter operations, but also suitable for longer trips as well due to its impressive nine cubic metres of underfloor luggage space, so it seems like the Touring is a versatile, all 'round choice.
So how has Australia reacted to this new model since its release?
Scania national sales manager Jamie Atkinson said: "Very, very well. At the moment we are working day and night trying to get them out there. So, we've got the orders, we are actually just trying to increase production to keep up with demand.
"This Scania Touring is a Euro 6, K 360, SCR [selective catalytic reduction] only. We are still the only manufacturer that can achieve Euro 6 just by using AdBlue, so there is no EGR [exhaust gas recirculation]," continued Atkinson.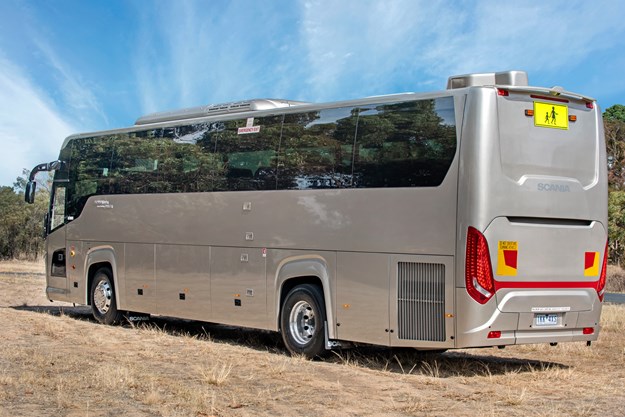 AUSSIE ADAPTATIONS
Its brochure states that the Scania Touring is designed for the global market and refined for Australia. So what modifications have been made specifically for the Australian market?
"We are bringing the vehicles in with no seats, so we use Australian suppliers. The vehicles are then equipped with local destination signs, obviously school bus signs, with school bus lights, which is compliant to the different state regulations," he replied.
"When it comes to specific design changes for Australia, this is a global product and the Scania-Higer production line is overseen by the engineers from Sweden, but we have had feedback about the A30 product that has resulted in some specification changes specifically to suit the longevity of vehicle requirements in Australia.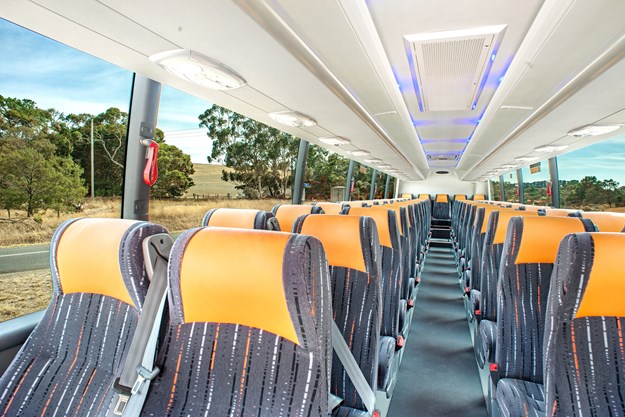 "An example of this would be the addition of aluminium floors in the luggage bins. Overseas, timber floors are often used and this is suitable for their vehicles' lives as they are only kept for 12 years, but it is common in Australia for government contracts to run from 18 up to 25 years," he continued.
Designed for global markets, refined for Australian conditions – Scania market demand also drives the 'Australian options' available. The drive vehicle today has a windscreen stone protector and that is another option designed in Australia purely to meet Australian needs.
It's good to know there are options available to suit our varied conditions.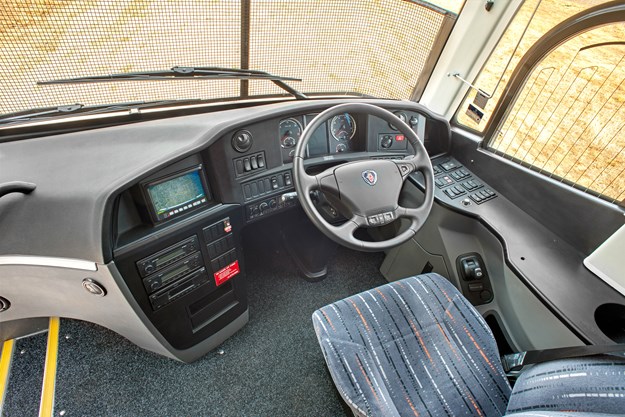 AFTERSALES SIMPLIFIED
Time off the road means costly dollars for operators, so how does Scania meet the all-important aftersales service, as it claims to have a rapid order-to-delivery parts system in place?
Atkinson replied, "Well, everybody is looking to reduce their cents per kilometre and we have focused on a day-to-day basis. Before we brought the vehicles into the country, we had to get the parts right and we've had to get the trading right with our aftersales team.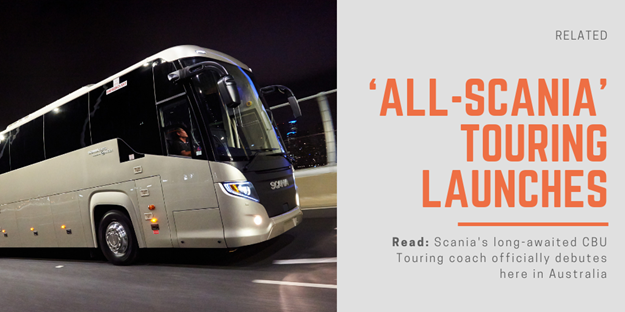 "Essentially, with all of our vehicles, the bodies are the same and that's going to help because it's a complete Scania product, so every part on that vehicle has got a part number – the air conditioner, the bin doors, the mirrors….
"We are moving away from a 'that's a body issue', 'that's an air conditioner issue', or there is 'an OEM issue'. This is a very different offering to the customers; it's a one-stop shop, which means we offer a one-point contact for all customer needs and makes every vehicle a completely supported Scania vehicle," Atkinson explained.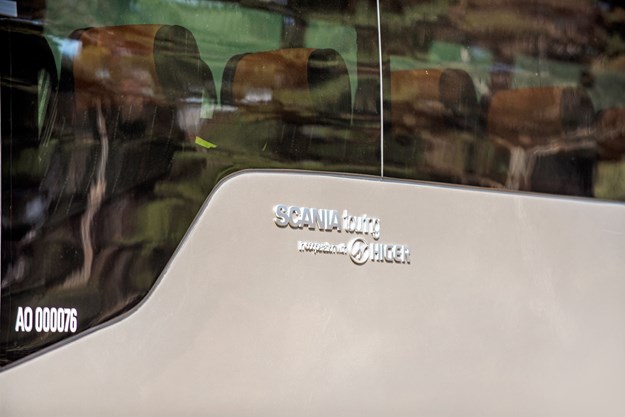 HOW LONG?
With its apparent great response from the Australian market, what is the ordering time?
Alexander Corne, manager public relations for Scania Australia said: "The popularity of the product in Australia is better than we had expected, and the demand is certainly better than we expected. All the other countries and markets that have released the Touring have experienced a very strong and enduring demand for the Touring," he explained.
"We have been able to increase our allocation of production slots from the factory, and so we will have a good supply of stock arriving before the end of the year in both ZF auto and 8-speed Scania Opticruise transmission options.
"This is one of the benefits of mass production, the factory can increase production to meet demand," he explained.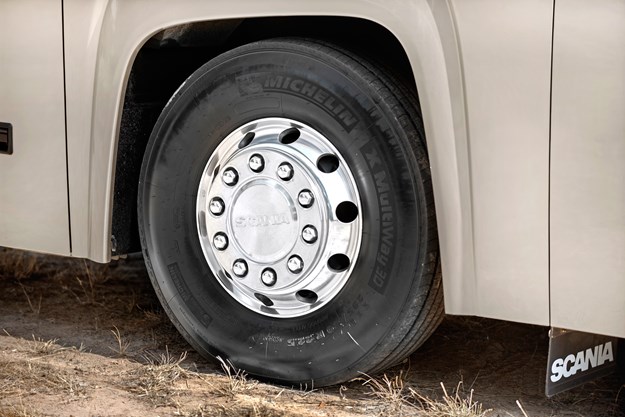 DRIVER COMFORT 
Scania says the driver's seat in the Touring is the best seat in the house. Big claims, so how is this achieved?
Atkinson said: "It's the ergonomics and you will notice this immediately when you have a drive. The traditional way of building a vehicle is the body can be exactly the same, it doesn't matter what chassis it is built on.
"And obviously, there are differences in all different chassis, but you will see today the ergonomics of that dashboard. You will see that as a driver, it's a complete Scania dashboard. It's designed specifically for that chassis, so your view of all your instruments, your ease of getting to the air conditioner, it is all set out to make it easy for the driver; your infotainment system, and the PA is all right at your fingertips."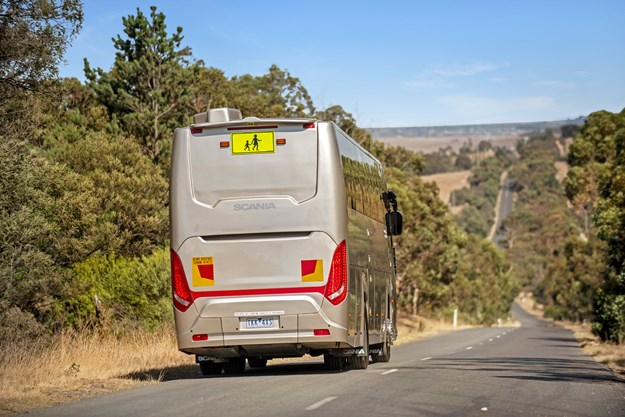 COMFORT FOR ALL
Another advertised feature of the Touring is the low noise levels achieved. For both driver and passengers alike, noise reduction  is essential for a comfortable ride. The reduction is meant to be a combination of the efficient aerodynamic exterior and good drivetrain isolation.
Corne helped explain how Scania achieves these reductions…
"Some of the benefits of the integrated approach for the business being 100 per cent pure Scania is that we have the ability to talk to all systems to achieve the best results.
"The drivetrain has different areas working together to ensure that the NVH [noise vibration and harshness] characteristics are as good as they possibly can be, and we have the ability for the engine engineers to talk to the body engineers and say 'this is the vehicle rev range, this is how the engine is going to run, what do you need to do to encapsulate the engine compartment to make it quiet?' I think when we had our very first drive that was the first thing that really stood out."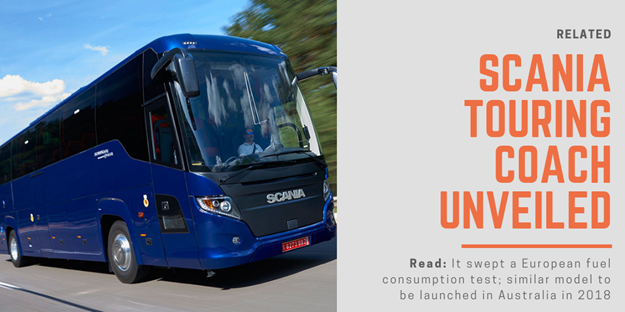 Atkinson added: "We keep talking about lifting the comfort for the passengers, and it comes down to 'if you are going to do it, you might as well do it right' – and that's not only a demand for the Australian market, you've got to remember that it is also a market demand from Europe. At the launch of the Touring last year we had to shuttle our guests from and back to Cairns. The immediate feedback – and it was all bus operators and their wives and partners – was how quiet the coach was."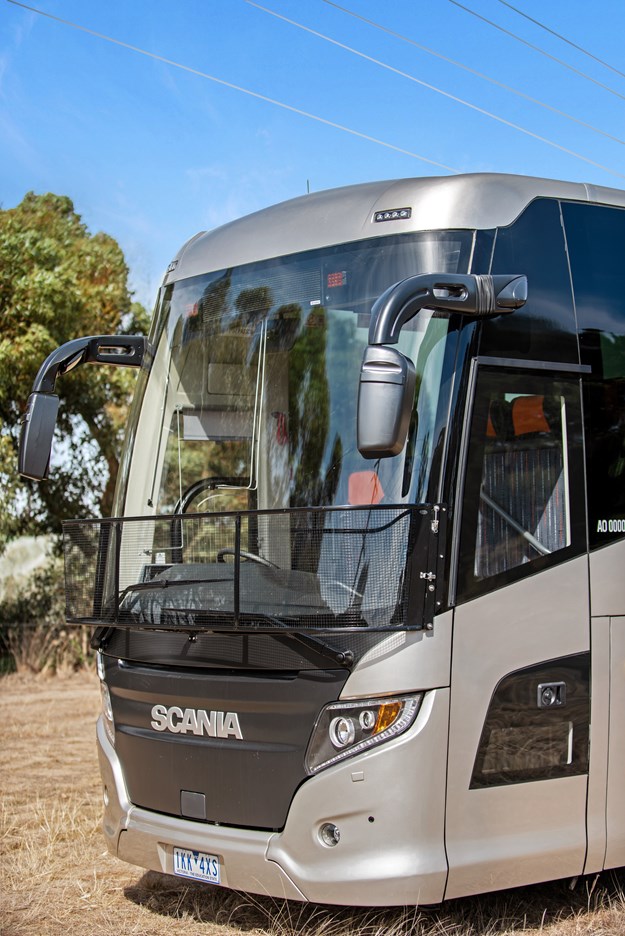 DRIVER SUPPORT
Sometimes driving tools could be interpreted as a way for operators to monitor (spy on) their drivers, but the response has been positive from feedback on the Scania Driver Support system.
The system offers a combination of driving tips and awards drivers a star rating for their smoothness, anticipation and safety.
"An example of how the Driver Support works would be if you are approaching a crest on a hill the driver support tool will show a message like, 'well done for lifting off', or if you don't lift off it would say maybe next time 'lift off before cresting the hill', so it is offering praise or tips to help you manage your efficiency," Corne explained.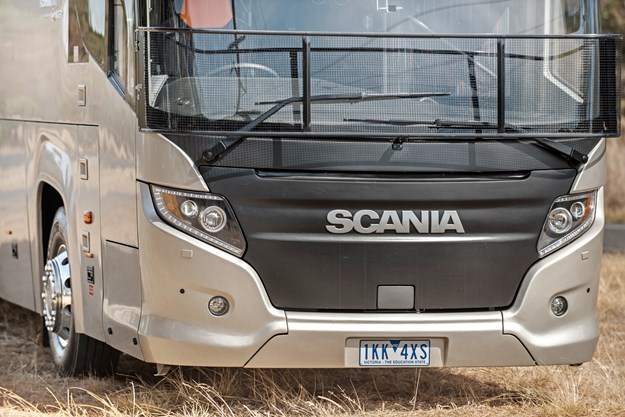 Yet it's not just data collection. It has the tips that help drivers correct or improve areas of their driving and help them improve bad driving habits and become more efficient drivers.
Corne continued, "Essentially at the end of your shift – because it's got the Scania telematics system – that data is collected and gathered of how you have done on your drive. Your operations team, or your management team, get accurate information on your driving habits. With your drivers, as long as they are willing to follow the tips you will start to see running cost come down because they have an on-board driver trainer."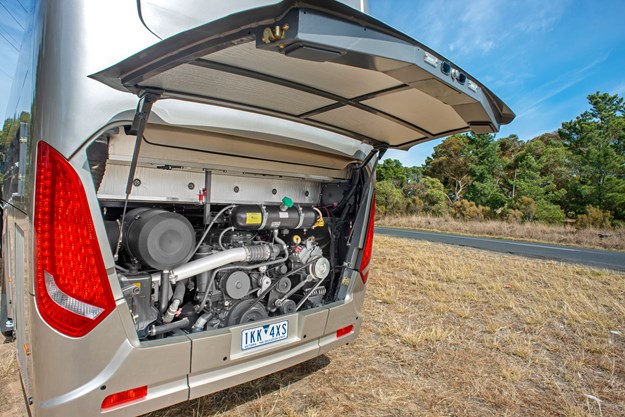 THE TEST DRIVE
For today's drive we set off from Scania's headquarters at Campbellfield, Victoria. Just a short drive to the Hume Freeway, it was probably a good time of day as we avoided the peak-hour rush. We did about an half hour stint on the Freeway then left to give the Touring a bit of a country drive.
This model is a nine-litre, five-cylinder Euro 6 with 360hp (268kW) and 1,700Nm matched with an eight-speed Scania Opticruise automated transmission.
Upon first starting the drive, it's fair to think this is a pretty imposing-looking vehicle and wonder how well the specs and drivetrain might suit, but as soon as you jump behind the wheel it's immediately evident that it's a perfect match.
In testing we got to experience city driving, freeway driving and country roads and we could not fault how it both drove and handled.
The driver's cabin has some features you would really appreciate: it has a leather-bound steering wheel and heated seat. Straight away when stepping into the Touring you can see the dash is very car like, streamlined, and easy to navigate.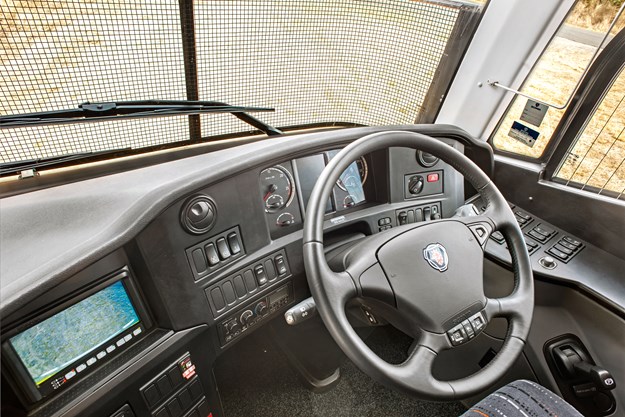 As standard comes a favourite driver's cabin feature: discreetly hidden in the dash is a small fridge. On extended trips or in hot conditions it can be hard as a driver because you often don't get the luxury of leaving the coach to buy your meals and drinks, so this feature means cold water on a hot day is always on hand.
Vision for the driver is great. The mirrors work perfectly, but what's really great are the blind-spot mirrors incorporated into the arms. Mirrors might not seem like a major safety feature, but any driver will tell you, the greater your ability to see objects and people near your vehicle, the easier your job is and the likelihood of any impact or accident is significantly reduced.
The rear-view camera gives great vision and field of view, as you can actually even see what's beside you. The colours and picture quality is perfect. There is also a camera for the luggage area. One click of a button and you get a surprisingly clear picture inside the compartment. There is a chequerplate floor in the cabin, so all's very easy to see.
The windscreen is a huge piece of wrap-around glass. There are quite large pillars at the sides, but there is no negative impact on vision because of the large glass areas and great mirror coverage.
Internally, one feature adding another level of safety are the yellow strip highlights on the grab handles and safety rail. The window tint is quite dark on entry so the yellow against the grey really stands out and would make it safer for older passengers.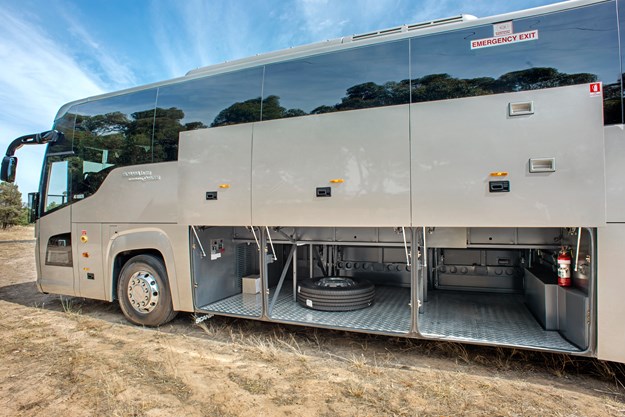 SAFETY FIRST
Freeway driving always give you a bit of time to test out how some of the safety features work. The Touring has anti-lock braking system, electronic braking system, electronic stability control, traction control and hill start aid.
Adaptive cruise control is another great feature with the Opticruise transmission. The driver sets the reaction distance between themselves and the vehicle in front which, of course, would depend on your driving situation. It takes the unexpected out of the equation, so as a driver it gives you peace of mind – even more so for the operators and it certainly gives an additional layer of safety to your passengers.
When you first experience how it works it's quite amazing how the actions of the driver in front are reacted to without the driver doing a thing.
Sometimes no matter how diligent we are it can be the actions of others that we can't control. When you experience how it kicks in as a safety feature you realise all buses should have the capacity for this feature. It comes standard in the Touring, so well done Scania.
SEAT OF THE PANTS
The seats are the only major add-on operators need to make with the Scania Touring. In this test vehicle are McConnell seats, though most operators have their own preferences with seating and it can also differ, of course, according to the application.
Externally, there is the distinctive Scania styling with matt black grille, smart LED daytime running lights, plus the overhead clearance lights are a good as they are flush mounted into the body so this would be handy when driving near overhanging trees. This model today is finished in a very slick champagne colour while overall the fit and finish was impressive.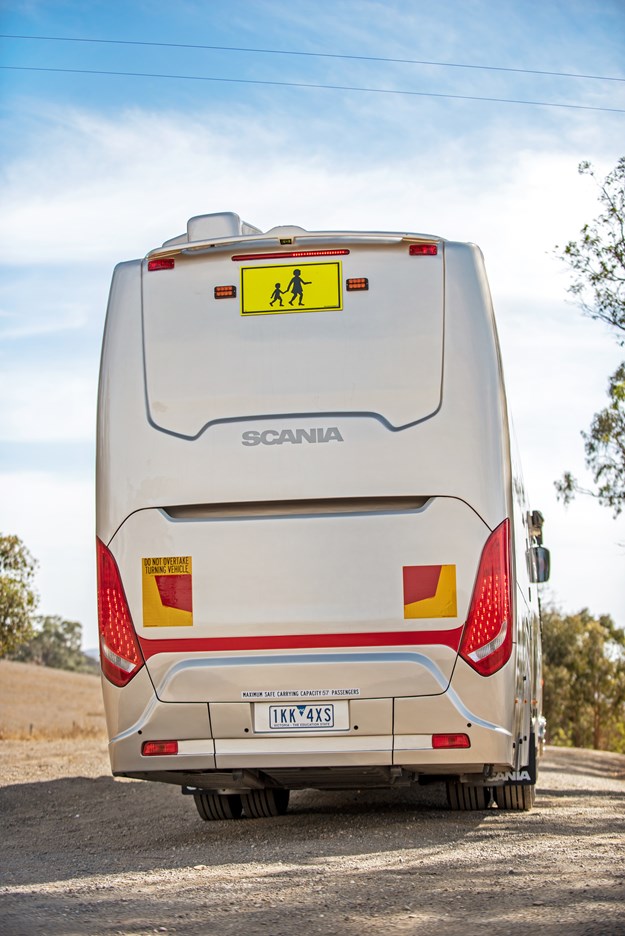 Specs
MODEL: Scania Touring
ENGINE: 9-litre five-cylinder Euro 6 SCR (standard, as tested)
POWER: 360hp@1,900rpm, 1,700Nm@1,000-1,300rpm
ENGINE: 13-litre six-cylinder Euro 5 SCR (optional)
POWER: 360hp@1,900rpm, 1,850Nm@1,000-1,300rpm; 410hp@1,900 rpm, 2,150Nm@1,000-1,300rpm
TRANSMISSION: Eight-speed Scania Opticruise automated transmission with Economy, Standard and Power Modes (standard on all models); six-speed ZF hydraulic automatic transmission (optional for 360hp five-cylinder only)
FUEL CAPACITY: 465 litres/50 litres AdBlue
BRAKES/SAFETY EQUIPMENT: ABS, EBS, ESP, traction control, disc brakes, hydraulic retarder, bus stop brake, hill hold, adaptive cruise control (an option for Opticruise transmission models only)
SUSPENSION: Kneeling front airbag suspension, four-spring at rear, anti-roll bars front and rear
WHEELS/TYRES: Alcoa DuraBrite aluminium rims, Michelin 295/80R 22.5 tyres
DIMENSIONS: 12.30m x 2.50m x 3.80m
BODY: 9 cubic metres of underfloor luggage space, manually operated parallel lift luggage compartment doors
LIGHTS: Xenon low beams, H1 halogen high beams, LED tail lights, front and rear fog lights
INTERIOR: Seating - 57 + driver; Heated driver's seat in black leather, black leather steering wheel, Scania Fleet Management – collects, saves and sends information from the vehicle for analysis - map reading light, electrically operated driver's window, electrical blinds at front windscreen, reverse camera
AIR-CON/HEATING: 38kW roof-mounted Konvekta air-conditioning system with fully automatic control, convector heating at side walls, separate climate control for driver
MISC.: Tool box in luggage compartment, TV/DVD, tinted glass, USB preparation for passenger seats, front and rear parking sensors
Subscribe to our newsletter
Sign up to receive the ABC e-newsletter, digital magazine and other offers we choose to share with you straight to your inbox
You can also follow our updates by liking us on Facebook.