VIDEO REVIEW: DENNING DENAIR MONO
---
Locally, the Denning brand has been synonymous with quality and performance in its Australian history and its buses often came with features well before their time. ABC magazine headed to Victoria's Driver Bus Lines to see its amazing Classics Heritage Fleet – and this beaut DenAir Mono caught our eye.
Whether we are talking to operators or drivers alike it seems that Denning is one of those iconic companies that many 'busies' are drawn to. With the apt advertising slogan "If you looked twice it's a Denning", today's drive of this 1983 GM Denning DenAir Mono – Number 955 is a nostalgic trip back to a time when many of us probably did look twice at one of these great beasts driving past.
Having such a long family history in the industry, we asked Driver Bus Lines director Gary Driver what he thought of the love affair so many have for a Denning.
"Well, I can only go by my own experience and it was the first time I saw a Denning. It was a Denning square line, it was a grander one, and it would have been pretty much brand new at a Billy Graham crusade. I was only a school kid and it was a bit like the early Pioneer GMs; it absolutely made an impact because of its shiny, stainless steel and the look of it, it was brilliant," he replied.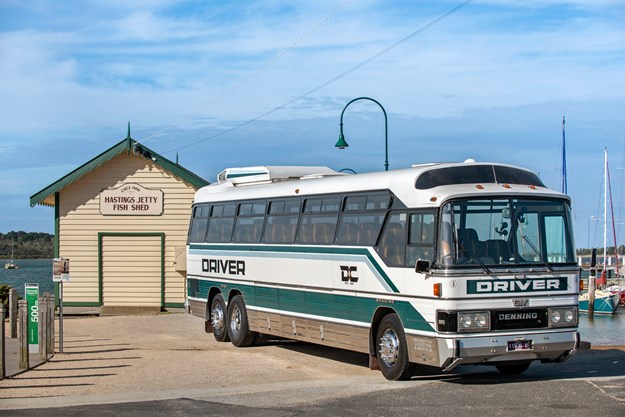 "That impacted me, and then time goes on they came out with the Denning Mono and it was like, 'Wow, look at that!' So, the looks draw you to them, but Allen Denning was a smart man. He also had the most admiration for those Pioneer Buses, but nobody could afford them – except for Ansett because they were mega expensive. He had the aim of building an American-type bus that we could afford; still expensive, but one that people could obtain," said Driver.
He continued: "So, we looked at these Dennings when they came out. They had GM engines, but they were more basic. They were an in-line engine, they had leaf suspension, you could get air conditioning – but they were usually jet air conditioning – the seats were vinyl rather than in fabric. It was built to a price to a degree but, to be honest, they were about three times the price of a Bedford in the day – but we bought one and that was our first Denning in 1977.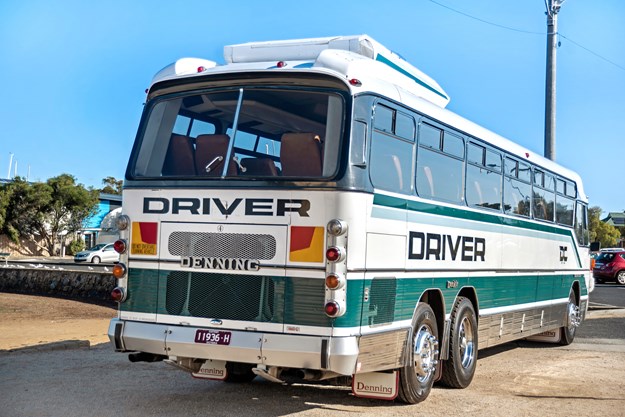 "It was because the bus had maximum reliability, the engines could just go forever. And you could afford them … just.
"They were good, they looked the part and, if you go back to the time, in the '70s and '80s I don't think there was any operator that had a coach that wouldn't have had at least one Denning. Everybody, all over the country, that's what we all aspired to. Every operator at that time wanted to get a Denning," Driver explained of the impact these vehicles had on the Australian bus industry in their heyday.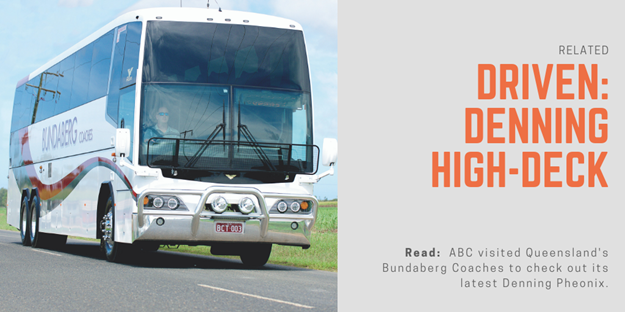 THE MONO
This great example of a GM Denning DenAir Mono was purchased new by Driver Bus Lines in 1983 and remained in service until 2008, making it one of the longest serving vehicles Driver Bus Lines has operated.
"We always ordered buses to our specification and we contacted Denning to order another one and they said, 'We've got a stock unit available'. Now we don't buy stock, we want to get our certain fabric and everything in the way that we want it. And he said, 'Do you mind if I just bring this stock unit around, I've got it here in Melbourne…'.
"I thought I'd have a look at it. Anyway, it wasn't exactly as we would have got but they offered us a good price and it was brilliant, so this was Denning number four," he said.
"It's got the brown and gold interior. All of our interiors had blue and sort of aqua colour seats, with the white roof and all that stuff, [but] this one was a bit different, but it's been brilliant.
"So we bought it new in 1983 and we ran it 'til 2008 in full-time service. It's been a hugely reliable bus," he continued.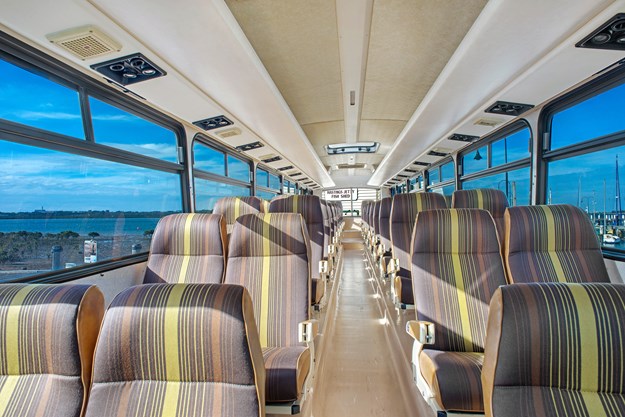 "It's probably one of the most reliable buses that we have ever had. It was simple to work on; they have the space to get to the engine and all the filters and all that stuff. It never missed a beat. It just did the job, did it perfectly.
"In my estimation, with hundreds and hundreds of buses over the years, I don't think we've ever had a bus that has done as good a job as the Mono. You drive it now, the Fuller gearbox, it's as tight as can be. It's just really good," Driver replied when asked how this bus is mechanically.
So was this fondness from an operator perspective, with its longevity and reliability, or did he actually drive it as well?
"My brother and myself both drive that one a fair bit. And again, one of the privileges of owning the company – and you don't get many – but one of them is I can pick and choose, to a degree, what bus I can drive. I drive the Denning Landseer, and I drive the Mono, and we retired both for the same reasons because they get too old, but there was nothing wrong with them, so we kept it obviously and it's gone into the heritage fleet."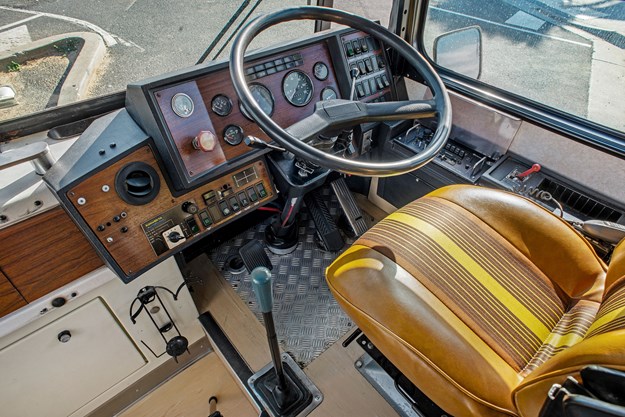 TOP APPOINTMENTS
In their time the Dennings were luxurious vehicles and Driver explains that the Mono has all bar one usual luxury included.
"Probably the only inclusion missing from the day is the toilet, otherwise it had everything that Denning was putting into a bus. And we really got it with everything, but deliberately not the toilet. We were sticklers for getting our 49 seats.
"Eventually we went to the 48 and the toilet, but we didn't in those days, but it was just all the Denning features, it just had everything you could get and it was great."
So any restoration to the Mono over the years, or is it as purchased?
"It was originally a 49-seater, with the same Denning Easy Ride seats. We made it into a 57-seater with school bus seats. But then we decided to keep it, [so] we took the seats out and put the Denning Easy Rides back in."
Amazingly, the Drivers had stored the original seats and a roll of the original seat fabric in a storeroom, so they have taken it back to exactly how it looked when they first purchased it.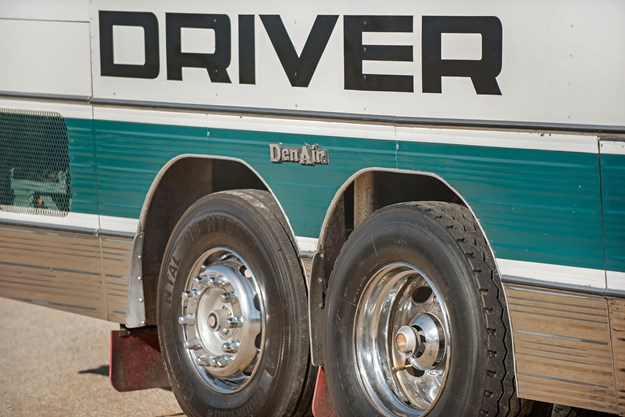 THE TEST
Denning had an outstanding reputation for the durability and ruggedness of its vehicles and this came from the intense testing its engineers did in the harsh Australian outback conditions. They tested the buses relentlessly under extreme conditions – nothing like the Australian outback conditions to test the limits, the ultimate research and testing 'machine'.
This GM Denning DenAir Mono, build number 955, is powered by a GM Detroit Diesel V8 two-stroke engine – 568ci model 8V71 – that's rear-mounted in-line, with a five-speed Fuller constant-mesh transmission.
Driver explains that when you purchased one of these engines you'd be disappointed if you didn't get a million miles out of it – so it's been pretty amazing.
Standing outside and listening to the GM Detroit engine run there is arguably no other that has the sound like this one has. We could just stand and listen to it run all day. You can tell it's tough, you can tell it's strong.
We can't forget that sound, it has us hooked.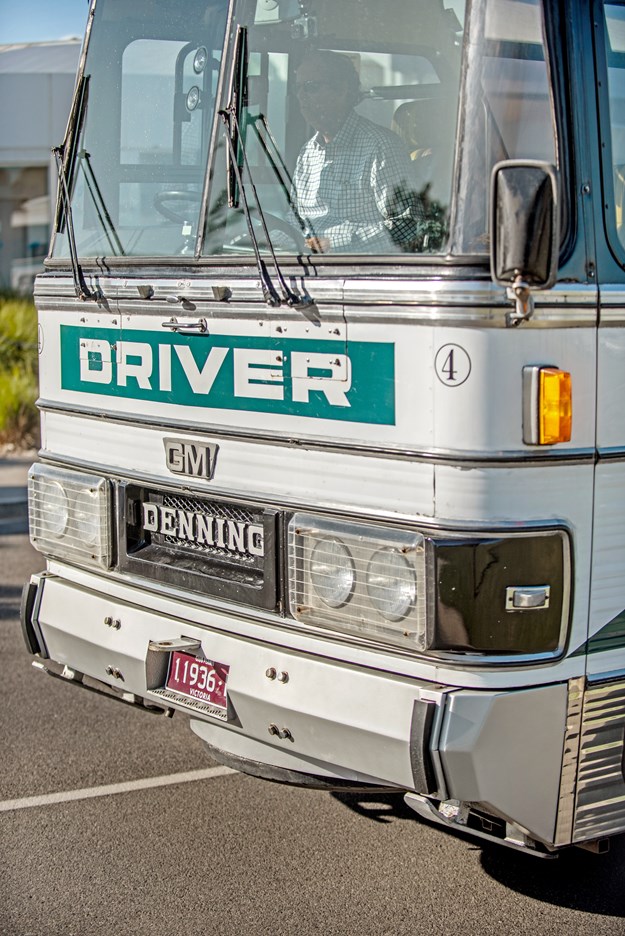 Externally, the DenAir Mono is finished in the Driver Bus Lines fleet colours, but what we love about this old beauty is the look of chrome work. This one has some pretty impressive aluminium bumpers that continue right around the base into stainless steel side panels. There's something about this inclusion that screams solid, strong and quality and hints at the American counterparts of its era.
The driver's cabin is basic and definitely what you would expect from a vehicle of that era: simple layout, all easy to read. A forward-facing heater vent for the driver would have been a welcome inclusion. Vision and mirrors are comparable to today's vehicles, there are no blind spots with the wraparound windscreen.
It has 300hp (224kW), which in modern day terms might not sound huge, but in its day it was considered hugely powerful.
"It could go up and down hills as though they're not there," Driver said.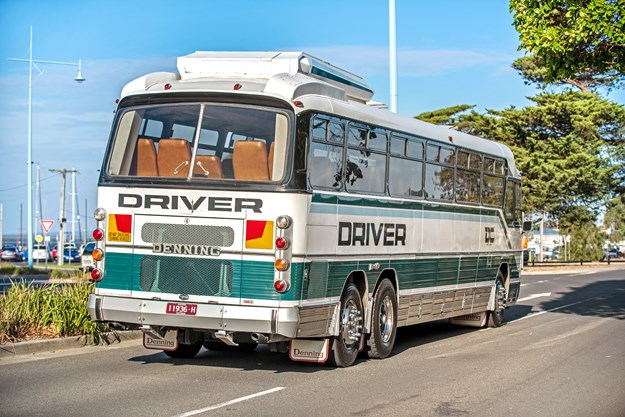 DREAM DRIVE
In our short drive we were certainly impressed. With so much torque it's a dream to drive. He was also right about the gearbox; it drives as if it were new. It's so smooth it's hard to believe that this coach was built in 1983.
Upshifting was great, but as we don't get to drive crash boxes too often the down shifting took a bit more time and patience to master.
Overall, the DenAir Mono is perfect in its simplicity. Mechanics would love how easy this vehicle would be to work on. Great access to all areas, everything at your fingertips – and just looking in the engine compartment it seems handy tinkerers could even change the exhaust manifold in 20 minutes. Everything is clearly visible with plenty of room to work on. It's hard to often understand why we have come so far away from the simplicity of these vehicles of the past.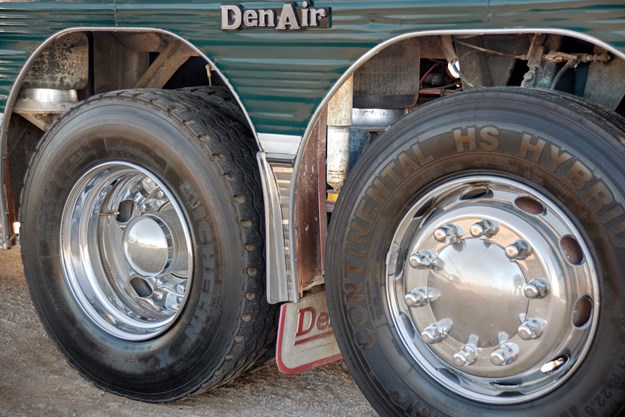 There really isn't a huge difference to buses of this era and the modern-day vehicles, as a driver. Turning circles have certainly improved as have safety features and creature comforts, but this DenAir Mono was certainly luxurious in its day and still would be a vehicle many drivers would be happy and comfortable to drive every day.
Indeed, it's a pleasure to drive, great to look at and be aboard, and is a wonderful example of Australian bus history preserved for future generations to experience, so job well done by Driver Bus Lines.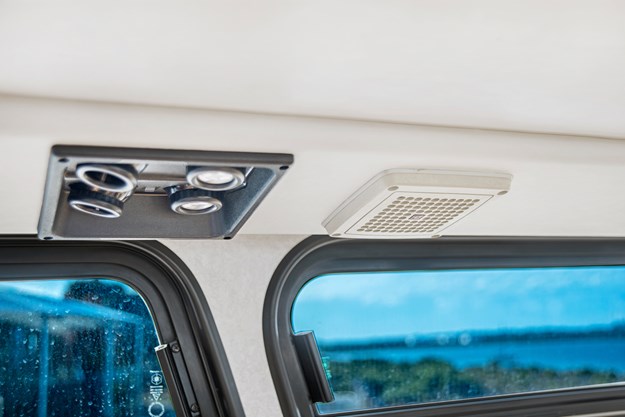 Driver Group Australia plans to remain a family owned business and the new generations of the Driver family coming through continue to build on these strong foundations, goals and principles of the founding Driver Brothers.
Gary Driver is an inspirational 'busman' to interview and the Driver Classic Fleet is making sure our history is safe for us all to experience.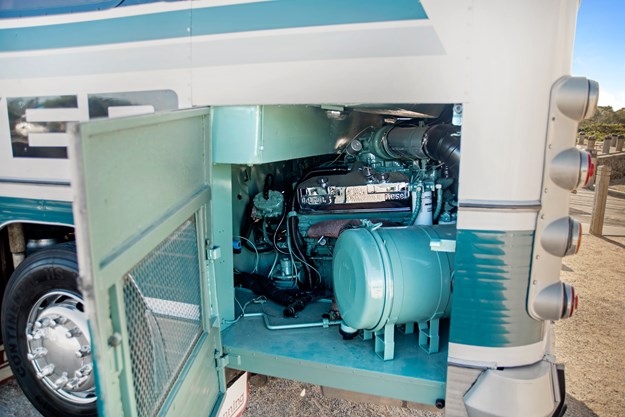 HERITAGE FLEET
Driver Bus Lines in Mount Waverley, Victoria, is one of the few surviving foundation family run companies in our industry. The business was founded by the Driver brothers Eric and Reg in March 1931. Today they have a huge 145-strong fleet and the enviable Driver Classics historic fleet.
The impact that family owned bus operators, such as Driver Bus Lines, have had on our industry is immense. The pioneering days' hard work and determination combined with family values set our industry as we know it into one where our history is certainly celebrated and definitely respected.
Gary Driver, director of Driver Bus Lines, was the driving force behind the Classic Fleet.
"Never in my wildest dreams would I think [we] would have an old bus of any sort. I have always had an interest in all buses and I guess the interest in the older ones started when we would sell buses in my younger days, just because they come to their time," Driver explained.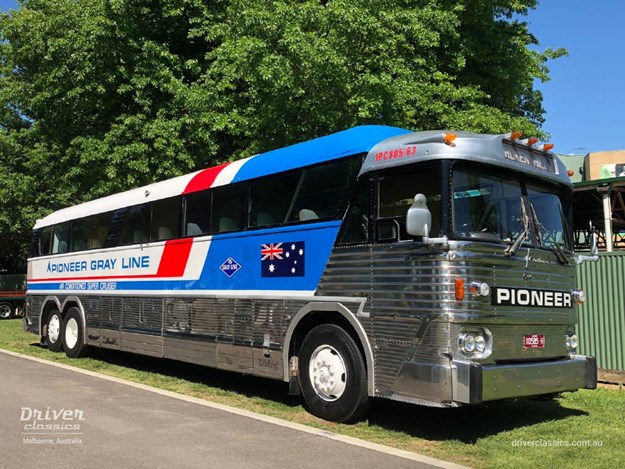 "I went to a bus bash in the US in 1982 and I saw a Clipper and a round 'bullet back' GM bus, and I remembered the Clippers that Pioneer had. I remembered there was a Sapphire Coast service that came up from Melbourne; they had a Clipper on it. I saw this immaculate blue restored Clipper and I thought, 'We could do that, we have them in this country'.
"So, I came back and tried to find one. It took me six months following leads all over the country and I eventually found one. We bought it as an old wreck and spent two years restoring it. We had it ready for the 25th anniversary of the first non-stop service that Pioneer did to Sydney. The Clipper was our first one, and we were only always intending to have one bus. Then, all of a sudden, another opportunity came – can we have two? Is it possible to have two? I guess so … then we bought another one and so it went on," he laughed.
OUR STOCK
So, how did the classic fleet start exactly?
"Primarily, we always wanted to get some of our own vehicles from the past, that's why we've got the Bedfords, the wrap-around SB3 and the Federal. And I wouldn't mind a CommAir – that would be a good one to get.
"When we bought the day-tour business off Pioneer, having worked with Pioneer in the '70s and '80s, it seemed because of my fondness for those vehicles it was a logical step to try and get a Pioneer bus. The idea was to get Driver buses and the Pioneer buses and then over time that broadened to any vehicle that we thought was worth it," Driver explained.
"We have restored probably most of them, but some of them like that Masterton Bedford that John Masterton did the restoration [on] is such an immaculate job.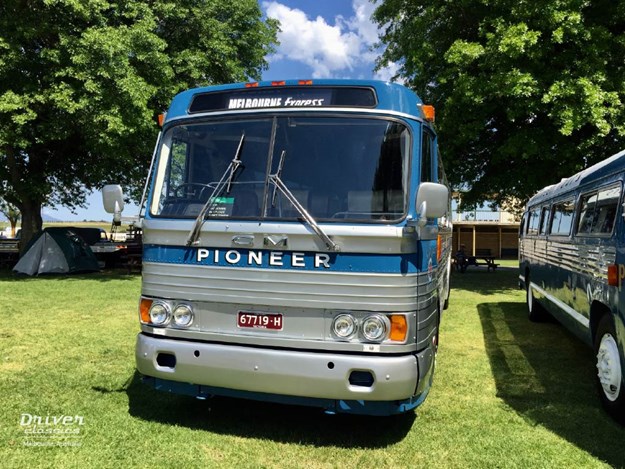 "So, if you can get a bus and you learn this as you go along, that is partially restored or got everything on it, it's so much easier than getting a wreck.
"The job we did on that Clipper was a monumental job, but when we got the MC7 [1972 MCI MC7, top] it was all there, so we didn't have to do anything. We did things, but not like the ground up restoration.
"Getting the outside right can be very difficult. And the 4106 [1961 GM PD 4106, above] is a good example. The guy that we bought that off had spent 10 or 12 years restoring it to become a motorhome. It had no interior and it had been totally gutted, but on the outside he had done an excellent job. He had done some of the mechanicals, but we had a lot to do. The outside was perfect, it couldn't get better.
"He found the stuff in the US and had it sent out, so again it's half-way there. We had to find donor buses with interiors – and it took us a couple of years to put that interior in – and do the mechanicals, but it has come out looking like a brand new bus."
Specs
MAKE: Denning
MODEL: DenAir Mono
YEAR OF BUILD: 1983
ENGINE: GM Detroit Diesel V8 two-stroke engine – 568ci model 8V71, 300hp
TRANSMISSION: Five-speed Fuller constant-mesh transmission
INTERIOR: Brown and gold upholstery, Easy Ride seats
Subscribe to our newsletter
Sign up to receive the ABC e-newsletter, digital magazine and other offers we choose to share with you straight to your inbox
You can also follow our updates by liking us on Facebook.