VIDEO REVIEW: MERCEDES-BENZ OC 500RF - IRIZAR i6S
---
EXCLUSIVE: One of Mercedes-Benz's star performing and popular coach chassis finds a likely bed-fellow in the new Irizar i6S. We took a first look at this unique combination here in Australia before taking it out for a cheeky quick spin.
How does an operator choose a new bus for its fleet, in a time where we are spoilt with an ever-growing national and international number of players in the bus-building game? How do you make that final choice? Hmmm…
Today's test drive is the Mercedes-Benz OC 500RF two-axle coach chassis for the first time here on an Irizar i6s 12.5m 3900 Express Touring body. It comes with a pretty long list of features with some good driver inclusions and we are always fond of a bus or coach that takes care of drivers. This is Irizar coach number 11 in only 18 months for Alston Coaches and Buses in Melbourne, so Irizar is obviously ticking the boxes.
Daniel Castro, general manager for Irizar Australasia, gave some insight into the great relationship Irizar has with Alston and why it chose the i6s.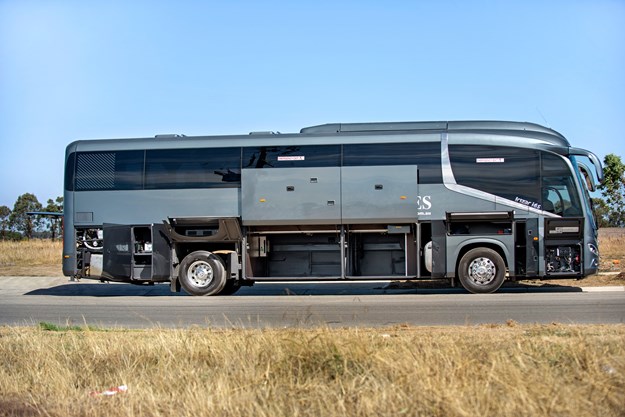 He says part of the success is based on like-minded ethics and that Alston is a company that lines up with all that Irizar wants to achieve in Australia.
"Irizar aims to be an innovator in Australia and Alston is an innovative company in the transport sector. They are innovators in style," he explained.
Alston has purchased a mix of the i6 and the i6s, and Castro explained that was done to build a fleet with different types of levels while maintaining the same level of safety innovations. The flexibility of the i6s was another reason it was chosen, Castro explained.
"The i6s is a luxury coach, but you could use it for school charter and it can work as a coach as well. It would also comfortably work as a standard charter vehicle, so for a vehicle choice it gives a lot of flexibility for the Alston fleet to work in different types of situations."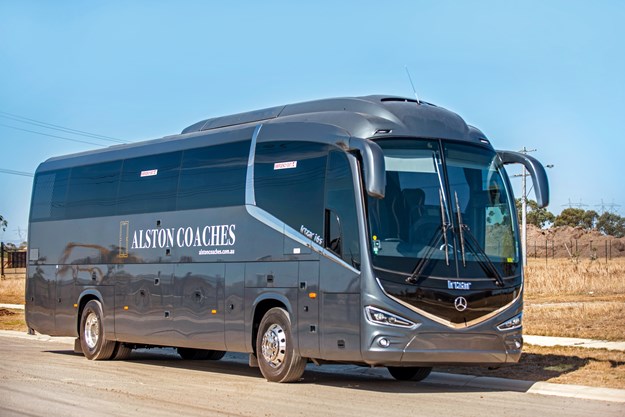 LOOKS CERTAINLY MATTER
"Fazlaan Farook, owner of Alston Coaches and Buses, came in and spent hours picking colours, which we have had in certain instances in the past with other operators, but Alston stands out as completely different. It's really important for them, the colour combinations you can see with this vehicle. It's well-done; Falzaan was very particular with details inside the coach," Castro said.
"The i6s is a product that has undisputed appeal from an image perspective. It has fairly aggressive external looks and it certainly has an impact on anyone that sees it!
"Alston is very particular with image; they really want to impress their customers. When you combine the i6s with the colours Alston have picked this coach really stands out."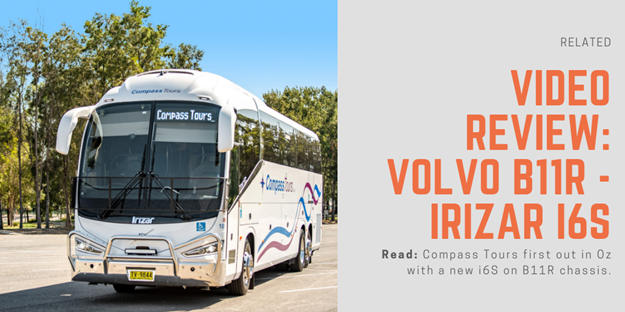 Externally, the colours and design were chosen by Farook and a team of professionals to stand out and attract clients in the inbound tourist market in the luxury sector. The aim was to be easily recognisable from its competitors.
Internally? This same ethos continues with comfort and luxury that compares more to a modern aircraft interior, from the black parcel shelves to the coordinating leather seats – it's a very handsomely finished product.
It seems that beyond the ever-advancing technology we now experience in our industry, good looks and comfort usually associated with other modes of transport certainly rate high with operators wanting that 'X-factor' and the ability to stand out.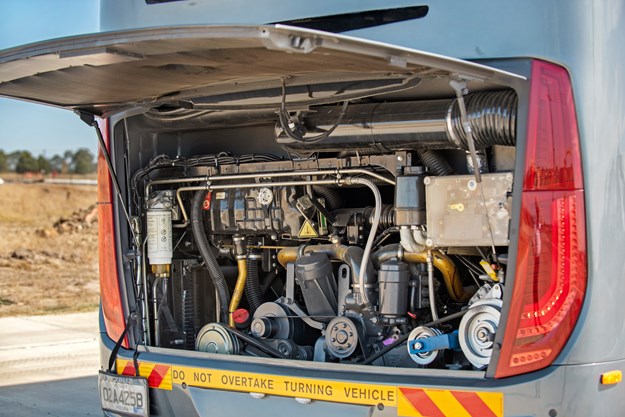 SERVICING ADVANTAGE
The ease of servicing was another reason the relationship between these two companies has evolved.
"Previously Falzaan was a bit frustrated with his experience with the bodies that he was buying, with technical issues and the lack of service," Castro said.
"So an advantage Irizar has is that we offer on-site servicing; we have our van that goes and services when operators need it. It is quite handy for Alston because the company is just a few kilometers from us.
"We have a van in each capital city so no matter where the coaches are in Australia a servicing van is available; it's a complete service package."
This service would also be a time-saving feature most operators would certainly welcome. Being a one-stop service also means not visiting different sites for different parts – a smarter servicing system.
"The total cost of ownership is something that we really fight for on any Irizar, we want to make it last longer with less intervention," Castro added.
Alston chose the Mercedes-Benz OC 500RF chassis for this model, with Castro explaining that the choice of Mercedes comes from Farook's existing relationship with the company.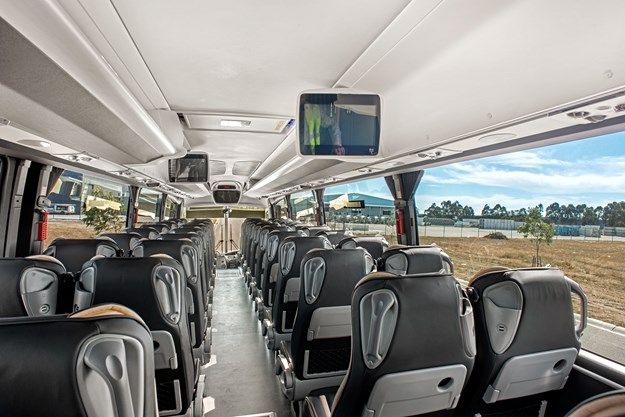 "It's smart in a way, where he keeps the fleet standard, so every Irizar on his fleet has the same engine," Castro added.
"So commonality with parts and services is not a secret for his mechanics. If a vehicle turns up with an engine issue, he could probably replicate faults throughout the fleet and actually preventively fix any issues, so I think it's a very smart move to standardise. Of course, I also appreciate the fact that he has a great relationship with Mercedes-Benz."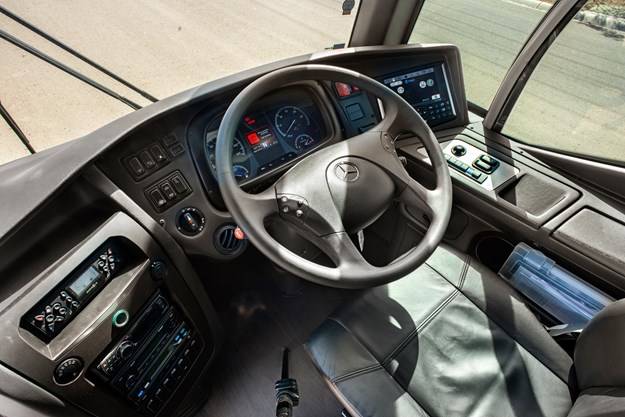 SAME, BUT DIFFERENT
All the updates from the i6 to i6s have been improvements with space, economy and electrics.
"There is a new lighting system with full LED lights," Castro said.
"The new electrical system is all about reducing consumption, which of course impacts on fuel consumption. We have moved things around internally to be more space efficient. In terms of the product operation it is very similar to the i6 and the reason behind that is we want to prevent huge change for the current operators of Irizar, so there is no need for special re-training. We found previously with huge change it can make things hard for operators, so we have improved rather than made significant changes.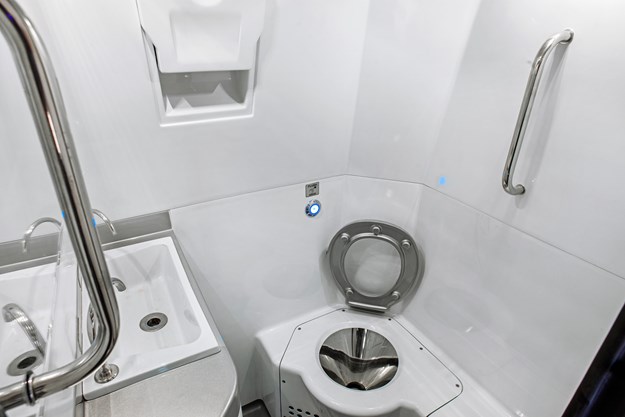 "There also is a new dash – it follows the concept of the i8 back in Spain which uses a V shape. You see the V repeated in different parts of the vehicle – it all gives the aggressive look we are trying to achieve. We've re-positioned the driver's control panel; it's slightly different from the i6, you can see there is more protection in there from the glare of the sun by tilting the angle of the dash slightly towards the driver. That's based on feedback that we had from the previous i6 dashboard."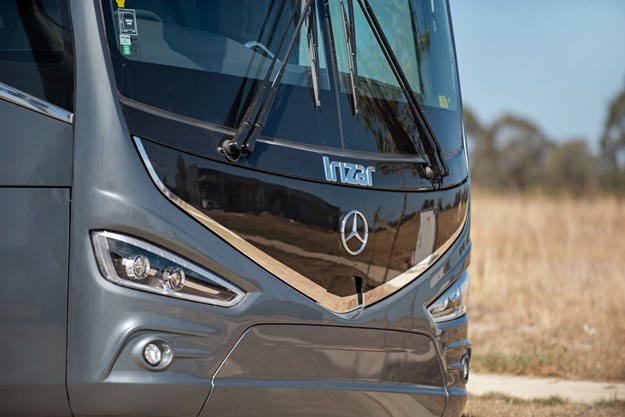 A HAPPY DRIVER
Castro says that when he drove this coach the two things that stood out for him was the torque and the quietness, and we'd have to agree. The power is certainly there; the Euro 5 Mercedes-Benz OM 457 LA six-cylinder has 354hp [264kW] @ 2,000 rpm, with 1,600Nm, which, coupled with the ZF EcoLife, makes for one easy drive.
On taking off the torque is certainly impressive, ditto for the noise levels, which are very quiet.
The Mercedes-Benz OC 500RF chassis comes with the long list of safety features you would expect from a Mercedes: anti-lock braking system (ABS), traction control system (ASR), electronic braking system with brake assist (EBS/BAS), electronic stability programme (ESP) and a fire-detection system in the engine compartment. These safety features all come as standard with the chassis, but Alston took the additional package that includes a lane departure warning system, advanced emergency braking system (AEBS), tyre pressure monitoring and axle load display.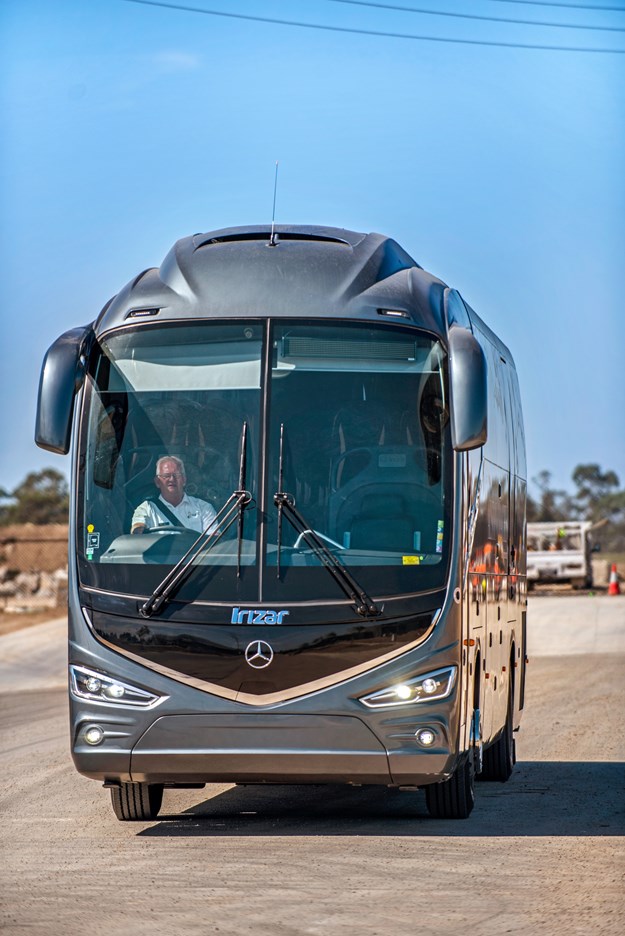 Castro says that Alston takes the additional package with all of its Irizar vehicles, so safety is paramount to this company – a great peace of mind for its customers and drivers.
We were coming to a steep descent on the highway in pretty heavy traffic when a red light came on. Clicking it into 5 with the retarder, it is impressive how responsive the Mercedes retarder is. You virtually don't even need to touch the brakes, even on steep hills.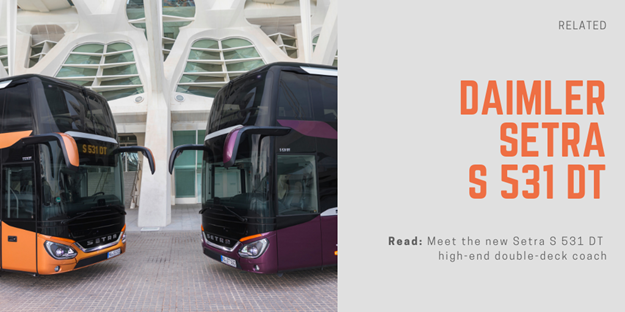 Irizar states that with this coach, it really considered driver comfort. Both the seat and steering wheel are easily adjustable. There are driver armrests, and the driver's seat is built to suit all driver sizes. One minute criticism, which is purely personal preference, is the lack of a foot rest for the driver's left foot, but after a full day driving around this really is one very tiny criticism.
There's a driver's electric window and electric blinds, a microphone attached to the seat, reverse camera and internal view camera, a USB on the driver's dashboard and even a fridge in the dash. On long drives some cold water on hand would be really appreciated by drivers.
Dual-zone air conditioning allows the driver's cabin to be set at a different temperature to the passengers'. There are also two cameras that monitor internal and external views for the driver without head movements. All these features might sound small but altogether are going to give a great driver experience.
Passengers too are in for a treat on this ride, with full Italian leather Sege 403X reclining seats that prompted the description "first-class aircraft of the highway". Another small feature that will have a big impact for passengers is that each seat has two USB ports and a phone pocket at the back. Irizar researched passenger feedback and found that people tend to carry at least two devices. They might be using a small electronic device, but also like to have their phone always on charge, especially while away from home and travelling. Clever thinking from Irizar.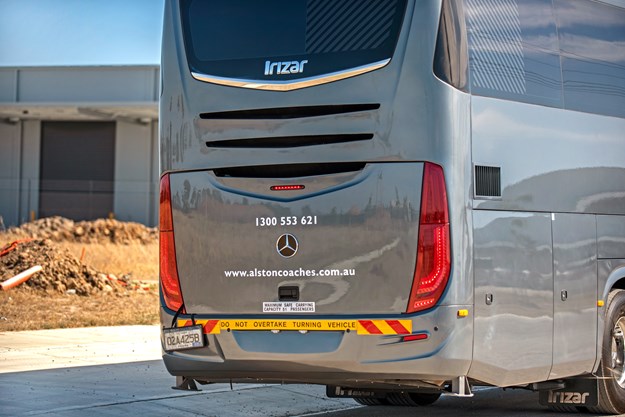 Another good feature are the 500-litre dual side-filling fuel tanks. If you are a driver and time poor you have tanks each side to fill, so no more waiting for the right side pump to be free.
The colour scheme used on this coach is the same as the European i8. The dress rims are outstanding and together create a look of prestige. Even the luggage area is lined in a timber-look finish. As this coach will be going to the snow areas, this is a more suitable finish than the usual carpet.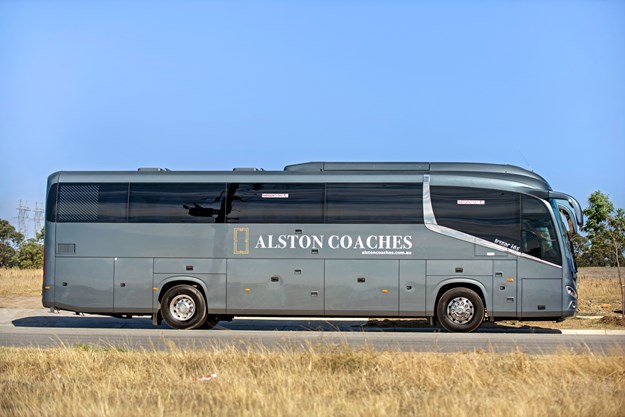 GREAT VALUE
Sometimes companies are happy to disclose the price and Castro says this i6S with the Alston requirements came in at the AUD$490,000 mark, about $520,000 on road. He says the biggest adding factors to the price is the wheelchair lifter and the seats – the luxury Italian leather seats alone added about another 20,000 to the price tag. For a coach with this level of visual appeal, the price tag was better than it might have been, and with a three-year bumper-to-bumper warranty and the servicing system, it comes to really good value.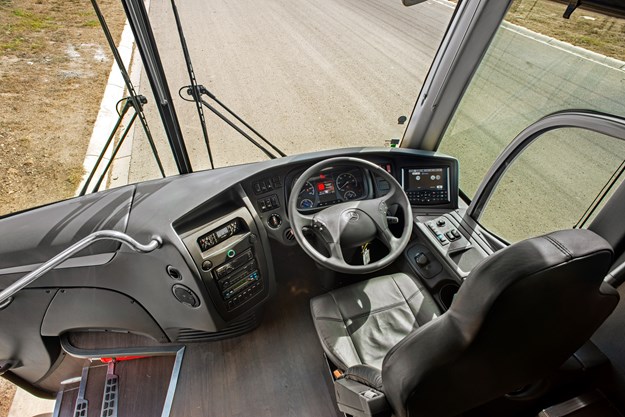 Alston already has another three Irizars ordered and on the way. Castro wasn't prepared to disclose any details here, but did hint that Farook would certainly be bringing something different to the table to meet Alston's high standards.
With 11 down and three more in the pipeline, the relationship between Irizar, Mercedes-Benz and Alston is a pretty powerful combination. In our times of such great development and change maybe it's old fashioned service and relationships that are some of the biggest deciders when it comes to choice.
SPECS
BODY: Irizar i6S
CHASSIS: Mercedes-Benz OC 500RF
ENGINE: Euro 5 Mercedes-Benz OM 457, six-cylinder
POWER: 354hp (264kW)
TORQUE: 1,600Nm @ 1,100rpm
TRANSMISSION: ZF EcoLife
STEERING: ZF-Servocom 8098
GVM: 20,000kg
SEATING: Italian leather Sege 403X reclining seats with two USB slots and phone pocket
MISC: Driver's electric window and electric blinds, a microphone attached to the seat, reverse camera and internal view camera, a driver dashboard USB, fridge
Subscribe to our newsletter
Sign up to receive the ABC e-newsletter, digital magazine and other offers we choose to share with you straight to your inbox
You can also follow our updates by liking us on Facebook.