VIDEO REVIEW: 1954 ANSAIR FLXIBLE A36 CLIPPER
---
It's been a long time coming, but the journey has been worth the wait. This restored and retro 1954 A36 Clipper bus is its own little take on perfection.
Scarlet Rose. That's her name. Yet, even if this rose did have thorns there'd be few admirers or bus aficionados caring about getting pricked. Owned by Darrell Booth, who is also the owner/director of operations at Fantastic Aussie Tours, this 1954 A36 Clipper has been his love affair on wheels and it's become part of the enchanting tourist landscape of the Sydney Blue Mountains region.
For all owners and restorers of vintage vehicles the road to perfection and the path to completion is often a long and very costly one. There has to be an element of unbridled passion in there to get to the finish line. When ABC magazine met with Booth he was only too proud to introduce us to Scarlet Rose – a superbly restored 1954 Clipper.
As Booth explained: "I came on board with the company in 1985; John Cronshaw initially established the company. Over the past 10 to 15 years I've looked after the fleet. Jason Cronshaw, John's son, is the managing director so he runs the show – it's a two family business."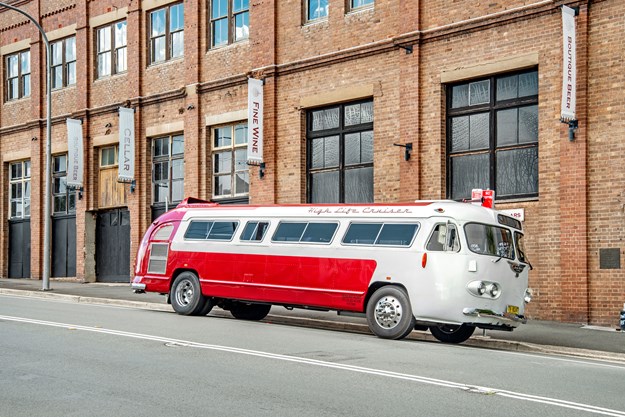 For those who traverse Sydney's Blue Mountains it's hard to not pass one of the Fantastic Aussie Tours fleet buses.
The company is one of the longest established family owned tourist vehicle operators in NSW and it has two Clippers running as part of its 'Clipper Class' service. These amazing vintage buses can be hired for private functions and events – but you really have to see these buses to believe the attention to historic detail retained, so much so it's like stepping into another era.
Other than their obvious appeal, we asked Booth why the company chose these new additions to the business.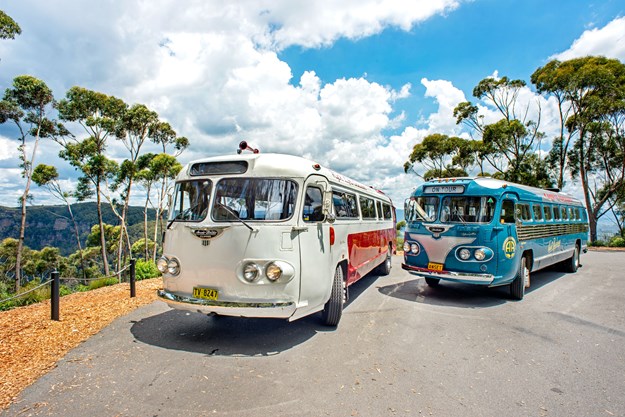 "We thought we could introduce tourist buses like these into the mountains knowing the reactions people have to them. It's a great thing for our business and it's great for the mountains. With Scarlet Rose we spoke to the resorts and asked them what they were looking for, for their customers.
The option for us was to build a bus or build a lounge set-up.
They said the lounge scenario was better, so we built it as a multi-purpose vehicle that can be used for restaurant transfers. It seats 18 people, which is perfect for family and friends for events like picnics. Next weekend it's doing a birthday party; it will be great for weddings, too.
"The idea is a multi-purpose bus. It's not a party bus, but Scarlet Rose is a bus people can have fun in. It's luxurious and we tried hard to make it luxurious," Booth said.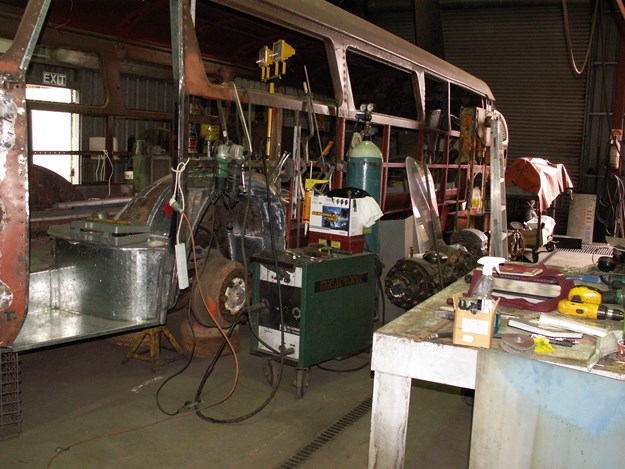 MORE A WRECK THAN A ROSE
Scarlet Rose was far from what she is today when Darrell first purchased the Clipper.
"When I got it, it had no wheel arches or bottom step, no engine or windows. It was a rusted wreck basically. Over 10 years I restored it to the point it was driveable.
My aim was to make a motorhome out of it. I worked on it in the shed every night then in about 2007 the bus I have now as a motor home came up for sale. It ticked a few more boxes for me, so I sold this one to buy that one. Everyone asked how I could sell it after working on it for 10 years, but the new one was running, so we were on the road," he explained.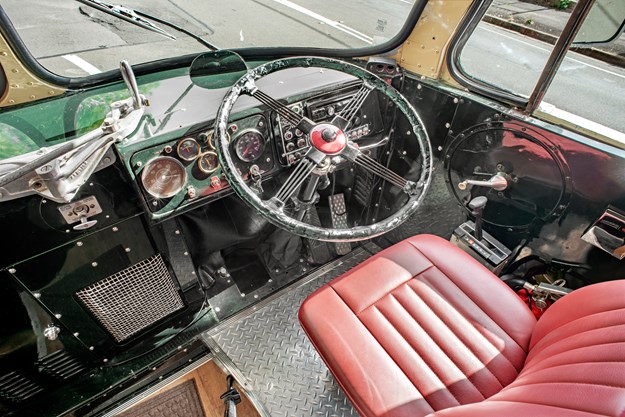 So the Clipper left the mountains to go on its next part of its journey and restoration.
The story continues with the purchaser in Sydney and it was there that Scarlet Rose got the impressive paint job she has today. It's a gold pearl, white and candy apple red. Booth explained: "The new owner's colour inspiration was the GM Futurliners and he also put the automatic transmission in her.
"It sat in his shed for seven years and one day he called me and said he was selling the Clipper, so we talked as a company and thought it would be good to have something unique for the mountains, so we decided to buy it.
"It was then a four-year work in progress and Scarlet Rose was first registered last August, 2018. The last four years have been spent doing it up to this standard," he said.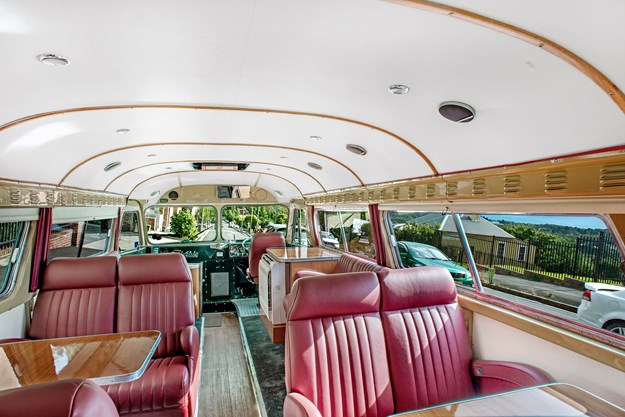 ROAD TO PERFECTION
So what work was required once the Clipper returned to him?
"We had to re-skin the body, repair all the curved panels, rebuild the suspension. We had power steering fitted, basically restored everything to brand new. We upgraded the braking system; they had full S-cam brakes from the word go, but they were controlled by a Westinghouse foot valve that was a little like a train controller, so there was a delay in application of the brakes and a delay in application of the release. So with the modification of just adding a few extra valves in the air tanks you end up with still exactly the same foundation brakes with the modern-day feel, so they apply instantly and release instantly."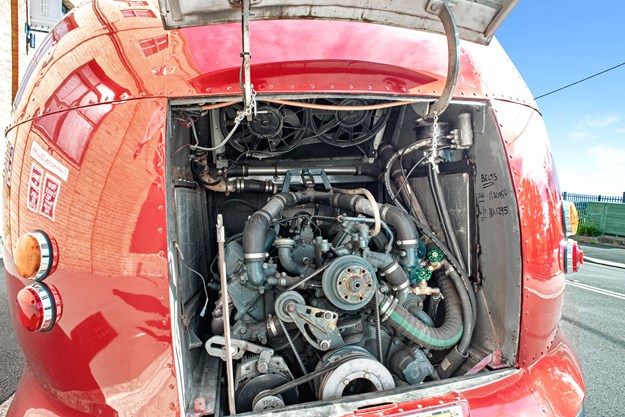 With only 131 Clippers ever made in Australia and considering the percentage of the total that has been lost, buying spare parts and finding missing parts when you are restoring a Clipper must be a 'needle in a haystack' operation.  
"It's just a matter of looking, sometimes getting parts manufactured or adapting new components to suit. Again this is where the club is invaluable," explained Booth.
"There is a wealth of knowledge and everybody brings their little bit of expertise to the club. There are 70 members and, say there's 30 buses on the road, they have a deal with O'Brien glass to make windscreens. There's a drum brake manufacturer we all use, all the things that we might need we have lots of resources and technical knowledge available to make sure the buses are reliable. It's looked at always from a critical point of view because being heavy vehicles whatever we do needs to be certified by an engineer just to say 'yes we are safe'," explained Booth about the extra precautions needed when restoring a tourist vehicle.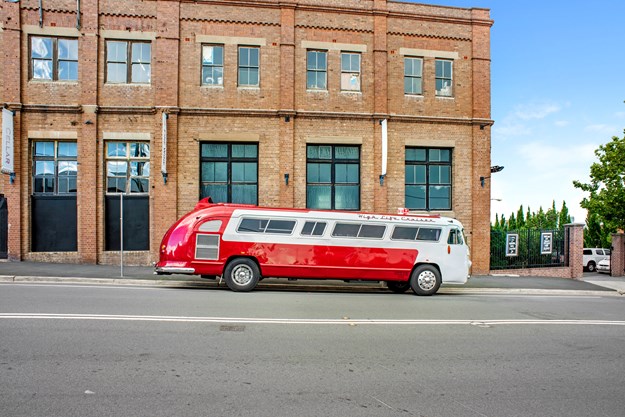 "We had to update the axle and a Rockwell axle fits perfectly in place of the original Kirkstall. Both Clippers now run on tubeless tyres whereas before they were split rims. This gives much improved reliability. We definitely aren't interested in buses on the side of the road. The only time you definitely want to be working on a bus is when it's in the shed," laughed Booth.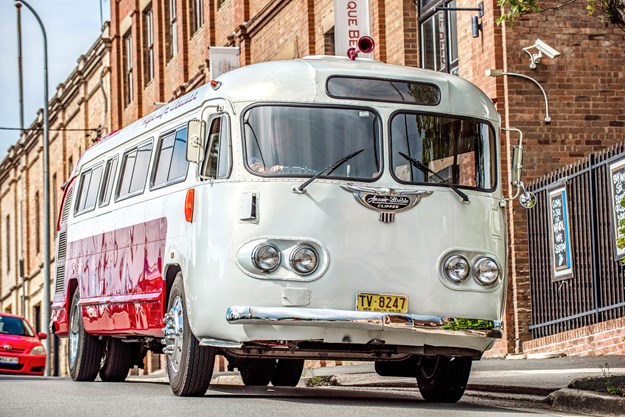 SIMPLICITY IS KEY
What are the strong points mechanically of the Clipper?
"It's the simplicity that definitely makes it strong mechanically. If you think about where they used to go you look on the website and there's a history of the Clippers, there's different photographs of Clippers in service bogged to the axles halfway up the Stuart Highway, or they're going down a remote dirt road. They went to the most extreme parts of Australia under some incredibly difficult conditions and the simplicity meant that they got there."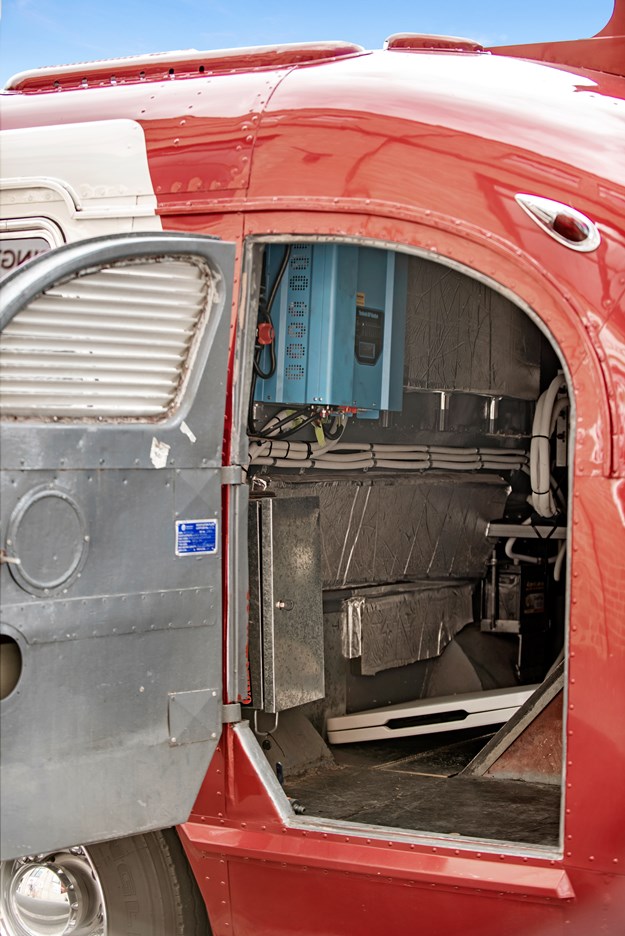 You get the feeling pretty quickly being on the road with Scarlet Rose that she certainly gets a lot of attention. What's it like being on the road with such a head-turner?
"I get really excited because sometimes I'll get stopped by people that know something about the buses' history. It excites me because I love learning a little bit more that I didn't know before.
I am really interested in the bus – not only its design, but I'm also really interested in the history.
I just love their contribution to the tourism industry.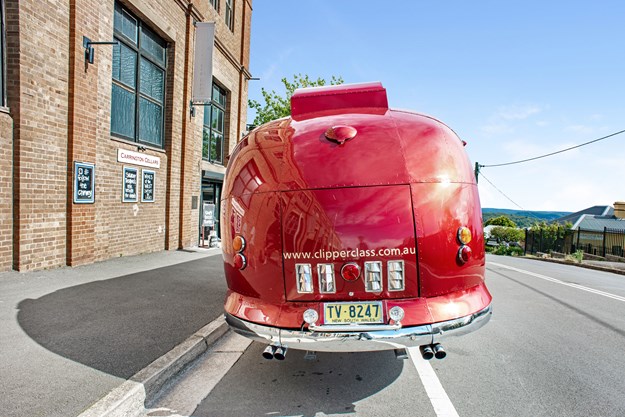 "There are buses that should be saved to preserve Australian bus history: a 1979 model Denair with AP71 twin stacks up the back and a Thermo King on the back, or an Austral Tour Master – otherwise we'll lose them forever!" Booth explained.
Has the Blue Mountains embraced the vintage Clippers then?
"Yes, they love them. You see, our attitude towards the Mountains people is that we want them to embrace our fleet, have a feeling of ownership and we want them to be a part of the community. As a company we want to be good community citizens. We live here, our kids go to the schools. More so than making a profit we have pride in our fleet."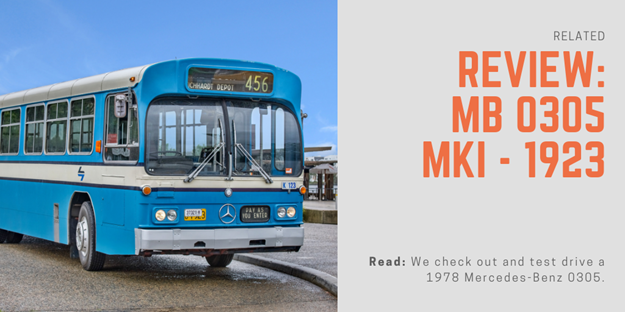 THE TEST DRIVE
On the side of the roof the words "High Life Cruiser" are painted and this certainly sums up this ride. If you are a fan of vintage buses then this one is impressive inside and out.
The paint combination and chrome work, plus the extensive riveting – although not original – certainly looks the part. At the door you are greeted with a painted sign that says "gold class". This is one ride we would really have liked to have been a passenger on getting the "Clipper Class" experience.
This bus has some very unexpected internal luxuries for its era. There is a bathroom with toilet and washbasin, a mini-bar fridge and a sink with hot and cold water. All this means a trip in the Clipper would make for a very special ride. Luxurious red leather upholstered seats have removable timber tables – we were just waiting for someone to bring the cheese and wine.
The original steering wheel has been re-pearled; there's no feature left undone, nothing that looks out of place. The driver even gets the same luxurious leather upholstery.
Vision was good with large rectangular side-mounted mirrors. The internal mirror was sufficient, but perhaps on a luxury drive passengers don't want us drivers watching them have too much fun. Surprisingly, the driver's leg room was good, though we expected it would be smaller because of the vehicle's age.
The dash is pretty much unchanged except for a modern speedometer, which reads in km/h, replacing the mph gauge. Pretty much everything else is standard. The old radio has been replaced by a modern system.
There are two internal reverse-cycle air conditioners that can operate when the vehicle is both running and stationary. They have been specifically designed to operate also from external power sources and they can run off a battery supplied by an inverter, so the passengers will always be cool or warm.
This was another great feature to ensure all mod cons at all times for passengers.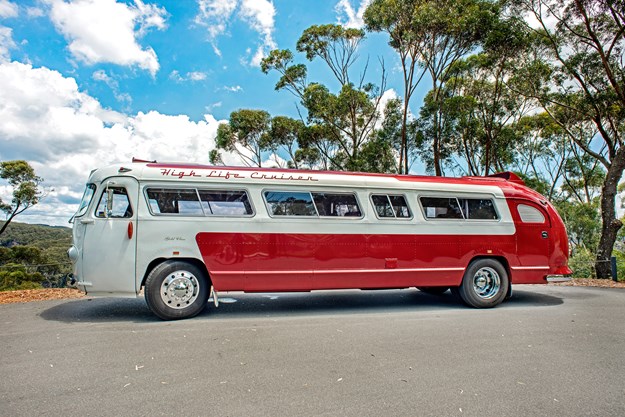 Originally the Clipper had a manual gearbox, but the previous owner had updated to an automatic Allison transmission for a trusted and reliable modern-day system, with parts readily available for operators. The engine is a 1960s–70s-era V8 Perkins – and we just love the sound. These long-running engines are 8.36-litre producing 127kW (170hp) @ 2,800rpm.
The Perkins V8 engines were really popular to retrofit into the Clippers in the past, but today Booth says the Cummins B series are the preferred option. The engine was a great match; definitely not a speed demon, but it can hold its own. Arguably, the power-to-weight ratio is perfect – we guess the passengers don't want to be spilling their drinks.
The brakes have modern brake boosters on instead of the old cast aluminium ones – no modern features but good braking, no issues there. Booth says the steering is a modern Isuzu box, which wasn't heavy to steer – just comfortable with good road feel.
On the passenger entry side at the rear there is a door that originally was for luggage. This area can still be used for luggage, but also houses the inverter, air-con motor and the modern wiring, giving a great space for the plant room.
Throughout our test day Booth talked about so many different businesses and talented friends that have played a part to make Scarlett Rose what she is today. The workmanship inside is impeccable and every part of the interior screams original.
The obvious attention to detail and craftsmanship is something he and Fantastic Aussie Tours should be very proud of.
The preservation of our industry's history for future generations is a costly and time-consuming passion, but any bus-loving person would be hard pressed not to love this candy apple beauty.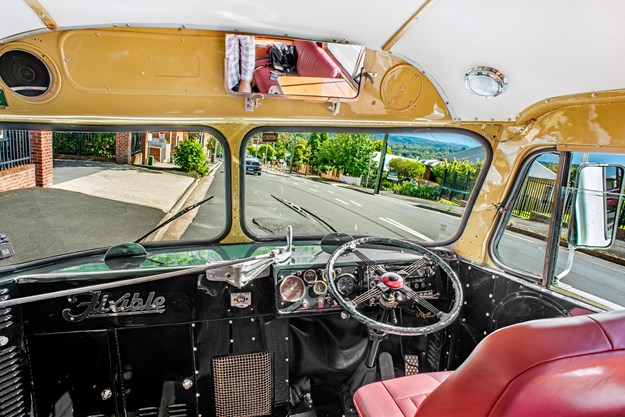 EARLY ORIGINS
The Clippers were built by Ansair, an Australian bus body builder in Essendon, Victoria, founded by Reg Ansett in 1945. Scarlet Rose was Clipper number 36 coming off the factory floor in March 1954. In the early '50s Ansair built about 10 of these buses every year with the very last one built in 1960. There were only 131 built in total with about 45 left today and Booth contributes a lot of these buses' survival and saving to the support of the Clipper Club and the hard work of its president, Bill Hardinge.
"When I initially started to pull Scarlet Rose apart there was some original chalk writing from the Ansair body builders. One of the things written was '1953–1963 make ten years'. If these buses made 10 years they were doing alright. In the Ansair factory they were built with rust. They were designed to rust. They were built of all black metal with solid rivets. Where you had the mandrel in the back to lock up the solid rivets they left holes, so they'd collect dirt and dust. You'd drive down a wet dirt road and the holes would fill up with water. The rest is history," said Booth, explaining why many Clippers haven't made the distance.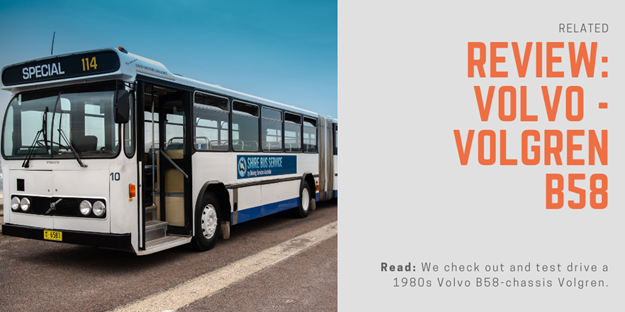 In terms of Scarlet Rose's history, he recalled: "She was originally an Ansett Pioneer vehicle then it went to Ansett Airlines as an airporter bus. It then went into private ownership. The desto roll that was in it had 'Griffith' and places around the MIA, so it more than likely was a local operator around that area.
"At one point she had been a motorhome, but I purchased her from a man in Adelaide that was a radio announcer who was a Clipper fanatic. He is still a good friend today; he had found it in a paddock at Darlington Point in the Riverina," he said.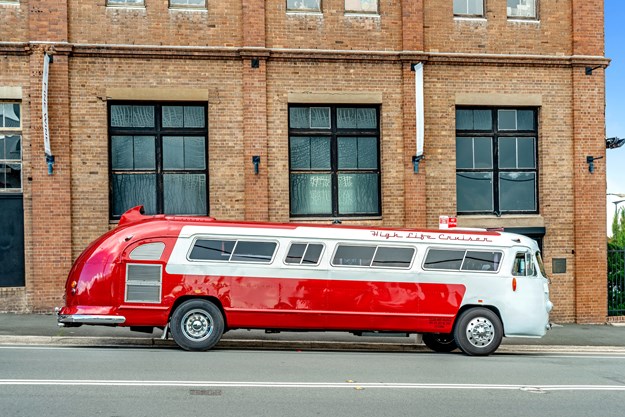 Specs
MAKE: Ansair
MODEL: 1954 A36 Clipper
ENGINE: 8.36-litre V8 Perkins
POWER: 127kW (170hp) @ 2,800rpm
TRANSMISSION: Allison automatic
STEERING: Isuzu
AXLE: Rockwell
BREAKS: S-cam
INTERIOR: Red leather upholstery, removable wooden tables
MISC.: Two reverse-cycle air conditioners, bathroom, mini-bar fridge
Subscribe to our newsletter
Sign up to receive the ABC e-newsletter, digital magazine and other offers we choose to share with you straight to your inbox
You can also follow our updates by liking us on Facebook.