VIDEO REVIEW: YUTONG E12 ELECTRIC
---
EXCLUSIVE: While electric buses are nothing new, a 'current' six-month NSW Government-endorsed trial of a new Yutong E12 city bus firmly indicates where 'The Premier State' is heading. Fittingly, ABC visited the South Coast's Premier Motor Service for a first drive.
This test drive of the new Yutong E12 is certainly going to be an exciting one. We've driven an electric bus before and, yes, on paper it's easy to see the common-sense this technology brings and what it could do for our industry, but today's bus and drive is part of an important change that will, in one way or another, affect us all.
Today's drive is much more than the importance of this one Yutong E12 electric bus and what it does; it's about the trial that Nowra's Premier Motor Service is conducting as part of the NSW Government's commitment to having a minimum of 10 per cent of buses being electric or hybrid by 2021 – and how this one bus will hopefully show us all how it can be achieved.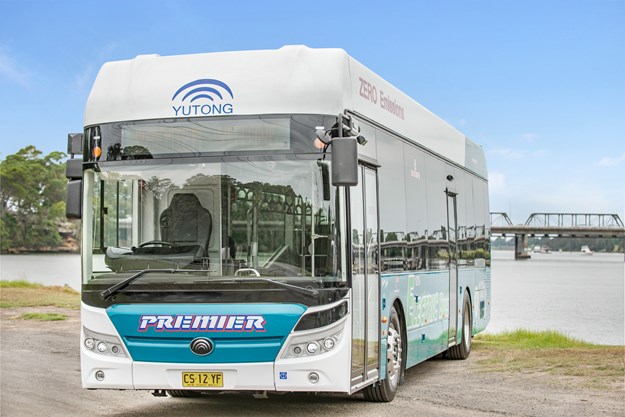 Arriving at Premier was surprising; we've never turned up for a test drive and been met with a whole panel of passionate and dedicated 'bus people' doing their bit for the industry. We are luckily in an industry where we get to meet amazing people that care about it, but today's drive was next level for dedication and desire to make a difference, and finding the ways we can make technology work for everyone.
Premier Motor Service boss and BusNSW president John King, when asked if the government's figures would be a tall order, explained: "It is, but it's certainly achievable. The tall order is how do we get the energy to do that? Operationally, in the next six months we will get the data from this trial to see what can or can't happen. I really want to see a positive result for our industry and community."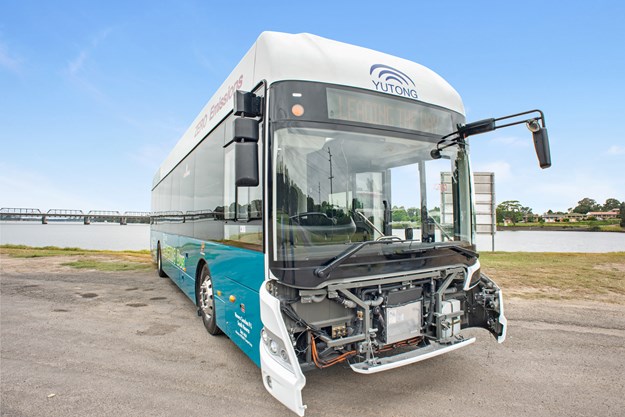 SMALL BEGININGS
As Premier's compliance manager Greg Abel explained: "We conceived this idea a few years ago. It started with discussions between the workshop manager and myself; he has very strong views on the direction of diesel engines. He had spoken to an electrical vehicle supplier and the concept grew from there. It was a lengthy process, but when Yutong come on board it snowballed very quickly.
"We partnered with all the people at the table today and, working with Transport for NSW, things are looking very exciting.
"It is important to note that this trial wouldn't have gotten across the line if it was at a cost to the government. Yutong … provided the bus, the charger and the technical staff that will be here during the trial period. It's been at great cost to them. Tom Simms [of Air Access Technologies BusTrak] has had an enormous input, of which I'm sure if I receive an invoice, I won't be paying," he joked.
"Regarding our administration costs, for me personally it means being taken away from my core duties; everyone at this table has put something into this trial to make it happen," Abel said, helping illustrate the dedication of this group.
RAPID ADVANCES
"Across the board it's about our company trying to find innovation and stay in front of the game. I've seen more change in the past 18 months in our industry than I have in the past 45 years," added King.
So things aren't as simple as they might seem: there's a great bus, excellent cost savings with running and servicing and the obvious environmental benefits, but behind the scenes there's so much more needed than this layman could have imagined.
"There's already been a lot of challenges along the way and Greg has written a lot of the policies and procedures that will drive this forward for the electric buses coming into the world of bus operations," King said.
"Without this trial starting the policies and procedures, we are never going to know what best practices are.
"As a group we have just commissioned to get solar put on our roofs in all our depots; we have gone to 100-amp systems and we'll feed the grid during the days; we've gone to off peak so you'll charge the bus at about 12 cents a kilowatt between 9pm and 5am. You just have to change your methodology of how to do things," King explained.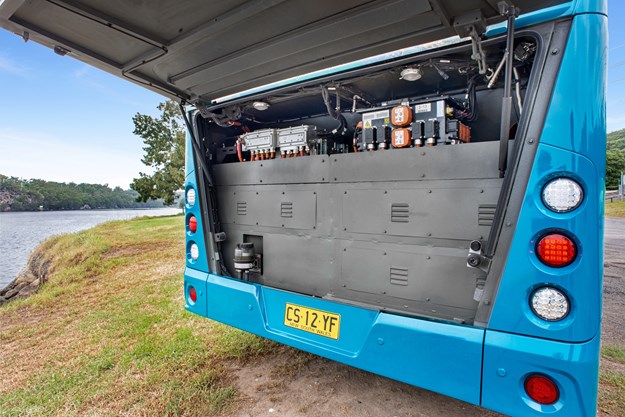 "The reason for that are the advantages of the off peak. We did a run back from Sydney after a meeting with the minister and where the diesel would have cost $95 for the trip, it cost us $18 to charge it [the electric bus] with the off peak at 12 cents a kilowatt, that's a direct running costs comparison.
"The trial is purely a data-obtaining trial. We need to know the charging requirements and the usage, and we have already overcome initial obstacles just in installing the first station. The simple fact is, Australian standards don't cover this, they don't go as high as the bus charging amps. We need to get the data, analyse it and then we can see what direction we all need to take.
"If we don't start this ball rolling – if not for my grandkids but for my great-grandkids' sake – we aren't going to be sustainable and we are growing and we need to come up with some sort of solution. Governments around the world have to come up with a solution 'cause it's real.
"Four years ago I went to a world bus show and 70 per cent of it was heavy diesel engines. When I went last year 70 per cent were electric. Technology with batteries has improved tenfold in the past four years – just imagine what will happen in the next four. The batteries are getting cheaper and smaller and lasting longer," King said.
"The challenge is to deliver better services to our community and value for money for the government," he added.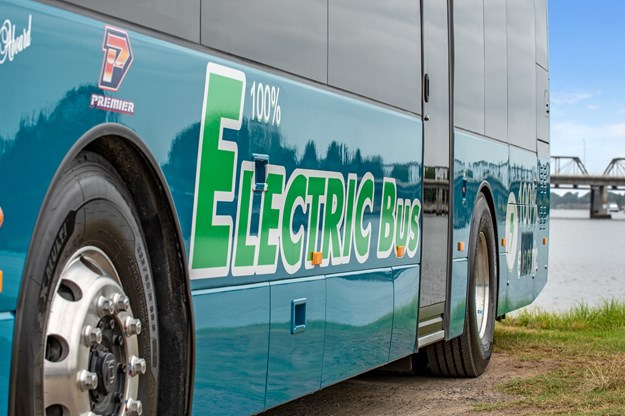 THE ROUTE
Abel explained the route chosen: "The electric bus trial will operate on route 737 between Bomaderry Rail Station and Kiama Station, Monday to Friday. The route is long at 40km each way.
"An exciting thing is that the electric bus won't be running solely on the route, it will be split directly in half with a diesel bus, so we can get direct comparisons. The entire service is 480km per day and each bus will do three complete rotations of 240km plus relocation.
"Initially, the electric bus will be doing the morning run for charging purposes."
SMARTER DATA
In explaining his technical part in this exciting trial, chief technology officer at Air Access Technologies Tom Simms said: "There will be the operational-centric data that will [be the] route-type performance data, which includes running to timetable, and alongside that we will have some operational characteristic data. The main one that we can have an influence on deals with the regeneration process that occurs when the bus is running downhill.
"In order to calibrate that we need to know the 'rise and fall', so we need specialised aviation equipment so we can run a calculation over the top of the data that says we get the percentage regeneration (charging) over the rise and fall of this route. This route was also chosen because it has a good amount of rise and fall," he explained.
Thus, in essence, this route was specifically chosen by Premier as it is a long route with areas of incline/decline and, in addition, the company itself understands that the air conditioning system alone will be a big drain on the power system, so they need to understand the processes.
Drivers are usually taught to keep their foot off the brake and use the retarder system and now they have to train them to put their foot on the brake to regenerate power – that's where this data collection analysis will come in.
They can directly compare the data Simms' system finds with the Yutong system and come up with the best ways of regeneration.
Abel added: "It's just creating spreadsheets because the data is already there. The data I need can come straight from the charging station. Press a few buttons – the spreadsheet comes up on the charging station! You don't have to search for the data, it's there – I just have to collate it and put it into a more detailed format, so we can analyse it at the end of the trial.
"With the feedback from the bus and Simms' system, Premier can – on a weekly basis – give feedback to the drivers. It's about the drivers challenging themselves to be more efficient, it's just a new way of thinking.
"We aren't going to hide this data from anybody, the data will be there. You run a trial and the results are good, bad or indifferent. Are we expecting all positive data? We don't know and if you keep the data in your pocket what's the point of doing it? It will be there to learn from," Abel said.
King added: "We have to be innovative. In rural and regional life unless you own a car you aren't mobilised. We need to mobilise our communities, we have to count the cost – and because we have low patronage we are running a lot of fresh air. We have to come up with solutions with the learnings and the savings we can find.
"At the launch with the minister they announced the implementation of charging stations for regional areas. This learning isn't just about one bus, it's about how we can create infrastructure for the long-term," concluded King.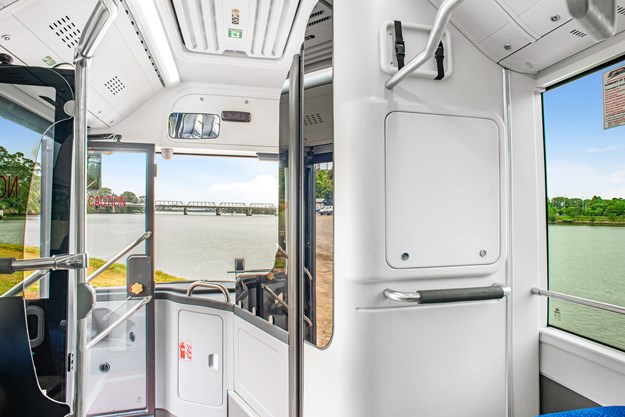 PRE-DRIVE
Before we set off on our test drive, we asked Abel what impressed him most with the Yutong E12.
"A great feature of the vehicle is its adaptability and what you can actually do in the depot to tune it. You can tune the acceleration speeds, the 'regen', you can drop the amps in the charging station – it's impressive what you can do to suit your needs," he explained.
"The support we got from Yutong has been amazing, over and above what we expected. Guess you could say that all [of us] sitting round the table today are definitely Yutong E12 fans."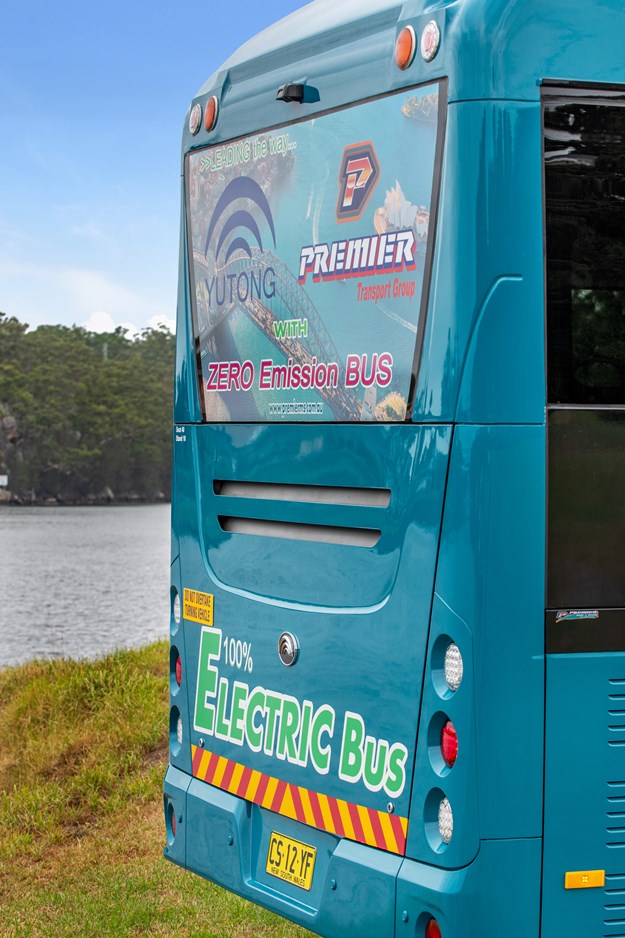 ELECTRIC SINCE 2012
Forecasts predict strong future growth in electric vehicle sales across Australia and NSW, so this must be very exciting times ahead for Yutong and electric bus manufacturers in general.
Asked what applications he thought the E12 would suit best, Yutong national service manager Luke Edwards replied: "School bus routes and all regional and rural route applications. We are pushing for electric vehicles because we know it is a better solution for the community, it's just getting past governments and this trial will be a great start".
To Australia this technology is new, but Yutong has been building fully electric vehicles in China since 2012. The company has produced about 100,000 since first production. Yutong keep as much as they can in house, but they do partner with industry-proven providers. The E12 today is all Yutong except the ZF axles front and rear and the Wabco EBS system.
When asking how many kilometres from a single charge the bus can do, Edwards explains that there are many variables that alter this figure and that will be one finding this trial is going to document. The distance can vary according to the real-world environment, temperature and terrain and even driver input, so no exact figure is available, but the general result is 285km to 380km per trip, he says.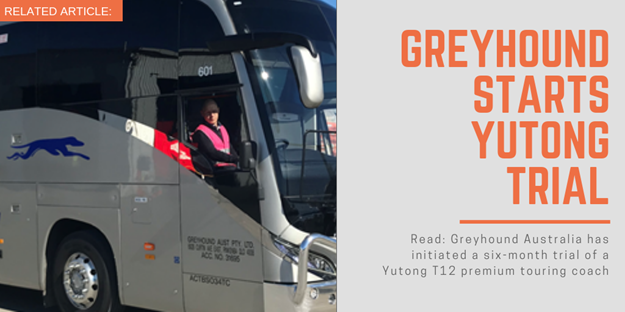 "The drivetrain has a conventional diff just like every other diesel city bus. It's got a ZF axle and we use a single traction motor in the drive wheels. Yutong have run that from day dot because it's an easier integration and more efficient to a point; the main reasoning is you don't have the unsprung masses in the wheel hubs, you don't have high voltage cabling that needs to be regularly checked because its moving up and down with the suspension. It's a safer, more effective way they have chosen to do it," explained Edwards.
From a servicing perspective there are definite advantages with an electric vehicle: there's no transmission servicing, no engine wear, no oil changing – the E12 has bearings replaced at 350,000km.
Yutong has partnered with ZF and they have a servicing schedule where the wheel bearings don't have to be looked at until 250,000km. Reduced servicing means increased time on the road for operators.
Earlier Abel said, "From a compliance perspective our industry is changing and there is a heavier focus on safety. The reduced servicing will allow us to free up our resources to focus on the safety-related areas. We now do a lot of pre-check post-checks, it's just changing the focus."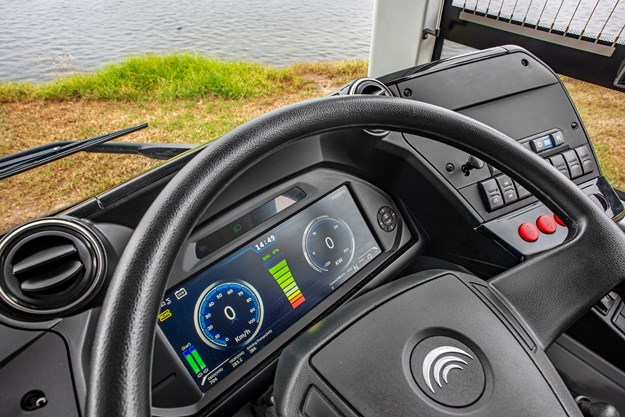 ON THE ROAD
We set off in the E12 from the Premier bus depot to the Nowra town centre; it's a surprisingly busy country town. The guys had explained the take-off was impressive … and they were right! They had all had a turn at different times and that was one of the main things that stood out for every driver, they all mentioned it.
The E12 is 12.3m in length it has 40 seats, two doors for ease of passenger entry and exit, wheelchair access and two spaces for chairs internally. There is ample standing room and all is quite spacious. This model has a short wheel base at only 6m and it does turn really easily. The steering was light but not too light, predictable just like many like it.
The driver has their own integrated climate control, which is great as often drivers can be a lot warmer than the passengers and with all the glass and glare around them the sun and heat can be harsh. The driver's cabin has both its own air conditioning and heating system, and there are a huge 13 vents just for the driver – thank you, Mr Yutong.
No complaints about driver vision. One feature that would be handy in cold or wet conditions is that the driver's side window is panelled and the central panel is heated like the rear window in a car, so visibility in poor conditions wouldn't be a problem.
Mounted overhead is a split LCD screen with five cameras, both internal and external vision, desto controller and radio. The driver's area is comfortable and legroom is good. The dash has a digital display that shows outside temperature, braking air pressure and the speedo, and also gives you battery range in kilometres. In comparison to a standard diesel bus dash the battery and diagnostic data was the only main real difference. All the info is on your screen, even if there is a fault it's all on the drivers screen. No tools needed, it's all there.
There is a kilowatt gauge, which we guess is your economy gauge, so the driver knows at all times whether you are drawing or regenerating power into the system. It was interesting to monitor this and get a feel for how effective your driving habits are.

GET USED TO IT
We'd been told that as a driver you have to rethink your driving. Whereas we usually don't use the braking system excessively and rely on retarder systems, the electric vehicles recharge when you use the brakes. Guess it would take some time to effectively gauge how to use this system so your driving is getting the most value from the batteries. It's just a new way of driving and thinking.
This was my second drive of an electric bus and it's what you don't hear that's amazing, even a bit unnerving. As explained somewhat light-heartedly, in busy areas the bus could do with a bell or chime system fitted to warn pedestrians on busy streets that the bus is near, it's that quiet. This will be a huge benefit when you are in busy urban residential areas; an electric fleet would be a massive reduction in noise pollution and an all 'round benefit to communities.
As Edwards said, "I was sitting at a bus stop waiting for the bus to arrive and I was on my laptop. I didn't hear the bus pull up, the first thing I heard was the air con system – pretty impressive."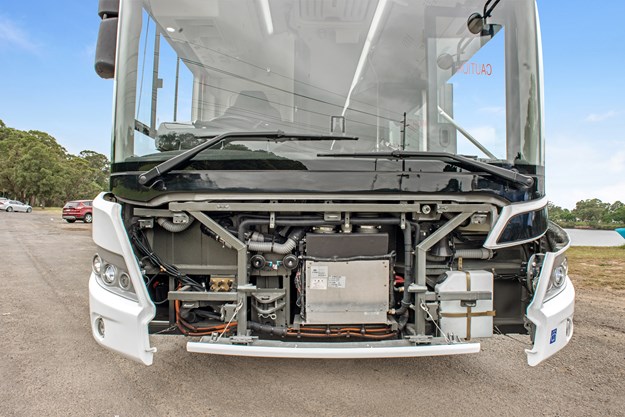 The thing that definitely will take some getting used to is the lack of internal and engine noise. Traditionally, the noisier a vehicle the more powerful it is considered, but that goes out the window with an electric bus. It was hard to associate the power with the silence, but we guess it's just a new way of thinking and something we drivers will easily get used too.
With the front of the vehicle under the windscreen fully open, it gives really easy access to lights, the washer bottle and driver's heater, and would make maintenance easy in this area, or panel changes in the event of accident. All of the panels are built for easy panel replacement, we're informed.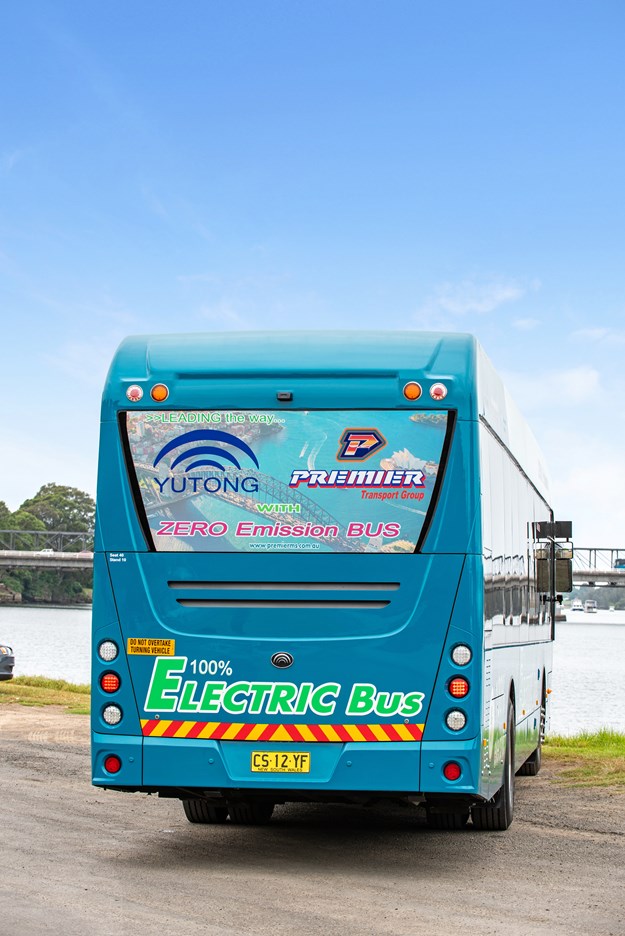 END OF THE DAY
Arguably, the more you learn about the electric vehicles the more complex and interesting they become. We learnt so much from the panel on the day of the test drive and we certainly look forward to revisiting this story after the trial has finished to see what the Premier Motor Service guys found.
Is electric the way of the future? It certainly looks that way, but with so many advances who knows what tomorrow will bring? New energies and new technologies are definitely going to change our industry for the better and make a future where we can sustain the bus and coach services to meet our country's growing demand.
Bring on the change…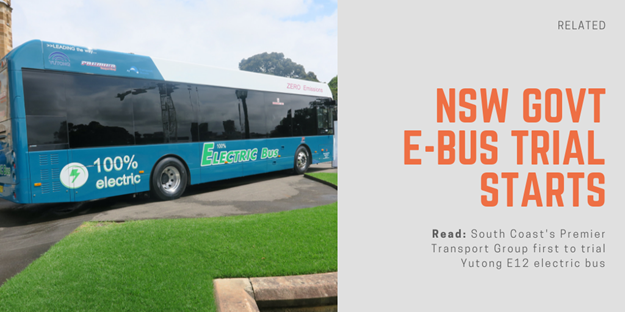 Specs
MAKE: Yutong
MODEL: E12
MOTOR: Fully electric 324kWh
RANGE: Avg. 300km
CHARGING: 2.5h quick charging using 150KW DC charger
MISC.: Electric operated air-compressor, electric operated power steering pump, drive motor, five battery packs, power management unit, battery management unit, vehicle system air tanks, and cooling pack for drive motor
Subscribe to our newsletter
Sign up to receive the ABC e-newsletter, digital magazine and other offers we choose to share with you straight to your inbox
You can also follow our updates by liking us on Facebook.