VIDEO REVIEW: VOLVO-IRIZAR i6S B11R
---
When someone says every feature in a bus product's brochure is the reason they bought it, you know you are dealing with one happy customer. Compass Tours MD Jeff Chalker is one such customer – loving his new Volvo B11R and Irizar i6S combination.
"They are all what they say, no sugar coating," explained Jeff Chalker, of the Volvo B11R brochure features. Living in the Blue Mountains of NSW he was very passionate to do his part in preserving the World Heritage area. For him the Volvo B11R's Euro 6 capability was the obvious choice, stating: "Compass Tours wants to be part of that change, we want to make a difference."
This is where his new Volvo-Irizar combination comes in. As he recalled, "Here's a great bit of information – the morning after the Irizar i6S gala launch at the Melbourne Convention and Exhibition Centre last year, I can't remember for what reason but the coach was left running and I came back to it and you couldn't even smell its exhaust emissions."
At other Volvo launches for two of its chassis I remember exactly the same surprising feature; they had them running while we were watching the demonstration – no smell. Interesting…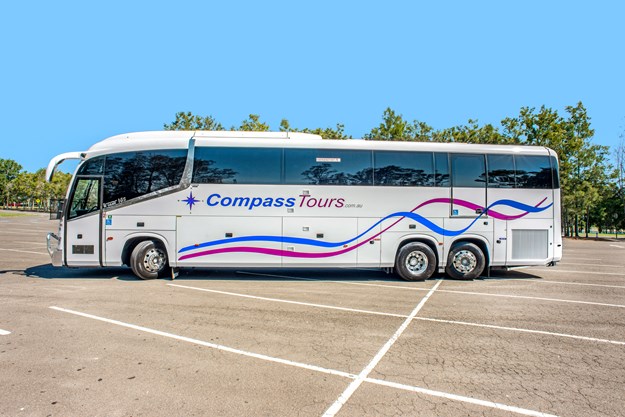 Compass Tours is located in Werrington, NSW, and after spending a day there with him it certainly gave a great insight into the man behind the company and why a company that started back in 1966 is sure to have continuing growth and success.
Ironically, he purchased the company in 2009 with his wife, Sharon, after seeing an ad in ABC magazine. So although he says his new Volvo-Irizar i6S has done the promotional rounds and been the star since its launch, this interview is a first for the man that, in his own words, prefers to be behind the scenes and doing what he does best.
He's quite a humble man with an impressive list of skills that have obviously played a huge part in this company's growth and success. He says his role within the company is more strategic and an overseeing one. He does all management and driver training, he does bus driver authority training for new recruits, and he is also an engineer and a heavy vehicle mechanic, so he oversees fleet management – we're unsure what he can't do?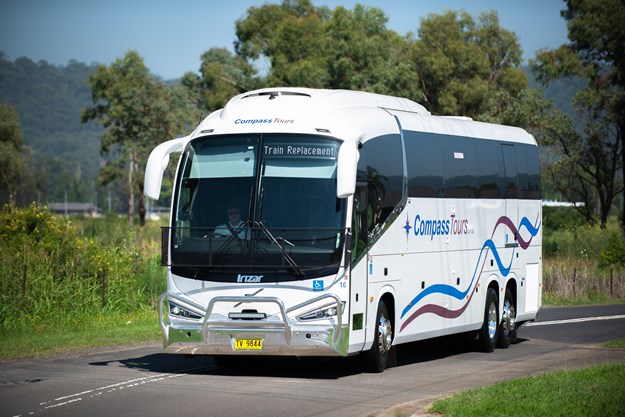 "I think I have a fairly good name for getting people into our industry, I like to do the training for no more than two at a time. I believe we need to get more people into our industry. I give people that have never had experience a go, but they might possess skills that I think suit our business. I'm trying to get some young blood into the industry; I think it's what's missing!" he explained.
He believes we need to keep drawing on the skills from other areas of our workforce, we need to keep attracting people from more diverse backgrounds, and we have become very multicultural. He feels female drivers are another untapped resource that will continue to grow; Compass Tours currently has four female drivers, and the company is currently doing a recruitment drive to hopefully attract more.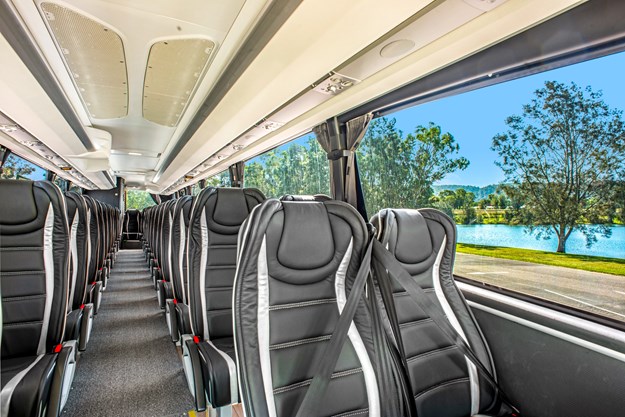 THE DRIVE
This model with Volvo B11R chassis as standard comes with an impressive list of features as long as your arm, including electronic stability program (ESP), EBS 5 (electronic braking system), anti-lock braking system (ABS) and a great hill-start aid.
A unique and new concept to Volvo that this coach has is I-Coaching. A real-time device that captures data of the drive that goes back to Volvo, this system gives instant feedback about the driver on their driving habits and patterns. It shows excessive braking, cornering and acceleration, or if the driver is over-revving the coach. It also shows if the driver is speeding. It is a tool whose aim is to record a driver's driving patterns and help them correct them and this in turn helps with safety, passenger comfort and fuel efficiency.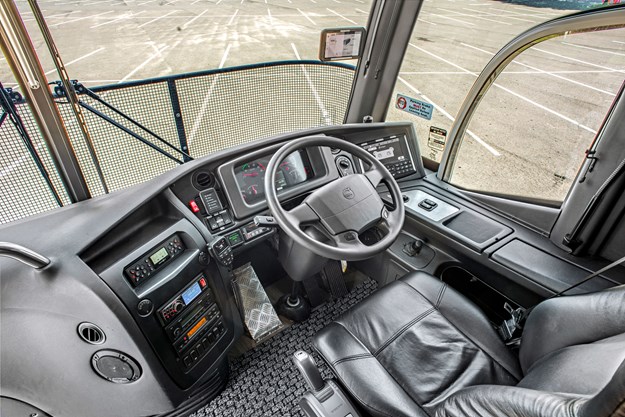 From a driver's perspective this could be seen as 'Big Brother', but again as a driver we all know how serious our job is so many wouldn't mind if their driving was monitored.
Another good feature is the data back-up because, in the case of an accident or incident, there is data there that can show exactly what was happening.
The driver's area has had a few modifications made to suit their requirements and, sitting there, everything is at your fingertips – no awkward or extended movements. It's straightforward and doesn't require constant eye contact to operate. For example, you don't need to look down from the steering wheel and road; you look left or right so you can keep good visuals with the road at all times.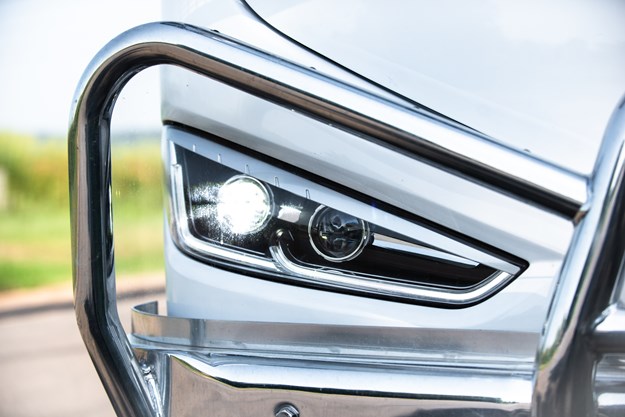 Easy-to-see gauges suit well and the LCD control panel works really well, too. It has four cameras hooked up: you have a rear passenger camera, two to the side and one for the front passengers, as well. Passenger visuals are perfect and for a driver this is a safety feature that makes our job easier.
Some features that are great for driver fatigue include the adaptive cruise control, though we didn't get to use this feature, but it's perfect for long hauls. There's also lane keeping support and a fuel economy meter, plus the instrument cluster speedometer has a 6.5-inch (16.5cm) digital display in the centre that gives vehicle info like battery voltage, the gear you are in, and all the info you need to know what's going on.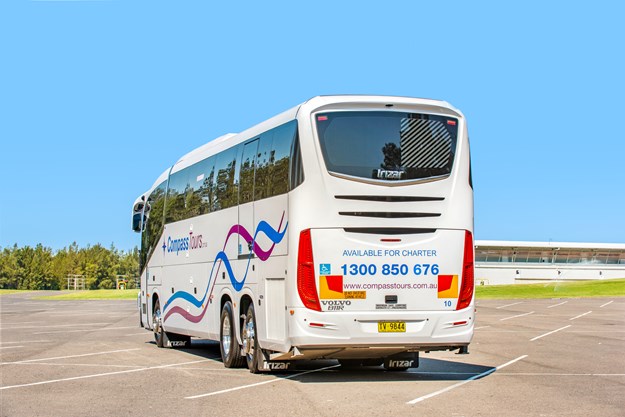 THE BOX
The Volvo I-Shift AT2412F gearbox is super smooth. Once it gets to second or third gear in auto it gets up and you can feel the torque pulling you along. The B11R is certainly a powerful unit with 460hp (343kW) and 2,200Nm, so it's what you'd expect from such a combo – certainly no slouch. We did some hills on the drive and it ate them!
Taking off at the lights and the engine shifts from first gear, drops nicely into second, gets to third and it's pulling really well… we're already at 60km/h.
When the driving is this good do manual gearboxes have a place in coaches anymore? These gearboxes are so smooth.
Manual gearboxes mean fatigue to the driver and for us long-term or long-haul drivers it has to cause wear and tear on your body.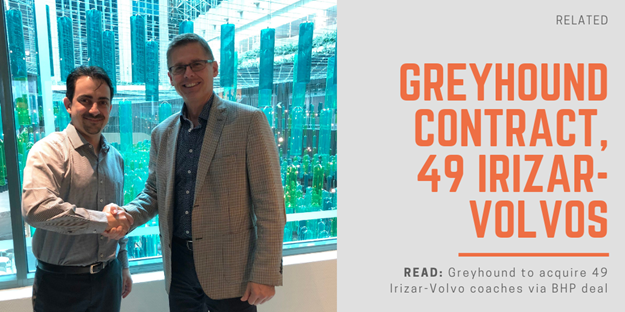 Irizar claims it has an air conditioner system that really helps with fuel consumption. The system has a higher permissible coolant temperature level and this is meant to provide better cooling and performance.
The day of the test drive was one of those blast-furnace sweltering western Sydney days that you think you' melt. The thermometer was almost 40 degrees and later it climbed to well over that. It only took a few minutes to totally cool down after we started the coach. The fans were on full speed when we started and we soon had to turn them down. Truthfully, it worked fine on the lower speed and at full speed there was the expected bit of fan noise.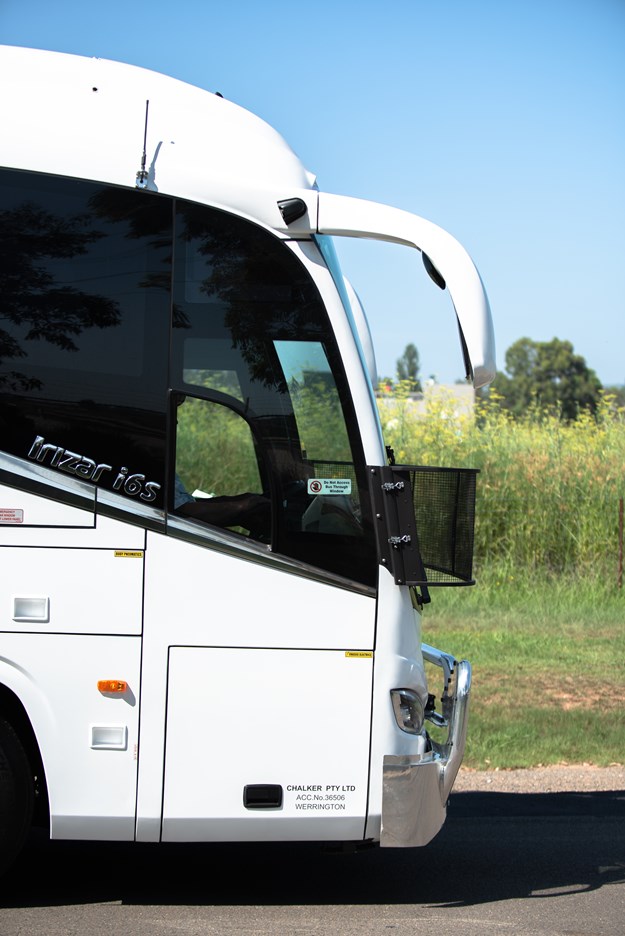 MORE CARLIKE – A WINNER
Passenger comfort is well taken care of, with seating and features as good as they come. The Sege seats are leather and have a place for your phone and gadgets, so we couldn't imagine any customer complaints about these beauties. There is also carpet for that extra touch of luxury.
Something that was great for me was the passenger headroom; being 6ft 4in it was perfect for me – a definite bonus for us tall people.
Another thing that will be unique to many on a coach is a urinal in the toilet for men. On a moving coach it would make life easier and cleaner. This is an optional extra that Compass Tours has gone for from Irizar, given part of the Compass target market is the corporate traveller, so as with all chosen additional features it's what suits your target market best. There is also an optional baby change table available – the list of features available on luxury coaches is constantly growing and changing.
Externally, there are design features that help make maintenance and servicing easier, as access is really well thought out.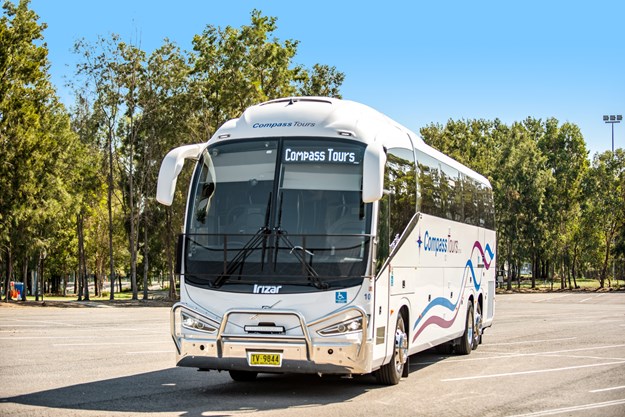 There seems to be an easy access point for everything. If you were driving and something goes wrong it's all easy to find. The irizar i6S is certainly well built.
Coaches have become increasingly more car-like than ever before - and this has to be a bonus on so many levels, like driver health and fatigue safety, which in turn immediately impacts positively on passenger safety.
Everyone wins, including the operators – no losers with these advances our industry is making, so 2019 is certainly an impressive time to be driving in.
We'll always be huge fans of our retro and historic vehicles, but you have to love the advances and changes in the new vehicles we are seeing and what they bring to the table for us all.
The Volvo B11R-Irizar i6S is a powerful and super-comfortable drive combined with the technology behind the scenes that mean drivers, passengers and operators are all winners.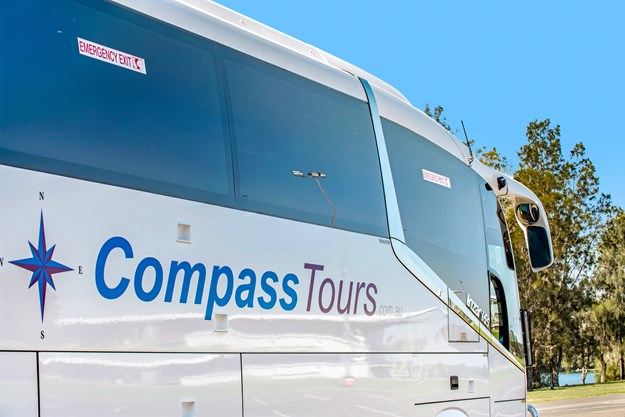 i6S INNOVATION
The i6S is a landmark model for Irizar being the very first coach designed for Australian conditions after 12 years on our shores. When asked why the i6S, he said quite simply, "In one word, innovation!
"I am always looking for something new, a new way to do things, lower running costs, lower lifetime costs. The i6S is Compass Tours' flagship vehicle. It doesn't need to go out and work every day, but it does fly the flag for our company. All big companies like Qantas have their Boeings, the i6S is our Dreamliner," he said.
Though the Irizar i6S was launched at a gala ceremony in July 2018, pre-launch the Spanish body-building team had already confirmed orders of 20 units – impressive sales for a coach not yet on the market.
Compass Tours was one of these companies, the very first Australia wide to take delivery of the Volvo B11R chassis combo. Irizar is certainly a successful global company, but what is it about this new model that had operators purchasing it before it hits the Australian roads?
"I think if you ask operators why they chose an Irizar, I think the futuristic looks certainly played a part in the choice," he said.
He adds: "There was a lot of planning from a lot of different people to make that vehicle into what it is."
"We will probably do another generation of this vehicle. We did make a lot of changes, but they were specifically done to suit Compass Tours, and would not necessarily be required by any other operator - and Euro 6 was very important to us."
There are 57 seats on board and Compass Tours chose the Turkish brand Sege for the seating. "I wanted innovation in the seating as well; the Sege seats gave us that.
"I sat down with Lance from Sege and we pondered over different design, we even did seat mock-ups in the company colours. We decided to make the coach appealing, but maintain resale value so we didn't want to brand it specific to only Compass," he said.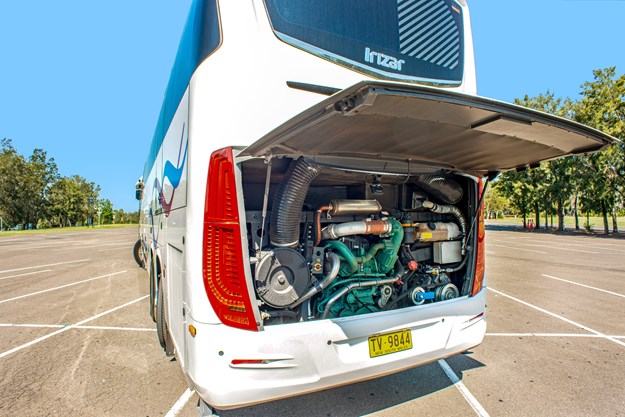 Key features of the seats are the USB ports, tray table and footrest.
He continued: "The black and silver suits a large range of customers. Say it went out and did some work for another company, the internal scheme wouldn't be throwing our company colours in someone's face. We put it to the vote with about 50 people, including customers, giving them several options – this design was the majority rules."
So how was he with the ordering and wait times?
"I was very happy. It probably was delayed by me changing my mind too many times," he laughs.
"I chose the Irizar because if I want a coach I don't want to wait 12 months or two years to get it.
"Our business is so dynamic. We had a previous situation where contractors had let us down and we urgently needed two new vehicles. I went to Irizar and I had a vehicle in about a week, another I had in two weeks. I like to buy buses on demand and if I want something I like to go and buy it. I probably went with Irizar because they have allowed me to do this."
He adds: "Jason Eldred at Irizar has been exceptional and bent over backwards for us. As for Volvo, since Lauren Downs has come on board … we have had some really lengthy discussions. I am a Volvo person and they are starting to work closely with Irizar, that's why I went for that combo, bringing the two together has really made the difference."
Having the Volvo chassis has meant that the i6S lives up to his priority for innovation.
"Would I like to see Australian buses in my yard? Absolutely! And would I pay more for this? Absolutely. But I feel they need to change things. Things like having split windscreens to make them look more modern," he explained.
"I want to bring innovation to the whole industry, not just my company."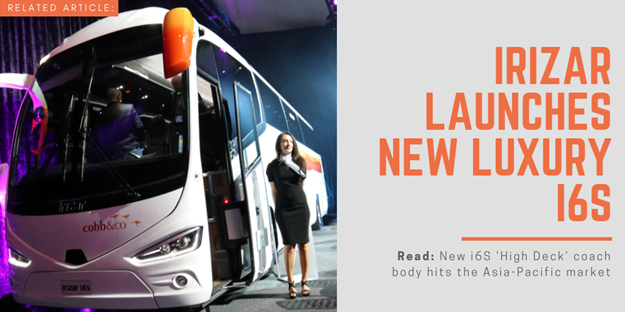 NOBODY LEFT BEHIND
"Compass Tours had a capability gap; that was the initial decision behind purchasing the Irizar.
The seating capacity was important, but it also had to have the legroom for comfort. The only way we could get the legroom was to go to 13.5m. Initially I didn't want to, but with the steerable tag I am very happy.
"The wheelchair access is a game changer for our company. On the bus side of things Compass Tours fulfilled the wheelchair capability, but we really wanted to meet that on the coach side as well.
"We leave nobody behind.
Making the wheelchair availability on a coach as well as our buses was an important decisions for Compass Tours.
"Having the toilet on board is another bonus, and it has great luggage carrying capacity as well. It's the add-ons that have made the difference. It ticks all the boxes, so I know it will be a well-utilised vehicle."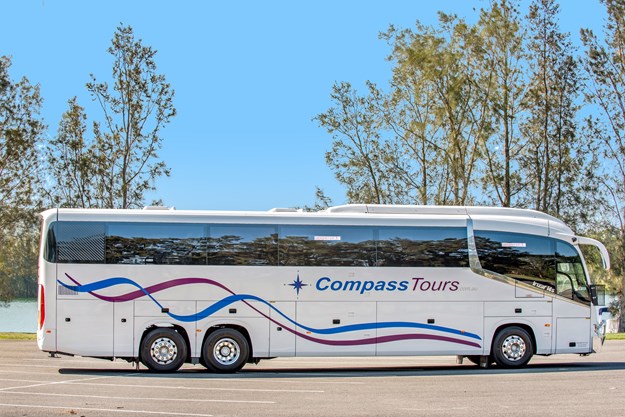 EXCEEDING EXPECTATIONS
Compass Tours has had the i6S for six months.
"The things that impress me with this coach are the very reasons I initially purchased. Everyone who gets on board loves it. It's there to meet the customers' expectations and hopefully exceed them. It's important for the drivers to be happy too. I am happy to please my customers and the i6S certainly does that," he explained.
From a driver's perspective, he added, "It's an awesome bit of gear. Driver fatigue is always an important consideration and on long tours and this coach certainly is up there for driver experience and comfort. A driver can get out of a day's driving in one of the older buses and you know you've worked a day; this one you feel like you could go again!"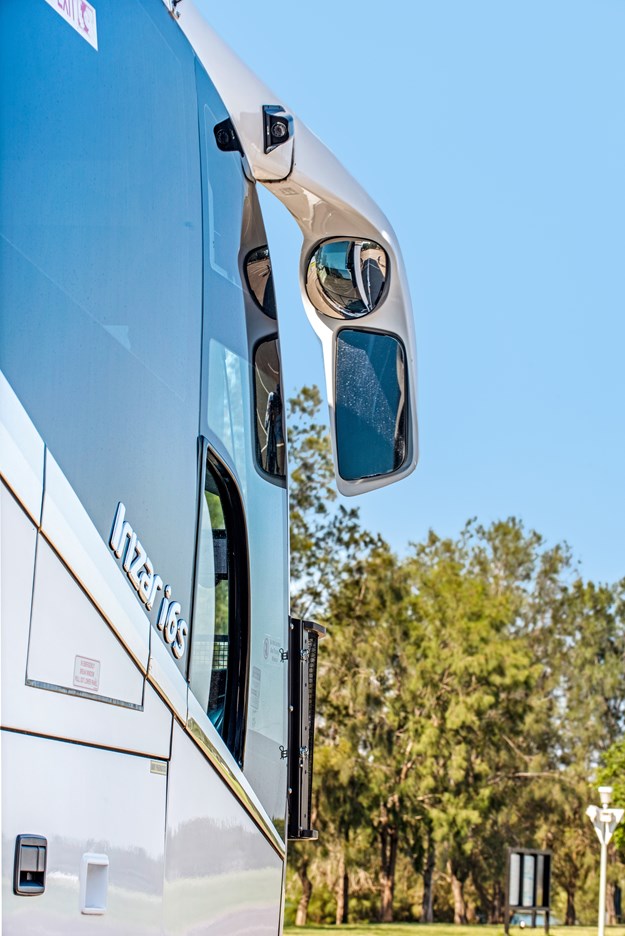 THE CHASSIS
Volvo says the B11R chassis if used for coach operation can have an oil change interval from 50–80,000km. Economy like this is important as time off the road equals money for bus companies.
Was this important to Compass Tours?
"It is, but we will probably run shorter intervals than that. The filtration system on these vehicles is second to none. There are like five filters. This coach will probably only do 20,000–30,000 kilometres per year and we service our coaches every 15,000km."
"I'd rather see our vehicles too often than not enough, but I guess those features are certainly peace of mind."
So what impresses him most about the chassis? "For me it's the Volvo Action Service, the Eco-roll for added fuel savings, the steerable tag – this coach turns on a 10-cent piece – the dynamic steering. This was a feature I have been able to test before and it means if you hit a pothole it corrects the steering. The safety is all encompassing."
Specs 
BODY: Irizar i6s
CHASSIS: Volvo B11R
DIMENSIONS: Length – 13.5m; Width – 2.5m
ENGINE: D11K, six-cylinder, in-line diesel
POWER: 460hp/339kW
TORQUE: 2200Nm
TRANSMISSION: Volvo I-Shift 12-speed
INTERIOR: Sege seats with USB charging ports in the rear; tray tables; sliding blinds; toilet with men's urinal
MISC.: Leather air-operated seat and electric driver's window
Subscribe to our newsletter
Sign up to receive the ABC e-newsletter, digital magazine and other offers we choose to share with you straight to your inbox
You can also follow our updates by liking us on Facebook.