VIDEO REVIEW: VOLVO-VOLGREN B58 ARTICULATED
---
It doesn't get more iconic '80s for many bus fans than an Australian-built and run 'bendy bus'. Circa 2019, this old-school Volgren-bodied articulated Volvo B58 bus still turns heads to this day.
They're an oldie but a goodie now, but back then they were a newie and a goodie – for anything if not representing increased passenger capacity and strikingly different looks when they first rolled past on the street.
This one, owned by Driving Services Australia (DSA)'s Murray Kirkman – an Engadine, NSW, company servicing clients Australia-wide in logistic solutions for the transport industry – is no exception to the rule.
When ABC magazine spoke with Kirkman we soon got the idea that his company is successfully carving out its own slice of the pie by offering niche transport services to fill the gaps in a constantly changing and increasingly demanding industry.
"I started Driving Services Australia about five years ago. Since then, I have brought in a partner, Matt Gersbach," explained Kirkman.
"We initially started off as Driving Services Australia offering relocations to the bus and truck industries, and we also supply contract drivers – predominantly back then for coaches – and then we moved into some truck stuff as well.
"Matt's background is sales, not transport. Matt came on board pretty much as a sales rep. He has a lot of sales experience and we are both locals and grew up in the Shire, so both local boys. I live two blocks from work, so guess I could walk here," he said.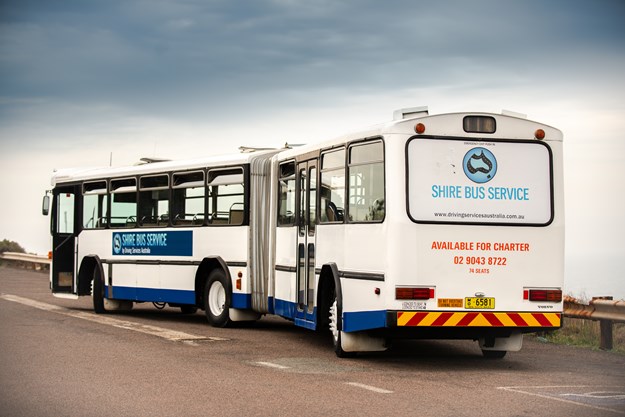 The pair started with one service area then, as opportunities and needs arose, they have grown and expanded to fill the gaps they found.
"Initially, we started with the relocations and then it went on to contract drivers, back then mainly for the truck industry. And then we picked up a driver contract with a television broadcast company. At one time we were supplying up to 15 to 20 drivers a week for that company and it just grew from there," said Kirkman.
You soon get the picture that this entrepreneurial pair won't stop while there are always new opportunities presenting themselves.
"Where we want to head next, apart from obviously growing the bus company, is into the driving services for new-vehicle deliveries, dealing with the major manufacturers, such as Volvo, Scania and Mercedes-Benz."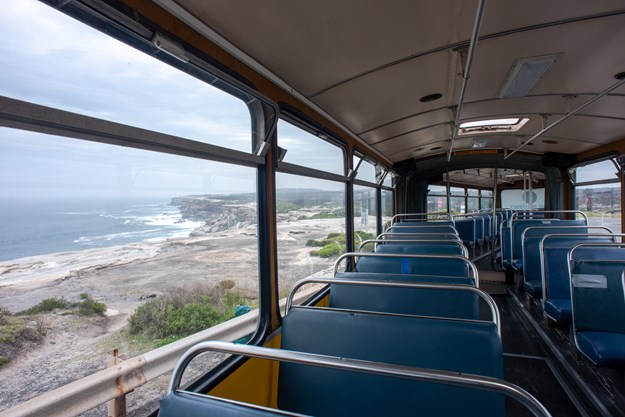 PRE-DRIVE JITTERS
When we first talked to Gersbach, he said: "We love driving this bus."
I've never actually driven an old articulated bus and I guessed, being a 1980 model, it would be a pretty standard drive.
The shear length of the bus is quiet daunting and I was unsure what features it would have for the age that might make driving such a big vehicle easier, but both owners are pretty keen on this old girl.
It was the very first bus that Kirkman and Gersbach purchased, so we wondered if nostalgia played a big part in their obvious appreciation of 'the Bendy'.
Kirkman showed me a photo he has of the Bendy when she was brand new: "I think for both the body and design in 1980 it was very much ahead of time. It has a lot of glass, big windows.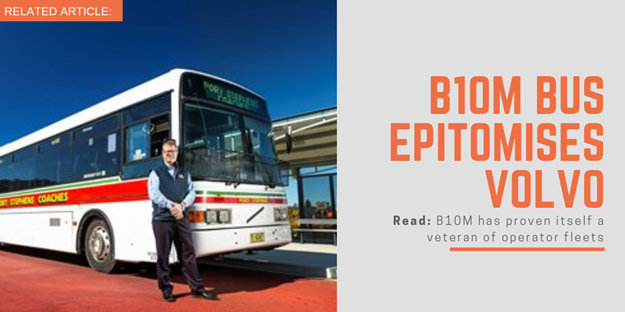 "The Holman family brought it from brand new and I think it was the first bendy bus at the time when Max Holman bought it. At the time it was cream with a yellow stripe."
It's hoped someday it will be restored back to its original colours.
"The Bendy is always fun to drive. Being the age it is, it drives excellently, it's just like driving a brand new bus.
"It was built in 1980, it is a Volgren body number 8, running gear is all Volvo B58 and, at a guess, I would say it's around 270 horsepower.
"The capacity of the Bendy makes it very affordable for schools. We generally charge for a bus and a half. Makes more economical sense sometimes when schools just go over the numbers for one bus so this saves them hiring two buses, which of course needs two drivers," explained Kirkman of the many reasons this old girl is a popular local.
"The kids love it, they all run to the back, especially the primary school kids!"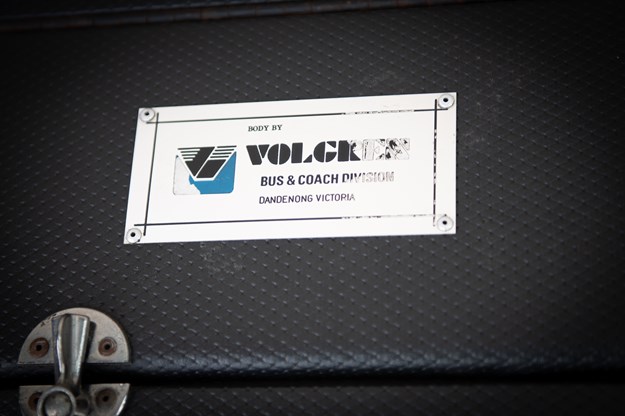 So what about fuel consumption given the age of the vehicle and the huge carrying capacity – does it chew juice?
Kirkman replied, "It's pretty good on fuel, being a Volvo helps, and it doesn't use any more than the other buses, just two extra tires on the road and it carries more passengers – but fuel consumption is surprisingly pretty standard. It just needs standard maintenance. I think predominantly since day one it has been a charter bus, so it hasn't had the wear and tear of being a route bus."
Driving an articulated bus did have me a bit nervous; the shear length and differences in cornering will make for a different sort of drive. So what's to be aware of?
"Yeah, driving forward because even though it's an '80s bus it has a steerable tag on it. That was a bit ahead of its time. The driving forward helps you go around corners. It's actually easier to get around corners than a rigid, but you have to be aware of the steerable tag cause if you do a hard left or right it can swing out. It also makes it interesting to reverse," Kirkman laughed, but I think I'll leave reversing to someone else today. He laughed a lot at this, but this was one laugh too many.
He did give back some confidence by saying, "Believe it or not, you would be surprised where you can get it. I regularly take it to the shopping centre. It looks long, it has only got a short wheelbase in the front half of it, but with the steerable tag you'll be surprised!"
THE TEST
The 1980 Volgren-built articulated bus is used predominantly by DSA for charter work, seating a huge carrying capacity of 122 passengers – 74 seated and 48 standing (that's one big people-mover).
The dual doors make for easy passenger loading, the flat floor all the way through makes it easier for elderly, disabled or parents with prams.
Back in the day, as a kid in the '80s, it was a treat just to get a ride on one. They were the first type of bus to put something really different and exciting onto the Sydney streets. Times haven't changed in a lot of ways and kids still gravitate towards these buses; they do put a whole new slant to sitting on the back seat.
Taking off, we are surprised at the torque and we're really aware that you feel like you are filling up the lane. Driving in the centre lane on the highway and you just have a feeling of needing to be a bit more mindful of your size than a standard bus. The torque was good even up some of the inclines we did, as we guess it would need to have pretty powerful grunt for when it's fully loaded; quite impressive from the old Volvo.
At a whopping 17 metres in length she certainly is long. For an older model there is great vision – as Kirkman said earlier, it has impressive glass areas for its age. There is a split screen with a bit of a curve on it, but the driver's area has really good visibility. There are blind spot mirrors – not sure if these are original from new or are post market, but they look the era and still work effectively, no complaints.
Like with a lot of these older buses they are built tough. In three years it has had no major mechanical issues, just regular maintenance. How strong it still goes and what good mechanical shape it is in is testimony to the power of the trusty Volvo. Sitting on the highway at about 75km an hour, it just wants to go. It is speed limited to 80km/h for safety when fully loaded, but the power is there.
Cornering was easier than anticipated. It didn't get to do any suburban sharp cornering, but it wasn't an issue. The steering is neither light nor heavy, just a great match to the chassis. I've driven a fair few retro buses in my time and steering is usually one area where you notice a big difference between the old and new vehicles.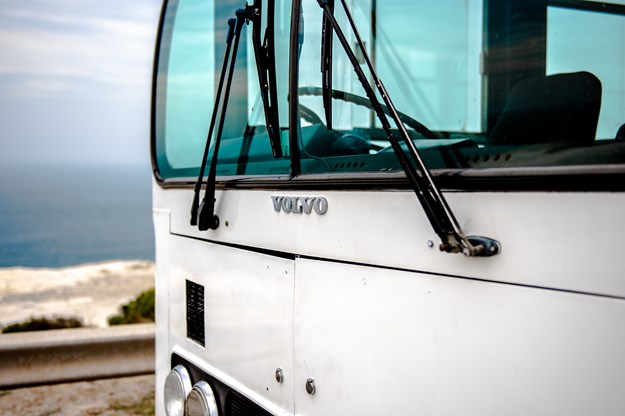 This bus could be driven all day and you'd not feel fatigued. Sometimes the older buses – like older cars – are a lot more work to drive, but this one is pretty easy driving.
Having done a school bus run for many years myself, for the age of this bus there is very little difference in the drive between what are the modern buses and this old retro girl.
This bus is 38 years old and, yes, buses and coaches have advanced leaps and bounds in safety, fuel economy and green features, but when you combine a Volgren with a Volvo 'the Bendy' certainly has been a stayer.
Kirkman and Gersbach said we'd love 'the Bendy' and it was certainly a fun drive and a good bit of nostalgia.
The NSW government has begun to phase out bendy buses because of their footprint in busy urban areas, but we guess while old girls like this one are alive and going strong, primary school children will, for a bit longer, get to enjoy the thrill of a ride on a 'Bendy'.
Check out ABC magazine Issue 376 for the full story…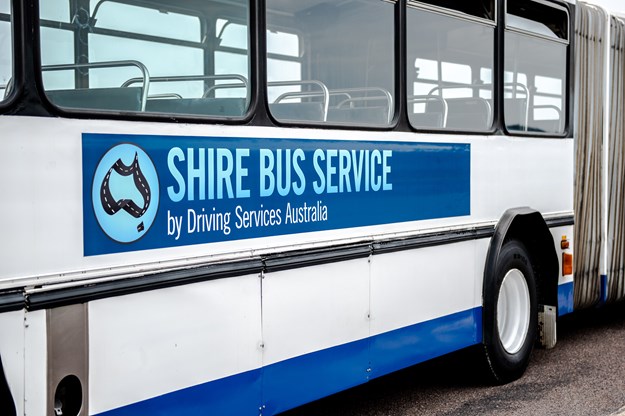 SPECS
MAKE: Volvo
MODEL: B58
BODY: Volgren 17-metre articulated
ENGINE: Volvo THD 100 D* (Aust. delivered) 9.6-litre six-cylinder with overhead valve system, Bore - 120.65mm, Stroke - 140mm, compression ratio - 15:1; Power - 170kW@2,300; Torque - 886Nm@1,400rpm
INTERIOR: carrying capacity - 122 passengers (74 seated, 48 standees); dual doors, flat floor throughout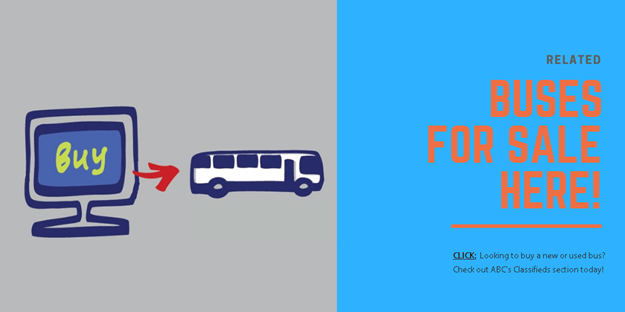 Subscribe to our newsletter
Sign up to receive the ABC e-newsletter, digital magazine and other offers we choose to share with you straight to your inbox
You can also follow our updates by liking us on Facebook.