VIDEO REVIEW: MAN RR4 CO 26.500
---
FIRST DRIVE: In Australia's alpine regions there are more than a few steep hills and slippery gradients, and you need good power to overcome them in a coach. MAN's 500hp+ three-axle chassis doesn't just climb them, it flattens them.
As put so simply by Cooma Coaches operator and part owner Trevor Heise, "There ain't no hills anymore." And having driven some good ones while transporting hundreds of avid ski-loving folk around NSW's southern alpine region each season, he should know what he's talking about when it comes to effortlessly driving on, over, and across them.
Let's be upfront about it: the MAN RR4 CO 26.500 is one big puppy! On our visit to Cooma Coaches we were lucky enough to test drive this impressive new coach that is special for many reasons.
The MAN RR4 CO 26.500 three-axle chassis is the very first release to the Australian market of a 500hp+ (373kW) Euro 6c engine and the coach's delivery also marks the 1,000th vehicle built by Australian bus body builder Coach Design, which featured in ABC magazine Issue 372.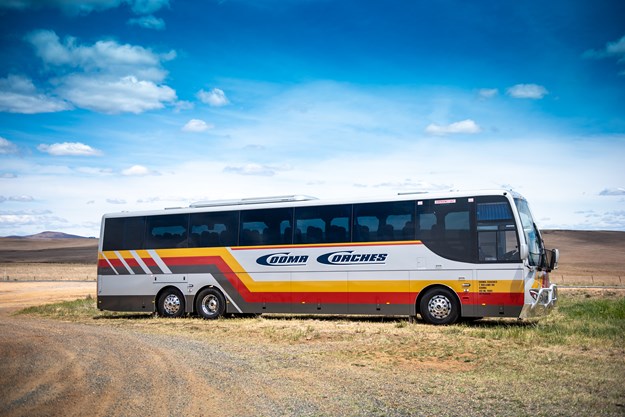 With such a long official name, we asked Heise what he calls the coach for short. He replied, "I call it the 26 500, that means 26-tonne chassis and 500hp, that's the simplest way. When I walk around the yard I go by the horsepower and I've got them from 220hp [164kW]".
We thus asked him about the power of the 26.500 and what it felt like. He explained it as, "It's just there. Put simply, there ain't no hills anymore."
So how is this one different to his other MANs?
"This is our first Euro 6 AdBlue model. This big puppy has 2,500Nm torque. Initially I wasn't keen to go to AdBlue, but like all technology you have to start sometime."
Modifications he's made to this coach were to the diff ratio, as they had to be 3.42. Standard is 3.19, which is too high a gear for this area.
"Power to weight is the trick. You don't have to use it, but if it's there you can use it! We've found having lots of horsepower isn't related to fuel consumption; it actually helps reduce fuel if driven correctly. You don't need to drive hard," Heise said.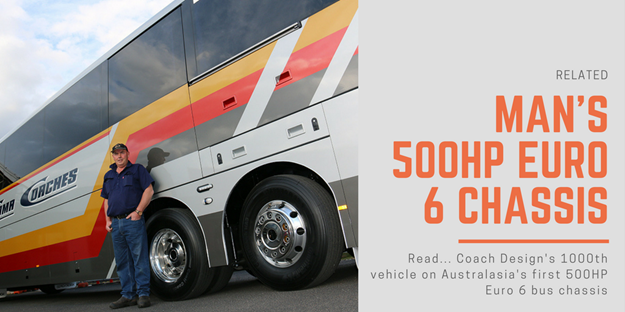 THE TEST DRIVE
This coach has torque! When you've got torque and horsepower combined then driving's effortless. You can just feel it: good easy driving.
This 12.4-litre gives you 2,500Nm from as low down as 930rpm and 500hp@1,800rpm. Torque wins races on hills and she's certainly got it. Driving her, you can feel straight away how easy it is as there's just that power – it's not in any particular part of the rev range, it's constant.
This coach has all the safety features you'd expect of it these days. Coaches are often adapted to suit the harsh Australian driving conditions, but we can't think of too many areas that would face the extremes that Cooma Coaches would. This MAN chassis has got all the bells and whistles of safety features. We rarely have never driven in snow or extreme icy conditions, but with hill descent, adaptive cruise control, electronic braking system (EBS), electronic stability program (ESP), tyre pressure monitoring, and lane guard departure warning, this vehicle is pretty sorted.
The best thing? These features are standard MAN, which says this is a maximum safety coach and, with all these features, the driver's job will be a lot easier.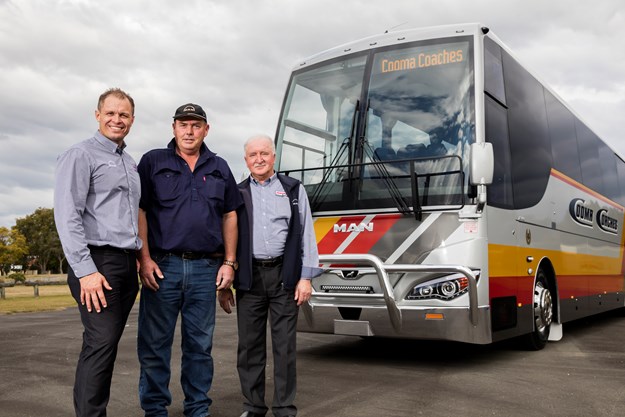 PEACE OF MIND
Driving along the highway just outside Cooma we got to give the adaptive cruise control a go. We love this feature. It picks up the vehicle in front of you up to 130 metres away and monitors the distance; if they slow down you slow down. For long distance drives this feature would have to be one that will really give drivers peace of mind and certainly increase passenger safety.
Another feature we loved driving with is hill descent. If you're in a hilly or mountain area, you hit the brake for two seconds and it will hold that gear and keep it at a constant with the retarder system. It just holds it and eliminates you being constantly on the brakes. We really appreciate features that make the job easier and safer for the driver and this coach is packed with features that will make sure driving is just that.
Now, many of us are all familiar with lane departure systems, but MAN has a system called Lane Guard. If you get close to the lane lines it sends you a beep - again, peace of mind for the driver and operator.
One feature that Cooma had fitted was LED bin door lights. It was the middle of the day and you could still see how powerful they are. Heise says they light up a really good distance out for night-time luggage loading. It's the small details like this that make a coach comfortable for drivers and passengers.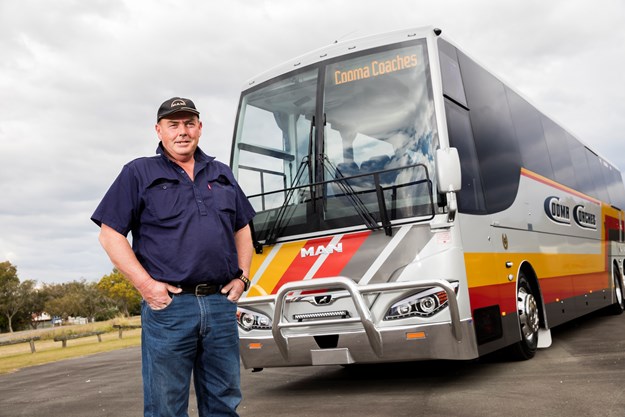 THE UPSHOT
Overall, this drive was a pleasure. We had heard so much about this coach and it certainly did meet expectations. Yes, we are in a snow region where safety is paramount, but so many of our Australian regions give our bus and coach drivers harsh conditions unlike any other.
Negatives? I looked hard but found none really. Driver comfort and vision are good, controls well placed and easy to use and throughout there's passenger comfort and space as you would expect from a 2018 new build.
The RR4 CO 26.500 would give any operator peace of mind with the additional safety features, but more than that it's an easy and comfortable drive for us drivers. And she'd be one super comfortable trip for passengers coming to the ski fields.
Check out ABC magazine Issue 375 for the full story…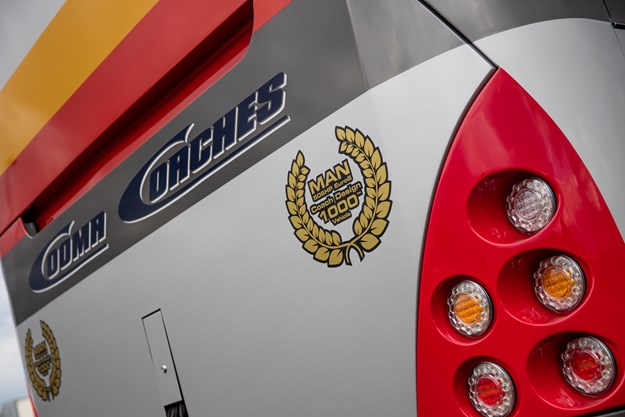 Specs
OPERATOR: Cooma Coaches
MAKE: MAN/Coach Design
MODEL: RR4 CO26.500
ENGINE: 12.4-litre Euro 6c D26 in-line, six-cylinder
POWER: 500hp/373kW @ 1,800rpm; 2,500Nm
TRANSMISSION: 12-speed Tipmatic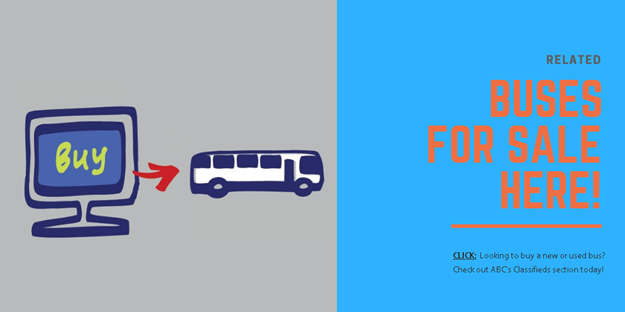 Subscribe to our newsletter
Sign up to receive the ABC e-newsletter, digital magazine and other offers we choose to share with you straight to your inbox
You can also follow our updates by liking us on Facebook.