VIDEO REVIEW: KING LONG 6130
---
King Long has been working hard to make top-of-the-line Chinese buses and coaches that meet the high standards and tough working conditions of the Australian market. ABC magazine took the company's 6130 coach for an impressively comfortable test drive.
Based in Xiamen, China, King Long is one of the world's superpower bus and coach builders that's been shaking up the Australian bus industry.
The reality is competition is a good thing, as it gives us access to the best products for the best price. Today, our industry has a choice of the world's best technologies and advancements combined with our trusted local manufacturers and builders expertise. We really have become spoilt for choice.
King Long recognises that the Australian market not only has unique operating conditions and regulatory requirements, but also has amongst the highest safety and quality standards in the global bus and coach industry.
Stephen Long, regional sales manager for King Long, said: "So they're not just a standard bus that comes off the production line; there's a lot of time and research that goes into trying to make sure that the vehicles are going to successfully operate in our busy towns, but also suit the requirements of the country regions.
"I guess we work very closely with King Long [China], with regards to developing our products. It's a continual process to get better and better in regards to the Australian conditions.
"It's all about trying to meet the Australian standards, as well. I guess King long uses our requirements … as a bit of a role model for the other markets and, ultimately, they sell to over 130 countries – so they take all that on board to try and get their product better and better. It's an important process. I guess you can look at the Japanese product 50 years ago; it was all cheap Japanese stuff – it is now top-of-the-line motor vehicles and China is hard on their tail, especially in the bus industry," he explained.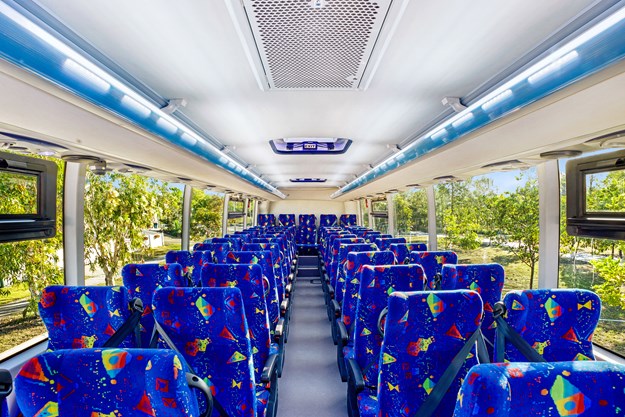 THE DRIVE
We test drove the King Long 6130. It's a 13-metre coach and comes in a 12.3 variant – so it's just that 700 'mills' difference, but this allows an extra seat, so that means the 6120 seats 57 and a 6130, like this one, has 61 seats.
"This particular body shape has been out since Cav bought it in 2013. There have been no changes other than the odd update with transmission and bits and pieces; it is essentially the same vehicle prior to this model here," explained Long.
Personally, driving the 6130 was my very first drive of a King Long. Straight out of the depot through a roundabout and the turning circle is impressive. The ZF Steering with ZF front independent axle and ZF rear axle make turning easy, perfect for city driving – especially as these buses are used for school charters in suburban areas. You know the moment you start driving how a vehicle is going to feel, and this 6130 feels good.
The bus was waiting in the sun all day while we did the interviews and the Thermo King air-con cuts in really fast. The coach has the addition of privacy glass that has an extra dark tint, which comes standard. There are also electronic screens for the driver (a necessary luxury in our harsh climate). Unless you have driven for hours in a coach it's hard to imagine the sun that the driver gets exposed to, so an important part of driver comfort is sun protection.
For the opposite weather conditions there is a driver's in-built demister and the mirrors are also electrically adjusted and heated, so the wet or cold conditions are covered as well.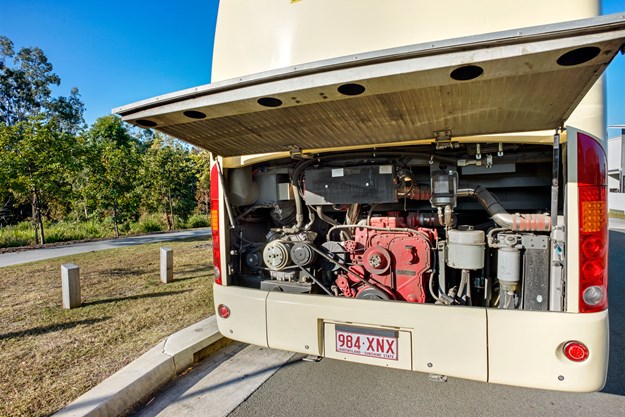 The Cummins ISL 8.9-litre Euro 5 engine pumping out 320hp gives you plenty of power on tap and quite a good bit of torque coupled with the ZF six-speed Ecolife transmission with integrated retarder.
Straight away you feel 'at one' with the bus; it's super responsive, very easy driving. Sometimes it takes a bit to get the feel for the bus, but this is really a pleasurable drive.
The King Long is running a Wabco independent system, front and rear disc brakes with an anti-locking break system and electronic breaking front and rear, and airbag suspension with 'raise and lower' (ECAS) as standard. Doing some tight turns and passenger comfort would be perfect – little movement.
In doing some reversing – and although there is a reversing camera – we went 'old school' and relied on the mirrors, which worked perfectly. Yes the camera is foolproof and ideal for safety around both adults and children, but the point was that mirror vision was good. The camera comes with reversing radar distance sensors to make reversing fault-free.
Up inclines it reaches speed well. The road was quite uneven, but the drive was smooth. We got to go through some unexpected road works, where we had to manoeuvre around witches' hats randomly, but the King Long handled these perfectly; the steering is light but precise.
The retarder system also works well. We had it on a stage three doing about 60km/h approaching a stop; you back off smooth and we hadn't needed to use the full system. Nice one.
In the driver's cab, one minor change we would have preferred is the cruise control to be on a stalk instead of dash mounted. This is very minor and probably based on personal preference of using a stalk set-up, which can be done with minor hand movements. All other controls are really easily operated. The driver's electric window is perfect, driver air comfort is spot-on.
Impressively, with the combination of the Chinese build with the European performance at a competitive pricing, few drivers wouldn't enjoy being behind the wheel of the 6130.
It's certainly one for the 'must check it out' list. A nice driving experience, indeed.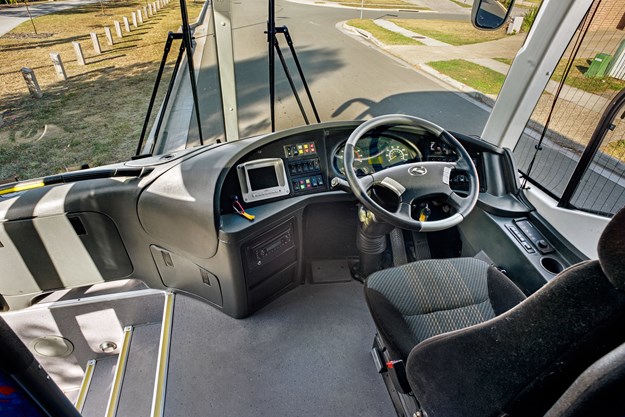 LOGAN'S HEROES
Purchased in 2001, Logan Coaches and Beaudesert Bus Service were purchased by the Cavbus Group. From there they grew to purchase Glass House Country Coaches in 2007. Since the start, Pete Cavanagh has been the manager.
As Cav (as he likes to be called) explained: "Currently, Logan Coaches have 130 staff and 110 vehicles company-wide. We purchased some King Longs in NSW prior to the sale of our company in NSW and, to date overall, we have purchased about 30 King Long vehicles. Predominantly, we do school services, like government contract school services, and also general charter. General charter covers quite a range; we also do work for the cruise ships and also the rail replacement."
WHY CHOOSE KING LONG?
"We actually bought our first one back in 2013 from the Melbourne bus show, and out of all the Chinese stuff, it was the only one that had ZF right 'round. We already had some Chinese product and we knew that they were having diff problems and stuff like that, so componentry was an important aspect of the decision. We took a team of four mechanics with us to the bus show, so it was a thorough looking over before we made that first purchase.
"I also had five trips to China to look at buses – and I mean all sorts of buses – so we researched the product very well. Well, I think probably an important part of the whole concept that we're looking at is we have seen a few bus-building companies come and go, so we wanted to pick somebody that was secure and that had the management that we knew we're going to keep them going," explained Cav.
"We have a very good relationship with all King Long staff from the sales team right through to the senior management.
"From that very first vehicle we didn't have a lot of issues, so obviously the King Long procedures and putting together of the body work was very good. So, from there we have slowly bought more and grown with the King Long family," he added.
As expected, when a large and successful bus company purchases its very first bus or coach from a new manufacturer it would be hoped that it could become a continuing relationship that financially benefits both parties. Arguably, Logan Coaches buying 30 King Long coaches in five years alone speaks for the trust and relationship built between these two companies.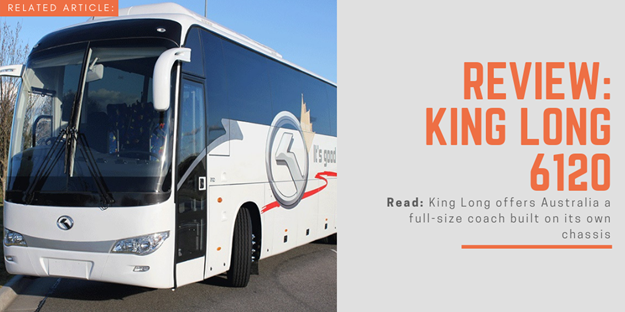 LEAVING AN IMPRESSION
In the Australasian bus industry, the big pink peanut-eating elephant in the room is there are still a lot of haters and critics out there for Chinese bus product traditionally. A lot of people have had issues in the past – and fair play to those personal experiences – but the reality is arguably over the past few years much of the Chinese product has become very good. For King Long and its marketing phrase "Leave an Impression", it's about "trying to make sure that when the vehicles are out on the road with the business' name on it you want people to say, "'that's the bus that I want to go on'," said Long.
Long explained: "The core values of King Long are all focused around constant improvement. From their entry into the bus-building market they have believed in investing into new technology, research and development. We build 25,000 [to] 28,000 buses a year and those go to a wide variety of destinations. In the early days, we used to build with a stainless steel frame and that was our agent for marketplace King Long. Then we invested into electrophoresis dipping back in 2012, and we took that on board and all of our vehicles now are dipped because, although the technology is not new, it's very new for buses and for large vehicles – it is pretty rare."
He continued: "This process is about trying to prevent the rust issue, especially if you're operating in coastal areas, as is very commonplace for our country. It's an 18-stage process where the frame and the components are taken through a massive dipping bath and, with strategic drill points, you can coat the inside and exterior of the metalwork, as well. Coverage is pretty much 100 per cent. Very impressive."
ALL 'ROUND SENSE
These days you can't have downtime because you can't afford to keep a whole lot of spare vehicles to cover workshop issues, so the least amount of time a vehicle can have off the road the better for the company.
As Long explained: "It gets to a stage where it's not just about selling the bus, it's about supporting the bus. So, ultimately, it's a tool for the business, but it needs to be on the road. This means that if there's an issue that does arise it needs to be addressed pretty quickly."
Cav added: "We also get good fuel economy, which is very important, and they are reliable, the quality is good. They are versatile; they are perfect for the school services but they are also good enough for the charter side of the business and people just like them.
"The versatility means you can do the school run in the morning and then pick up a bunch of ladies and take them out for the day. We can use them for 99 per cent of our work and the groups are always happy. The drivers are happy, so if you give them something else they say 'where is our bus?' – they all know what they want".
He added: "The mechanics have got no issue with the Cummins product and they've got no issue with the ZF products. Any mechanic these days, if they aren't up to speed on those two components they shouldn't be a mechanic basically, so it's something that they've all been taught and shown. It's just second nature to them.
"Spare parts are readily available for us. You can carry a few consumables, but you don't really have to carry too much else because it's all readily and quickly available if you need them."
MEETING CUSTOMER NEEDS
So can King Longs be customised to suit customer needs, or do they just come as basically stock product?
"These days buses look more and more alike, they are all taking on a lot more of the European look with 'grasshopper' mirrors as opposed to the drop-down mirrors, but we can – depending on your preference – structure a vehicle to suit different customer needs," said Long.
"An advantage is that we can be flexible, as we can bring buses without seats and use local, Australian seats. We can also do drop-down mirrors; we can change the look of the bus, within reason. Essentially because of the manufacturing process … the bus externals are fixed, the look on the buses is fixed, but we can certainly personalise to a customer's requirements.
"A while ago I sold a bus to a tour guide guy in Tasmania and it was one of our 10-metres. He wanted it for tourist jobs, so he was very specific (this was another bus show order). He wanted toilets in it. Ordinarily you can sit 41 seats, [but] he wanted only 36 seats, so a lot of legroom and he wanted them painted silver. So, it's all about trying to get the product that the operator needs, what's best for their business," Long said.
A PROUD ACHIEVEMENT
A major achievement for King Long in Australia has been their acceptance as a product on the NSW Bus Procurement Panel, not once but twice.
"I think for a Chinese company, that shows that King Long have been very active in making sure that they have got the quality and the standards needed to be an accepted vehicle. Others want to be on this panel, but King Long have achieved this important accomplishment," Cav explained.
Long proudly added: "We were the only Chinese product on the NSW Procurement panel, which in a sense as a [NSW] school contract operator … you can only buy off a selected list of buses. So we had to jump a lot of hurdles and go through a lot of hoops. It all comes back to the feedback from our customers as to being happy with the product, not just the product line, but also the after-sales service. Since then that panel has been re-enlisted, we've got back on again as well."
SPECS
MODEL: King Long 6130 12.3m/13m, School-charter/coach
ENGINE: Cummins ISL 8.9L E5 320HP
TRANSMISSION: ZF automatic 6HP Ecolife with integrated retarder
DIMENSIONS: 12,300mm*2,490mm*3,520mm
STEERING & AXLES: ZF Steering, with ZF front independent axle and ZF rear axle
BRAKES: Front/rear disc brake with WABCO ABS
TYRES: 295/80R 22.5; wheel rim alloys as standard
SUSPENSION: Front + rear airbag with ECAS as standard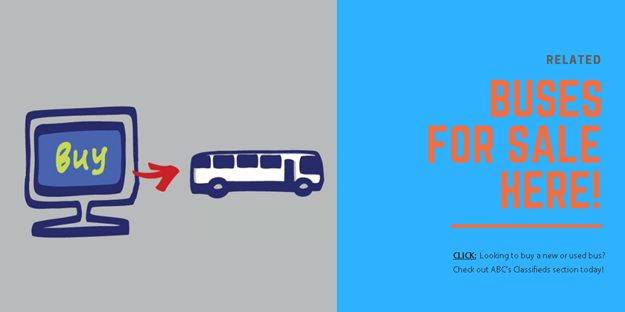 Subscribe to our newsletter
Sign up to receive the ABC e-newsletter, digital magazine and other offers we choose to share with you straight to your inbox
You can also follow our updates by liking us on Facebook.