VIDEO REVIEW: Yutong C122 / T12
---
Known as the Yutong C122 here but T12 globally, the enigmatic Chinese "super coach" boasts a European bloodline and heart, in terms of motive power and striking styling cues. ABC magazine exclusively gets behind the wheel and takes one for a spin.
Chins were wagging and curious eyes ogled intensely as the beauteous new 12m Yutong T12 coach made its debut at the 2017 Australasia Bus & Coach Expo held at the Gold Coast Convention and Exhibition Centre late September.
To many, there was something different about this 'Chinese' coach – and there was. The 12-metre high-end tourism product was tailor-made for the European market, according to Yutong. Key components were all from world-renowned brands and the seats designed with ergonomics based on the figures [waistlines? - Ed] of European people, it was claimed at the time, thus fully meeting the road-traffic conditions in Europe and high-end travel needs of passengers, the company stated.
With this 'Aussie' vehicle adopting the same platform as the high-end tourism coach developed for the European market, and given online conjecture and anticipation in the proceeding time until now, a long-awaited test drive was definitely on the cards.
Thanks to Queensland-based distributor Bus Stop Sales & Service, in Archerfield, we were soon behind the wheel of one. A game-changer? Let's find out.
THE DRIVE
Externally, the 53-seat 'super coach' is certainly one good-looking unit, with LED lighting and chrome side strips and a handsome curved front that definitely screams European luxury. It gives you the impression that what's inside should be impressive, and it is. From outside as a punter if you had to guess, you definitely would pick it as European in design.
We did about a half-hour freeway drive – not steep hills, but long constant inclines – and it just zooms up to 100km/h, sits easy and the torque level is perfect for a coach of this size. With 350hp on tap and 1,850Nm @ 1,100rpm, any driver will be more than happy.
As Yutong says, this is the first time the company has used a Mercedes-Benz engine and ZF transmission in the Australian market.
A comfort feature for the driver is an electric window, which would come in handy on hot days to get airflow and clear out hot air in our Aussie summers. On the dash is a driver's aid that assists them to conserve fuel and also lets the driver know how they are driving. Always handy.
The driver's seat and driver's cabin are both comfortable and roomy, no complaints here. The all-digital dash is another positive; everything is at your fingertips with no uncomfortable or awkward movements needed.
Driver visibility is perfect, there's ample mirror vision – again no complaints. Luxury features that make the driver's job easier are a push-button start and keyless entry; we love that stuff.
We spent some time as a passenger on the drive. The seats are comfortable, passenger legroom is ample, passenger visibility excellent, and the aisle is roomy. We found the Spheros air-conditioning works well and is super quiet; no issues.
Another feature we really like on this model is the USB ports in the back of the seats for passengers. On long trips we all can't survive without our technology and being able to charge up while touring is a great bonus.
The T12 has a surprisingly good turning circle, very impressive. Internally, the noise levels are super quiet, with benefits to both driver and passenger.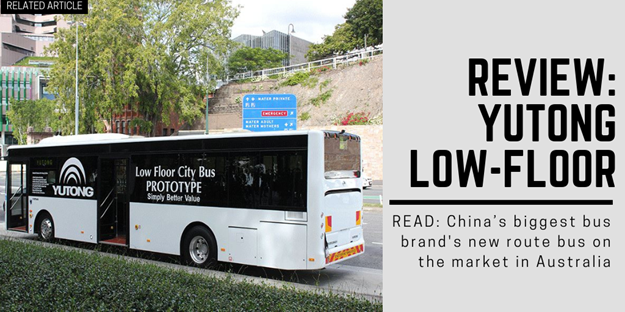 BUS STOP SALES & SERVICE
During our test we got the chance to have a good chat with Bus Stop Sales & Service dealer principal Pete White and sales engineer IAME (HVD) Dick White. The father and son team is a big part of the reason behind the company's success. So, how did it all start?
"Essentially, my dad Dick White is an industry veteran with 40-something years in the game and one of a handful of blokes nationwide that have specialised their whole life in bus sales," said Pete.
"In the '70s and '80s he was a sales manager at Denning. He then started a company called Motor Coach Australia, which was a predominant bus manufacturer; it was branch out from Denning and he since has been involved in selling a number of different bus brands. I have been at bus shows since I was four or five years old.
"Dick's success is due to his time in the industry and his passion for after-sales service and parts support," said Pete.
So why Yutong?
"Neil Wang from Yutong approached dad as he was a very successful Queensland-based salesman asking if he would be interested in representing a Chinese product. Initially he was very reluctant. At the time there were five brands in the Chinese category that he would essentially have to compete with.
"Dad, at the time, felt the Chinese buses weren't something he wanted to put his name to; they didn't reach his expectations in quality for a long-term life. Twelve months passed and Wang called again asking for dad to represent the company and be a partner. Dad insisted on seeing the factory and manufacturing process and see the product.
"I come from a sales and marketing background having worked for Virgin Australia at the time of their merger from Virgin Blue to Virgin Australia. I had been with them for 12 years and had the option with my role to move to Sydney. I was undecided," said Pete.
"I happened to be with dad in the office one day when he was meeting with Wang, so I decided to sit in on the meeting and that day the decision was made that dad and I would go see what Yutong was about," Pete said.
Some of the figures Yutong have achieved are very impressive, Pete said. "The Yutong company was founded over 50 years ago and today are the world's largest bus manufacturer producing an astounding figure of over 77,000 vehicles every year – over 300 vehicles a day!"
"Every Yutong product is built solely around an ethos of quality and support, dispatch in China doesn't happen until all testing is complete. It's all done by the company, so all is perfect for the customer.
"Before Yutong release a product they have developed, they do around a million kilometres of testing – this could be at their test track including rain and water testing, on a shaker unit, and under body testing."
So what are the fundamental differences with other brands?
"Other Chinese companies might be able to customise to suit clients' needs, but Yutong will not quickly build to a customer's specifications; all is fully tried and tested before they commit. It means all of their products are fully road ready and not just put to market for the customer to test the product," explained Pete.
He continued: "That is the fundamental difference between Yutong and all other companies. Yutong can build it, but they put it into the pipeline and probably after 36 intensive months you will see a bus. Yutong make 77,000 buses a year – some of their competitors are making less than a thousand per year, so that gives you an idea of the scale of the build process. It's very distinct, it's very different to other factories and processes that I have seen and experienced. Their commitment to the quality when a product leaves the factory is stand alone, not only within Asia, but also in the worldwide market."
"From what we saw, Dick and I decided we would start a new company, Bus Stop Sales, in 2013. We are a team of 14 totally dedicated to the Yutong brand.
"We work alongside body builder Coach Works and, between us, we customise and retrofit the Yutongs to give customers different options and solutions.
"We aim to be the most professional bus sales company in the Australian bus industry," said Pete. "We have a number of guys in our service team that are just purely focused on customer relationships.
"We have invested heavily … with over AUD$400K in parts here purely because we want to make sure we can offer full after-sales support. This, we believe, is part of the success factor of what we do; it's been a winner for us!" explained Pete.
DEVELOPED FOR AUSTRALIA 
"We got the best ZF transmissions and ZF axles, we partnered with Spheros for world-class air-conditioning products. With Spheros we designed a separate air-conditioning system for the driver; this feature is currently popular in European buses.
"Operators asked for a separate driver's fridge; drivers' comfort rated high on the feedback and I guess that's a reflection of the huge distances Australian drivers can cover," said White.
"Yutong do have their own air-conditioning products that they produce over 70,000 of per year, so it was a huge decision to move away to, but was essential to have a complete redesign of the T12."
Other changes? "We have a 410-litre tank because many of the outback Queensland and regional area operators need that extra capacity. Operators asked for features like superior bin space. Yutong designed new seats and they feature in the T12; standard they come with in-seat USB power.
"We have a full digital dash. We liken this vehicle more to a European car than a bus made in China. This is the second prototype released; the first was at the last [Gold Coast] bus show," he said.
POINT OF DIFFERENCE 
"Yutong are different to the other suppliers as they have left where they are in China and have come to Australia and appointed a Yutong factory distributor, which is what Neil Wang leads here in Australia," said White.
"There is very clear distinction that needs to be made, where they are here and we are a dealer off from them.
"There are many benefits to this because we have a direct line into the factory where the other Chinese brands that are here have come about by distributors approaching them and getting rights to distribute here, they purchase the vehicles and import themselves.
"Yutong have their own sales and spare parts facility in Sydney, they don't sell direct to the market. They do that through the dealer network. We have a lot of our own parts here, but we have their additional back-up.
"This is a fundamental difference between Yutong in Australia in comparison to other companies," Pete said proudly. "The big point with this bus is that we aren't competing against the other Asian-made buses.
"It's a Yutong, which is a Chinese name, but that is where it stops. We have made the stand to say this product is built to a global standard. We can't offer the full customisation that you can get with a fully Australian-built bus, but we are certainly competition for the European competitors," said Pete.
"Price-wise this bus is far superior, a much better value bus – better quality with as good or better support. It becomes a no-brainer for operators," said Pete, confidently.
CONCLUSION
It will be interesting to see if this Chinese import can have a huge impact on the Australian bus industry. What did impress with the Yutong is a good price point in combination with a company that takes its time in developing and testing its products before putting it to market.
Specs
MODEL: T12 "Super Coach" (C122)
ENGINE: Mercedes-Benz Euro 5 Benz OM457LA
POWER: 265kW @ 1,900rpm
TORQUE: 1,850Nm @ 1,100rpm
TRANSMISSION: ZF 6AP2000B, six-speed
DIMENSIONS: 12,245mm*2,500mm*3,820mm
WEIGHT: 13,200kg (kerb)
CHASSIS: Zhengzhou Yutong Bus Co., Ltd.
BRAKES: Wabco ABS
WHEELS: Aluminium; TYRES: Michelin 295/80R22.5, 6+1
AXLES: ZF independent front axle, ZF rear axle
SUSPENSION: Air bag suspension with ECAS
AIRCON: Spheros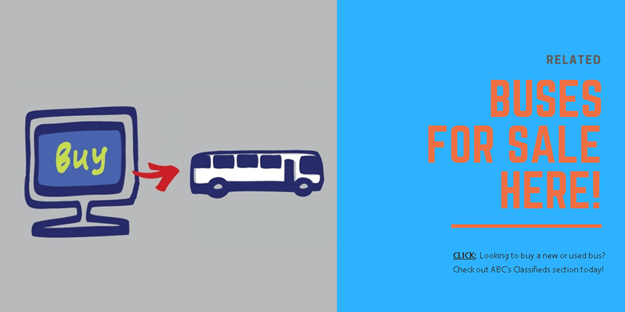 Subscribe to our newsletter
Sign up to receive the ABC e-newsletter, digital magazine and other offers we choose to share with you straight to your inbox
You can also follow our updates by liking us on Facebook.