VIDEO REVIEW: Van Hool EX 16H coach
---
Introducing a European contender with a focus on quality and reliability to the Australian market, the Van Hool EX 16H coach
Van Hool is a Belgium-based family-run bus, coach and commercial vehicle builder and a major manufacturer in the Europe market, producing about 1400 buses and coaches each year, with 80 per cent being exported worldwide.
Initially founded by Bernard Van Hool, it commenced in the 1940s as a successful body builder, designing individual creations often inspired by contemporary designs of large American cars. In the '50s, the family name became the brand Van Hool, and 2017 marked the commencement of Van Hool bus and coaches being marketed and professionally sold to the Australian market.
On the topic of company history, Van Hool Australia sales director Michael Robinson says that, prior to this new venture, as far back as the 70s companies have privately imported Van Hools into Australia and New Zealand.
"Pykes in Sydney, which was eventually taken over by AAT Kings, successfully ran Van Hools, and those early vehicles were received and remembered very fondly as they were great heavy-duty iron coaches," he says.
"This move to market Van Hool in Australia has been a big stepping stone, a huge investment with lots of behind-the-scenes work that's taken around two years to get us to this point. We have had the product made fit for purpose to run in Australian operating conditions."
This model was only introduced about two years ago in 2015 in Macedonia. Van Hool still had to make changes for the Australian environment, including dust management, the air filtration system for the engine – which is a big Donaldson; a much larger unit than other markets – and it needed to have the ability to cover larger kilometres.
"We built two new models – one for the American market and one for the European market. This model is also suitable for the UK and Ireland market as well, which is the right-hand drive model, so we have tapped into that model," Robinson says. "Because of the similarities we have been able to keep the cost down.
"Most models in Europe are the 11-litre but we have gone for the big 13-litre plus the 12-speed automated manual here. We find that's best for longevity of the vehicle and comfort of operation – it's what drivers prefer.  
"A whole lot of things were adapted, they are off-shelf components but they were put together especially for suitability to the Australian market and conditions."
The Test Drive
For the test drive, we drove from Rocklea – a suburb of Brisbane – to Ipswich along the Ipswich Motorway. This coach was a pleasure to drive and I got to have a really good test over 30 kilometres.
From the moment you lay eyes on the Van Hool EX 16H, you can see it is a special vehicle. Before the drive, Robinson told me how he was impressed with how the Van Hools looked driving down the mall in London when he was a younger man working there, and it was an impression that stayed with him.
I can understand his interest as this is certainly one good-looking coach, featuring: visually beautiful body lines; large expanses of double-glazed glass (except front window); internally, probably one of the widest aisles I have seen; and, even from the rear, the black privacy glass and LED lights are impressive.
Safety and passenger comfort are well and truly covered. The 340kW, or 460hp in the old money, DAF Paccar MX13 Euro 6 is super quiet and, as expected, super powerful.
However, for me, the safety features are one of the main selling points of EX 16H:
Electronic stability control (ESC): Automatically intervenes in situations where vehicle stability enters a critical phase
Electronic braking system (EBS): Electronic activation of all braking system components
Advanced emergency brake system (AEBS): The vehicle will brake itself without driver input, applies partial braking when stationary vehicles are detected, helps prevent accident impact, controls oversteering or understeering  (This feature is currently awaiting approval for Australian and New Zealand use)
Adaptive cruise control (ACC2): Allows the driver to set the speed and follow the distance, controls engine and brakes, and includes forward collision warning
Lane departure warning system: Warning system for unintentional lane departure, camera-based detection for road markings.
The lane departure warning system was probably my favourite feature. Yes, other vehicles have this feature, but this one has a system that works very effectively – though initially it takes a bit of getting used to. It has a seat vibration warning system. You veer left and the seat vibrates on your left butt cheek, and vice versa for the right side. A major benefit of this is the immediate acknowledgement by the driver, while the system has no bells or warning that may alarm passengers. Very clever!
Furthermore, the driver's cabin is designed and developed for driver comfort, not adapted and built up or down to suit a chassis. It's made so all components work together. It is designed to have no glare and reflections on the dash, and the design is specifically is done for the driver to have clear visibility of all the gauges.
The mirrors are adjustable and set up so there are no blind spots; the dash is cut off so there is plenty of legroom for the driver underneath; there are top-of-the-range ISRI seats; and the driver's microphone is mounted with the seats so, as you adjust the seat, it goes with you.
Everything is fully driver adjustable and angled so it is within an arm's sweep – no reaching and back bending.
"Everything falls to hand. I have seen many demonstrations and test drives with many different driver body types and never one complaint about driver comfort," Robinson says.
Customer Advantage
The company has a product which is simple in its concept using all high-grade fittings, high-grade stainless steel frames which will contribute greatly to the future savings of maintenance and repair work.
"Van Hool brings what we grew up with and what we truly think you should rely on: good, simple, honest engineering," Robinson says.
"I've seen frames and floors that needed to be replaced on buses only after several years of hard use. Van Hool has a distinct advantage because others do offer the stainless steel frames but they come with a huge price tag, but we offer many things as standard that are optional extras with other manufacturers."
Robinson says he's proud of every aspect of this coach, calling it both functional and simple but at the same time elegant and superbly made.
"It's a work of art – a beautiful machine but at the same a workhorse, it's just built so right. Operationally superior, it gives you 26 litres per hundred, heaps of grunt, and we've put all the best gear available into it.
"If you walk around the engine bay, all the clamps and hoses are silicon, the clamps are all set, we've used the German Eberspacher Sutrak AC dual zone with full climate control.
"Again, we've put in all the best gear available – it's all the real deal.
"Being an integral chassis, you save weight, at least half a tonne, this also eliminates possible conflicts with engineering designs between chassis and body builder.
"It's all designed as one unit from day one. We are starting off in Australia with the three-axle but in around 12 months have planned the release here of the two-axle. We plan to grow the business here by starting conservatively and growing as our reputation and customer base grows."
"From all the fundamentals, Van Hool gets it right, doesn't skimp on anything, and embraces all the latest technologies."
Behind the scenes
Van Hool presently has eight employees in Australia but, as an importer, its main focus is on its contractors.
"As an example, we are in Brisbane currently, and Coach Works is our appointed dealer and representative. We have other appointed dealers and we train them to be up to speed with everything about the product on both the mechanical and body side of things. This is our very first one but, as they are introduced into certain areas, we ensure the support is in place."
Robinson says Van Hool is very proactive with this part of the operation. In one area in New Zealand, there are four vehicles in operation and the support team came over from Belgium twice and did a complete train. Through the support system, the team has 24/7 access with internet and phone, and there is an English-speaking support person available.
"Through the Van Hool portal, you enter the given password and VIN number and this brings up the DNA of the particular coach you are looking at and we have every single part number on file."
You can really tell he is talking about a vehicle and company that he truly believes in.
"What I admire most about Van Hool is their passion for whatever part of the process – from production to sales, they are dedicated and very passionate. Most importantly they care, it's very personal to them, and they go to extremes to make sure if something isn't right that they fix it.
"This product speaks for itself – it's not bling, it just has a look about it. I was in Austria last year and saw a great-looking Van Hool, and when I asked about it I was surprised to find out that it was 15 years old. In Europe, because of the salt and rust levels, the coaches just don't go past the 15-year mark, but this one was perfect – I thought it could have only been two years old."
The combination of simple but quality design means the brand is more cost-efficient in the long run, according to Robinson.
"This model is high-end but it's priced quite a lot below the local and European build, and it's a bit cheaper than other straight Europeans – but the quality is there.
"In the US, we have companies that have large, quality fleets and they provide figures when comparing running costs of their vehicles, and the Van Hools cost about 30 per cent less to run than the others. A big part of this is the downtime of other vehicles. A Van Hool has always been a well-thought-out design; the simplicity of the design is kept for a reason."
The resale value is a testament to the reputation of the company; it shows its proven reliability.
 "Van Hool has always kept abreast of new technologies and changed and adapted, it has always produced a high-end coach and that is reflected in resale value. A Van Hool of same spec, same year model can command up to 30-40 per cent more than other brands on the market.
"Van Hool are a one-stop shop – no dealing with one company for the chassis and then others for other componentry, it's all Van Hool, we find this is a huge customer advantage."
Accolade worthy
 I was hard pressed to find any negatives about the Van Hool. Maybe the only downside is that there is currently a seven-month wait to get your hands on one of these fine machines – but I certainly think the wait would be worth it.
Of all the coaches I have had the pleasure to drive this year, when you consider all the factors including looks, features and the EX 16H's mid-range price point, the Van Hool certainly would be my choice as the best coach for 2017.
I think only time will tell how the Australian market will receive it, but it is very hard not to be impressed. I certainly would love to own one.
SPECS:
Chassis: Van Hool
Engine: DAF Paccar MX13 13-litre
Power: 340kW (460hp)/2300Nm
Transmission: ZF Ecolife
Emissions: Euro 6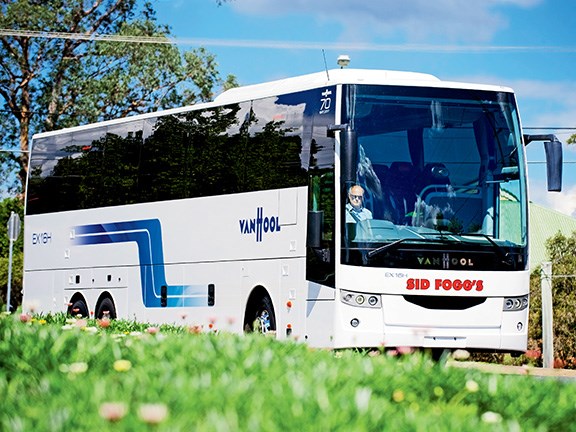 Van Hool EX 16H coach has a sharp looking exterioir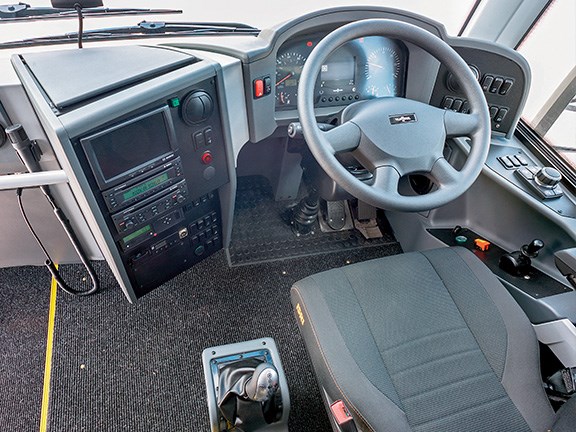 The driver has plenty of room and nbumerous safety features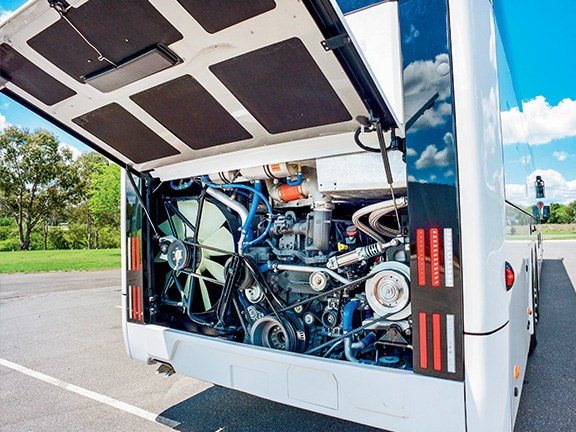 The Van Hool EX 16H coach has a DAF Paccar MX13 13-litre engine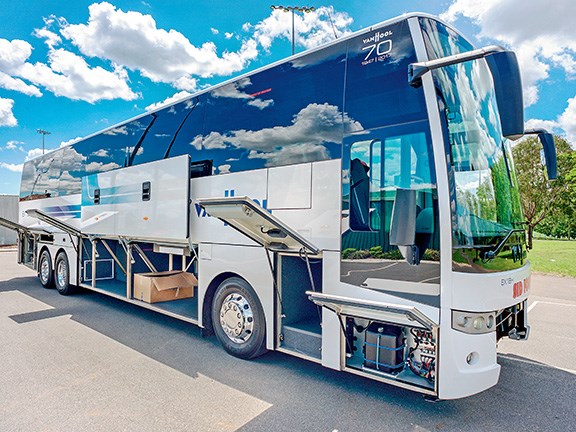 There's plenty of storage space underneath the Van Hool EX 16H coach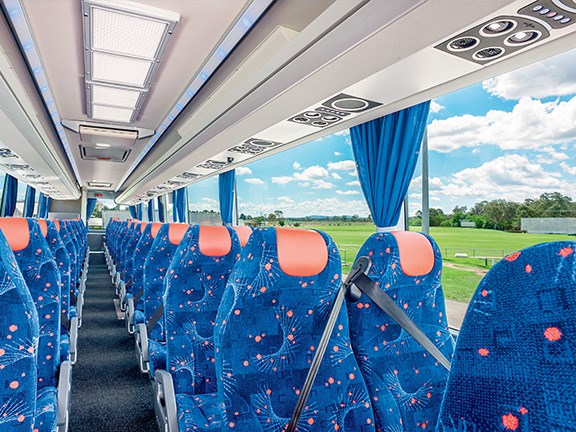 The interioir is futuristic but also functional and comfortable for the passenger
Subscribe to our newsletter
Sign up to receive the ABC e-newsletter, digital magazine and other offers we choose to share with you straight to your inbox
You can also follow our updates by liking us on Facebook.