VIDEO REVIEW: Mercedes-Benz Coach Design Euro 6
---
The Coach Design/Mercedes-Benz Euro 6 luxury coach is a pleasurable and effortless drive and it definitely does not disappoint

Crowthers Coaches is an all-Australian company that last year celebrated an impressive 90 years in the bus industry, and is currently enjoying a collaboration with Mercedes-Benz and local manufacturers.
Crowthers Coaches originally commenced its coach charter operations in the Wollongong and Dapto area before relocating to the southern suburbs of Sydney in the 1930s.
The company's website shows a timeline history of the decades and the changing vehicles and operations, so you can see just how much times have changed over the years and the advancements the company has made.
Today, Crowthers operates an exclusive coach charter service, priding itself on using only the highest standard of coaches doing day and extended tours to various destinations throughout Sydney, NSW and Australia-wide.
To survive and thrive for more than 90 years in a constantly changing industry, and to also have remained family owned in often challenging financial times, the Crowthers obviously have some secrets to their family's success.
Meeting Paul Crowther, you can see how he is part of the family success story: a passionate bus man that has values and commitment to the industry and his customers, which obviously play a huge part of why Crowthers Coaches enjoy the longevity and the success it has achieved.
A great journey
The company slogan is 'Life's a great journey'. I asked Crowther what this means to him.
"I guess the slogan is talking about the broad depth of not only our company, but life in general," he says. "It encompasses life's ups and downs, good times and bad.
"It's kind of reminding people that part of the exercise of taking people out in a coach for the day is about a great journey – not just about arriving at the destination, but also about all the fun stuff that happens in the middle." 
The Crowther website mentions a lot more than just what it does and what it can provide its customers.
It gives a good insight into how Crowthers operates and the values it holds.
The organisation's mission statement, vision and core values could all be perceived as old fashioned or objectives that usually are used internally for staff and morale, but it gives you the picture of what the company values above numbers and dollars.
When you speak with Paul Crowther, you understand that he lives and believes these values.
"Specifically at Crowthers we also talk about innovation, and I think you will see this in this coach we have gone to a lot of trouble and a lot of attention to detail with the small things.
"We love to be different but not for the sake of being different. Rather, we love to innovate and we have done this since the early days with all of our coaches.
Our other values are integrity, reliability and exceeding people's expectations, and it really is what drives us."

A Unique Build
The build process for the company's new Mercedes-Benz was actually very quick. It was in build from late November last year and was ready almost five months later.
The longest part of this process was in the planning and working with the body builder to ensure that Paul's requests were incorporated into the new build.
"Paul has a number of Mercedes-Benz coaches in his fleet and about 18 months ago we started to talk about building this particular vehicle on the Euro 6 chassis.
From that point onwards we have worked together to build together the completed vehicle we are here with today," Paul Weber from Mercedes-Benz says.
"In my opinion it is the collaboration between the builder and operator that makes this vehicle unique. Traditionally an operator allows the body builder to build the vehicle, but this was a very interactive process between Paul, Wayne and the team at Coach Design.
"Paul Crowther was hands-on in the actual build process; he knew exactly what he required and how he needed it to be.
He worked closely with the builder to ensure the vehicle was designed specifically to his requirements so it would ultimately deliver everything he wanted for his customers."
Crowther is exceptionally pleased with the chassis Mercedes-Benz has provided, also lauding the brand's collaboration with Coach Design and McConnell Seats.
"When I was in Germany in 2010 I saw the first of the these motors in the Mannheim factory being rolled off the factory floor, so to actually have one myself is very exciting, but it was Coach Design that enabled us to experiment and redesign a few features to make this coach what it is," he says.
"Chris and Wayne from Coach Design where were so accommodating – they really got what I was trying to achieve.
"I was trying to pick up on the latest refinements from Europe because I think the trend with coaches in the Australian market is that they tend to look like glorified buses, and when you are spending that much money you want the end product to be outstanding.
"Coach Design were fantastic, they were really so supportive. 
"McConnell Seats were also awesome, allowing us to redesign the whole seats to suit our company's needs."
Local influence
Apart from the Mercedes Benz chassis that is imported directly from Germany, and the English-made seat fabrics from Camira and Holdsworth, most of the other components
are all Australian.
The McConnell seats are Australian, the coach is made of Australian steel and glass, the carpets used are all Australian, and the finishings – including the fiberglass moulding – are all made by Coach Design in Australia.
"It is probably one of the most Australian coaches on the market today," Crowther says. "This coach is extraordinary and it's not often that I would say that.
"Its predecessor, the 0500, is a great coach, but this one has the Mercedes-Benz gearbox.It is so smooth – the retarder function is almost better than the brakes.
"It has features like lane departure and anti-collision; it sits firmly on the road and is incredibly comfortable; and it has all the innovation with the Mercedes Benz reliability which, as a small operator, is very important to me.
"This coach primarily will do charter work but we do extended work predominantly with oldies and they love it.
"It is just so comfortable and attractive; we do sporting groups, school groups, Country Link."
All of the Crowther coaches are either Euro 5 or Euro 6.
The latter is the most advanced emissions control available, and both the Euro 5 and 6 are outstanding vehicles.
The company says its objective is to set the standard for transport throughout Australia, minimising emissions and maximising the efficiency of travel.
Behind the wheel
The Coach Design/Mercedes-Benz Euro 6 luxury coach, as expected, is a pleasurable and effortless drive and it definitely does not disappoint. 
To put the coach through its paces and check out some of the safety features,
we took it down the steep inclines of Bulli Pass.
Our test drives are usually local runs but, as Crowthers started up more than 90 years ago in the Wollongong district, we thought it was fitting to test some of the area's trickier roads.
The 3-axle coach has two doors and 53 seats along with guide capacity, and is equipped with toilet and wheelchair access.
The passenger and seating configuration were Paul Crowther's own design.
Both visually and from a comfort viewpoint, this coach is impressive.
The Mercedes engine provides plenty of power while steering is effortless with the steerable axle tag – even roundabouts were surprisingly easy to manoeuvre.
I had never driven a coach with a lane departure warning system, so when I had plenty of room I purposely drifted as you would if done unintentionally.
The bell warning sounds and alerts the driver – this safety feature would be invaluable for drivers on long journeys where fatigue could possibly be a safety factor.
The steep drive down Bulli Pass was made effortless by the brake retarder
system. It was easy to operate – you just set the system controller to 3 and the retarder
did the rest.
The speed limit down the pass is only 20km/h for heavy vehicles and I didn't have to touch the brakes once until I reached the bottom of the pass.
In the workshop

All of Crowthers' servicing is taken care of by Mercedes-Benz.
"From 2008 we have done all of our servicing directly through Mercedes-Benz.
We don't need mechanics on staff, which saves us money," Crowther says.
"Mercedes have a dedicated bus team when we are out on the road.
They are like a Bathurst pit crew. I can call them at any time of the day or night and they are so responsive. They are just so meticulously reliable."
Operating a run from Sydney to Cairns for four years, Crowther says the company has not had any issues in this time, claiming to have never delayed a single passenger.
"One time we had a group of 36 people held up at Daydream Island until a six-day long cyclone with extreme 260km/h winds subsided.
We had to evacuate and leave the coach in those conditions and we didn't know what we would be going back to, but amazingly it was so strong it was perfect and ready to go. It's all about reliability.
"I personally understand why people buy cheaper vehicles but our customers expect a certain level of vehicle and reliability, and I just don't think it is worth the risk."
Future milestones
Weber says the successful relationship with Crowthers and Mercedes-Benz will thrive in the future as Crowther continues to develop his business.
"As some of Crowther's fleet gets ready for retirement, we will look at developing new products for him," Weber says.
Crowther believes the coach industry has gone through its most significant period of change in the last 10 years, with "an explosion of operators focusing on price, so vehicle quality is not what it used to be as the market has been driven price-wise".
"For us, I am pitching Crowther Coaches at the high end of the market as there are too many players in the middle and lower end of the market," he says.
"I see this positioning as a way to enable our continuing success into the coming markets and achieve 100 years as a successful, innovative family business.
"My dream is to see the company make it to 100 years – I'll be 67 then so it would be a very proud moment to be part of that important milestone.
"I have no ambition to be large at all. The most we have ever had has been 20 vehicles.
"I like to be close to the product and love quality service delivery. Sitting in an office and managing staff and accounts doesn't appeal to me. I enjoy the design process and delivering a great product."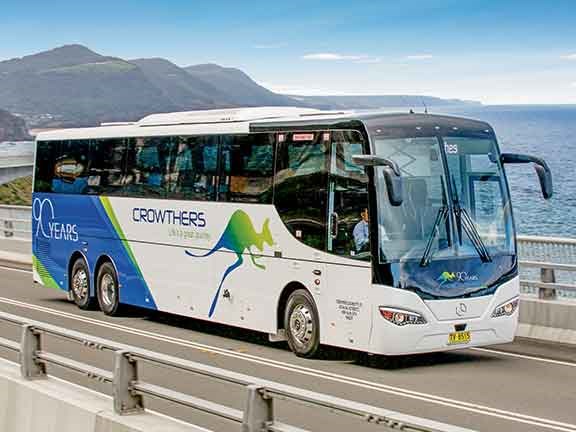 The Coach Design Mercedes-Benz Euro 6 luxury coach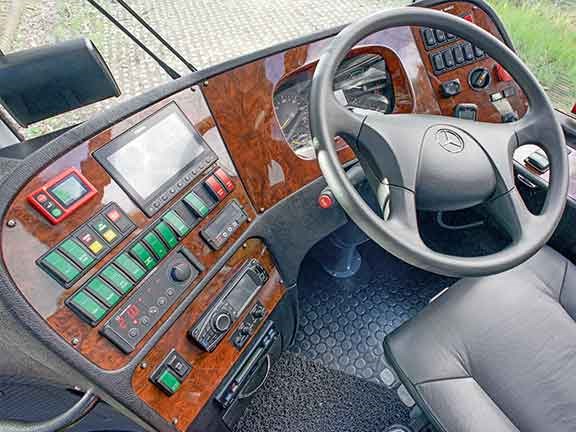 The Coach Design cabin is sleek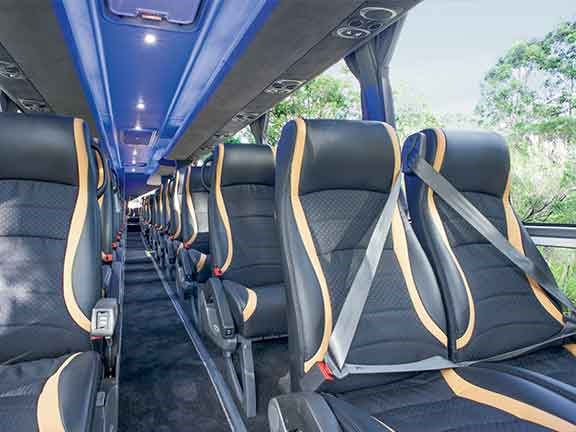 The seats came up looking sharp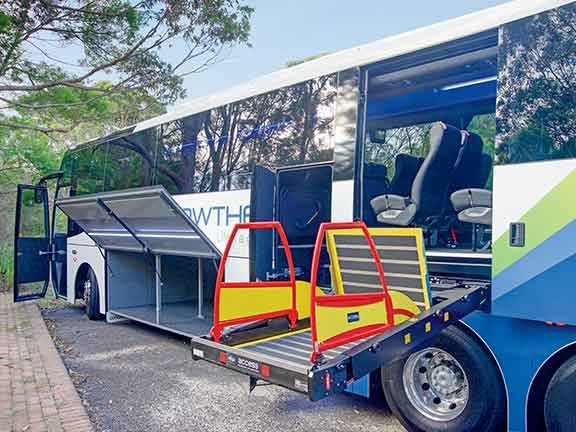 The wheelchair lift allows this coach to cater to all

Subscribe to our newsletter
Sign up to receive the ABC e-newsletter, digital magazine and other offers we choose to share with you straight to your inbox
You can also follow our updates by liking us on Facebook.