Video review: Merc OC 500RF 3-Axle
---
AllStarr Coaches managing director Toby Starr believes the Coach Concepts/Mercedes-Benz combination is a key driver of the company's reputation for quality

I headed to the AllStarr depot at Marrickville to meet with All Starr Coaches managing director Toby Starr and Mercedes Benz Bus & Coach Group sales executive Paul Weber to speak about their companies' recent successful collaboration and learn a bit about Starr's journey in the industry that brought him to this point.
Childhood passion
Even as a child, Toby Starr was fascinated with coaches. While working as a teenager in the tourism industry, he saw them arrive and always marvelled at the great-looking machines. He told his friends he was going to own a coach company one day.
Starr still goes out with his childhood friends and they joke that he was the only person in year nine who knew exactly what he wanted to do – the school even spoke to his mother about his obsession with owning a coach company.
"Early in my working career I made sure I had experience in every facet of the business to learn everything I could about the industry," Starr says.
"I started working in day tours when I was only in year 10, I've worked in sales and operations, I drove Contiki tour buses through Europe for eight years, and toured throughout Australia until I felt I had the experience and relationships within the industry to go out on my own.
"I like to do things a bit differently and so my very first coach was a brand new vehicle. I wanted to go straight to the top end of the market so I had to have the perfect vehicle to get me there.
"I worked so hard in those early days I was barely at home with my family. Those times were tough but I needed to do the hard yards to get the company established."
The build process
The build was by Coach Concepts in Brisbane and the chassis is made by Mercedes-Benz. The coach has 57 passenger seats plus hostess and driver's seat, and is equipped with toilet, television, wheelchair lift, seatbelts and foot rests, hot water urn for tea and coffee, road camera, and fold-down TV – all the bells and whistles for passenger convenience
and comfort.
The coach had an impressive three-month build time.
"The chassis arrived in September,  the build started on October 15, and the coach was delivered to Starr on January 6 this year, even with Christmas closures in that time, so it's a super-fast build time," Weber says.
Starr says Mercedes encourages the future owner to go and participate in the build process.
"They flew me back and forth, which was amazing. Some serious decisions have to be made and I was able to be there and be part of the process.
You can't make important decisions from an office, you need to be there and see it, and they gave me the ability to be part of the decision-making process."
Weber adds: "Mercedes understand it is a large and important acquisition for the purchaser from a dollar perspective, and part of their philosophy is that they do everything to ensure the end product is exactly what the purchaser hoped for.
"Even though it has a Coach Concepts body, it has the three-pointed star on the front – that's what people instantly recognise as a symbol of quality."
The Euro 6 chassis being introduced into Australia is a brand new platform with a newly designed and built motor that was trialled and tested in the United States and Germany.
It has a 10.7-litre Euro 6 running both EGR (exhaust gas recirculation) and SCR (selective catalytic reduction) technology.
Engine power is an impressive 422hp (315kw), pumping out 2100Nm at 1100rpm.
The gearbox is a Mercedes GO250-8 powershift 8-speed gearbox and has been adapted from the truck regime to suit coach applications. 
The suspension has been completely modified and renewed with new air bags, new design, and independent front suspension – all these modifications are standard features on this new chassis.
The chassis is not only just about the new engine and gearbox, though. It also offers significant savings in fuel consumption and AdBlue – using the Euro 6 ensures a decrease in the coach's environmental footprint.
The retarder also helps to decrease fuel consumption.
Weber provided savings figures that show between 5 and 6 per cent reduction in fuel economy and between 6 to 8 per cent in AdBlue.
These percentages may not seem huge but do equate to significant savings over the life of the coach and in reduction of ongoing running costs.
Starr feels these figures are very conservative. He explains that since the vehicle was delivered in January, the savings he's experienced would be up to 10 to 12 per cent for fuel consumption and almost 25 per cent for AdBlue.
He tells me this bus is achieving city fuel usage figures that other coaches achieve on the highway.
The coach is air-conditioned by a Thermo King KRS unit which has the ability to both heat and dehumidify at the same time.
This feature is important to AllStar as it can work in snow regions. 
"The service by Thermo King is second to none and the KRS  unit ensures no misting issues in the extreme cold conditions,  which is important to passenger comfort and experience and also for driver visibility on a touring coach," Starr says.
The coach boasts excellent safety features, including a lane departure warning system which activates sensors behind the driver if the vehicle drifts too close to the lanes edge.
It also has an advanced electronic braking system with braking assistance.
At the front of the vehicle, an adaptive camera assists the coach to stop even before the driver has a chance to anticipate and react if an object or vehicle suddenly appears  or brakes in front of the coach – this already features in some of the latest high-end cars but is new safety technology for the Australian coach industry.
A team effort
According to Starr, the collaboration between AllStarr coaches and Mercedes succeeds because Mercedes works hard to ensure that everything runs smoothly.
"Any issues that arise are handled quickly and professionally, the relationship we have with Weber means that with just a call he works hard to resolve and fix things for us – he makes things happen.
"As a bus operator, that speed of resolution is vital as downtime is time that costs money.
"I can see this relationship lasting well into the future as it operates so successfully; it's a no-brainer for us.
"If we have an issue and we say 'jump', the response is 'how high?'
"That might sound strong, but if we have a problem we need things resolved straight away.
"Our relationship with Mercedes means I can have the confidence that's exactly what happens every time. For AllStarr, Mercedes has been phenomenal."
Maintenance contract
Weber explains that Starr and AllStarr Coaches are on a repair and maintenance contract with Mercedes, which significantly reduces their costs as they don't need the full-time workshop, maintenance crew, mechanics and the expenses that come with keeping all of those components operating.
With this contract, he has access to all of the Daimler truck and bus facilities Australia-wide for major repair and warranty work, or just for general servicing as well.
"Servicing, breakdown and towing back to the nearest Daimler dealer no matter where you are is all covered by the Mercedes contract," Starr says. 
"After operating buses for 10 years, it is always the most remote or inconvenient place where you have a breakdown, and sometimes the costs just to retrieve a vehicle can be in the thousands of dollars".
 When an issue arises, the driver can call up diagnostics, tell them what the code is, and relay the information to a Mercedes technician so they can pinpoint the problem without even being there.
With the Euro 6, Mercedes has found the servicing intervals can be extended because of the design of the motor and new types of lubricants used, particularly in the city buses, which can achieve 60,000 kilometres between oil changes and servicing.
This is its first Euro 6 touring coach built, so Mercedes looks forward to how it can extend the service life and service intervals to reduce costs for the operator.
On the road
The test drive was through the streets of suburban La Perouse and some of the local coastal scenic suburbs.
Inside I see a well-thought-out dash configuration, a superbly comfortable top-of-the-range Isri driver's seat, an individual air-con system for the driver, and a drink holder – which I would love in every bus I drive. From a driver's perspective I am comfortable and happy at the wheel. The vehicle's visibility is also fantastic.
Many of the special safety features I, of course, did not hope to test out.
On long stretches, though, these would definitely give the driver peace of mind. 
I took the coach through some tight corners in La Perouse, doing both sharp left- and right-hand tight turns to see how the steerable axle tag responded.
It made cornering in a large vehicle easy and manoeuvrability within confined lanes a breeze.
Heading through the beach suburbs, there are some very steep inclines. The Mercedes engine had plenty of grunt and torque, handling the inclines effortlessly, and the gearbox seemed to know exactly where to stay both up and in descent.
We took the coach over some different surfaces on the drive. Coach Concepts has done a great job soundproofing; what was happening on the road and outside had very minimal impact inside the vehicle.
Overall, it was a powerful drive with a perfectly matched gearbox well suited to city driving, and I can assume long drives would also be a pleasure for anyone behind the wheel.

Key to success
Starr feels both the driver and the coach are key to a business.
"I have never had to advertise to sell any of our coaches," he says.
"We have a reputation for quality and maintenance of all our vehicles, so I am approached by companies wanting to buy our vehicles.
"This takes hard work and having a standard that you never drop.
"I give my coaches 100 per cent to achieve the standard we have, and I can guarantee they leave our company the same way as when
they arrive.
"We currently have three coaches but are looking at purchasing another one.
We try to keep it small and personal but have found a high-end niche that suits how we like to operate." 
I asked Starr how he competes in such a competitive market.
He feels the company doesn't really think about competing with others.
Rather, AllStarr Coaches' reputation ensures its ongoing viability.
For AllStar Coaches, it was its most expensive build to date but it has "more than successfully achieved the standard of coach we wanted".
Starr believes the investment was worth every cent to have a coach of this calibre in the fleet.
"This coach we are in today hasn't stopped since we took delivery of it in January," he says.
Starr feels you are only as good as your last trip, so client relationships are paramount to the company's success – you only have one chance to impress, so every single trip is important.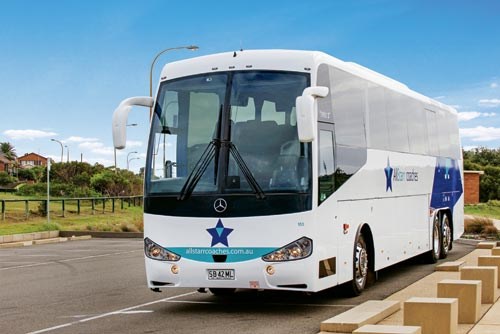 The Merc OC 500RF looks the part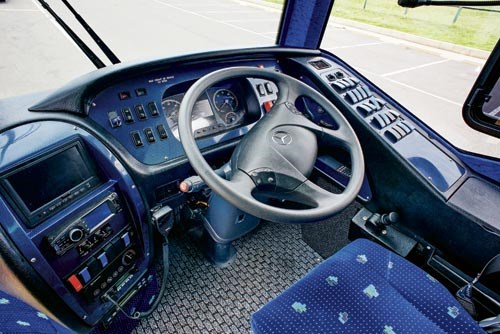 The Merc OC 500RF's cabin is sleek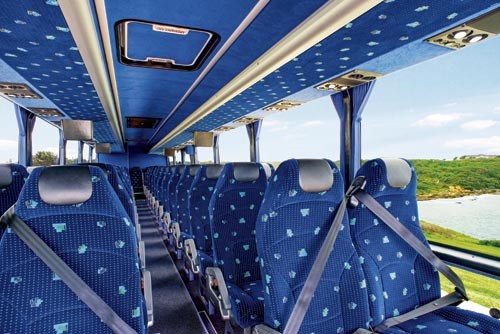 The interior looks sharp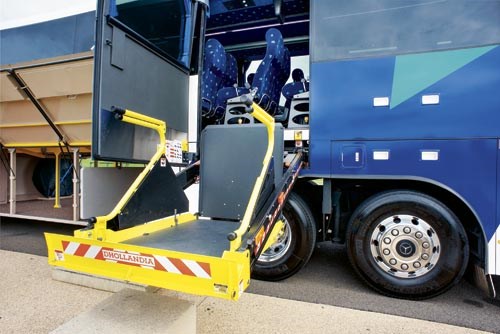 The wheelchair lift gives added flexibility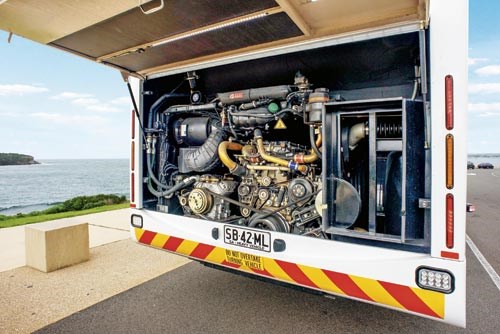 The engine has plenty of grunt

Subscribe to our newsletter
Sign up to receive the ABC e-newsletter, digital magazine and other offers we choose to share with you straight to your inbox
You can also follow our updates by liking us on Facebook.