Video review: Bonluck President 2
---
Bus and Coach Sales Australasia directors Rodd Hood and Athol McKinnon took a bipartisan approach to creation of the Bonluck President 2

On my very first phone contact organising the test drive of the Bonluck President 2 I used the word bus in my discussions about the upcoming visit – I was quickly reminded that the President 2 is not a bus it's a coach so I guess I was looking forward to seeing what this luxury coach has to offer!
I travelled to Yatala Queensland to meet with the joint owner and director of Bus and Coach Sales Australasia (BCSA) - Rodd Hood. Rodd has over 31 years' experience in the industry and it was easy to be impressed by both his industry knowledge and what he could tell me about the Bonluck President 2 down to every minor detail of the vehicle.
The Design and Build Process
The Bonluck President 2 was first released in July 2015 and came about with the design and close input from Hood, his business partner Athol McKinnon and Quality Assurance Manager Jason McKinnon, between them they have over 110 years' experience in the bus and coach industry in Australia and have both extensively travelled overseas to various bus and coach related shows and exhibitions.
Hood tells me their combined experience, knowledge and research has resulted in them successfully achieving their goal of developing a vehicle that wasn't the stereotypical vehicle that was imported into Australia.
"We went to Bonluck with our design and they came up with the vehicle we have here today, the process from hitting the factory floor to completion took only approximately 6 months!" says Hood.
For the business partners it was a whole lot more than simply importing an impressive vehicle to the Australian market it was a culmination of years of experience and research and considering even the smallest of details in the build.
The build process takes about 6 weeks from start to finish but from time of order in Australia to when the completed vehicle is delivered to the customer takes about four months, that timeframe can be for multiple vehicle orders from only one up to forty vehicles.
"We have Australian staff that live and work in China at the factory to ensure that our strict quality control and engineering standards are maintained through every part of the manufacturing process. We believe that this is a must to achieve the high-end vehicle that we have here today " says Hood.
 "Our input starts right from the ground up, we are the only importer that uses Australian galvanised steel – DuraGal steel it is sent from Australia to Bonluck in China, we also have a stainless steel option for the chassis and body from Europe available depending on customer preferences.
All our components used are high end and sourced from various parts of the world including Germany, Sweden and America" he goes on to tell me.
All of the lower skirt and bin doors are full aluminium framing with panelling, the side panelling, front and rear headers are all fibreglass construction with a one-piece fibreglass roof.
Hood says "What we are doing here is minimising the chance of any future corrosion throughout the vehicle, in the design process we have thought about the life and longevity of all components not just initial build.
The exterior panelling and doors that we use in our vehicles are kept in stock for quick turn around if damaged so too are the saloon glass, head and tail lights, mirrors and all parts that are commonly damaged during the life of a coach are all readily available with overnight shipping Australia wide".
When you open the coach up you think how does this all stay together? The access available to the coach was impressive, every lower panel raises, when fully open you can easily access all areas for inspections and maintenance which means less vehicle time off the road, more economical servicing and quicker turn around time on any repair work required.
The luxury look of a European car
Coaches traditionally have black or dark flooring and blue seats, but more people are going for the timber and leather interiors with the wood grain earthy feel – as soon as you enter the President 2 you are greeted with the wonderful smell of the leather seating.
Rodd tells me a few years ago we went to a trade show in Belgium to see the new trends in coach interiors – the leather and timber strongly featured there and he feels it is a trend that is starting to grow momentum here especially as it gives the coaches the luxury look and feel of a European car, people see this coach and just love the luxurious interior.
Hood says 'In the past Australian coach builders have used more cloth interiors on the luxury coaches, the problem with an all cloth interior is the ability of the interiors to retain smells and moisture, cloth very quickly can loose its brand new appearance to have a luxury interior you need to be able to maintain the upholstery and fitting to retain the look of luxury and by using high quality laminex to replace some of the cloth detailing interiors can maintain that brand new appearance longer.
For some interior colour you can choose colours for your curtaining which adds just a subtle hint of internal colour. We only use high quality floor vinyls that have the colour go all the way through the product to ensure a longer life".
BCSA bring the coaches in with or without seats as the client can choose what seating type they want to use, the luxury leather seats in the President 2 today are made by Fainsa which is a Spanish company established in 1935, they are manufactured in China and an added bonus is the quick order time that ensures no hold ups with production  - Rodds says "we can order airplane luxury style reclining leather seats with foldable arm rests and have them here ready to install in just two weeks.
The seats recline but return to an upright position when a passenger stands up, this is a great time saver for the driver that would normally have to manually return seats to their correct positions when the passengers leave the coach.
We can also fit Australian made seats, again its all about the customer needs, there are many options and configurations to suit all our clients needs".
After Sales Service
We don't just sell the bus we sell the package - "The relationship does not end at "Point of Sale" the commitment continues" is a claim made by BCSA so I asked Hood how is achieved?
All our vehicles in this range have disc brakes, independent front suspension, Cummins engines and we use Allison transmissions.
The Cummins engine is a Euro 5 engine manufactured in the UK, 360 horse power and we run an Allison 6 speed automatic transmission with an inbuilt retarder it also has EBS electronic braking control.
We started to use the Allison transmissions in 2008 as we found them to be superior from a fuel consumption point of view with excellent low transmission noise and shift quality as well.
Allison have an extensive dealer network throughout Australia and this has been a huge influence in the components and companies that we have chosen for parts as we could have sourced less expensive elsewhere but they don't have the back up and support within Australia – Hood feels this is a very vital factor in the companies success
 The air conditioning system we use is Spheros which is standard throughout, they offer a 3 year unlimited kilometre warranty and come standard with brushless fan motors and a brushless boost pump and an unloading compressor for fuel saving and have exceptionally low noise levels and operate successfully in extreme heat conditions and again offer a great customer support and service system for our clients.
Every component chosen for the President 2 was carefully considered for the customer servicing levels and speed of product availability Australia wide, by opting for parts that offer a high level of reliability ensures the BCSA clients an ongoing positive relationship that doesn't end once the vehicle is purchased but ensures an ongoing positive experience.
The cane fields test drive
We left the BCSA headquarters to head out to the cane fields near Gilberton, for a person from the Blue Mountains the day was really hot, but I think what got me was the extra high Queensland humidity!
The drive was scenic and the cane fields made for some great photos but more impressive was the comfortable drive, I could imagine being a passenger and reclining back in the leather seats watching the scenery go by, no Queensland heat could be felt inside as we sat at a comfortable 20 degrees even with constant stopping and the opening and closing of the doors inside remained comfortable and the temperature constant, have to love a great aircon system!
 Jumping behind the wheel for a drive, all is at your fingertips and very easy to navigate. Being a rear mounted engine vehicle noise was very minimal as you would expect from a luxury touring coach.
Heading into the cane fields and some open country roads I had the opportunity to drive the President 2 and feel how it handles as you would in tour conditions. The coach cruised along effortlessly and maneuvered easily when cornering and maintained great stability with none of the roll you can experience in a vehicle with the height of the President 2.
The Cummins engine has plenty of power and overall a very smooth and comfortable drive, certainly would be a relaxed and very comfortable journey for the passengers and a vehicle this driver would be more than happy to cruise in. I could find no faults with the coach an impressive drive.
The Market – who's using the President 2
The President 2 is from the Bonluck two axle coach family and starts off as a Senator 12 School Bus which runs the same chassis as this vehicle, but with a lower floorline of 1250mm then goes up to a 1450mm President 2 model, which is the same styling as this bus with a slightly lower top and chassis rail, and then the President 2 we are in today which is their charter and uplinetour model at 1640mm with the same chassis just a maximized bin and luggage capacity which suits many of their clients needs.
Currently the President 2 is successfully being used for predominantly charter work, day tours and extended touring applications, but clients are also operating school runs using the President 2, they are currently being used as replacement train services running 24 hours seven days a week so are clocking up the kilometres very quickly and we have operators in Tasmania that are doing two hundred thousand kilometres per year so for a small region they too are certainly doing the kilometres and the business there!
BCSA have vehicles in this President 2 range from 10.8 metres right up to 13.2 metres while their 3 axle version goes to 14.5 metre, this achieves capacities ranging from 38 to a huge 87 passengers.
The model we are in today has 53 luxury recliners with very comfortable leg room but a 57 seat model is available without the recliner option. Hood tells me "A huge benefit of the President 2 is that all these passenger configurations have the same common running gear and the same components and from a standardization point of view for operators this range gives great passenger flexibility with standardized maintenance and repairs".
What impressed me about Hood and the BCSA approach to the President 2 was that with every subject and component we discussed there was always the emphasis of making choices based on the future running longevity and maintenance of their vehicles to achieve their claim - "The relationship does not end at "Point of Sale" the commitment continues".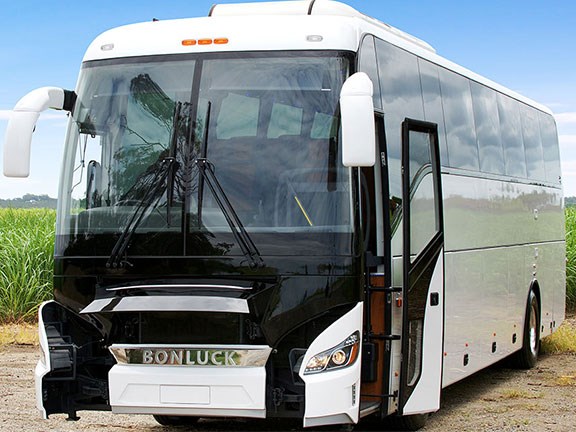 The front of the Bonluck President 2 opens right up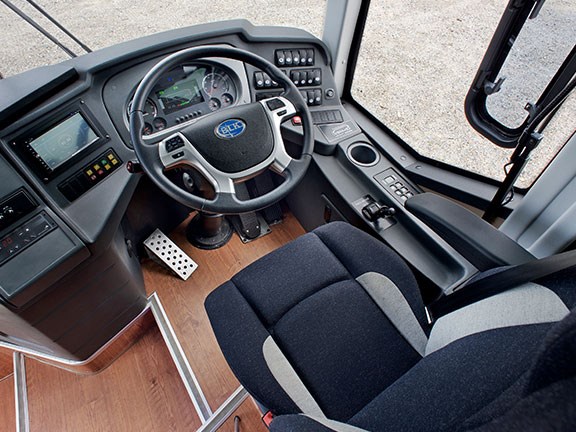 Everything in the cabin of the Bonluck President 2 is at hand for the driver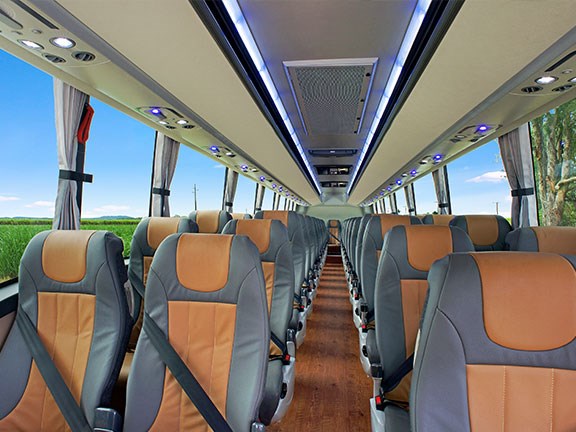 The interior of the Bonluck President 2 has the look and feel of European luxury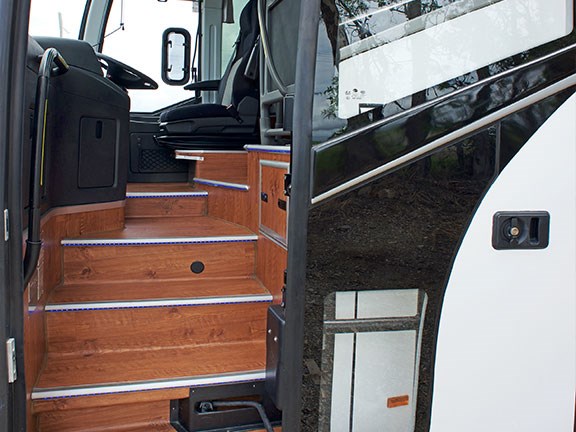 It's hard to miss such good-looking steps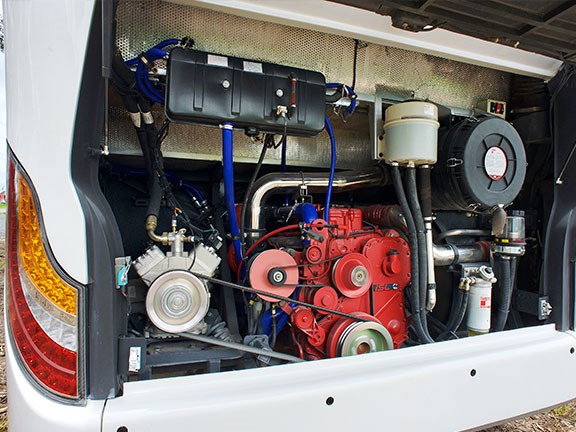 Easy access to the Cummins ISL 360 hp engine for servicing
Subscribe to our newsletter
Sign up to receive the ABC e-newsletter, digital magazine and other offers we choose to share with you straight to your inbox
You can also follow our updates by liking us on Facebook.