Review: Scania-Volgren Endura bus
---
Ross Wise has been a country school bus operator for two decades and says his new Scania-Volgren Endura school/charter combination fits the bill perfectly

There can't be many nicer places to live in Australia than the rural town of Wonthaggi, on the Bass Coast, south-east of Melbourne.
ABC recently had the pleasure of visiting Wonthaggi, firstly enjoying the company of the friendliest publican in Australia, over dinner at the Wonthaggi 'Whalebone' Hotel. Then we spent a day with a bloke who also fits the friendly, easy-going country stereotype to a tee.
Ross Wise has a lovely new house on a couple of acres on the edge of town, which doubles as the depot for his two school/charter buses: a new Scania/Volgren Endura and an old Mercedes-Benz/Volgren.
Before test driving his recent acquisition, in true country custom we of course had a cuppa at the kitchen table. Ross modestly spoke of his background as a diesel mechanic and race car owner and driver, and the latter is no surprise considering the famous Phillip Island is nearby.
The obvious fondness of himself and employee driver Graham Blundell for nearly all the school kids they've carried over nearly 35 years between them reminded me of some of the anecdotes from my father, who drove an old Bedford on a country run for a couple of years.
"You may not be feeling well or you're having a bad day and you'll get kids bubble on the bus and say 'Good morning Ross, how are things?' and it just makes your day," Ross says.
Volgren fan
Anyway, getting down to some nuts and bolts, another common feature of country business people is long-term brand loyalty.
Ross is a Volgren man, and prides himself on buying an Australian-built product.  It's no wonder the manufacturer steered us onto a customer who has had "very, very few" problems with his 20-year-old Volgren on its Mercedes-Benz 1418 chassis.
"Because it's aluminium construction, I don't get any rust in it," Ross says. "You get a little bit of electrolysis in the aluminium, but apart from that it's just a great body and it's done its time well, and it will do a lot longer yet.
"The aftersales service from Volgren has been excellent," adds Ross, who is fortunately only 100km away from the Volgren factory at Dandenong. "I had a little problem with the 20-year-old bus and took it in there last Monday and they did a little job on it at no charge at all, which is a great relationship to have between a body builder and an operator."
As for the new bus, "I couldn't ask for a better vehicle," Ross says. "I haven't got any minuses at all.
"It's excellent all-round. Easy to drive, good viewing … the school kids love it, and also the people I take around for charter say it's just so much more comfortable than the previous vehicle."
Body features
Indeed there are many improvements on the previous unit, showing just how far buses have come in the past 20 years. Ross says the new one has lots of "nice little bits and pieces" that he asked for in extensive discussions with Volgren, as the company has a long list of options.
The "bits and pieces" might seem pretty standard these days, but Ross doesn't take them for granted.
The main benefit as far as he's concerned is an outswing coach-style door, a first for Volgren in a school bus.
"That is a great asset," Ross says. "It doesn't leak air, it's so smooth in operation."
There is a lockable fuel cap and lockable AdBlue door: "I'm not concerned about anyone pinching my diesel or AdBlue, it's more about if someone wants to put something in there."
Ross went for electric crossover blinds.
"The problem with blinds is that the sun will sneak in between them and blind the driver; you don't have that problem with crossover blinds."
There's a reversing camera, of course, and CCTV with one camera facing forward, one facing the driver, and two in the interior.
"We have video footage if anything happens to our driver, or a car comes in front and cuts us off and blames the bus."
The bins go right through, with a 12-volt power point to plug in a fridge, and there are USB ports beside the driver for charging phones.
Particularly impressive are the sturdy aluminium luggage racks with cleverly built-in handrails.
The 57 McConnell 'School Safe' seats have belts of course, but, as every bus operator knows, getting all the kids to wear them is another matter.
Ross reckons the only foolproof answer is to have sensors connected to lights on the dash, and that technology does indeed exist. Hopefully it will be standard one day.
Solid chassis
"The Scania is absolutely great," Ross sums up.
Against the 180hp (132kW) of the old 1418 Benz, this new bus has 310hp (230kW) with 1500Nm of torque.
"It's as much horsepower as we require," Ross says, adding that even up the hills, he and Graham don't need to shift the transmission into 'power' mode, which holds it in the gears longer.
That gearbox is the 8-speed version of Scania's 'Opticruise' automated manual transmission, which Ross says is smooth and changes at all the right times: "It drives so well."
The transmission comes with a five-stage retarder that Ross and Graham only ever use on the second stage – and, even then, they only need the foot brakes when coming to a complete stop.
"It's such a good (braking) setup, we're more than happy with it." Ross says. "You can virtually stop on a 20 cent coin.
"We've got these people in smaller motor vehicles that tend to pull out in front of you, and it gives you reassurance that you're going to be able to stop in time. Especially going into traffic lights you tend to leave a gap between you and the vehicle in front of you, but that gap is always filled by another vehicle."
Speaking of traffic lights, the Scania has hill-hold assist that, as an aid to the automated gearbox, makes sure the bus doesn't roll back when starting off on a slope.
Ross says of the electronic stability control, which is part of the EBS (electronic braking system): "It's reassuring to know that if you are in a position where the bus becomes unstable, it's got that program in place to help stabilise the bus so you won't get into a rollover situation."
Short trips
The bread-and-butter work for this new bus is a primary and secondary school run from nearby Inverloch into Wonthaggi, accounting for about 12,000km a year.
With school and other charters, the kilometres tally only reaches about 30,000km a year, which is conveniently also the oil drain interval for the new Scania after a lesser service at 15,000km.
That will mean only two trips to Scania at Dandenong each year. Ross has the Scania on a five-year service contract.
"They're so high-tech now and they've got so many computers involved, if there's a small issue, when it goes back for servicing they just plug the computers in to make sure everything is where it's supposed to be and running correctly, and I think for a couple of thousand dollars a year it's not a lot of money."
He continues to service the old Benz himself, describing the much simpler technology as "like the HQ Holden."
A nice touch in the chassis that we haven't noticed before is a wire coil 'suspension' for the air-conditioning compressor to reduce compressor noise.
Our impressions
ABC had a good run in the Scania/Volgren through Wonthaggi, and then on country roads to nearby Inverloch.
At first, we thought it was moving sideways a bit with a bit of wind on the open road, but realised this was due to 'tram tracks' in the bitumen itself, unfortunately not unusual for country roads.
We agree with Ross and Graham that this is a great bus – or more like it, coach – for both driver and passengers.
Our only quibble is that the dash is too high, slightly obstructing vision immediately below and in front of the driver. This is less of an issue in the country than city.
Volgren explains that its dash is designed to suit all the major chassis regardless of the steering wheel and instruments setup.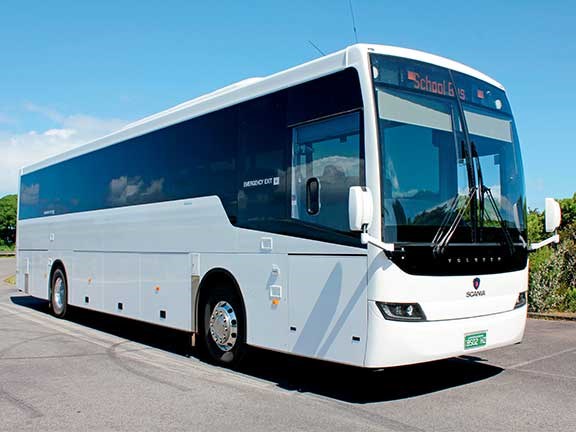 Country coast cruiser Scania-Volgren's school and charter bus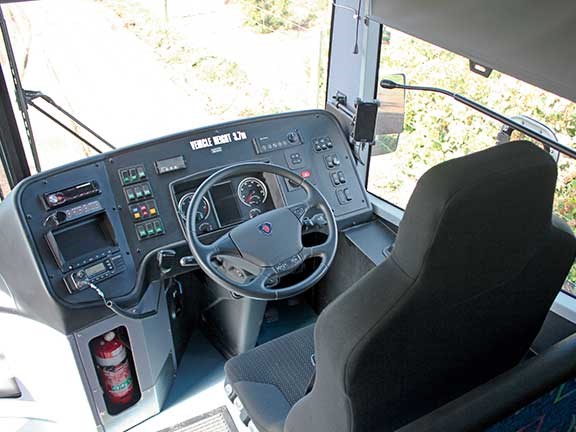 The only negative that we could find the dash is a bit high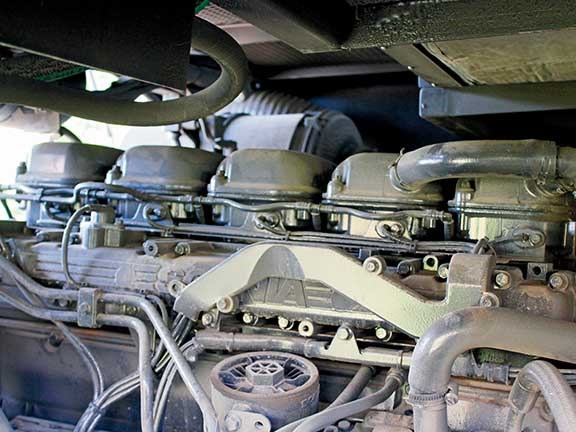 That's right, there are only five cylinders, not six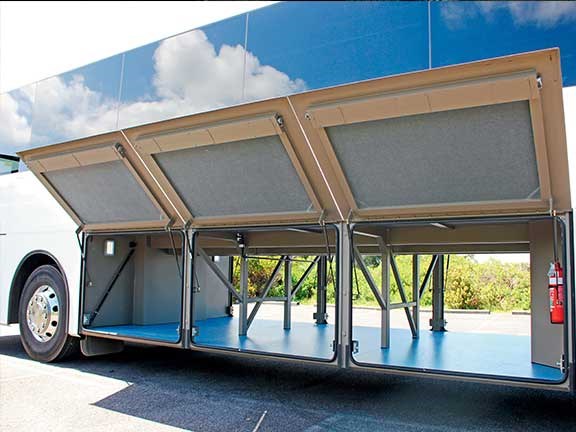 Heaps of baggage space for charters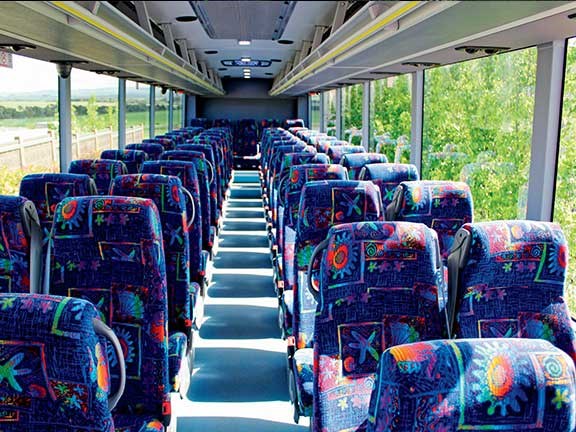 The interior is modern and spacious

Subscribe to our newsletter
Sign up to receive the ABC e-newsletter, digital magazine and other offers we choose to share with you straight to your inbox
You can also follow our updates by liking us on Facebook.