Review: Wrightbus Streetlite midi bus
---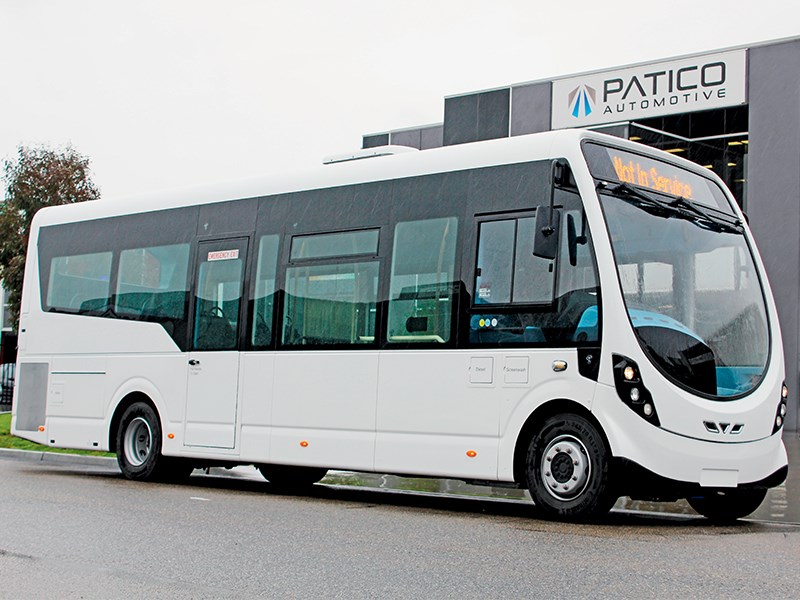 The new Wrightbus "Streetlite" low-floor route bus from Northern Ireland might be just the ticket for Australian operators carrying small loads or traversing narrow streets.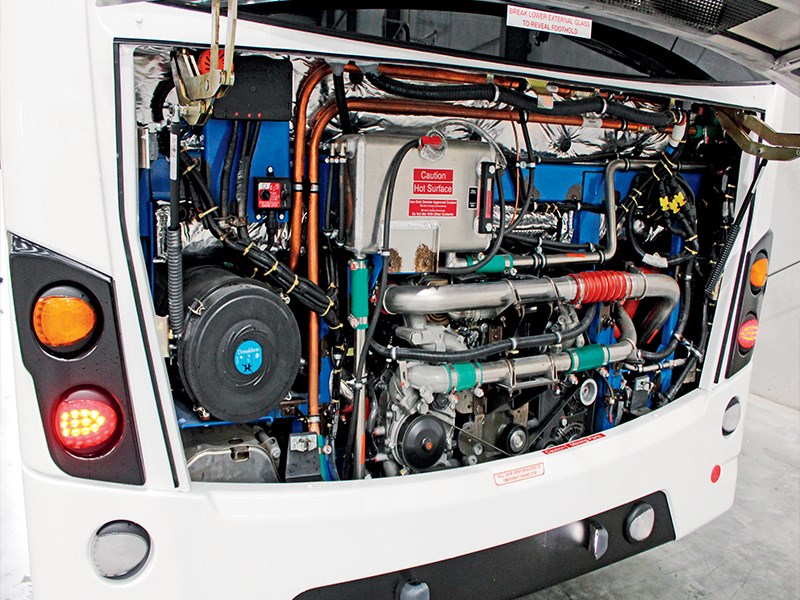 The whole driveline of the Wrightbus Streetlife midi bus can slide out.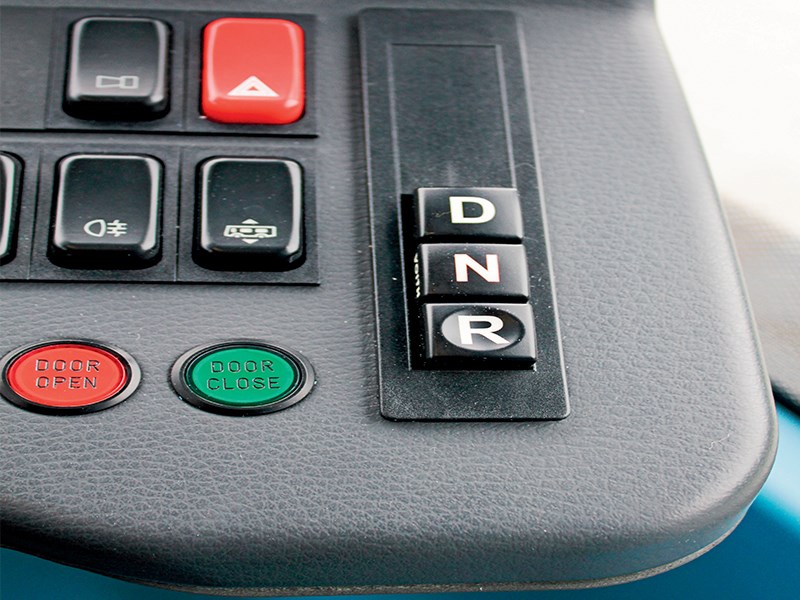 Transmission controls don't get much simpler than this.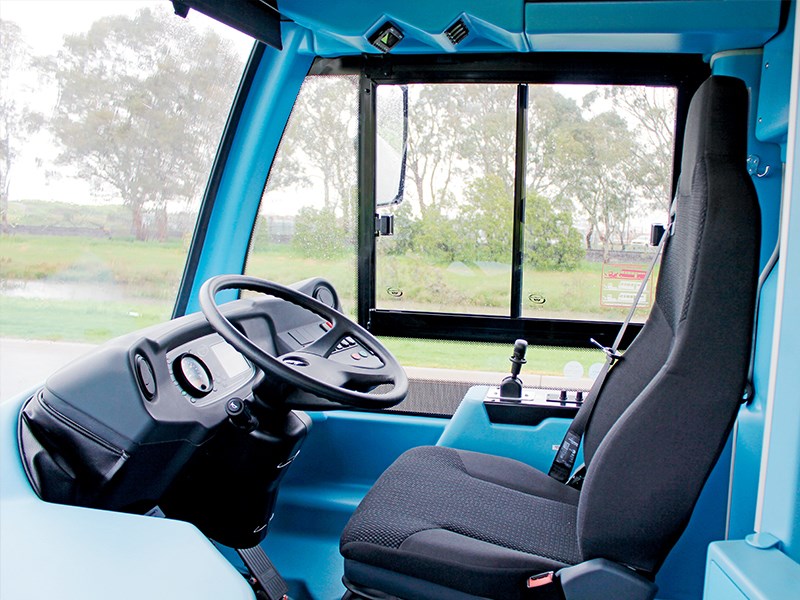 The Wrightbus Streetlife midi bus provides a spacious environment for the driver.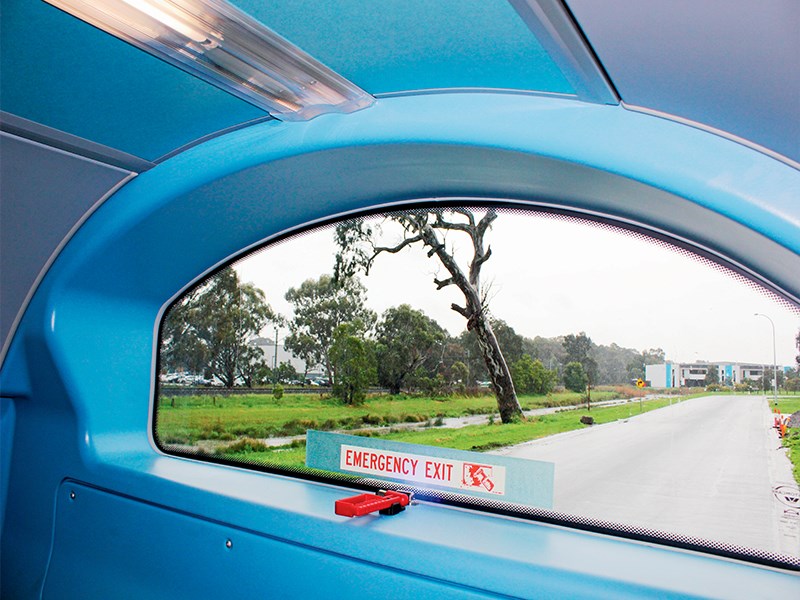 Eye-catching rear window on the Wrightbus Streetlife midi bus.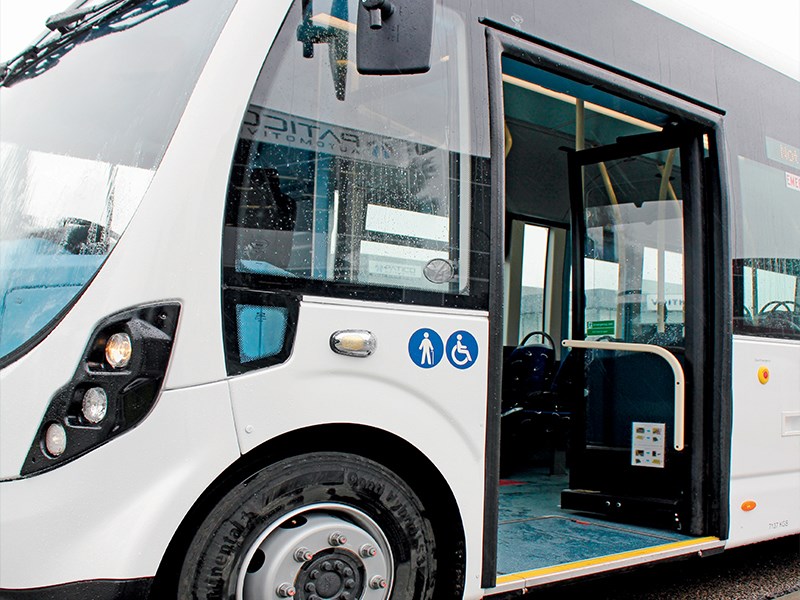 The Wrightbus Streetlife midi bus features a nice wide door.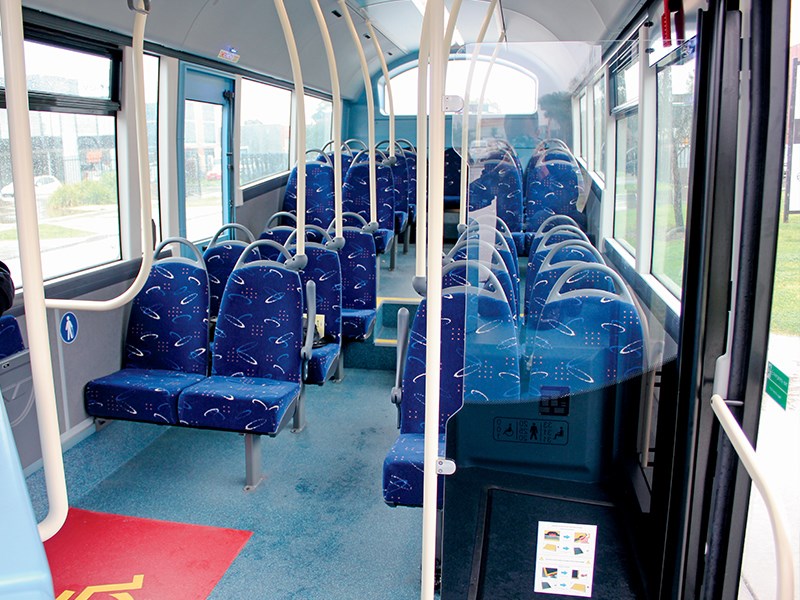 There is plenty of space and light for passengers aboard the Wrightbus Streetlife midi bus.

Big route buses often run way below capacity in Australia, and the streets in new housing estates seem to be getting narrower. The new Wrightbus Streetlife midi bus from Northern Ireland could help solve these problems, writes Steve Skinner.

How often do you see a full-length urban route bus running around with virtually no one on it? The bus burns a similar amount of fuel with eight or 80 passengers on board.
And, as our crowded cities try and cram more people into new housing estates, it's getting more difficult for cars – let alone buses – to corner the narrow streets without sideswiping something.
Enter the new Wrightbus 'Streetlite' midi route bus at a tad under nine metres long with a 'micro-hybrid' system the company says will save about a further 10 per cent in fuel.
Wrightbus is a familiar brand in Britain and employs about 2000 people after kicking off in Northern Ireland in the 1940s.
Now the family company wants to increase its global presence. It's already got 500 double-deckers running around in the right-hand drive Hong Kong market, and is making a push into Australia and New Zealand via local distributor Patico Automotive.
You can watch the full bus test drive video here
ABC recently took the first one to arrive in Australia for a spin near Patico's HQ in Dandenong, Melbourne, ahead of its arrival in Sydney for the 2016 Australian Bus and Coach Show.
"Patico Automotive will be supporting us with our endeavours in both Australia and New Zealand, with a particular focus on the StreetLite low-floor bus range, covering four variant products with the 8.8m, 9.5m, 10.8m and 11.5m length vehicles," Wrightbus International managing director John McLeister says in a press release ahead of the show.
McLeister says the company has opened offices in Abu Dhabi, Singapore, Hong Kong, Chennai and Kuala Lumpur during the past four years, and has manufacturing capacity in Malaysia and India.
ABC drove the 8.8-metre version that looks stylish and similar to the Optare Solo, which Patico formerly distributed.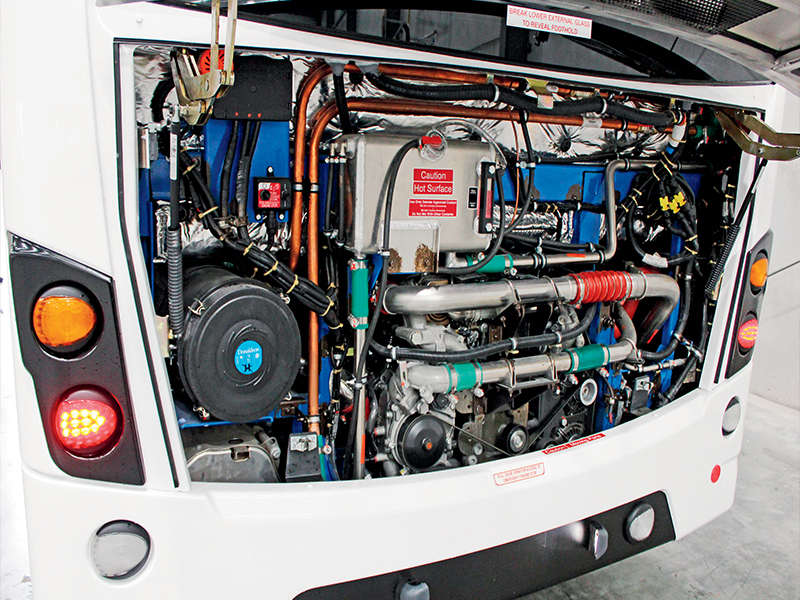 High-tech but no racing car
With the 'new generation' Mercedes-Benz four-cylinder, 5.0-litre engine on board, the Streetlite boasts Euro 6 emissions control and a power rating choice of 208hp (153kW) or 230hp (170kW).
For the aficionados, Mercedes says these powerplants are "state-of-the-art four-valve engines with two overhead camshafts and adjustable exhaust valve timing".
"These extremely responsive Euro VI engines consume significantly less fuel, despite particulate and NOx emissions that have been reduced by 90 per cent compared with Euro V, whilst also benefiting from longer service intervals."
Emission-reducing duties are performed by a combination of selective catalytic reduction (SCR), cooled exhaust gas recirculation (EGR) and a closed-loop particulate filter.
"The use of sophisticated BlueTec 6 exhaust treatment technology has led to a 50 per cent reduction in AdBlue consumption compared with the engine's Euro V predecessors," Benz claims.
The unit ABC drove had the 208hp version of the Daimler donk with 850Nm of torque, which felt like it was just enough.
The bus was pretty sluggish off the mark, but of course that doesn't matter too much on a route conveyance where you don't want to be throwing standing passengers around. ABC didn't encounter any roundabouts so can't report on how it handles a quick standing start on one of those.
Once underway, you have to keep your foot flat to the floor to get up to speed. One wonders about the performance of the 11.5m version of this bus with the same four-cylinder engine.
However, the gear changes are nice and smooth. The transmission retarder seems to be effective.
ABC took the Streetlite for a burl along a local stretch of motorway but could only get it up to its UK speed-limited 90km/h (55mph on the speedo of this unit). It handled the wet open road well and, most importantly, the steering felt firm and accurate. The steering was very good when cornering around town too.
The only problem was when the bus was actually stopped. You have to apply a fair bit of foot pressure to the brake pedal and, as soon as you let go, this unit wanted to surge forward too quickly.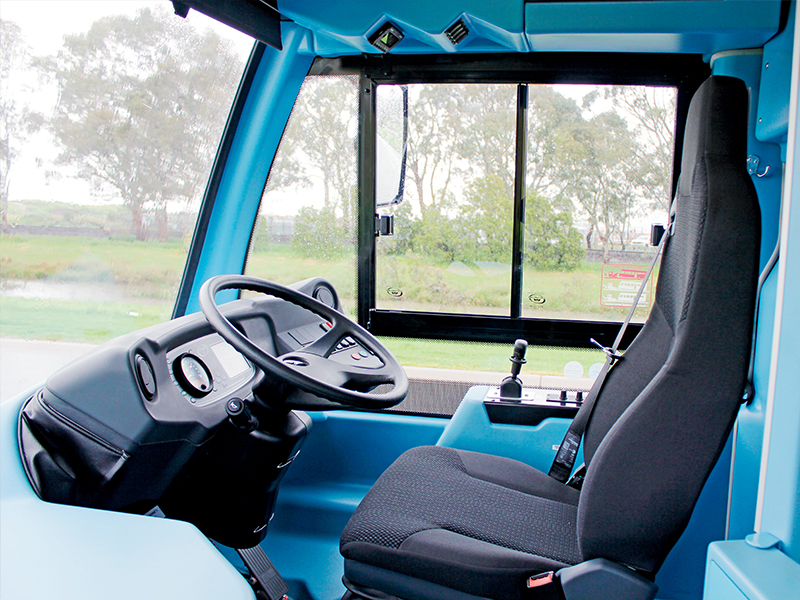 Fuel-saving technology
One of the most interesting aspects of the Streetlite is what seems like clever fuel-saving technology in addition to the Euro 6 Benz engine.
It's already a light aluminium bus with a tare weight of a touch over seven tonnes, so you would expect fuel economy to be good anyway – especially with this very latest model of Mercedes-Benz engine.
But added to that is the Wrightbus 'micro hybrid' technology. This includes 'smart' alternators (which apparently only activate when they need to), an electrified radiator and charge air fans, and electric power steering.
The technology basically means that some key auxiliaries don't need to run off the engine. Wrightbus claims a fuel saving of more than 10 per cent on the version ABC drove.
There was no regenerative braking on this model, but there is on the next one up – 'Version 3' – which may not be available in Australia – for now. That third version of 'micro hybrid' also includes engine stop-start and an electric air compressor.
By the way, on this monocoque integrated bus, the driveline can 'slide out' from the rear on the demountable skid to make life easier for mechanics. On the electronics front is multiplexing and telematics capability.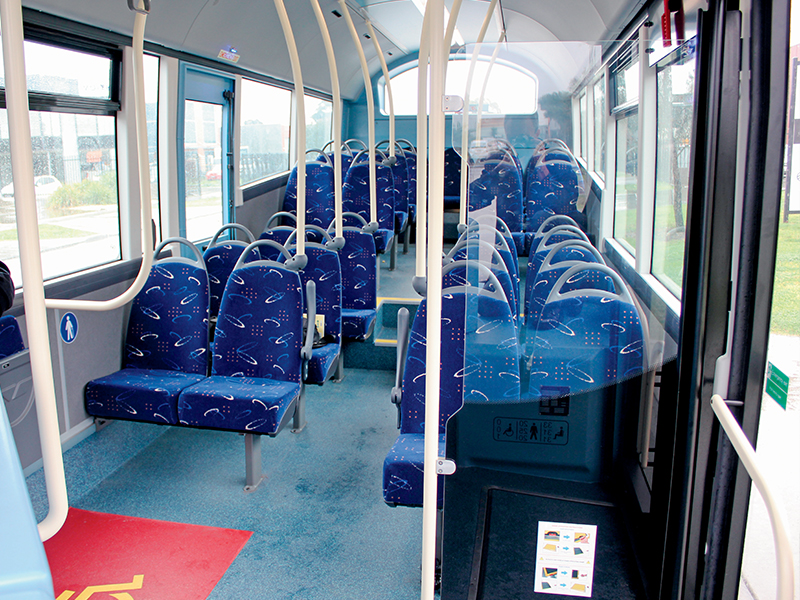 That's a bit harsh
The aluminium frames and quick-release aluminium panels are attached to the powder-coated steel cradle which runs the length of the bus.
The British spec sheet says it can carry 70 passengers. While it might be able to handle that weight, we think any prospective operators in Australia are dreaming if they think Australian authorities will approve that many bodies on a nine-metre bus.
This is a pioneer test and demonstration unit, so there are many such aspects yet to be worked out before the Streetlite hits the roads of Australasia. ABC thinks that includes reducing some driveline harshness on this unit.
There is a fair bit of vibration and noise, especially up the back of the rear-engined Streetlite. That isn't unusual for a route bus of course, especially a small route bus, Patico says.
But while there might be some improvement needed on that aspect of passenger comfort, the ride was excellent. The British-spec seats were good but, more significantly, the experience for the posterior was nice and smooth as both a passenger and driver.
ABC drove over a couple of railway lines and hardly noticed them, thanks no doubt in large part to the four-bag rear suspension and the independent front suspension with air bags.
The Isri driver's seat is comfortable with heaps of leg room around. The dash has a simple and easy layout, and the dash/steering wheel combination is adjustable as one.
The windscreen is huge, and side blind spot vision is pretty good with no pillar in the way. There's a handy storage bin for drivers above their head to the right.
Vision for the passengers is good too. I particularly like the rear window, which helps give a feeling of light and spaciousness.
Nice wide doors, kneeling ability and plenty of reserved space for wheelchairs make this an easily accessible small bus.
Air-conditioning will be Eberspacher with the option of Thermo King, to be fitted in the factory in Britain.
Patico says it will be the first port of call for back-up service and support, with service agents around Australia and, of course, the local presence of Mercedes-Benz and Voith.
PLUSES
Ideal for smaller urban loads and narrow streets
'Micro hybrid' fuel-saving system
Lightweight aluminium construction
MINUSES
Excessive noise and vibration up the rear
Wants to surge forward when starting off
Unproven in Australia



Subscribe to our newsletter
Sign up to receive the ABC e-newsletter, digital magazine and other offers we choose to share with you straight to your inbox
You can also follow our updates by liking us on Facebook.