VIDEO REVIEW: Mercedes Benz Citaro
---
Steve Skinner test drives the new Mercedes-Benz Citaro low floor bus in Brisbane
You may not have heard of it, but the German-built Citaro low floor route bus has taken Europe by storm.
The flagship of the Daimler city bus fleet won European Bus of the Year in 2012, and an amazing 35,000 units have been sold in more than 40 countries in the past decade or so.
But this is the only Citaro on the road in Australia.
That's because this bus is 2.55 metres wide, which is the norm for heavy vehicles in Europe and the United States. In Australia of course the standard is 2.50 metres.
 You can't pick that 5 centimetre difference with the naked eye, but the implications for the Australian bus body building industry could be huge if the states end up allowing the extra width.
The Citaro, with its dipped steel monocoque integrated chassis and body, is built from the ground up at a huge Mercedes-Benz factory at Mannheim in Germany's south-west.
The factory builds about 2,500 Citaros a year.
Australian body builders can't match this economy of scale, nor can they be a one-stop shop for anything that goes wrong with both their body and the imported chassis they build on.
On top of that, Benz can offer maintenance contracts and operating leases for its complete product.
Of course competition from CBU (completely built up) buses from overseas is nothing new for domestic body builders, who have been under assault from Asia for several years.
In 2014 Australia's National Heavy Vehicle Regulator approved the Citaro under what are called "performance based standards" on safety and infrastructure, but the bus still needs approval from the states to run on their roads.
Last year the Victorian government knocked it back. But Brisbane City Council is facilitating a trial of the Citaro on selected roads in Brisbane, which is expected to go for about six months.
The outcome is sure to be eagerly awaited by all in the Australian bus and coach industry.
Daimler flew ABC to Brisbane for a spin of the Citaro just a few days before it went into service with Translink in early February.
From our brief experience there seems little doubt that bus quality, technology and performance isn't likely to be an issue in any future fleet decisions.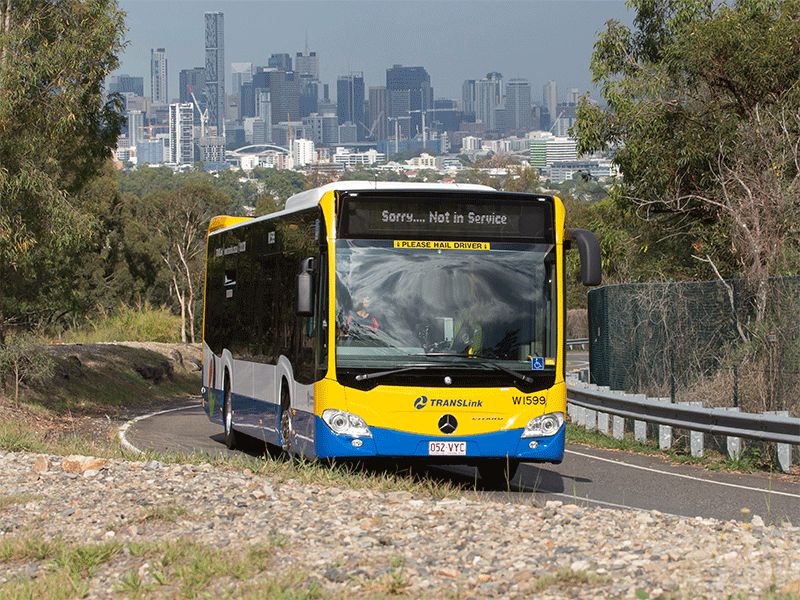 MOUNTAIN MOVER
The Citaro's 8 litre engine puts out 300 horsepower (220kW) and 1200 newton metres of torque. That's plenty for a bus which is shorter than the 12.5 metre norm in Australia, at 12.1m.
And it was plenty of grunt for climbing Mt Coot-tha near the Brisbane Council bus depot at Toowong, which is itself a hilly suburb, as are many in Brisbane.
We could easily maintain the speed limit of 50 km/h, in accelerator kick-down mode which held the bus in gear at 2,000 rpm or so. In fact we could easily have gone much faster if the speed limit allowed.
On another run we opted to let the transmission do its own thing and save fuel, cruising up a steep pinch in a higher gear on 1200rpm at 40 km/h. Either way, noise was not an issue for passengers up the back.
Speaking of fuel, Benz insists this Euro 6 engine uses less fuel than its Euro 5 predecessor.
The 6 speed Voith automatic gearbox is smooth (there is a ZF option), and the three stage transmission retarder did a great job of extremely quietly slowing us down the mountain.
Interestingly the retarder operates off both the brake pedal and a steering column wand, but we were never going to need to tap the foot brakes.
After Mt Coot-tha we had a short spin on the nearby motorway, and what was a little surprising is that the rev counter was sitting just outside the green band at a little over 1700rpm, despite the fact we were only doing 85 km/h in traffic.
This is due to the 5.3 diff ratio, but other ratio options are available. In fact Daimler says the Citaro can be custom-built in Mannheim to whatever the customer desires.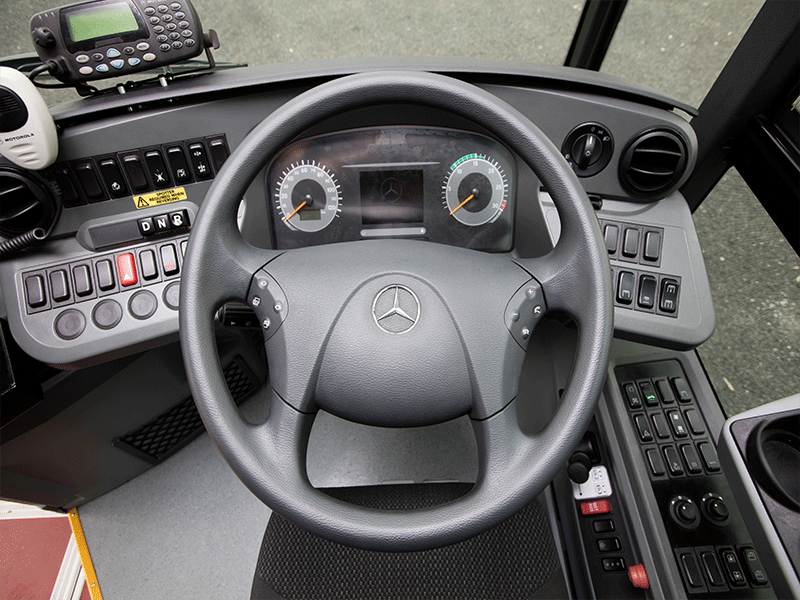 DRIVER'S DELIGHT
Both driver comfort in the Isri seat and driver ergonomics are great, as you would expect in a high quality bus. And not only is the steering wheel adjustable, the whole dash goes up and down with it.
Vision for the driver is great too, thanks to plenty of glass and well placed spotter mirrors, as well as excellent blind spot vision over the right shoulder. The sunshades don't block either set of mirrors.
There is electronic door security for the driver, and plenty of spots to place drinks and miscellaneous stuff.
There are all sorts of electronic safety features. These include cornering lights for night driving which go on whenever the left or right blinker is activated; LED daytime running lights; EBS including stability control; tyre pressure monitoring; and automatic fire suppression in the engine bay.
What stands out in terms of driver safety is a type of bull bar sitting behind the flip-down front panel.
Apparently in the event of a collision, this structure deflects energy down and underneath where the driver sits.
I threw the bus into a couple of corners, and can report that both the disc brakes and handling are excellent. There is independent front suspension, front and rear anti-roll bars and 6 air bags.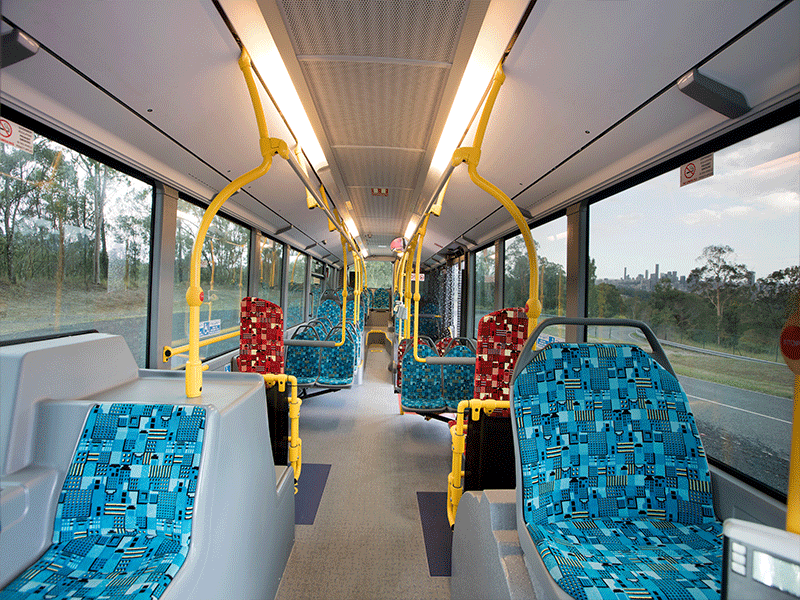 ON THE INSIDE
The Benz "City Star Eco" passenger seats are firmly comfortable, but there are only 35 of them, which is a lot less than on locally-built route buses, which could have 44 or more.
A couple of seat spaces are taken up by the vertical cooling package, which is a drawback of having the engine and radiator both on the passenger side. From inside the cabin the high cooling package gives the appearance of a coach toilet.
But the big advantage of not having the engine in the middle is a very low floor at the rear. That means there is only one step inside the bus, and it's right before the rear window row of seats.
Except for this very back row there is heaps of headroom, and very significantly for operators, more standing room thanks to the flat floor from front to back. Daimler says this bus can stand 55 people, and with greater safety compared to a stepped bus.
That gives a passenger capacity of 90 (assuming no wheelchairs) which is more than on current conventional route buses in Australia.
The rear doors are double-leaf, for easier entry and exit.
The view is great from the double-glazed windows, which have a nice low line at the front as well as rear and a high UV rating.
Unfortunately on the hot and steamy day of our drive the Konvekta air conditioning system started playing up.
Daimler concluded this was due to a $10 solenoid valve sticking, probably because of the bus sitting around for several months.
WIDE DEBATE
The extra 5 centimetres on the Citaro is not noticeable from behind the wheel or down the aisle, and it's understandable that sceptics might regard the Australian 2.50 metre rule as a form of protection for the Australian body building industry.
But I was at a heavy vehicle conference in Brisbane a couple of years ago where some practical and safety considerations were seriously put.
A senior engineer from the Queensland Department of Transport and Main Roads said that far from widening roads to cater for any increase in heavy vehicle width, in many situations the pressure on government is the other way.
He said apart from limited money, there is pressure to squeeze bus lanes, bicycle lanes and even extra general lanes into existing road easements, which often have no room to expand.
"There's enough literature around the world and within Australia to show that the narrower a road gets, the higher the crash rate," the engineer said.
On the other hand, Daimler says if you measure the Citaro from mirror to mirror, it's actually not as wide as a lot of the locals. That goes for its own 500 LE (low entry) chassis.
"There are a lot of issues around width that should be open for discussion," says Michael May, director of Mercedes-Benz Truck and Bus in Australia and New Zealand.
May says the company has 'very good relationships' with the Australian body builders who work on its buggies, 'and that will continue.'
He says Benz sees the Citaro as a low floor 'option' with alternative standing room in a city bus solution, rather than as a 'direct competitor' to the incumbents.
SPECS
ENGINE: 8 litre Mercedes-Benz OM 936 hLA
OUTPUTS: 300hp (kW); 1200Nm @ 1200rpm
EMISSIONS CONTROL: Euro 6, SCR (AdBlue)
TRANSMISSION: 6 speed Voith Diwa automatic
DIMENSIONS: 2.55m wide; 12.13m long; 3.13m high
TARE: 11.8 tonnes
SEATS: 35, with 55 standees
PLUSES
Great experience for drivers and passengers
Oodles of safety features
Proven track record overseas
MINUSES
Too wide for current state regulations
Fewer seats than local competitors
Air con played up on the day
Subscribe to our newsletter
Sign up to receive the ABC e-newsletter, digital magazine and other offers we choose to share with you straight to your inbox
You can also follow our updates by liking us on Facebook.