VIDEO REVIEW: Optare Tempo
---
The Optare Tempo has had a potential breakthrough in Australia, writes Steve Skinner
The Optare Tempo is a high-tech bus, with advanced electronics options including as many smart cameras as you want.
And that's just as well for Joe Oliveri, who loves bus cameras. The more the merrier as far as Joe is concerned.
That's because as well as providing security, cameras have vindicated his Interline Bus Services drivers many times after dingles with motorists who possess good imaginations.
"People say 'Your driver smashed into us, and we go 'nuh uh, no, we've got CCTV footage showing that you're the one that smashed into us," Joe says.
"On our buses we have forward facing, rear facing, door facing, half saloon, saloon forward, two outside and a reverse camera, and with them we have saved a lot of money with insurance claims.
"Cameras are a must but they must work. You've got to have good cameras in there, and as far as I can see on this bus, they're very good."
Joe Oliveri is Director of Interline Bus Services based in Sydney's rapidly expanding south-west. Interline is expanding too and currently has 93 buses and 150 drivers who traverse both established and growth areas in the Liverpool, Campbelltown, Oran Park, Bringelly and Austral areas.
The family company has been operating for more than 60 years, "and we enjoy doing bus things," says Joe, adding it's hard to keep up with all the regulatory changes that are happening in public transport.
He's liked the Tempo for a long time, but they only came onto the Transport for NSW Procurement Panel in December last year. So now having test-driven a Tempo, he wants to buy one and give it a good workout.
"We like the shape, we like the form, it looks nice, it feels nice when you drive it, passenger comfort looks very nice," Joe says.
"I can't pick much wrong with it at this point in time. We intend buying one and trialling it and making sure we give it the run-around.
"Now that it's on the Panel we've got the choice to pick it, try it, break it if we can and give Optare a real good shake at seeing how it holds up to Australian roads and conditions."
Optare says there are already 10 or so Tempos on route work in NSW, WA and Queensland, and hundreds of similar units are in service in the UK.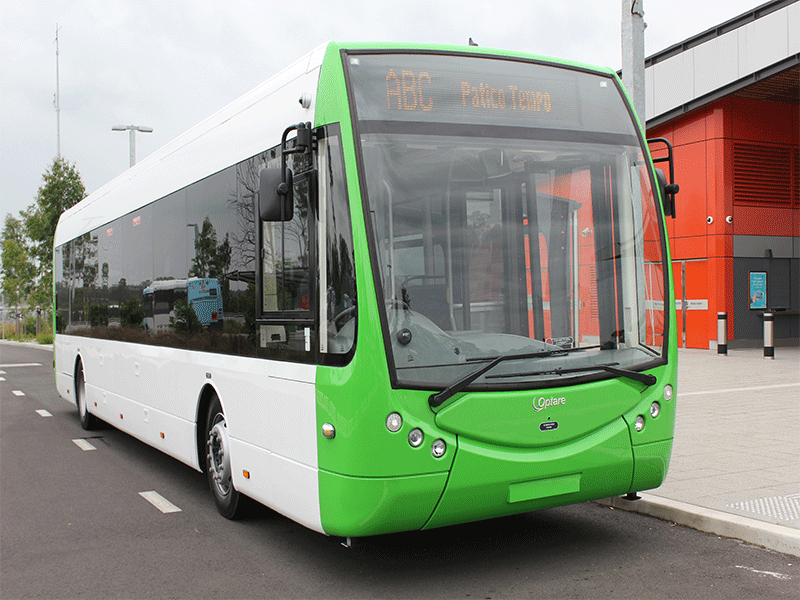 INDUSTRY VIEW
Joe Oliveri reckons the Tempo's driver area is "very good, and it does drive really well compared to other buses that I've driven".
As he points out the vision is excellent, for both driver and passengers. There's certainly lots of glass.
The front windscreen is very low, and the side window line in the downstairs section of the saloon is also lower than you usually see in buses on the road in Australia.
"With this bus you can sit in the seat and look out the window," Joe says, which may sound like it's stating the obvious. But as he points out, with some other bus models you have to "stretch your neck" to see properly above the side panels.
"The English body builders have more experience in passenger comfort maybe, and the way a passenger perceives the scenery around him," Joe theorises.
This bus has factory "bucket" seats from Germany, but Interline prefers "three for two" bench seats – in other words, for every two adults you can fit three primary school kids.
However amongst numerous customisation options, Optare also offers the 3 for 2 configuration in the form of Australian-built McConnell or Styleride bench seats.
The only problem on the inside ­­-- or anywhere on the bus for that matter -- as far as Joe is concerned, is that he thinks the accelerator pedal is too far back and could be pushed a little forward.
GOOD SMALL ENGINE
This Tempo runs a 6 cylinder, 6.4 litre Euro 5 Mercedes-Benz pushing out 282hp (kW) and 1120Nm of torque.
"It's a decent engine, it's not a powerful engine," says Joe.
"In our operations we don't need power, we need smoothness… The smoother the acceleration, the better our customers like it, especially the elderly.
"It is very important to have the elderly stay upright if they're standing. Hopefully no-one will be standing, but if they are, we don't want them to get tossed over by the bus driver taking off too quick.
"Other vehicles produce the same horsepower… You don't really need a big engine and with today's technology, engines last a good kilometre."
Joe says the 5-speed Allison transmission (there's also a 6-speed of course) is smooth and he likes Allison's "cents per kilometre" serviceability, expecting a rebuild to cost around the $10,000 mark.
"It could be a goer but until we try it we just don't know," he says. "We'll try it under full load, full passenger, the heaviest trips we can.
"Besides that, I'd like to see another gear in it -- maybe it would make the (fuel) litres per 100 kilometres better.
"My other vehicles have got six speeds, but we'll try it and go from there … I think the transmission will be good. So far we haven't had troubles with Allisons."
By the way the tranny has a three-stage retarder working off the foot brake, which manages the all-round discs. Interestingly, there is also something called RELS – reduced engine load at stop - which apparently saves fuel while waiting at lights.
The monocoque  integrated chassis-body design along with other features gives this bus a relatively light tare weight of a touch over 10 tonnes with a full tank of fuel. This is one of the most appealing features for Joe.
"Fuel rules as far as we're concerned, so the lighter the bus, which this one is -- as are some of my other buses -- we are expecting to equal the performance from this bus with this transmission set-up.
"You've got to get the right air conditioner to get the right fuel figures out of it," adds Joe.
This bus has a Sutrak with a Thermo King option. However Joe's favoured brand of air-conditiong is Nippon Denso; "but I'll give anything a go once. If it works I'll keep, if it doesn't work, I don't buy it again."
Again, Optare says it can accommodate Joe's wishes when it comes to cooling.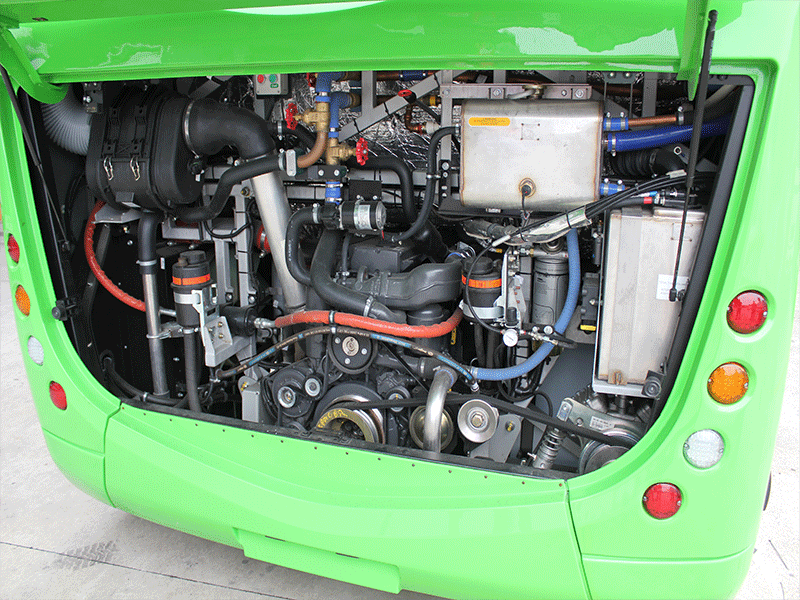 ELECTRONIC WIZARDRY
The Tempo has advanced electronics available, which Joe sums up simply: "it tells you when to have your breakfast".
There is driver ID and all sorts of driver and vehicle performance stats such as fuel use, harsh braking, fast cornering, idling, route adherence and mechanical diagnostics – all of which can be transmitted back to base in real time via telematics. My personal favourite is tyre pressure monitoring.
"The bus gives you driver performance figures out of the dash," summarises Joe. "I've never played with that before. But it all costs money, depending on what we want to do with it.
"I think the electronics is yet to be seen. I don't know what they're like in Europe but apparently they are good – this is Australia, a hot climate, and electronics do not like heat. I have found that out the hard way, but we'll see how it goes."
One thing that did play up on our review day was the rear suspension – basically there wasn't any for the first part of the drive.
Turns out that when the bus was parked outside Interline's new Leppington depot, it was on quite an angle because of the muddy edge of the road.
Joe reckons – and he's a bus mechanic by trade – that the axle moved so far away from the body that the air bag levelling  valve lever flipped all the way around. There was no air in the bags which was an interesting experience over bumps.
But Australian distributor of Optare, Patico Automotive, rescued a potentially embarrassing situation by steering us to their Sydney dealer Adtrans at Smeaton Grange, which was on the route we were taking anyway.
"That was fixed straight away and I've had it in other vehicles too," says Joe, who didn't seem concerned in the slightest.
Neither is he worried that there are only two rear air bags, rather than the common four: "If everything goes well, two are better, because air bags wear out," ie less maintenance.
Patico adds that the levelling valve issue can be adjusted out.
On the vital issue of back-up service and support, it says its technical team is based in Melbourne but can fly anywhere.
The company says the operator doesn't have to do the "running around" to the dealers or Mercedes-Benz (engine) and Penske (transmission).
SPECS
BUS: Optare Tempo route bus
ENGINE: 6.4 litre Mercedes-Benz OM906LA
EMISSIONS CONTROL: Euro 5, with SCR
OUTPUTS: 282hp (210kW); 1120Nm.
TRANSMISSION: 5-speed Allison auto T310R
DIMENSIONS: 12.5m x 3.3m x 2.5m
PRICE TAG: Around $400,000 plus GST
PLUSES
Looks good, with great vision
Light tare weight
Drives and handles well
MINUSES
Early days on Australian roads
Accelerator pedal too far back
Air bag problem on test drive
Subscribe to our newsletter
Sign up to receive the ABC e-newsletter, digital magazine and other offers we choose to share with you straight to your inbox
You can also follow our updates by liking us on Facebook.