Video review: Iveco Eurorider
---
Iveco Eurorider-Irizar i6 is put to the Outback test by Steve Skinner
When you are running coaches in outback Australia, you need reliability.
So you would expect the pairing of a body manufacturer which has been in business for 125 years, and a chassis brand that's been around for four decades, should fit the bill.
That collective experience was presumably a key factor behind the purchase of this aerodynamic coach by Alice Springs operator On Tour NT.
So too would have been Iveco's extensive dealership network in Australia, including Alice Springs; and Irizar's pledge that if need be, technicians and parts are only a flight away from its new headquarters in Melbourne.
With big distances in mind, this coach is also specced up with 1000 litres worth of fuel tanks.
We recently drove the Eurorider i6 from Irizar HQ at Hallam in Melbourne's south-east, along the Princes Freeway to Nar Nar Goon, along a rough secondary road to Koo-wee-rup, then along the Gippsland Highway home via Tooradin on Western Port Bay.
It was the sort of flat terrain that this coach will be traversing in the Centre, and if our short trip is anything to go by, drivers and passengers are in for a treat.
We also found a couple of minor shortcomings which don't detract from the overall appeal of this coach.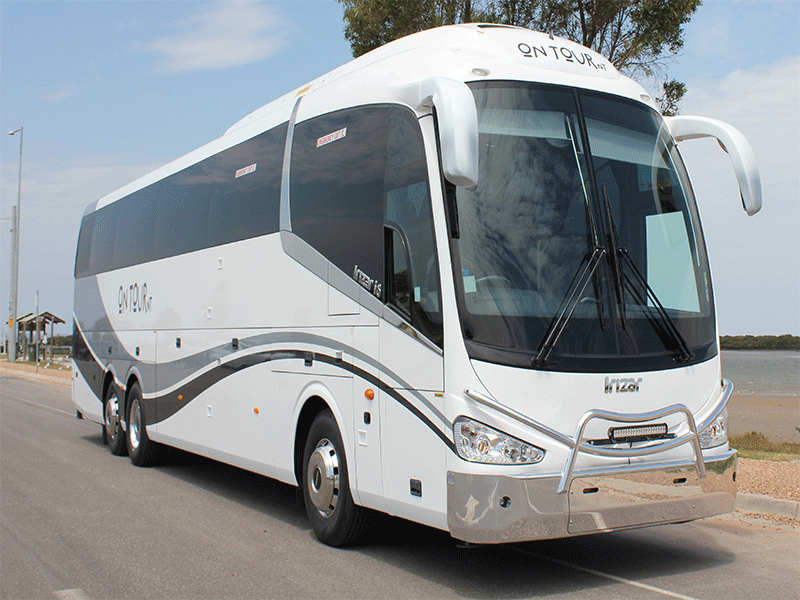 IVECO ANNIVERSARY
We don't normally review the same brand twice in a row, but figure that's warranted by Iveco's 40th anniversary when we drove this coach.
Of course the lineage goes back much further when you consider that Iveco is essentially part of the giant Fiat group, via CNH Industrial.
Another feather in Iveco 's cap is that its Magelys model was recently awarded International Coach of the Year 2016, by 22 journalists from the European bus and coach media.
The big-selling Magelys (with the body built in the Czech Republic) uses the same chassis as this one. This coach runs Iveco's 10 litre Cursor engine, which puts out 450 horsepower (330kW) and 2100 Newton metres of torque.
It's matched nicely with the 12-speed ZF AS Tronic automated manual transmission, which as an option can be used in manual mode if you want to hold the gears longer on steep hills.
There is also a hill start/brake function, to save you having to use the parking brake to prevent rolling back.
The steerable tag axle, as always, makes tight manoeuvring easy.
There are disc brakes all round and electronic braking system (EBS). This includes traction control but it doesn't include electronic stability control (ESC) as standard – that will come with the 2016 models. Nevertheless ESC is available as an option.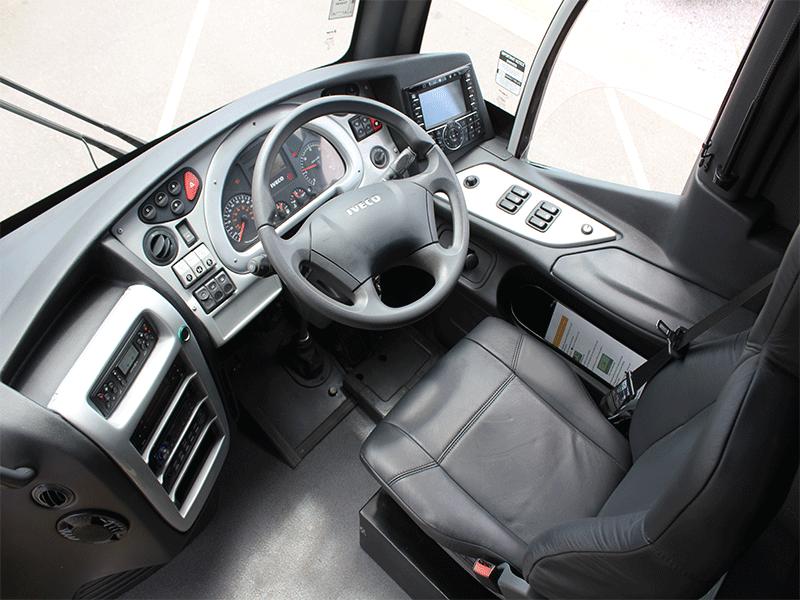 IRIZAR SAFETY
This Iveco chassis was shipped from its French factory to the Irizar plant in Brazil (one of several around the world) before heading to Australia.
Of course the Spanish Irizar brand has come up with one or two safety features since it began building luxury horse carriages more than a century ago.
They include rollover and frontal collision protection which are years ahead of the European regulations.
This body also has the option of some leading-edge electronic safety technology, from Irizar subisidiary "Datik".
This includes camera-controlled lane departure warning (LDW) in case of drift without the lane-change indicators being on; and radar-controlled collision warning if the coach gets too close to the vehicle in front, thanks to a monitoring rate of 15 times per second.
And what is unique as far as we know in current coach offerings in Australia is Irizar's "Magic Eye" fatigue alert system. The dash mounted camera detects noddy eyelids – even through sunglasses and at night, courtesy of infrared light – causing the seat to vibrate as a warning.
"The Magic Eye fatigue detector measures the frequency and speed of the blinking of the driver," says the Datik website.
"The system analyses the data received relating to this movement, and is able to detect changes and abnormalities from which it can establish whether the driver is tired or not."
Apparently that also includes yawning.
Warnings can also be sent back to operator control rooms via fleet management systems.
The package of three technologies can be bought for an extra $15,000. There's not much customer demand for this sort of advanced electronic safety technology in Australia yet, but a couple of big fleets are trialling it.
Other gizmo options amongst a wide array of choice in this coach include passenger USB chargers and Wi-Fi.
Meanwhile there is the frame option of European stainless steel, to go underneath the aluminium panelling and fibreglass roof.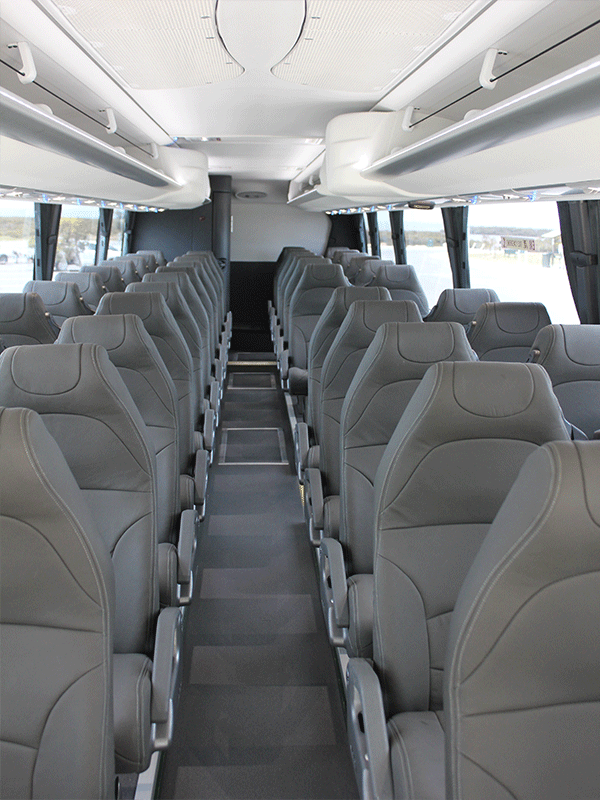 DIRECT APPROACH
Daniel Castro is managing director of Irizar Asia-Pacific, which has 18 staff at the Hallam HQ, near Dandenong; service agents in Sydney and Brisbane; and soon a service van in Perth.
Irizar has taken direct control over its operation in Australia, and Castro says the 10 company and agent technicians have all done training in the Brazil factory. Castro himself is Brazilian.
He showed us the big training room in Hallam and says there are plenty of parts for all six models running in Australia, including consignments in Sydney, Brisbane and Perth.
"Irizar is truly a one-stop shop, body-wise and air conditioning-wise," he says.
"We have a good logistics network for parts anywhere in Australia overnight."
ON THE ROAD
Not surprisingly, this coach is very nice to drive.
What was a little surprising though is the get-up-and-go generated by the 10 litre engine, which is modestly-sized for a big coach like this.
The Cursor puts out 2100Nm, which actually just pips the 11 litre Volvo engine rated at 430hp (although Volvo's 460hp 11 litre option puts out slightly more torque at 2200Nm).
We found 2100Nm to be enough grunt for safe merging and overtaking on the freeway, as well as take-off from a standing start at intersections.
No doubt there is adequate torque for whatever hills this coach might encounter in Central Australia too, but it couldn't match some competitors on regular climbing of hilly terrain.
For example the considerably more expensive 13 litre Scania which we have previously reviewed has 2500Nm of twisting force.
Of course the freeway is no test of handling, so we took this big unit along a narrow 100km/h secondary road, which didn't even have a fog line for long stretches.
We probably could have stayed on the bitumen the whole time but erred on the side of leaving plenty of room in passing a couple of oncoming vehicles including a truck, by putting one side slightly in the dirt.
The Eurorider didn't bat an eyelid, holding its line perfectly with a reassuring feeling of stability. The independent front suspension no doubt played a part in that.
You don't want steering which is too direct and responsive, but I found the Eurorider's  steering on the narrow road to have too much play for my liking. IVECO says this can be adjusted in the workshop if you want.
INSIDE THE SALOON
The side road also brought out an annoying squeak somewhere in the front left corner of the bus, which I hadn't noticed on the freeway.
Irizar co-driver and experienced coach captain Jason Eldred said it was no doubt a bit of plastic somewhere that could be easily silenced by a cardboard chock.
Apart from that, the Irizar body rode like a dream and not just because of the Isri air suspension driver's seat.
There was no air noise up the front, and up the back there was little noise from the engine or transmission retarder.
The leather Styleride Silhouette reclining seats with footrests were beautifully comfortable, and boast plenty of lumbar support.
The toilet is ultra-modern, with sensors controlling the basin soap and water – no need to touch any handles.
Thanks to the 3.9 metre height, there is heaps of headroom, with heaps of luggage space underneath despite the centre door taking up space. The bin doors are air operated.
Vision from both the passenger and driver seats is excellent as you would expect, although I would have preferred the option of a side spotter mirror rather than the front spotter on this coach.
Whoever sits in the aisle seat opposite the toilet draws the short straw in viewing the outback, but there is the option of a sunken centre toilet.
PLUSES
+ Award-winning driveability
+ Excellent space and seating
+ Impressive safety with further options
MINUSES
- Behind some competitors on torque
- Steering a little loose
- Lacks electronic stability control as standard
SPECS
MAKE/MODEL: Iveco Eurorider 6x2/Irizar i6
ENGINE: 10 litre Cursor, with SCR emissions control
OUTPUTS: 450hp (330kW); 2100Nm
TRANSMISSION: 12-speed ZF AS Tronic AMT
SEATS: 48 Styleride Silhouette leather recliners
AIR-CONDITIONING: Hispacold, dual zone climate control
DIMENSIONS: 13.5m long; 3.9m tall
PRICE: Around $490,000 plus GST, depending on body options
Subscribe to our newsletter
Sign up to receive the ABC e-newsletter, digital magazine and other offers we choose to share with you straight to your inbox
You can also follow our updates by liking us on Facebook.